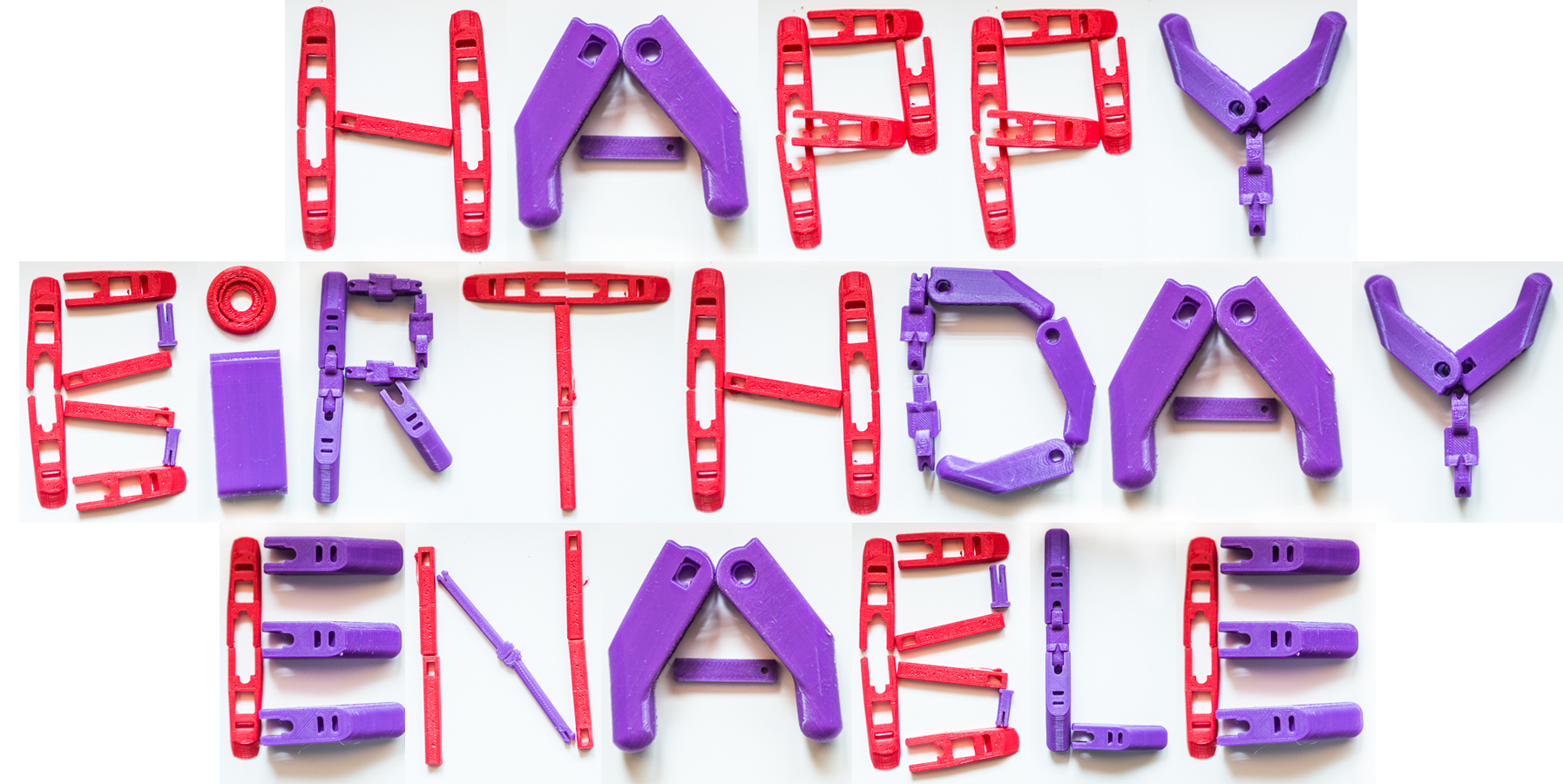 It is hard to believe that another year has passed for our ever growing and evolving e-NABLE community and today we celebrate the 2 year mark of somehow finding a way to bring people from all walks of life, different religions, opposing political views, cultures, races, occupations, education levels and so much more – to work together to make a difference in the lives of others…simply by using the talents and tools that we have available to us on a daily basis.
While our community and many others have provided an estimated 1500 free hands to those in need around the world – what we have accomplished over the past year, goes well beyond simply creating helper tools for children born with no fingers, winning tech awards, being gifted a grant for research and development and making the news more times than we can keep track of…what we have really accomplished – is something even more beautiful and wonderful than all of that put together.
We have created a world wide movement of people who are putting aside their differences and reaching out across oceans, past borders and barriers – to create something positive in the world and for each other.
We have a growing global humanitarian army of selfless people who are scraping together their extra change to purchase materials to make a hand for a child they will never meet. We have groups of people who are risking their lives to get 3D printed hands to victims of war. We have elementary, middle and high school students who are giving up their recess and lunch hours to build  hands for their fellow students and we have universities who are forming teams and coming together to change lives. We have hundreds of scouts who are spending their free time and giving up their Saturday afternoons to assemble hands for children in countries where these simple 3D printed devices are the only option they will ever have for a prosthetic device.
When e-NABLE was founded in 2013, we started with about 70 volunteers and just a few hands had been created and delivered. A year later in June of 2014, the e-NABLE Google+ community had grown to over 1000 members and we had created over 200 hands.
Today, we have over 5500 members in our growing community and have donated hands to people in over 40 countries.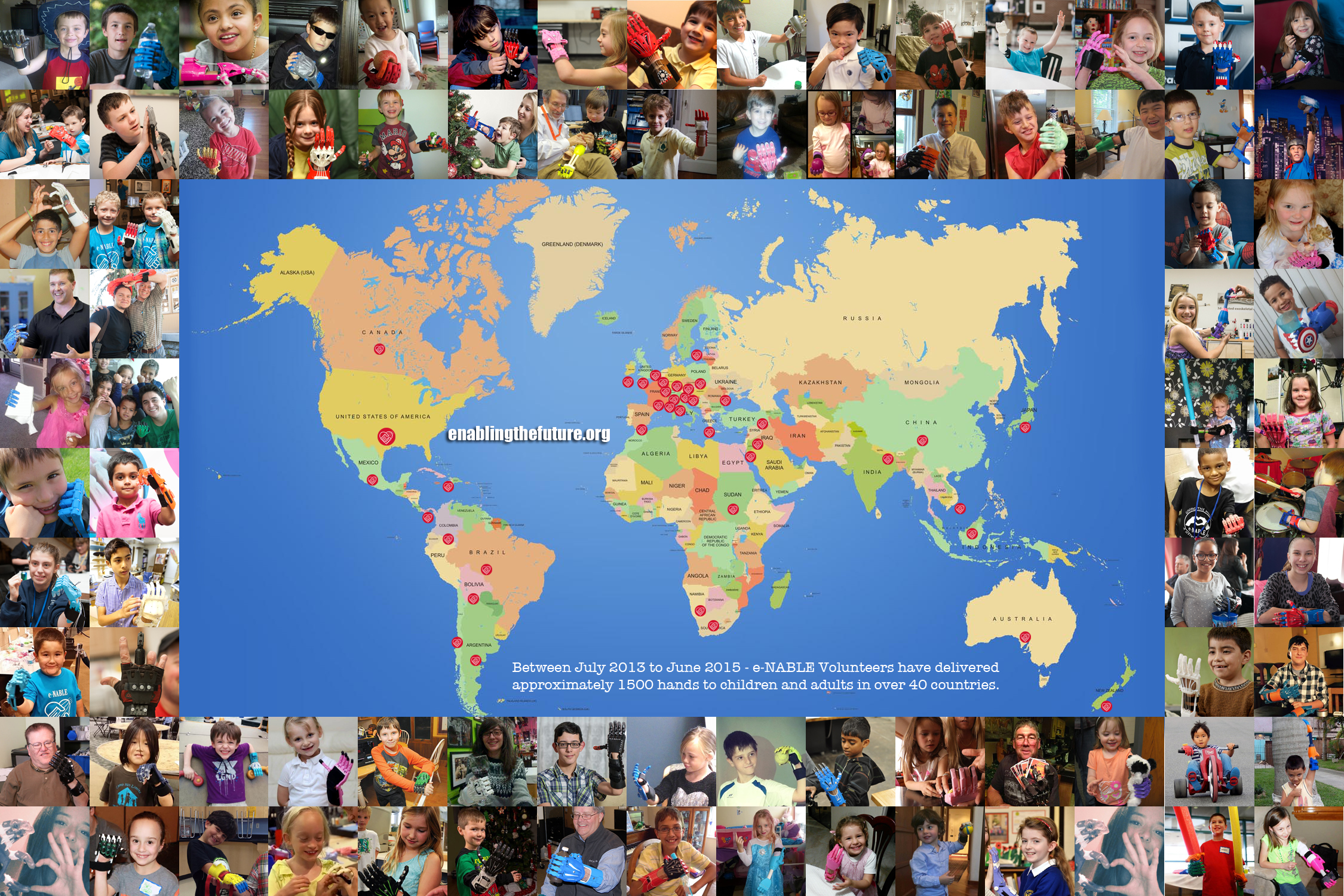 Some of our most notable moments this past year: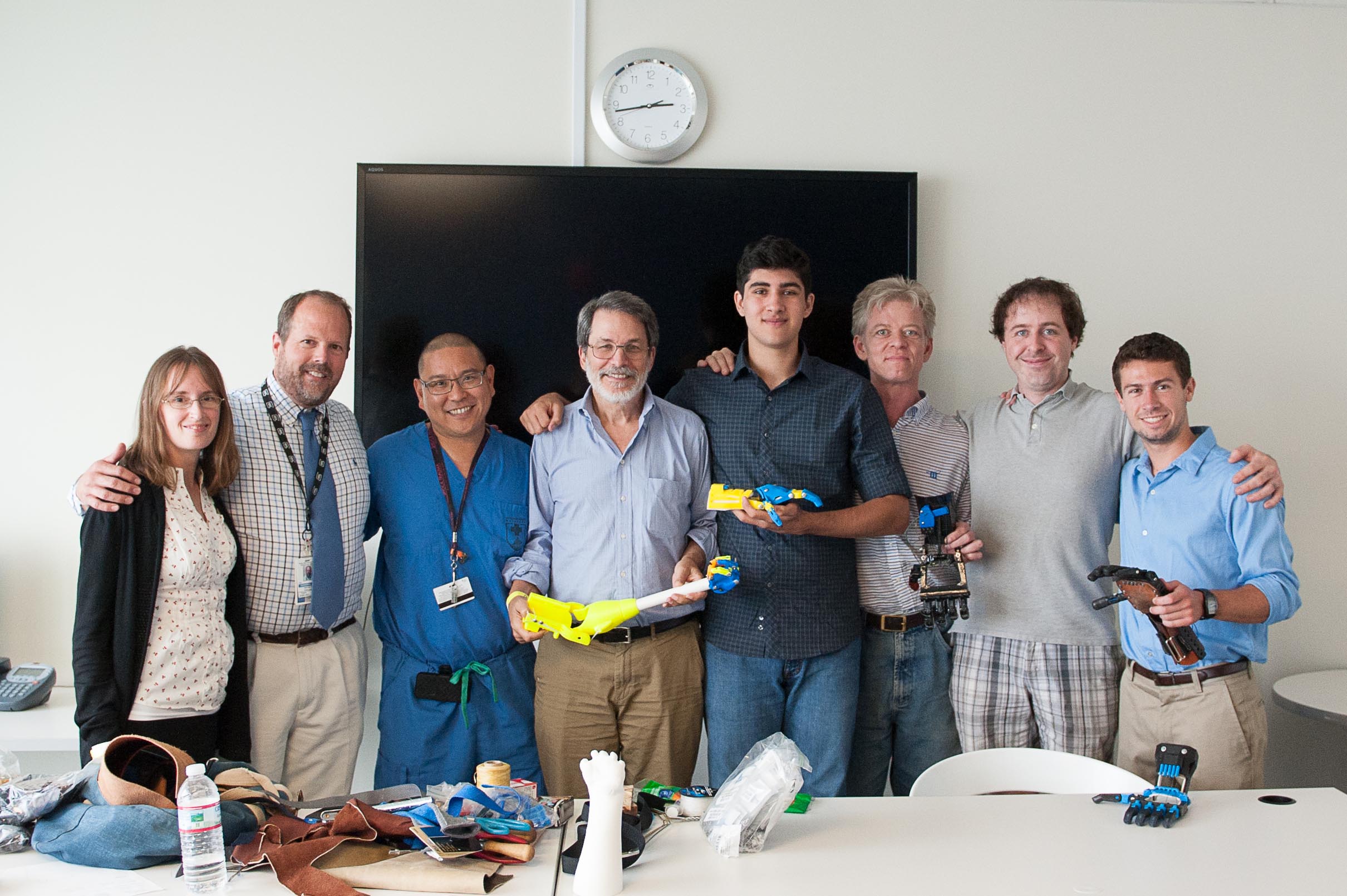 • The e-NABLE community found itself adopted by the amazing Dr. Albert Chi, a leading trauma surgeon at Johns Hopkins University – who helped create and host the first ever e-NABLE conference that brought together e-NABLE volunteers, 200+ medical professionals and 25 families for one amazing day of learning how to assemble devices and learning valuable skills and lessons from each other.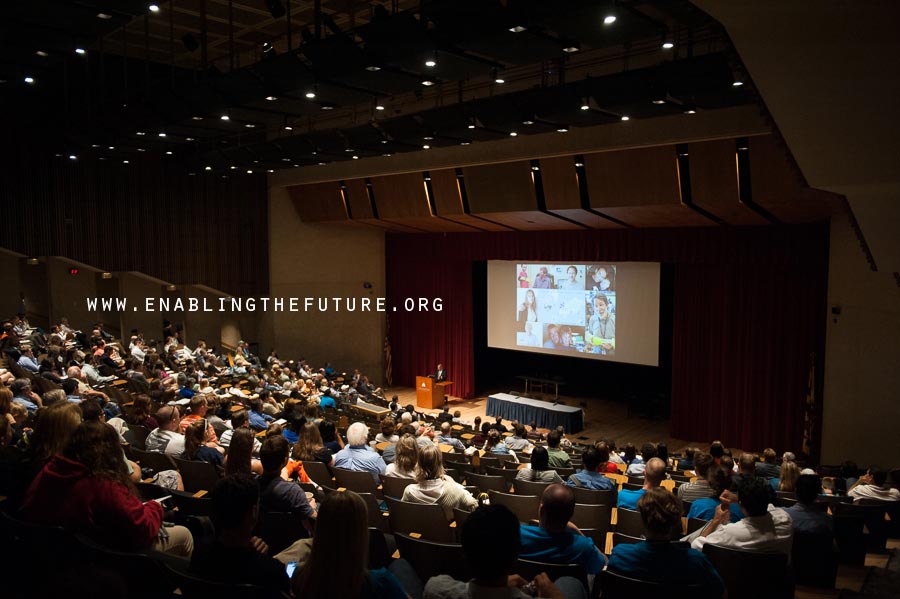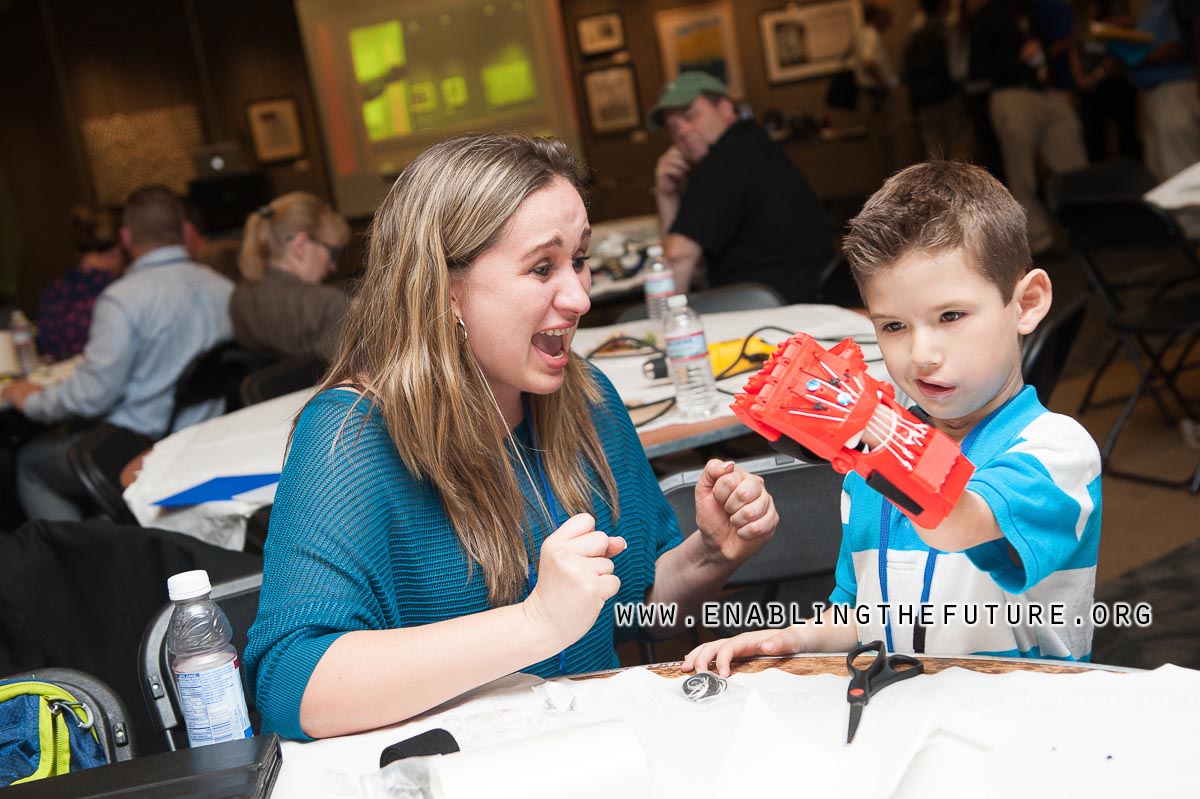 •  Hundreds of Boy and Girl scouts started donating their free time to put on workshops to teach each other how to assemble 3D printed hands to donate to clinics in areas where there is a great need for devices for patients who do not have access to healthcare. They have represented e-NABLE at various events – including the White House Makerfaire and have an ever growing need to have more 3D printed hand kits donated through out the year as more and more clinics and non profits reach out to e-NABLE for help.

If you have a 3D printer and would like to help print devices for these Scout troops to use in their workshops to assemble and send to places like Haiti and Nepal – please visit their information page here and sign up to donate a hand kit!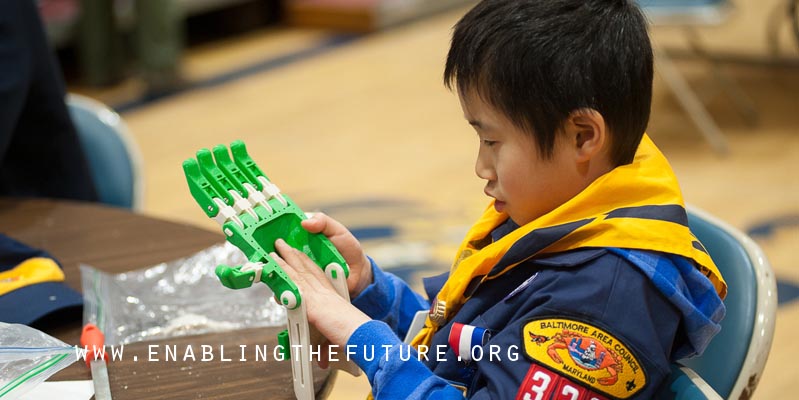 • Marvel Universe LIVE! teamed up with e-NABLE to help their cast and crew feel like Real Life Superheroes by pairing them up with hand recipients and encouraging them to help build hands for children in the cities they visit while on tour.
• The e-NABLE Haiti team is awarded the $100,000 Genesis Prize to help create an e-NABLE based 3D printed prosthetics project in Haiti.
• e-NABLE is named to the Nominet Trust 100 – a list of inspiring digital social innovations that highlights the impact of global "Tech For Good."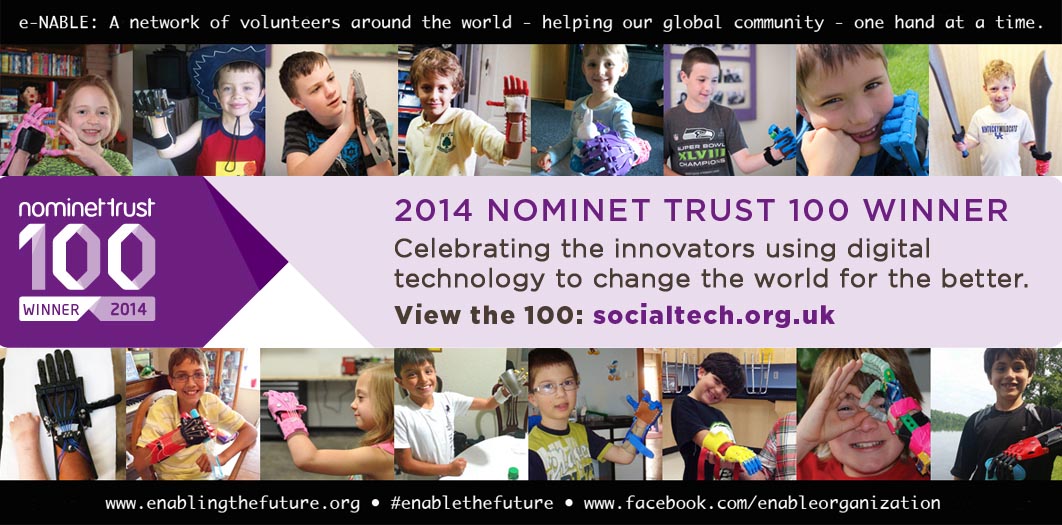 • Numerous museums around the world put e-NABLE devices on display.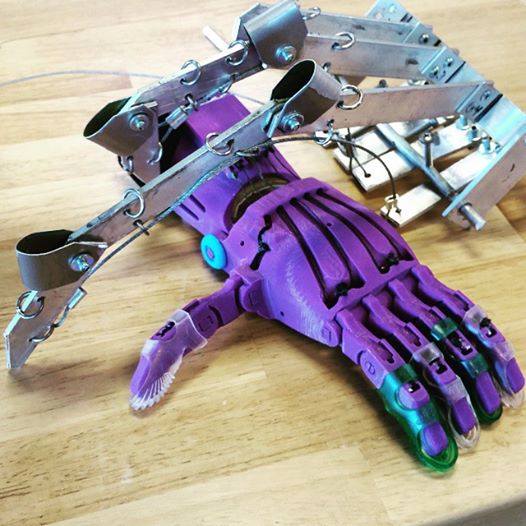 • New hand and arm designs are being created and beta tested. By July of 2014, the community had created the Cyborg Beast, the Talon, the Ody hand, the Owen Replacement Fingers and the "Talon Beast" hybrid. One year later – the Raptor, the Raptor Reloaded, the RIT Arm, the Limbitless Arm, the Flextensor, the Flexy Hand, the Flexy Arm, The Osprey, The Phoenix, The Python hand and the Cyborg arm, as well as thermomesh designs were added to the list of devices being tested by the community.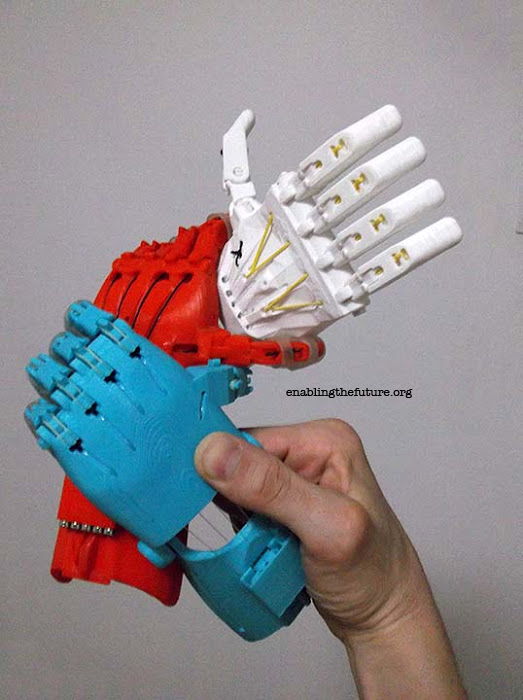 •ABC/Yahoo News, named Ivan Owen, one of the original designers of the first 3D printed hand – "Best Person In the World."
• Volunteer and professor at UWM, Frankie Flood pushes the design past "Five functional fingers" and creates a Violin bow holder device and a trumpet playing aid for children who are missing fingers.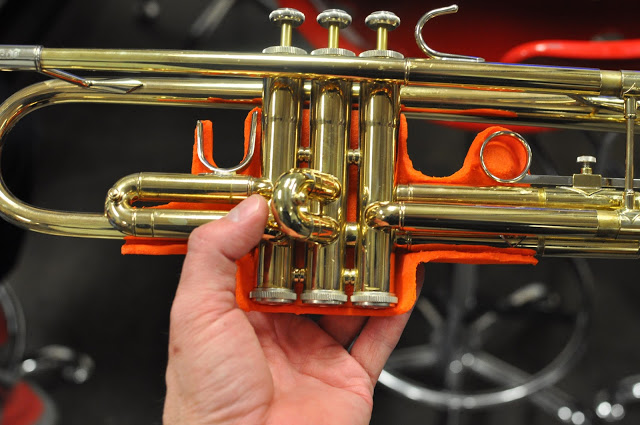 • e-NABLE volunteers help to create an exo-skeleton "Airy Arm" design for the Brain Recovery Project for children who have had half of their brain removed to provide relief from debilitating seizures – which leaves them partially paralyzed. Still in the development stage – this design has potential to also help stroke victims and those who have had nerve damage from accidents or disease.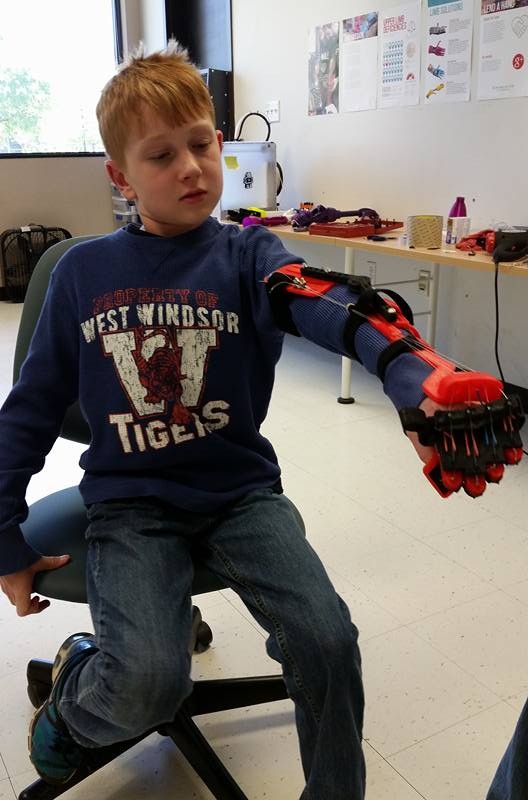 • e-NABLE was listed as one of the top searches of 2014 – by Google.
There are so many wonderful milestones and moments that we could list for this year – but the most important is that we have a growing global family that are dedicating their free time and talents to trying to make the world a little better place and gift a child with an upper limb difference – a tool to use to make every day tasks a little easier. The world is taking notice, medical professionals are starting to experiment with e-NABLE designs, more children are getting the chance to try low cost and easy to assemble devices and students around the world are finding e-NABLE in their classrooms where they are learning valuable STEM (Science, Technology, Engineering & Math) skills and getting to see their hard work – help a real person.
Children are putting down their video game controllers, turning off the t.v., showing up early for classes and dedicating their time to making a difference in someone else's life.
To us, there is no greater accomplishment – than inspiring our future generation of makers, thinkers, inventors and do-ers – to think more about what they can give to the world …than what the world owes them.
We look forward to continuing our quest to e-NABLE The Future in 2015.