The Flexy Hand and Flexy Hand 2, designed by Steve Wood, are 3D printable prosthetic devices made using flexible hinges. Using flexible filament for the hinges means that no elastic cords are necessary to return the fingers to their outstretched position.
Files and instructions for the Flexy Hand 2, the wearable version, can be found on Thingiverse, here.
Features include :
Gauntlet attachment via Filaflex hinges
Two length/widths of gauntlet available
Sculpted palm socket
Discrete internal tendon channels
Adjustable tensioners
Discrete glove attachment channels (or alternative "Chicago Fastener" method)
Left and right hand versions
Scaleable
---
An Important Note About Assembly
The most common mistake when assembling e-NABLE Hand devices is improper tensioning of the non-flexible cords. When the non-flexible cords are tied correctly, the base of the palm should be inclined about 30-45 degrees compared to the base of the bracer (the part that goes over the arm). This will allow the recipient to activate the device without having to bend their wrist so far downwards as to cause discomfort.
As an example, the below image shows a properly tensioned Phoenix v2 hand. While this is a different design, the Flexy Hand should be assembled at a similar angle as what is shown here.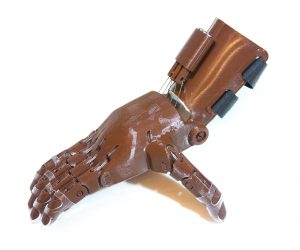 ---
Original base mounted Flexy-Hand – http://www.thingiverse.com/thing:242639/#instructions (as used in the Limbitless Solutions arm)
90deg Thumb

45deg Thumb

Opposable Thumb

Filaflex Remix (utilising a standard 1/2″ thread used on a standard terminal device) – 45deg and opposable thumb versions.
Flexy-Hand 2 – http://www.thingiverse.com/thing:380665/#instructions
45deg Thumb – Narrow wrist

45deg Thumb – Wide wrist

Opposable Thumb – Wide wrist only

Thumbless version – Narrow wrist

Thumbless version – Wide wrist

Print in place wrist brace – Narrow and Wide

Thermoformable wrist brace – Can be used for narrow or wide

Thermoformable Palm mesh – Narrow and Wide wrist

Filaflex Remix – Wide wrist and 45deg thumb only. (

http://www.thingiverse.com/thing:640384

)
There are miscellaneous hinge moulds for casting your own flexible hinges
http://www.thingiverse.com/thing:321847 – Gyrobot
http://www.thingiverse.com/thing:372105 – Dale Price
http://www.thingiverse.com/thing:517951 – Sebastian Wiesemann
Finally there are the Flexy-Fingers which are compatible with the Flexy-Hand range, these are fingers that can be printed in one complete piece using Flexible filament throughout.
http://www.thingiverse.com/thing:387072
---
ACCEPTANCE
By accepting any design, plan, component or assembly related to the so called "e-NABLE Hand", I understand and agree that any such information or material furnished by any individual associated with the design team is furnished as is without representation or warranties of any kind, express or implied, and is intended to be a gift for the sole purpose of evaluating various design iterations, ideas and modifications. I understand that such improvements are intended to benefit individuals having specific disabilities and are not intended, and shall not be used, for commercial use. I further understand and agree that any individual associated with e-NABLE organization shall not be liable for any injuries or damages resulting from the use of any of the materials related to the e-NABLE hand.