Last Saturday, in a gymnasium at the Chapelgate Christian Academy in Baltimore, MD – dozens and dozens of boy and girl scouts gathered and spent their free time working together to build e-NABLE hands for children around the world who are in need of upper limb assistive devices. Scouts as young at 5 years old chose to donate not only their Saturday afternoon to assembling 3D printed hands for other children, but many of them have spent countless hours after school and on weekends leading up to this date – learning how to assemble, helping to create "Lego Like/IKEA" instruction sheets, helping to create a shoulder harness for another scout who had an arm built for him, baking their little hearts out to make treats for bake sales to hopefully raise money for their own 3D printers and organizing so much more than we can even begin to describe.
It was amazing to walk into the room and see so many young people who wanted nothing more than to help make a difference.
There was no "Badge" to earn.
There was no "Award" to receive.
They were not trying to set a record.
It wasn't about who could make the most hands in a single day.
They have done all of this simply for the sake of wanting to be a part of making the world a little brighter for someone they may never get to meet and to do something amazing that will allow them to help bring healing to another child who was born with no fingers or has lost them due to war, disease or accident.
These children are our future and it was overwhelming at times to stand aside and watch their passion, their drive to do something that seems so small to them – but so big for the people they are doing it for and the feeling of community and family that filled the room. Not just the local community – but a global one.
Maria Esquela, the leader of the Crew of a handful of youngsters who decided to take this project on – has this to report:
"We worked on 140 hands at the event on 12/13/14. We need to do Quality Assurance/TLC on them before they are packaged and sent. (These hands are going to a medical facility in an underserved area across the ocean where patients will be fitted with these hands by medical professionals who are eager to help as many as possible.)

On the subjective side, my first impression was that everyone was excited and eager to help; they came heeding our words to expect to volunteer. As soon as they arrived they set up the International Peace Light, tables, posters, etc. The youngest children, ages 5-6, plowed through getting the candles ready for the Peace Light distribution, made their index cards for the hands, and set tables with placemats of instructions, tools and printed parts before we even started.  We directed as many participants as possible to sanding in the hour prior to the workshop.
During set up, small groups took turns with one of our leaders, Peg Mann, who had set up a 3 D printer from Fab Lab Baltimore.  Others made a point of visiting the lanterns kindled with the International Peace Light that had come from Israel to Europe to Canada to New York. It had been presented to the UN and distributed to delegations who are still making their way across the country to pass it on to Mexico and the Caribbean.
A large number of participants were joining the Scouts for the first time, Another special note was that some had traveled farther than attendees of past workshops – some from as far as TN and RI to join us in Baltimore. There were a lot of prints being walked in, which had not happened before. We were excited to see the recipient of an arm we'd given away on 11/01.

A 14-year-old and his family drove 9 hours from TN  to help with assembly and to consult with Dr. Chi about getting an arm. Dr. Chi and his guests swung into action right away. They combined parts from 3 arms we'd printed for assembly at that event. Dr. Chi started the last part he needed on a printer and made sure that he went home with an arm.
The buddy checks at the tables worked well. We didn't have any stray parts at this workshop, and everything stayed neat. 
If there were any questions about cording that we couldn't answer, or hands that needed TLC, we walked them to Peter Binkley for mentoring.
A group of Girl Scouts made sure everyone was fed while they raised money for a printer. The hands they made on 11/28 started off the people in the cording area of the workshop. At some point it stopped smelling like filament and the aroma of pizza and cookies in the oven took over.

Everyone was happy. There was a lot of mingling by our guests from e-NABLE,  and conversations people were having with their "table buddies." People didn't want to stop working, some hurriedly exchanged contact info. Then Dr. Chi and his guest helped us distribute the Peace Light; multiple faiths participated in the ceremony. People have already contacted me that the ceremony will be repeated when they rekindle the light and share it with their units. I hope they remember that the light is in them, not the candles they took home.

We made a copy of the Golden Rule across cultures and faiths over thousands of years, and common ground in conflict resolution and leadership in the Scouting world. Danielle Chi had given our booklet a thumbs up when we started the project. I think she will be happy to know that they were appreciated and none were left behind. 
The art and games we had as a backup activity were barely touched. One group of standout Cubs sanded the whole time. Another high-performing group of Scouts built 3 hands.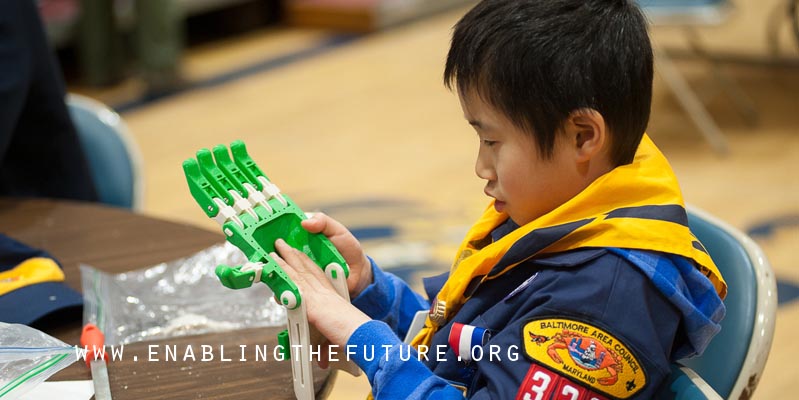 What will I remember?…
The echos of advice that Scouts would not sit for more than 20 minutes sanding or a couple hours assembling; every Scout there was fully engaged in the project and didn't want to stop because they understood the mission and believed in it.  Dr. Chi's guest finding out we had been working on this project for him since his visit was proposed, and asking how it all got done.  The look of "3 D printer hypnosis" on the faces of people that had not pictured this technology being part of their lives. Some of the things the speakers said, more than I can express here. The smiles from the boy we met on 11/1, the calls and messages from two e-NABLE representatives in Haiti who were safe on a newsworthy day; email and calls from Scouters as far as Florida who wished us well. The crew huddle before the group photo and diving in to lead the largest workshop yet. I'll remember the focus and purpose on the faces of so many: Dr. Chi and his team, my leaders trying to find what they needed, and on the faces of the youth who wanted to do something perfectly and make a difference. 
I will always remember the earnestness of a mother who wanted to give her son an arm, and how, upon introductions, Dr. Chi signaled to his group and got up from their conversation to lead them to the table where we were about to build generic arms. He saw the need and gave the arm before she asked. She never needed to ask if her son could have an arm. 
We're still unpacking this experience. Thank you for giving so much to the Scouts and me, the medical team that will distribute these hands, and the children and families that will receive them. This experience will last a lifetime."
We could not have succeeded without:
• Dr. Albert Chi for his mentorship and so much more.
• Direct Dimensions for the crucial instructions, printing hands and the time mentoring.
• Printing from Todd Blatt (Baltimore Node), Sean Grimes (Digital Harbor),  NOVA Labs, Jim Zahniser (UMD), Ivan Owen and the e-NABLE Network, Mollye Bendell (Fab Lab Baltimore), NASA, Jenelle Piepmeier (USNA), U VA, U WA Bothell, Dr. DeLap & Dr. Leiffer (La Tourneau),  Juan Garcia (JH Art Applied to Medicine). Food and facilities from Steve Towne (LDS CS), Chef Demitrios (OCCS), Ed Mullin (Baltimore Robotics Center), Steve Kennedy and all at Chapelgate Christian Academy.
THANK YOU!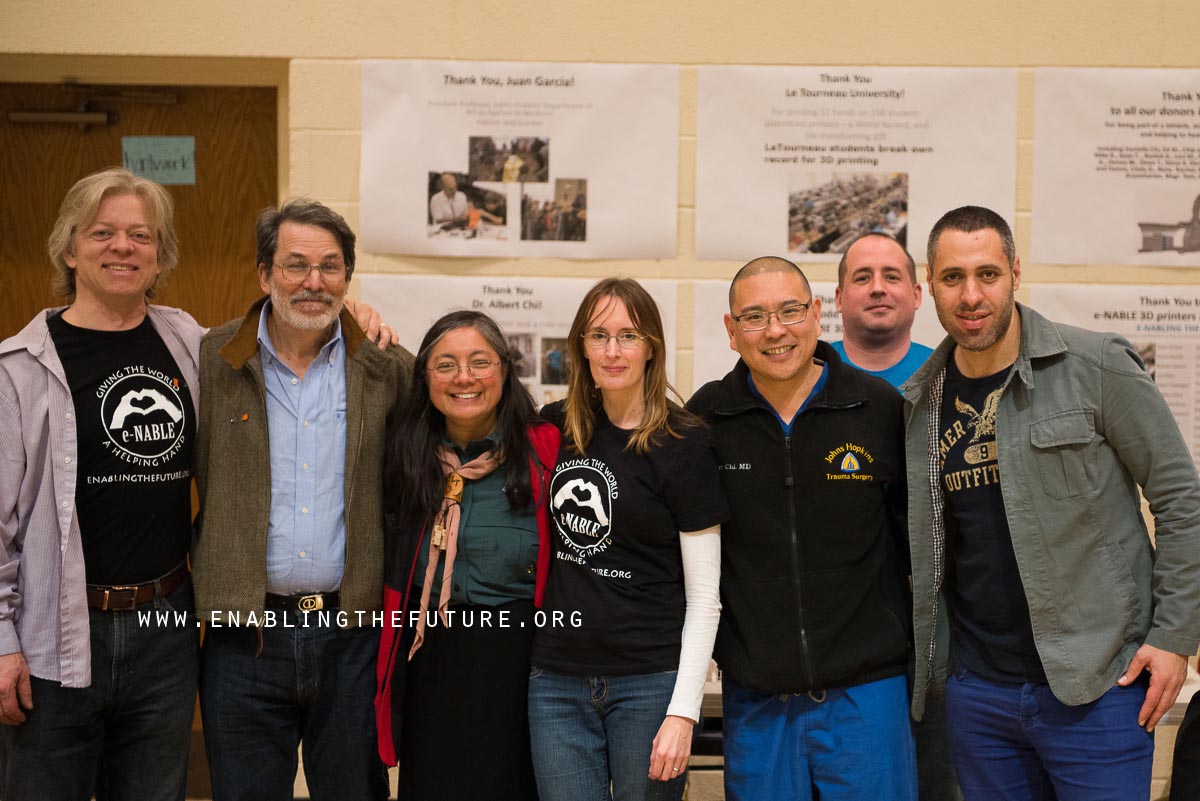 Left to right: Peter Binkley, Jon Schull, Maria Esquela, Jen Owen, Dr. Albert Chi, Douglas  Cwirka, Guest from Ziv Medical Center, Israel.