Over the past year an a half, the e-NABLE community has somehow managed to unite over 4000+ individuals and thinkers in over 30 countries who are putting aside their religious and political differences, views on gender roles and more – to work together on designs for free 3D printed assistive devices for children and adults with upper limb differences.
The global e-NABLE community has been collaborating and re-designing, supporting and encouraging one another and sharing our ideas with all of creation – with one goal in mind: Making a difference and improving the lives of the underserved populations around the world.
In the past few weeks, it has become very apparent that there are some wonderful collections of brilliant minds and "out of the box thinkers" who are forming groups within the walls of their universities, trade schools and community colleges – who are actively engaging their students with the e-NABLE project and some wonderful innovation is happening!
Imagine what we could do, if we were to find a way to connect all of these University groups and have them work together? Wouldn't it be wonderful if we were able to accomplish the same kind of collaborative nature of the e-NABLE community – but within the often times, very competitive university and secondary educational world? What if instead of each individual educational facility trying to out-best their rivals….they collaborated?
Recently, a group of University of Central Florida (UCF) students were part of a hand-a-thon build that was put together by Microsoft One-Note and the Collective Project to highlight the work being done with UCF student Albert Manero and his team who have been working as e-NABLE volunteers, to create a myo-electric e-NABLE device. Part of the week long event was to include a day long "Hand-a-thon" in which 60+ wrist driven e-NABLE devices were to be assembled by UCF students to then be donated to a children's clinic in Mexico.

Ivan Owen of University of Washington Bothell, teaches University of Central Florida's Albert Manero and other UCF students how to assemble e-NABLE's 3D printed hands during a week long event on the UCF campus put on by Microsoft One-Note and The Collective Project. Photos courtesy of Frankie Flood and Katie Manero.
The e-NABLE community came together to send two of their top designers and teachers, Ivan Owen  of the University of WA Bothell's Alliance For Device Innovation (A4DI), who co-created the first 3D printed hand and who has continued to innovate and help improve the designs over the past 3 years and Frankie Flood of the University of Wisconsin Milwaukee, who has been churning out new designs, countless hands and task specific devices for recipients such as violin bow holders etc. to help.

Frankie Flood of University of Milwaukee Wisconsin (UWM) teaches students at University of Central Florida (UCF) how to assemble 3D printed e-NABLE Raptor hand devices. Photos courtesy of  Frankie Flood and Katie Manero
The three universities came together on the UCF campus – not as separate educational institutions who were all trying to out-do each other – but as a collection of teachers and students and HUMAN BEINGS who were there for one purpose:  to make free 3D printed hands for children in an underserved country and work together as a community to make the world a little brighter for someone else. At the end of the day – 60 hands were packaged up and shipped off to find their new homes with children who have little to no access to medical attention in their country and could never dream of having a prosthetic device of their own. It was a beautiful day.
We would like to continue to create more of this type of collaboration between universities and work toward the idea that it IS possible to put aside the sports competitions, the best moonwalking mascots and the team colors to remember that underneath all of the amazing logos, the spirit day face paint and the need for individual university recognition – we  are all the same.
We are all people with ideas that have the potential to change the life of another human being.
Together – we can do so much.
Will you join us?
If you are a university, a technical college or a community college who has already formed a group on your campus that is working on improving e-NABLE devices, have started outreach projects to take the technology to other countries or who have individuals who have ideas that could help to improve the lives of others through 3D printing and innovation – please visit our forum and share a little about your group, where you are located, what you are working on and if you would be interested in a global collaborative effort to gather the most brilliant minds in our educational system – to help make the world a better place and "Give the world a helping hand."
Please visit: Our University Forum Post and introduce your group!
If you are a middle school or high school group that has come together to support the e-NABLE movement – we want to hear from you too! You are the next generation of thinkers and innovators and you have so much power to change the world!
Please visit: Our Middle & High School Forum Post and introduce your group!
We would love to see Universities, technical colleges and community colleges – inviting the middle and high school groups to visit their labs and help to inspire them further! Please reach out to each other!
We would love to get more collaborative hack-a-thons, build-a-thons and events organized in the coming year!
If your university group has a Facebook or Twitter page – please "follow" us or "Like" our pages and we will do the same! We love to see photos and hear stories and share incredible innovations that are coming from the next generation of thinkers and do-ers around the world!
Follow us on Facebook:


Follow us on Twitter @enablethefuture & #enablethefuture: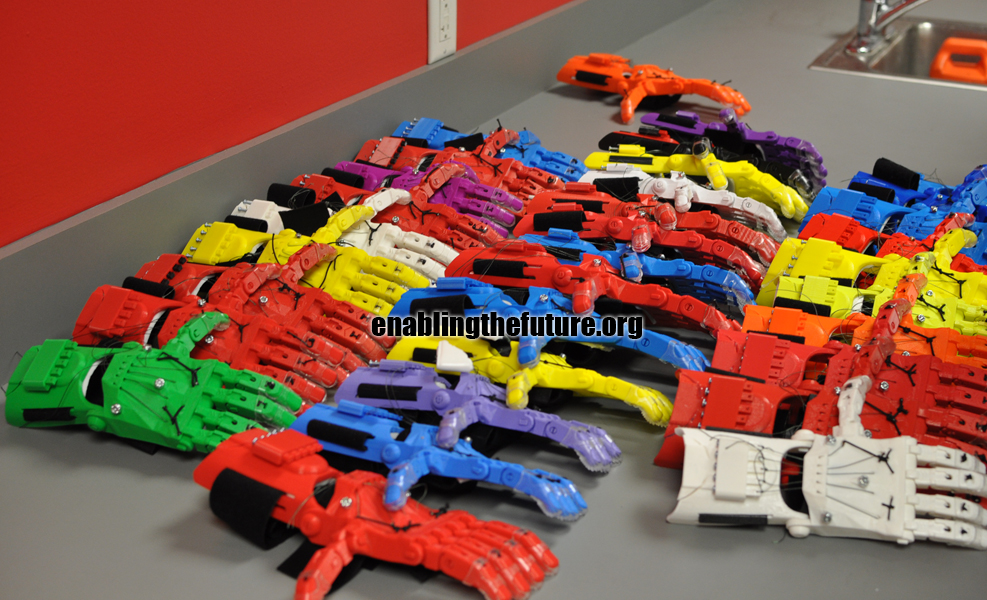 Let's "Enable The Future" together!