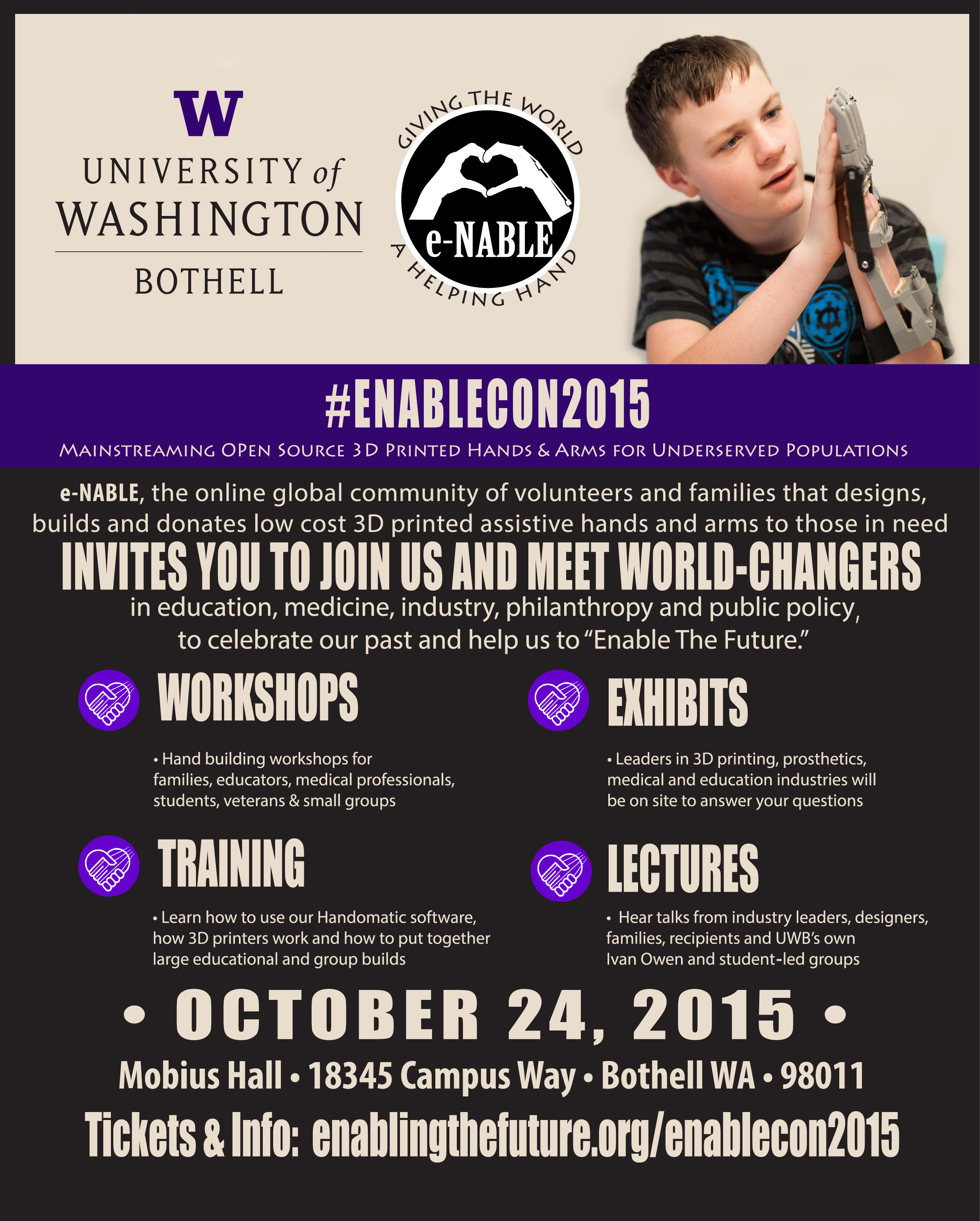 ENABLE COMMUNITY HOLDS SECOND ANNUAL CONFERENCE
OCTOBER 24 AT U WASHINGTON BOTHELL
Advancing e-NABLE's 3D Printing Revolution in Classrooms, Communities, and Clinics
On Saturday October 24, 2015 a conference at the University of Washington Bothell will celebrate e-­NABLE's evolution from a small online community of 3D printing enthusiasts into a global movement with participation in medicine, research, development and education.
The Second Annual Enable Community Conference (EnableCon2015) will accelerate collaboration between recipients, families and the e-NABLE Community's medical, educational, and engineering design leaders, by combining talks by thought leaders in medicine, industry and public policy with hands-on device-assembly workshops for medical practitioners, families, and volunteers, and innovative service-based learning curricula for educators.  It will include e-NABLE's gifting of hands and arms to over a dozen recipients and veterans.  Working lunches and an Unconference will review and advance the community's  research projects and activities over the past year, and donors will underwrite a Benefit Dinner to fuel organizational support provided by the newly-formed Enable Community Foundation.  e-NABLE's first retreat for young recipients' offers games, innovation collaboration and contests, and guided discussions addressing life in and out of school, and other topics raised by youth leaders.  Conference Coordinator Maria Esquela says, "this conference will show the world why, and how, e-NABLE has been able to do so much so quickly."
The Second Annual Enable Community Conference is set for Saturday, October 24, at the University of Washington, Bothell campus, the academic home of e-NABLE pioneer Ivan Owen , who started the movement by co-designing  the first 3D printed mechanical hand and making it available, free of charge, on the internet.  The e-NABLE community, founded by RIT research scientist Jon Schull,  built on this contribution by creating a global distributed volunteer network using 3D printing to design fabricate and disseminate a variety of innovative–and innovatively free–assistive devices.  The international community now boasts close to 6000 members, and has estimates that it has delivered over 1500 devices around the world.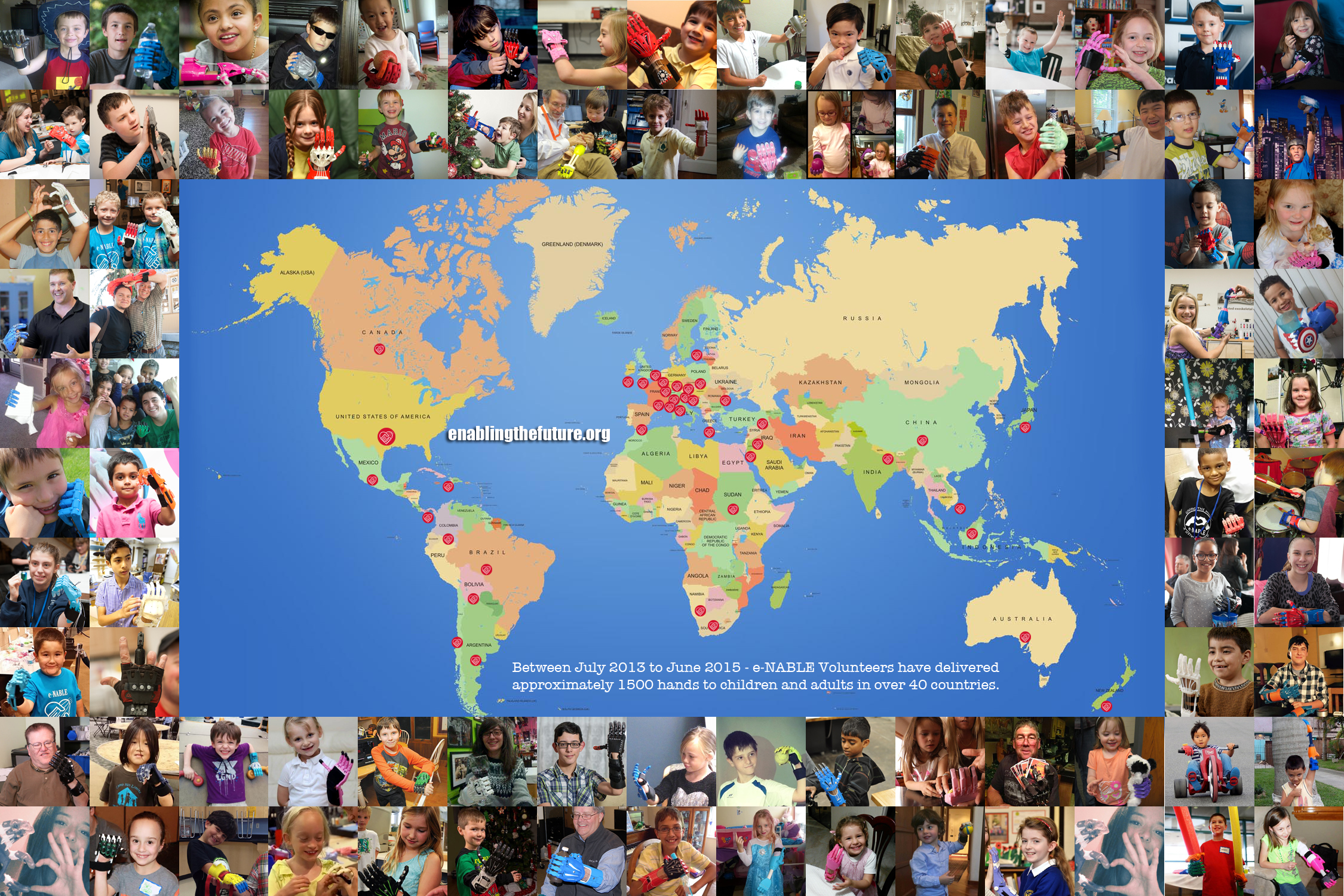 Whereas custom prosthetics can cost tens of thousands of dollars, e-NABLE has disrupted the industry by demonstrating that inexpensive devices delivered by volunteers can have real benefits to underserved populations including children who would otherwise do without.  Jon Schull, President of the Enable Community Foundation said, "A highlight of this year's conference will be our growing collaborations with medical professionals including prosthetists, whose indispensable role must be protected, even as we expand the options available to them and their patients."  To advance this collaboration,  the conference program includes professional education workshops that will allow prosthetists, educators, and 3D-printing enthusiasts to compare notes and plan future collaborations.  
"The conference will follow the model of our historic first conference at Johns Hopkins University, albeit with more participants, more diversity, and greater ambition," said Schull.  "Last year we broke into the medical mainstream, and began discussing international engagements.  Since then the newly-formed Enable Community Foundation has received funding from the Genesis Foundation for a pilot program in Haiti, funding from Google.org for to prove and improve our devices and our processes, and funding from the Autodesk foundation. Our challenge now is to build an organization that will help the e-NABLE community continue to innovate,  self-organize, and scale.   
The conference program will address this challenge by including master classes, panels and competitive challenges to develop new devices for recipients, new processes for engaging and coordinating students,educators, volunteers, and professionals around the world, and strategies for dealing with emerging policy issues. Owen will lead a panel discussion of device designers and testers, including Andreas Bastian, Autodesk; Scott Summit, Singularity University; Evan Kuester, 3D Systems; Jorge Zuniga, Creighton University; and Peter Binkley, designer of several e-NABLE hand devices.  Additional sessions will seek community input on a proposed Enable Collaboration Infrastructure, and introduce the Enable Educators' Exchange (#e3STEAM) of formal and informal educators worldwide. Grace Mastalli, former Deputy Assistant Attorney General, Office of Legal Policy, USDOJ and a key player in writing the Americans for Disability Act, will lead discussion of legal and policy issues.
The event is open to the public. Thanks to generous sponsorships, registration will be free for children, parents, recipients, veterans and the press, and available at a discounted rate for professionals.
If you would like to become a sponsor: please read this

For tickets: Please visit our #enablecon2015 page
For media inquiries: please contact Maria Esquela, 443-979-0024, or maria.esquela@enablecommunityfoundation.org.
If you would like to donate 3D printed hand kits – please join us in printing 1000 hands.
*Sign up to print a hand and pick a size
*Instructions on how to print the Raptor Reloaded design (please do not assemble!)
*Please send your completed unassembled hand kit in a ziploc bag labeled with the size and Left or Right to:
C/O Melina Brown • 216 8th St. Opelika, AL 36801
Follow on Twitter and Instagram at @enablethefuture and use #EnableCon2015.
Find us on Facebook: https://www.facebook.com/enableorganization