e-NABLE in Haiti: A Pilot-Project In-Progress
A Report by Elinor Meeks,
with Contributions from Fellow e-NABLE in Haiti Pilot Team Members:
Caitlin McDonnell, Dante Varotsis, Mohit Chaudhary and Roland Mokuolu
Starting last summer, a group of e-NABLE volunteers came together to develop a concept for bringing e-NABLE's know-how, devices and community-building approach to the developing world. Motivated by a grant opportunity posed by billionaire and former New York Mayor Mike Bloomberg, and inspired by e-NABLE's patron surgeon Dr. Albert Chi to consider Haiti as their first port of call, this diverse, intrepid team (See sidebar) hit the ground running.  What follows is an account of our progress, culminating in the recent trip by two team members to Port Au Prince in December.
How It All Began — The Genesis and The Great Dr. Chi

It all started in July when Dante Varotsis,  a New York City area volunteer, posted to the google+ group about a grant opportunity.  The Genesis Generation Challenge was "designed to encourage teams of change agents from across the world to submit ideas for projects, guided by Jewish values, that demonstrate innovation and creativity in addressing the world's pressing issues." (That was the inspiration, and the program's long term goal was to engage Jewish millennials,  but  participation was open to individuals of all faiths and backgrounds around the world.)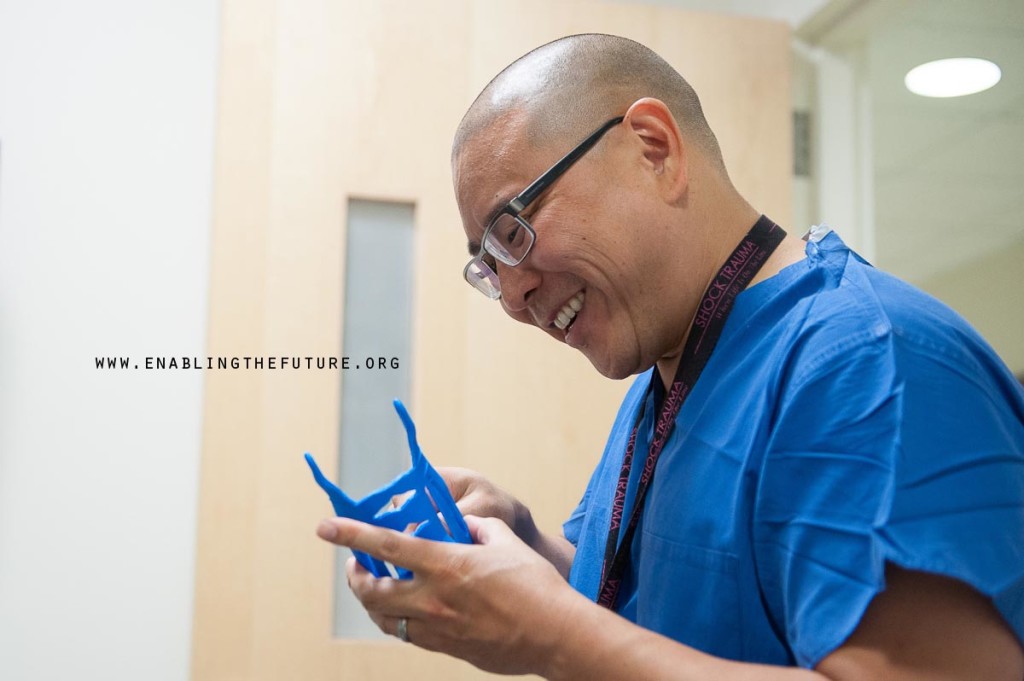 Soon, lead by Dante, we were a team: myself, Mohit Chaudhary, Caitlin McDonnell, Roland Mokuolu, and David Langton, with support from Jon Schull, and others.  Next, we needed to define our project.  We knew we wanted to devise a pilot to bring e-NABLE's know-how, devices and community-building approach to the developing world.  Our decisive moment was meeting Dr. Albert Chi at e-NABLE's landmark Prosthetists Meet Printers event at Johns Hopkins University in September.  He had led several medical missions to a prosthetics clinic in Haiti and not only encouraged us to focus on the needs in Haiti, but put us in touch with his colleagues at the Hospital Albert Schweitzer (HAS) clinic in Deschapelles. Somewhat serendipitously, at the same event, we met Dave Levin, a social enterprise entrepreneur, who put us in touch with Sam Bloch, the man behind Haiti Communitere which houses, ILab, the first and only 3D printing makerspace in Haiti.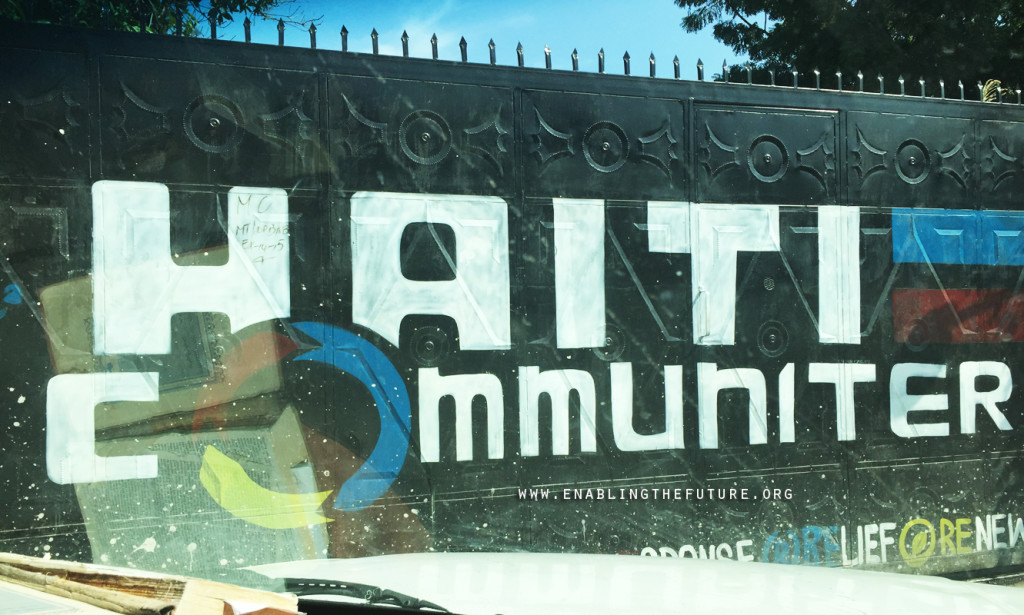 Over the next two months, the core team spent countless hours conceptualizing the Haitian venture, interviewing doctors, engineers and volunteers with experience in Haiti, eventually shaping a full business plan. By the time the challenge deadline arrived in late October, we had envisioned a viable, scalable project based in Haiti that would build on e-NABLE's "hand-a-thon" model, so successfully demonstrated in Baltimore, where volunteers pre-printed hand parts in a range of sizes, for assembly in real-time at the conference by parents and practitioners during guided workshops.
Our project would involve inviting e-NABLE volunteers to provide an initial set of devices, and in subsequent phases we'd help local clinicians gain the capacity and expertise needed to produce hands themselves, on-site.  Moreover, by partnering with Haiti's unique makerspace and business incubator, Haiti Communitere, we would identify 3D printing technicians who could receive training to support the clinicians, and eventually develop a self-sustaining business model around production and repair of e-NABLE devices.
After submitting to the Genesis Generation Challenge in October, we went on to apply for other relevant grants that offer guidance or financial support.  Among these, Caitlin applied to the OneStart Challenge — a life sciences accelerator hosted by Oxbridge Biotech Roundup.  And in late December, we were thrilled to find out e-NABLE in Haiti was selected as one of 35 semi-finalists the from a field of 322 North American  applications!  As a result, we now have a mentor to help refine the business plan, and an invitation to a 2-day business bootcamp in San Francisco in February.
The Virtues of Impatience:  Going Sooner
Although we wouldn't know until mid-November whether whether our project would advance to the second round (but it did!), some us couldn't wait. Mohit was determined to get started, Dante was soon on board.  They decided to go to Haiti in December to meet visit Hopital Albert Schweitzer (HAS), and Haiti Communitere, and to begin building hands and arms.  With the help of Kara Tanaka, leader of University of Southern California's 3D printing club, and Ara Boghosian of Design Intent CAD, Mohit and Dante packed up 20 unassembled raptor hands and an RIT arm. And they were off!
Day By Day: Meeting Partners, Building Hands, Assessing Needs
December 13th – Day One:  On the very day when Baltimore-area boy and girl scouts, were assembling e-NABLE hands for far-away recipients in the Middle East,  Dante and Mohit touched down in Port au Prince. Soon after their arrival at HAS, they met Dara Dotz, Mark Mellors, and Eric James of Field Ready, a like-minded team of 3D-printing humanitarians spoken with previously.. They agreed to travel together for part of the journey, stopping along the way to bring Field Ready's 3D-printed umbilical cord clamps to rural midwife clinics, and to chat about other applications of 3D printing in developing world medicine.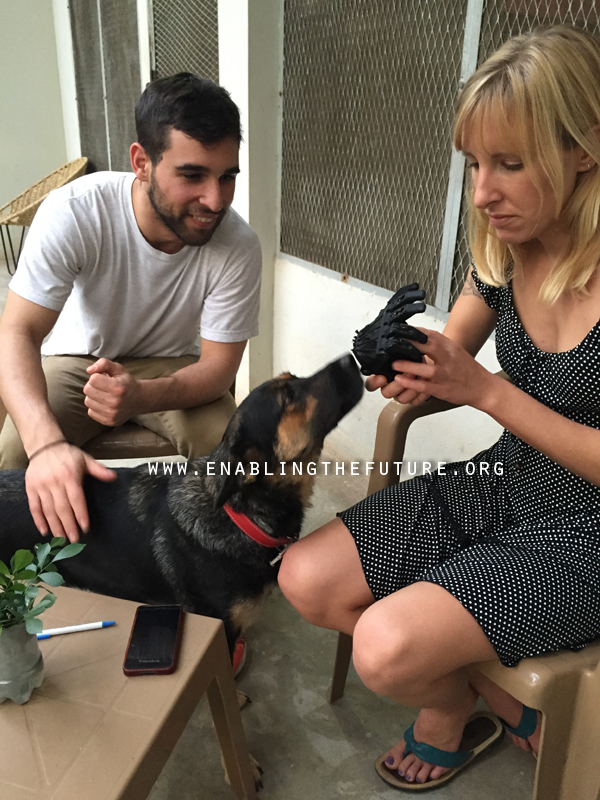 Dante demo'ing the hand to Cornelia and Blackey (the dog)
Once at HAS, Dante and Mohit met with Cornelia Kohler, a Medi-For-Help prosthetist who helped us plan this project during the closing weeks of her 1.5 years tenure in Haiti. Cornelia introduced her lead technician, Dieuseul Charles (aka Joel), a native of Deschapelles who was very eager to learn about the e-NABLE hands.
Day Two Now Dante and Mohit got to know the Hospital Albert Schweitzer, a remarkable operation that serves 350,000 patients.  Although HAS has provided thousands of conventional prosthetics to Haitians, there are many more potential recipients who, for various reasons, they cannot fit with such devices.  Enter e-NABLE!  
Later in the day, Dante and Mohit taught Joel how to build an e-NABLE "Raptor" model hand; with Joel's artistic precision and insightful questions, he was soon holding his first completed e-NABLE hand.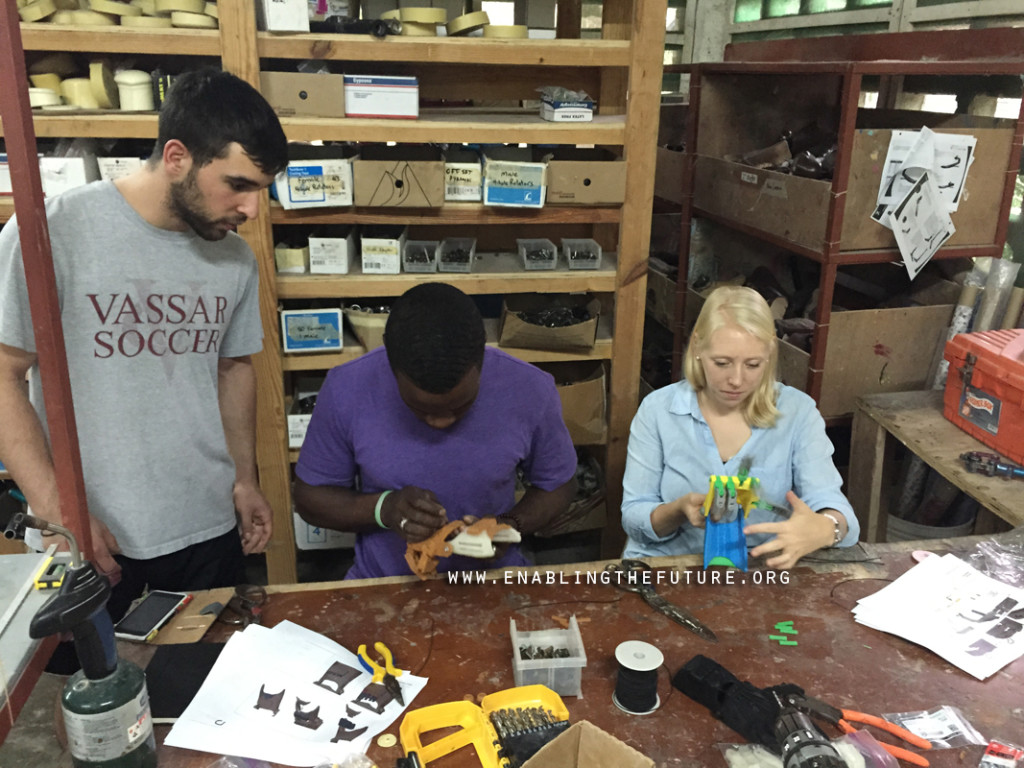 Dante showing Joel and Jennifer (HAS staff) how to assemble the hands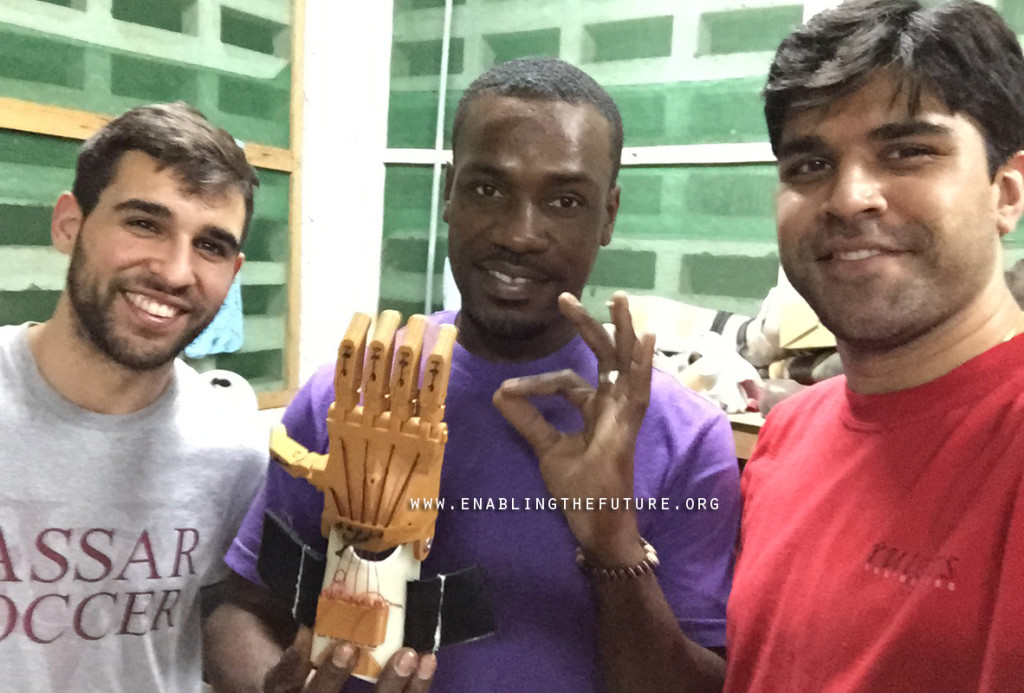 Dante, Joel, and Mohit with Haiti's first Raptor hand
Day Three: 7am grand rounds and "in service."  Dante and Mohit were invited to give a presentation about e-NABLE to the the doctors and administrators' daily forum.  In the discussion that followed, people were clearly excited by the prospect of bringing e-NABLE-inspired solutions to Haitian needs, and they had  some incisive questions:  "What can it do other than shake a hand?", "Can it look more like a hand?", "What about arms?", "What happens when it breaks?", "How much do they cost?"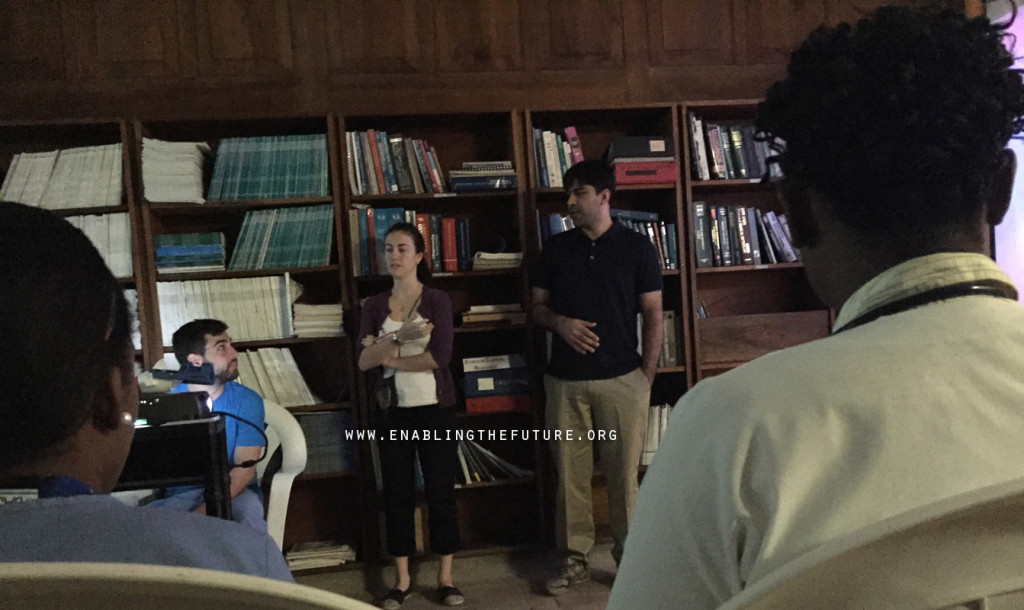 Dante and Mohit giving a presentation with the help of their translator, Adriana
The discussion also revealed that a substantial number of patients would benefit from prosthetic arms if the devices could work for physical labor.  And there may even be more candidates for arms than for hands.
After Grand Rounds, the team returned to the prosthetics center for another hand assembly with another set of technicians Tcho, Alix, Yvener, and Cira. But this time, Joel lead the teaching.  In three hours, the team assembled five hands, the fifth of which was completed by the secretary, Regeline, who, upon completion, slipped a latex glove over the raptor hand. "There", she said, "much prettier." Indeed, it looked more like a hand, and added grip to the surface!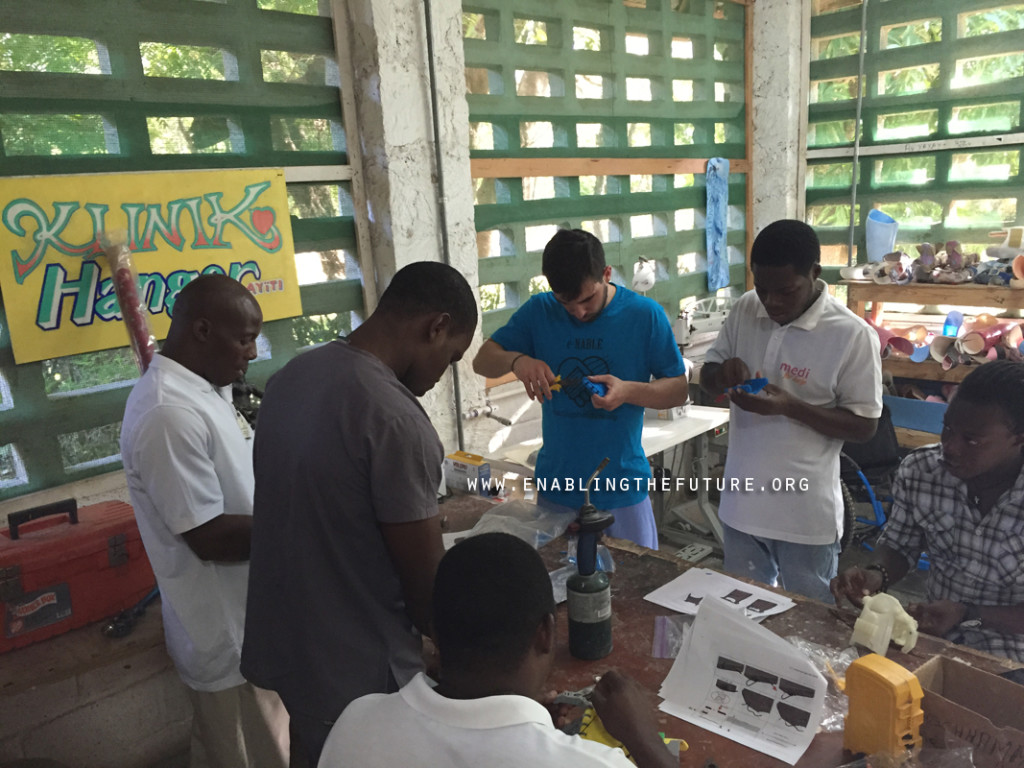 The team working hard to build their hands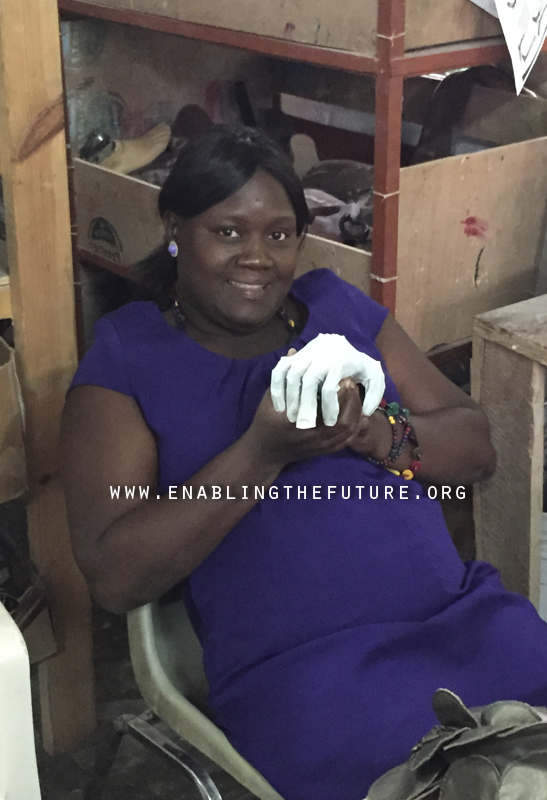 Regeline showing off her gloved e-NABLE hand
After breaking for lunch, Joel and Alix showed Mohit and Dante how traditional prosthetics are cast-molded.  Having tools for both traditional prosthetics as well as  3D-printed parts in HAS, will make it easier to adapt devices to Haitian conditions.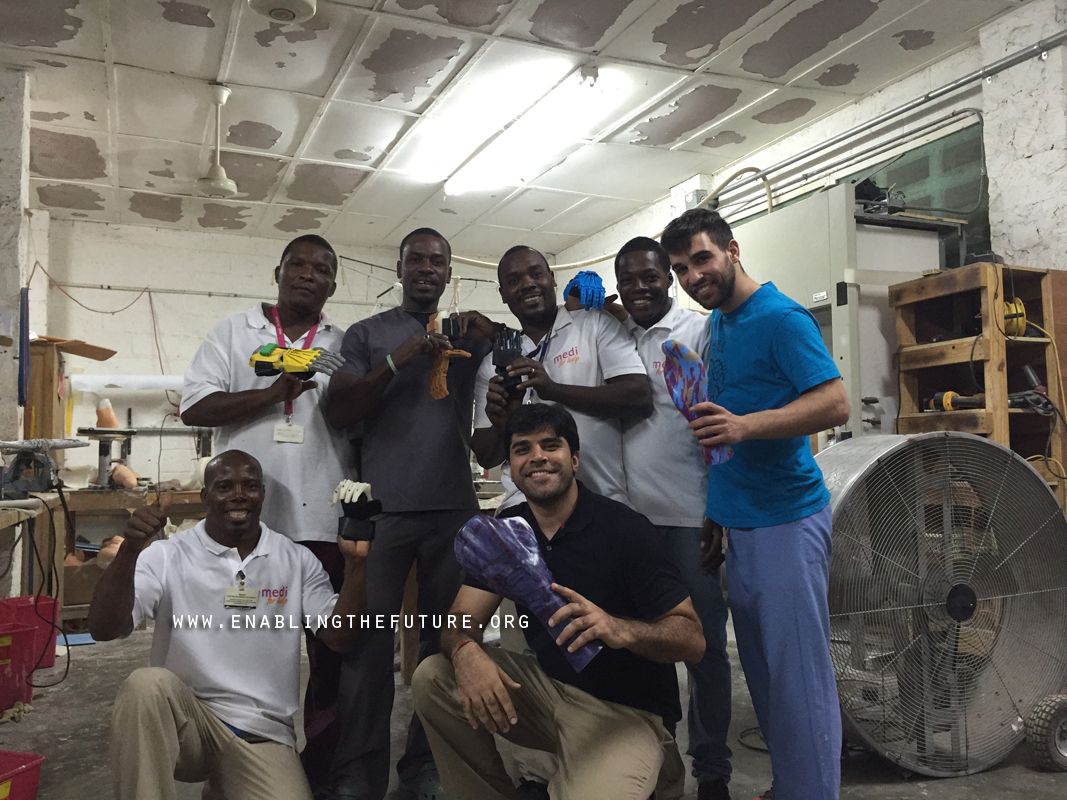 The prosthetics team and their newly built hands
That night, Dante toured the pediatric ward with Dr. Eileen Moore, a volunteer pediatrician from Denver. As he shadowed her during rounds, she discussed the conditions of many of the babies in the pediatric ICU. One child was suffering from infant respiratory distress syndrome (IRDS), a common problem with premature births. In the U.S., this is routinely remedied by squirting a solution of surfactant into the baby's lungs. And even in many developing countries, the baby would likely be treated  with surfactant or with a device called a bubble CPAP. But in Haiti, neither option was available. Dante was pained to hear that for the next 72 hours, this baby would be fighting for her every breath, and risking lung collapse.  Worse, Dante learned that a neonatal bubble CPAP can be hacked together with a 3D printer and a scalable ventilator mask file.  This relatively simple solution could save the lives of countless premature babies like this one. (For information on CPAP hacks and designs, see: here and here)
e-NABLE leaving its mark at the HAS prosthetics lab
Day Four:  Haiti Communitere.  A unique place filled with jacks of all trades, H.C. is a venn diagram where a hostel, a training facility, a manufacturing space, social enterprise incubator, recycling/compost site all intersect to form a community center for like-minded people.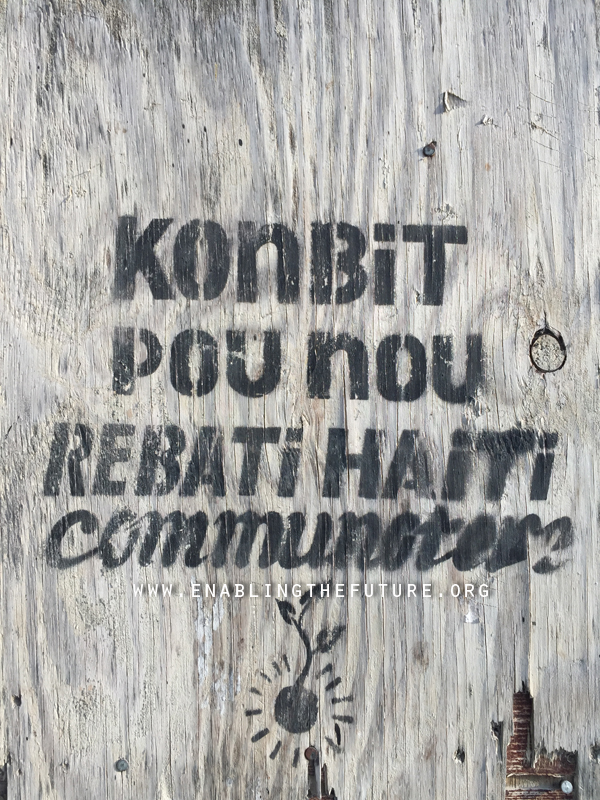 Work together to rebuild Haiti
One of H.C.'s operations is iLAB , a 3D-printer lab started by a group called KidMob. Dante and Mohit met with Deseme Willio (Willio), the enthusiastic and capable lead technician for the 3D printers. Willio and his team are partnering with us;  the plan is to use H.C.'s space as a manufacturing hub to produce parts for hands to be distributed and assembled at various hospitals in Haiti. Soon after the meeting with Willio, it was time for Dante to say his goodbyes as Mohit continued on.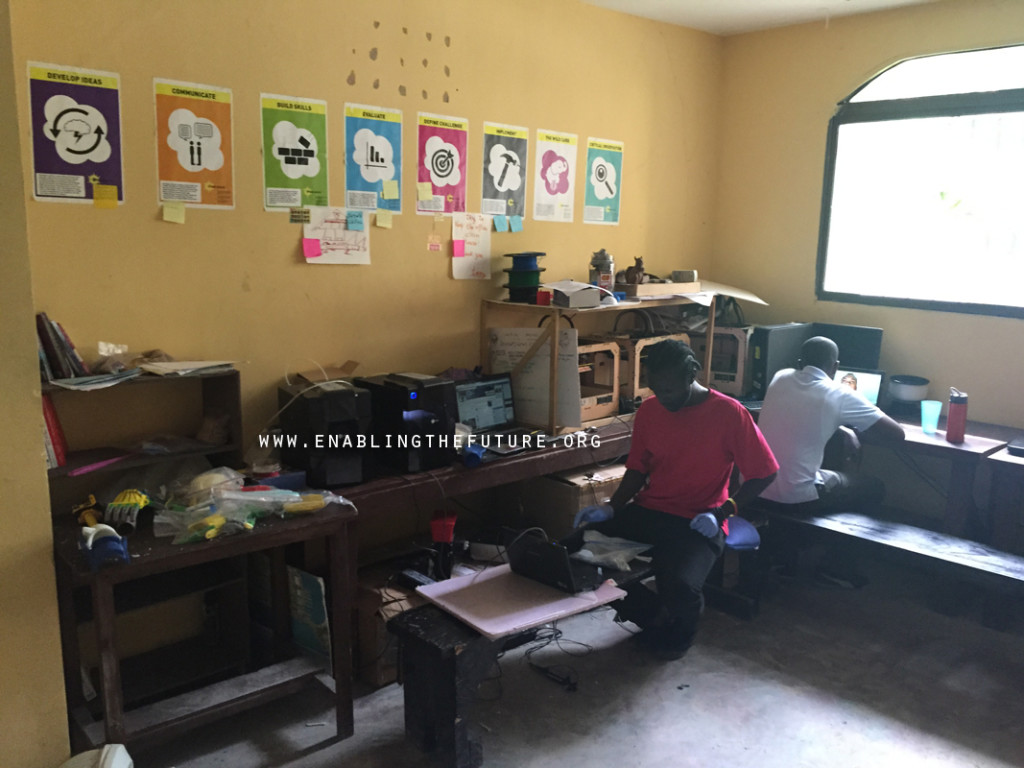 KidMob's iLab with Willio hard at work
In addition to HAS, and H.C., we plan to work with Hospital Bernard Mevs (HBM). Since the earthquake, HBM has been supported by Project Medishare, a Florida-based non-profit working throughout Haiti to support rural communities by training medical professionals and outfitting clinics with necessary technology.  With Project Medishare's support, HBM has become Haiti's premier trauma and critical care center, with a busy and well-equipped and busy prosthetics lab directed by Thomas Iwalla.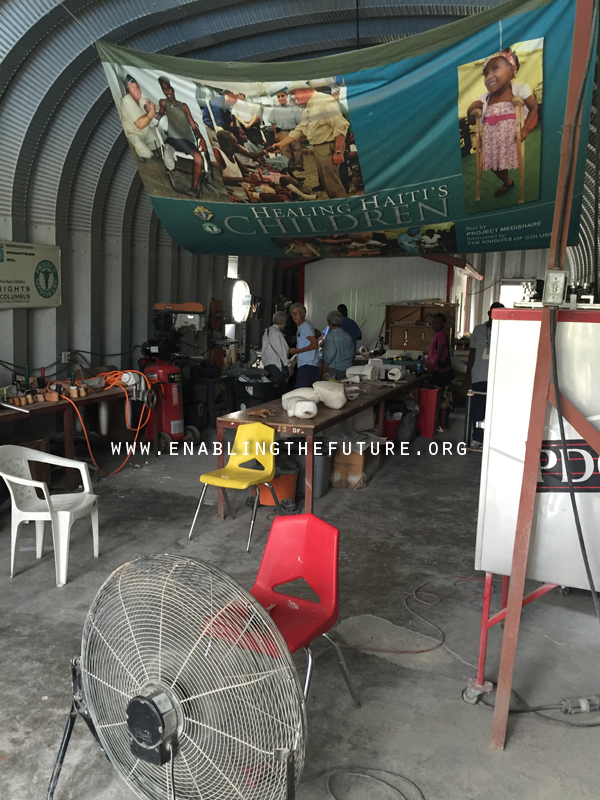 Project Medishare's prosthetics workshop
Earlier this year Thomas' lab had fitted a child with the Robohand model, but because he'd been unable to follow up and assess the device's utility, he was initially cautious about using more 3D-printed prosthetics.  However, after reviewing our work, Thomas became enthusiastic about e-NABLE's potential for his patients.  Mohit  immediately began brainstorming about adapting the Raptor model for below-the-wrist and above-the-elbow amputees.  Thomas, loved the hand so much he carried the Raptor with him for the rest of the hospital tour, showing it to the nurses and staff.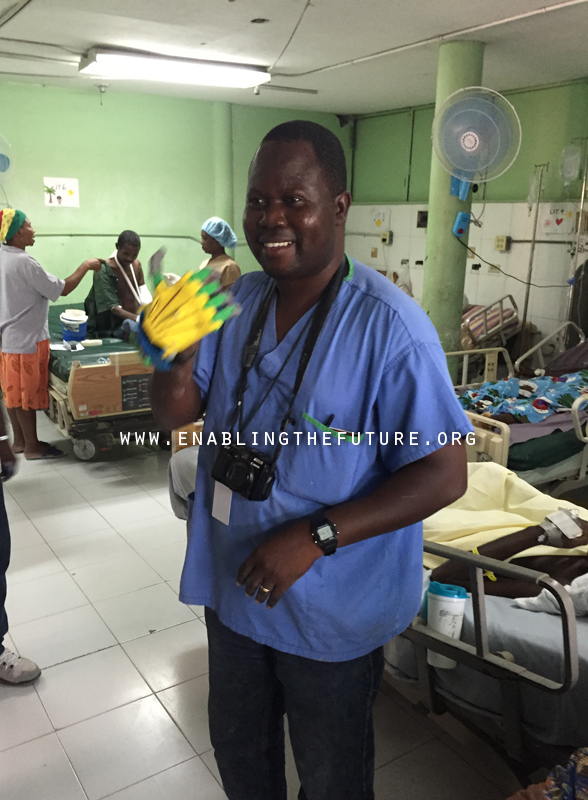 Thomas showing off the Raptor Hand
During the visit, Dante also met a patient who had recently suffered an accident resulting in a partial amputation on his right hand and a below-elbow amputation on his left arm. He expressed interest in the design of the Raptor and in the possibility of using it. When the guys sought feedback on the aesthetics of the Raptor, he noted, "I don't care as long, as it works."  This was reassuring since they had previously been told that in Haiti, as in other cultures, there is considerable resistance to prosthetics that are not 'life-like.'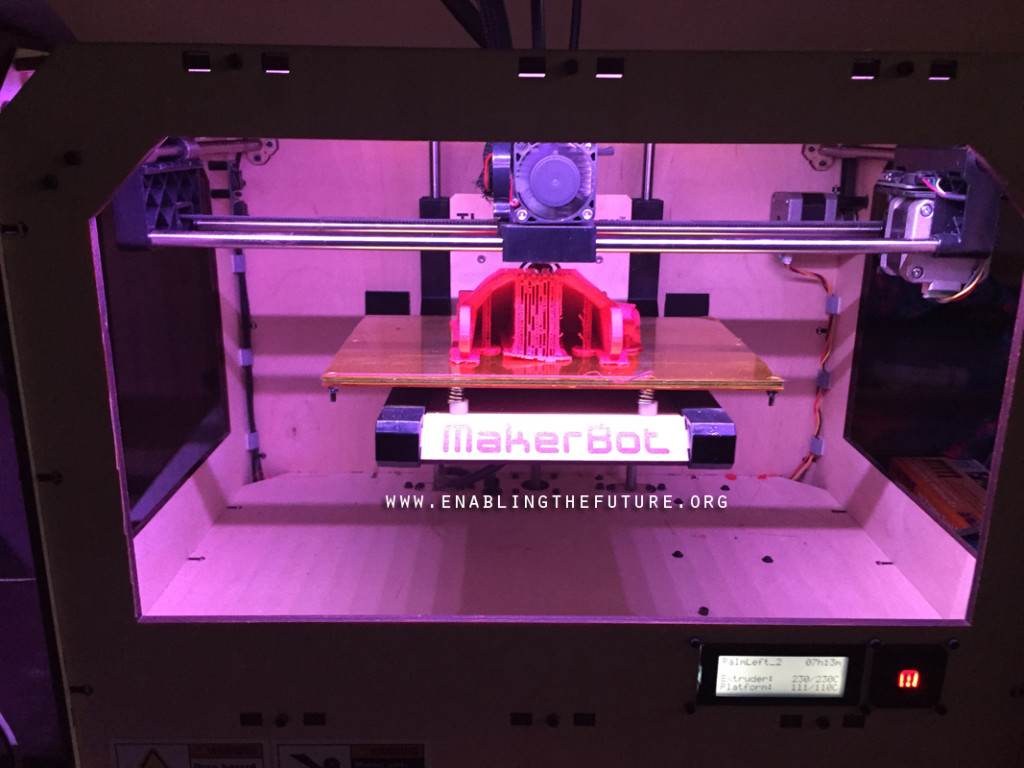 Newly printed palm piece for assembly
Day Five:  Unfortunately political protests in Port Au Prince thwarted Mohti's plan to return to H.C. for a full hand-building session with Willio and Thomas. But later, he was able to make a quick trip to say goodbye and discuss follow-ups from the U.S.  We will plan a video-based assembly session.
Takeaways and Next Steps
And then, Mohit headed for the airport, and home.  The trip confirmed the need for prosthetic hands and arms in Haiti.  It also reinforced the need to market and advertise that devices are now becoming available.  And we took some first steps in this direction.  Caitlin and I had designed a flier depicting the hand, with information about our devices and contact details.  Michael Pradieu, a Haitian American and co-founder of Edeyo, an educational non-profit, translated it into Creole.  The flier will be posted in dispensaries and other relevant locations throughout the area, and hopefully expand interest in e-NABLE and eventually help our local partners open for business!
But we won't just hope.  We want to set the stage for the project's next phases.  Since we won't know until February if we will win a Genesis Grant, we are refining our financial analyses and seeking additional or alternative funding to implement our full plan.  We are eagerly following-up with our new colleagues in Haiti.  We are exchanging Ideas for design adaptations and patient intake procedures, planning virtual hand-assembly workshops and networking with other Haitian health-care providers and social entrepreneurs, and so on.  There's plenty to do to prepare for a next trip to sow more seeds, grow e-NABLE in Haiti, and  offer as many helping hands — or arms — as we can.
Sidebar:  The Team
What do you get when you mix a writer, a bio-engineering student, a young research scientist, two beginning bankers and an engineer without borders, of different generations, backgrounds and even continents? You get the all-volunteer e-NABLE Haiti Pilot Project Team.  United by their passion for e-NABLE and international development, this group came randomly but fortuitously together. (There are some connections:Dante and David grew up together in Pittsburgh; David and Roland work together….)  Drawing on their diverse experiences and expertise, they have been meeting virtually and over some real-life pizza, enjoying and encouraging each other as they work to extend e-NABLE's reach to Haiti and other challenging global scenarios.
They are:
Dante Varotsis is a Research Assistant at the Paul Greengard Lab of Cellular and Molecular Biosciences at Rockefeller University in New York City. A recent graduate of Vassar with a special interest in global health, Dante's next chapter will include medical school.
Mohit Chaudhary is a Biomedical/Medical Engineering student at Rutgers University in New Jersey who has worked in systems engineering and IT for IBM and Princeton Radiology Lab and looks forward to his work with Grand Central Tech, a start-up incubator in New York City, this Spring.
Caitlin McDonnell is a Strategy and Management Consultant with a Masters in Biomedical Engineering from the University of Oxford.  A born project manager and true engineer without borders, she recently left sunny Northern California for Sydney, Australia.
Elinor Meeks, the team's pre-millennial, has written for The New York Times, The Christian Science Monitor and other publications. A former documentary film producer with a background in public relations, she lives in Northern New Jersey with her husband and two sons.
Roland Mokuolu is a financial analyst at an investment bank in New York City and a Civil Engineering grad from Georgia Tech. Co-founder of Inventaprint, a cloud-based design and manufacturing start-up, he also heads the engineering committee for Geeks Rule, a non-profit promoting STEM for underserved youth.
David Langton is an investment analyst in New York City. He graduated with a degree in Economics and Mathematics from Emory University where he was also co-captain of The Eagles soccer team and organized events benefiting Children's Miracle Network.
Would you like to help make a difference?
Do you have a 3D printer that you would like to print hands on for those in need around the world?
Please visit our Google+ Group here.
Please fill out our volunteer intake form here.

Together – we can change lives.