"Since the very first time Ultimaker saw the light of day, we have supported open source. We shared our source files and our community gave us feedback…it is our firm's belief that sharing knowledge does not mean losing knowledge. On the contrary, we learn from each other, inspire each other and use each other's knowledge to create even better products and develop impressive innovations world-wide." – Ultimaker (Via 3D Printing Industry)

Over the past year, e-NABLE has gone from 70 people who signed up on an online map as volunteers to donate printer time to making 3D printed prosthetic hands for kids in need – to a global community of over 1400 volunteers who not only offer to make parts for hands, but who are also assembling them and shipping them off to children and adults they may never meet (for free!), creating designs and sharing them open source so others can use them and build off of them and re-share once again and some are doing "the little" background stuff that often goes un-noticed.
Sometimes, we find ourselves being contacted by individuals who share the same heart for open-source (the sharing of ideas and knowledge)  that we do…and who just happen to own companies that are run by people with a heart for making a difference in the world around them.
We are pleased to announce that Ultimaker has generously donated $10,000 worth of 3D printers to e-NABLE in an effort to help create hands in areas around the globe where they are needed the most. There are many places in this world where a single 3D printer and sharing the knowledge of creating low cost 3D printed hands – can allow a parent to be able to go back to work and provide for their family once again or allow a child to have the opportunity to feed themselves or help tend to daily chores that their family relies upon them for.
Their donation and their printers will help us reach more places and people who are in need of devices and will also help us to continue to plug away on prototypes and designs as we work on growing our ever increasing open-source library of upper limb devices.
Ultimaker is a proud sponsor for our  upcoming e-NABLE conference at Johns Hopkins Hosptial on September 28th, 2014. They will not only be bringing 4 of their printers to the conference with them to help churn out fingers, palms and gauntlet pieces for hands – but Co-Founder, Erik de Bruijn will be speaking as our Gold Sponsor guest speaker during dinner. He will share his thoughts and experiences on the importance and value of open-source sharing.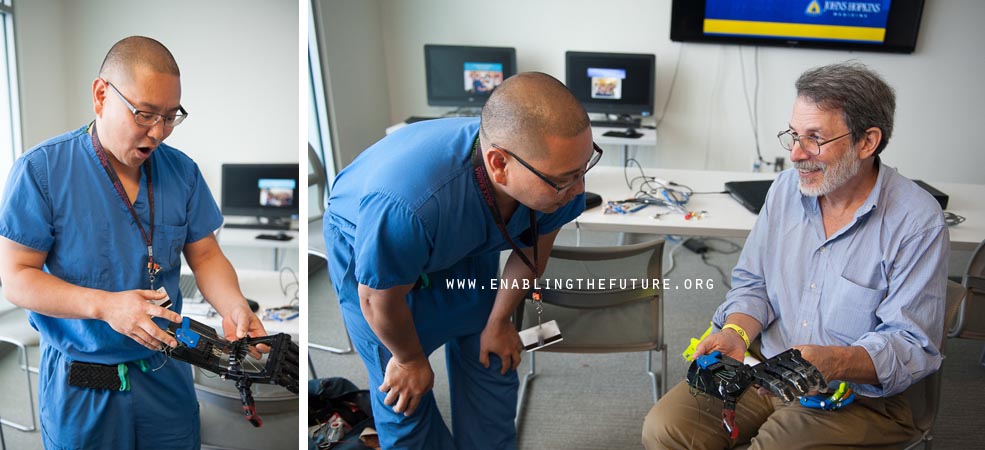 One of their printers has already been delivered to Dr. Albert Chi's lab at Johns Hopkins Hospital for use in creating devices for some of his patients there so that he can give e-NABLE feedback and advice on how to improve these devices and designs to better suit the needs of his patients. His input is invaluable as an expert in the area of high tech prosthetics and as a trauma surgeon.
Please join us on September 28th, 2014 at Johns Hopkins Hospital in Baltimore – where we will bring 21st century technologies, practices and philosophies to prosthetists, parents and patients alike.
We are making history and changing lives. We invite you to join us!
REGISTRATION & TICKETS: Visit our Ticketing page.
SCHEDULE: Visit the Scheduling Page.
SPEAKERS:  Learn more about our speakers!
SPONSORS: If you our your company would like to become a sponsor – please visit our Sponsor's Information Page.
Thanks to generous sponsors, families with children who have a need for a device as well as Veterans and Wounded Warriors – will be able to attend the conference for free.
INFO: If you would like more information on this event – please visit our press release page HERE.
PRESS: If you are a member of the Media/Press and would like to be invited to cover this event live or help us spread the word about the as-yet-to-be-announced highlights – please email us at enablepressrelease@gmail.com.
QUESTIONS: For more information – please email info@enablingthefuture.org.