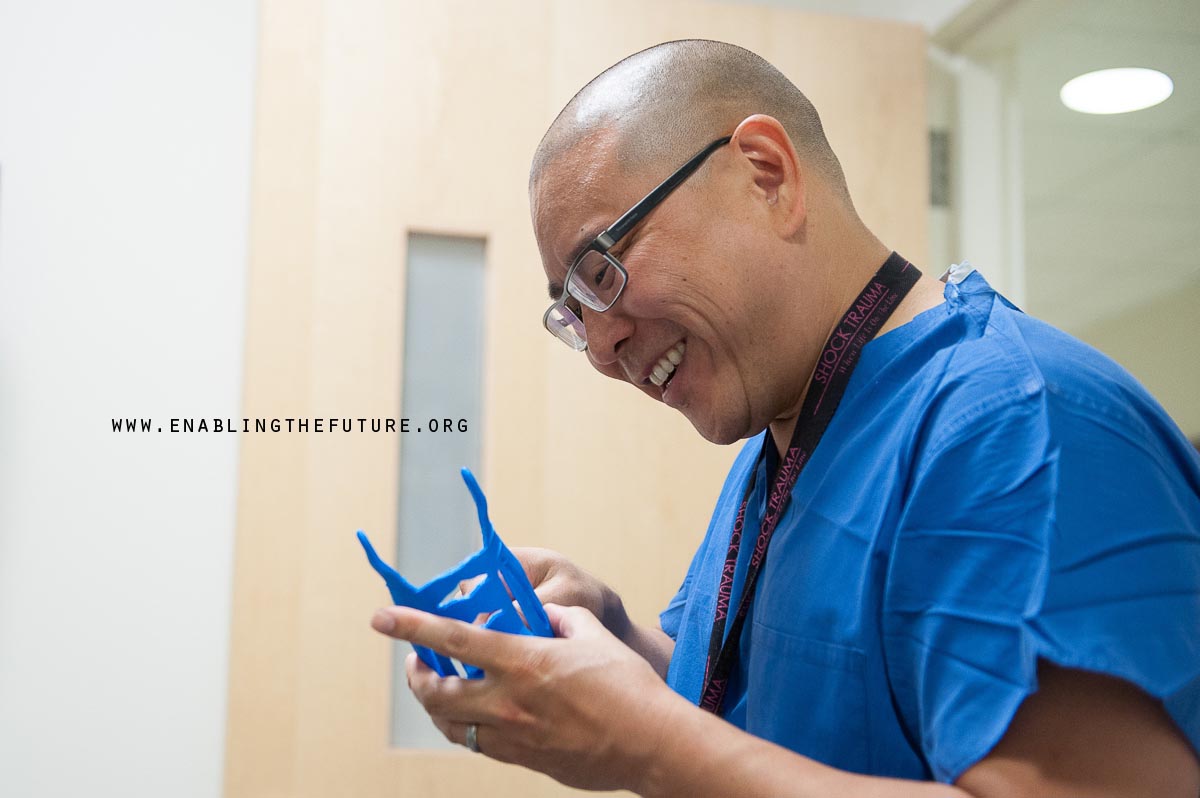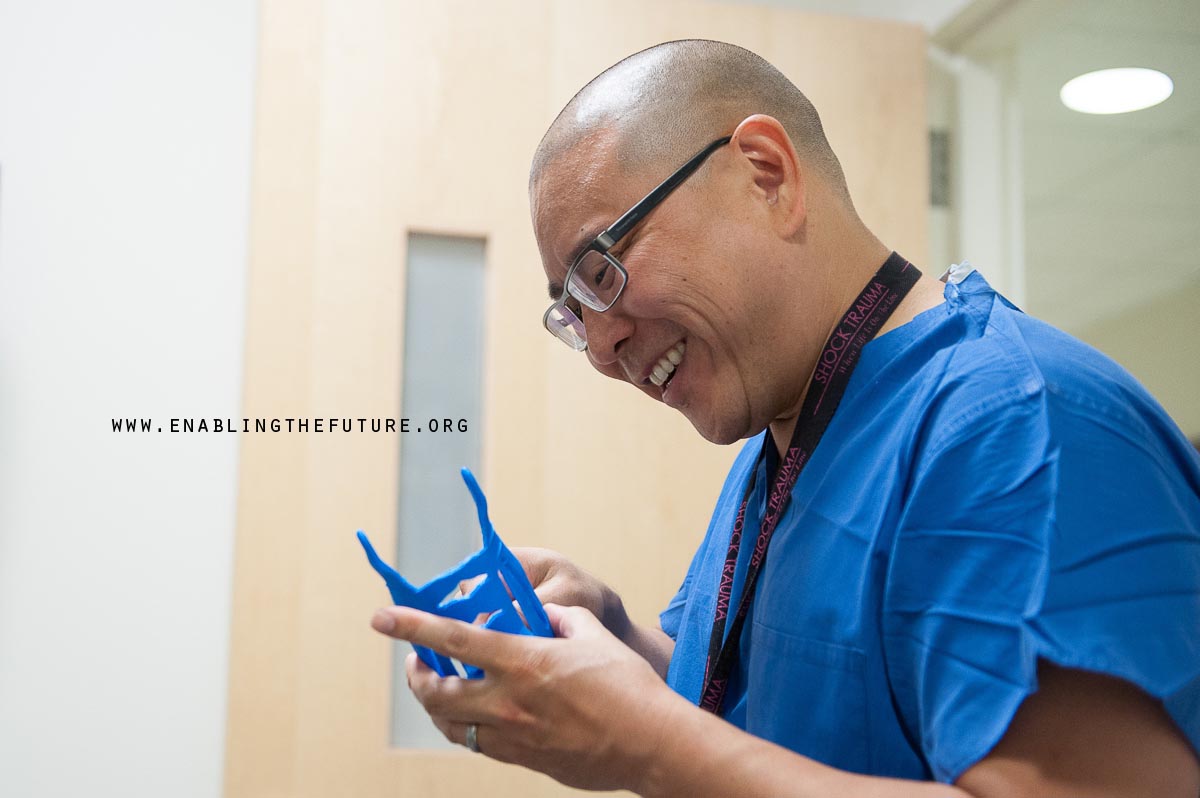 When we left off with Part 1 of our adventures at Johns Hopkins Medical Center in Baltimore – we had introduced you to the amazing Dr. Albert Chi and shared a bit of his incredible background as a trauma surgeon, a leader in high tech muscle and eye controlled prosthetic devices and a Lieutenant Commander in the US Navy Reserves.
Monday we spent the day watching Dr. Chi work with a wounded Warrior, getting to learn more about what he does at Johns Hopkins and brainstorming ways to work together to help spread the e-NABLE hands to children and adults who could never even dream of affording one of the high tech prosthetic devices that he usually works with or who are not able to be connected to an organization that could provide them with a device.
Originally, the meeting was set to just include a 4 hour meet and greet and to get some instruction on how to assemble our hand designs so that Dr. Chi and his team could try to make one and fit it to a patient. We had also been introduced to James Venderser, a Certified Prosthetist-Orthotist, who has a patient at the Walter Reed Medical center that he hoped to put the device on.
It worked out that Ivan and Jen Owen were not going to be flying back to Washington State until noon the next day – so they offered to come in early Tuesday morning before their flight – to walk Dr. Chi and two of his interns on his Motor Control Research team – college senior intern, Austin Steckler and high school senior intern Karam Lyons – through the process of creating a hand. Unfortunately, Jon and Peter were unable to stay another night and had headed out on their way late Monday.

Monday night before leaving the facility – Ivan had worked on teaching Karam how to properly size the files and prep them for print while Peter Binkley created the leather palm piece for the Talon Beast Combo design they were making and then showed Dr. Chi how we gather our measurements from our remote recipients. Austin volunteered to drive back later Monday evening to check the print and to pick Jen and Ivan up from the airport early Tuesday morning.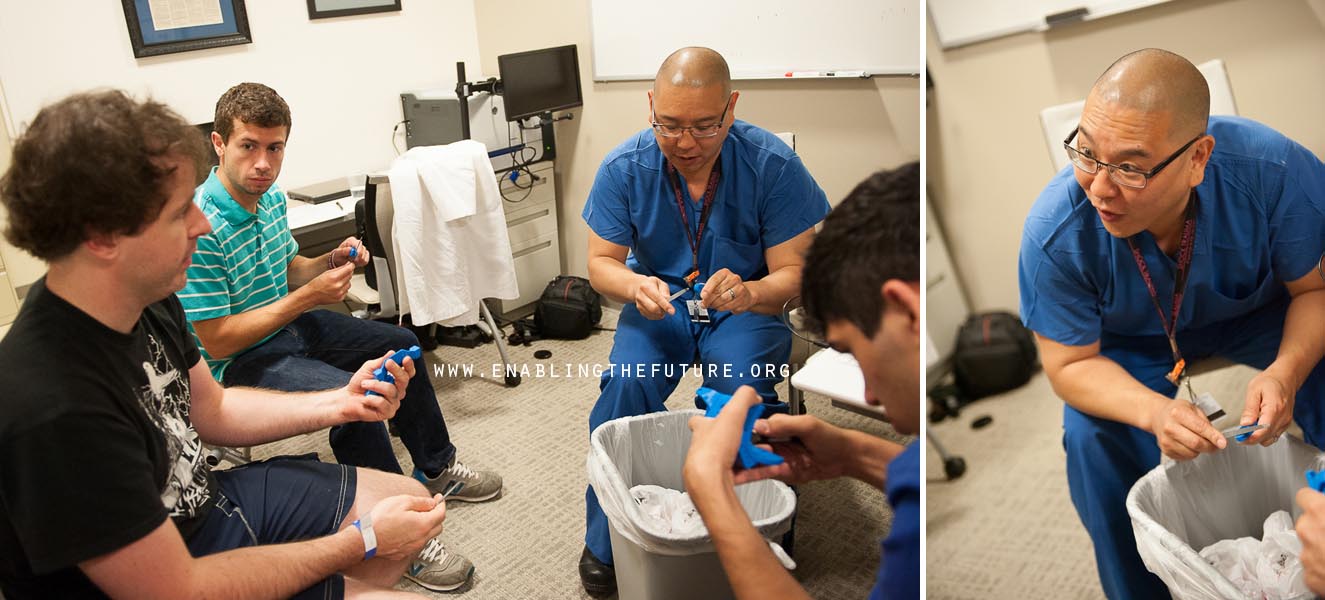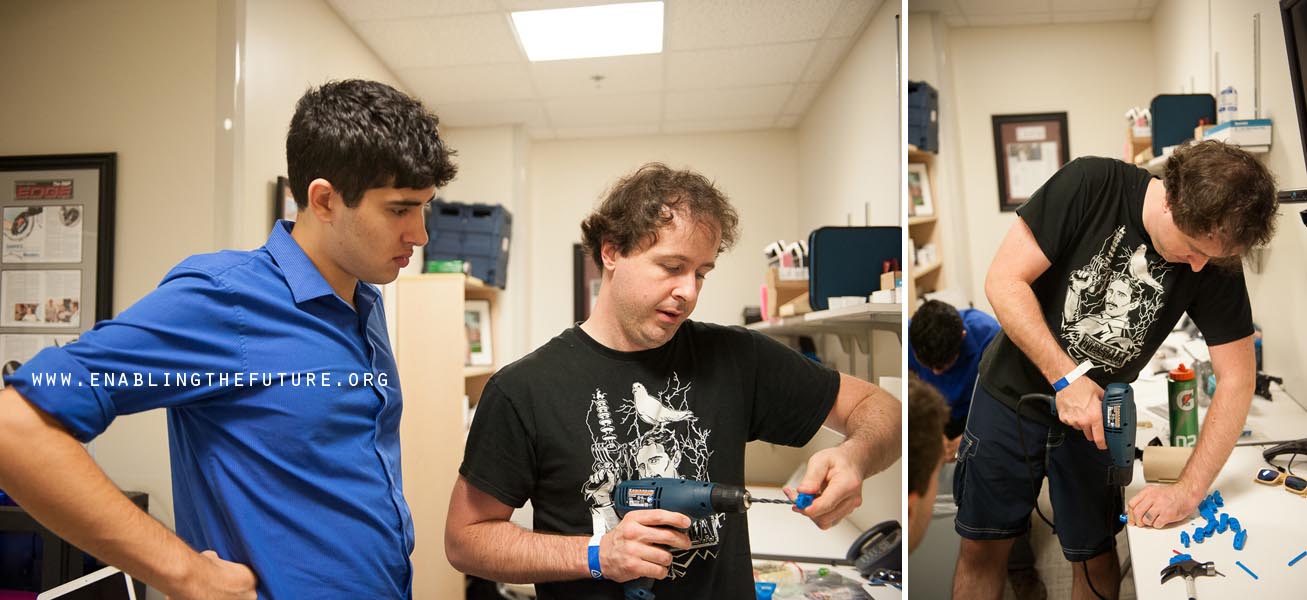 We arrived at Johns Hopkins as the sun was just coming up and after a little breakfast,  we jumped right into teaching them how to sand the parts to make them move more smoothly in the joints and Ivan taught them how to drill the holes larger without destroying the fingers.
Dr. Chi was very excited about helping to create this hand. He sanded some fingers, cleaned out support material in the gauntlet, helped tap the snap pins into the fingers and cut out the foam padding (Shoe inserts! For real!) to put into the palm and gauntlet to protect the recipient's skin from harm. It was incredible to watch someone that can re-route human nerve endings in trauma patients – get so excited about watching blue plastic dust piles growing on a table and cutting out shapes in foam shoe inserts to place onto plastic pieces for a "Home made" prosthetic device!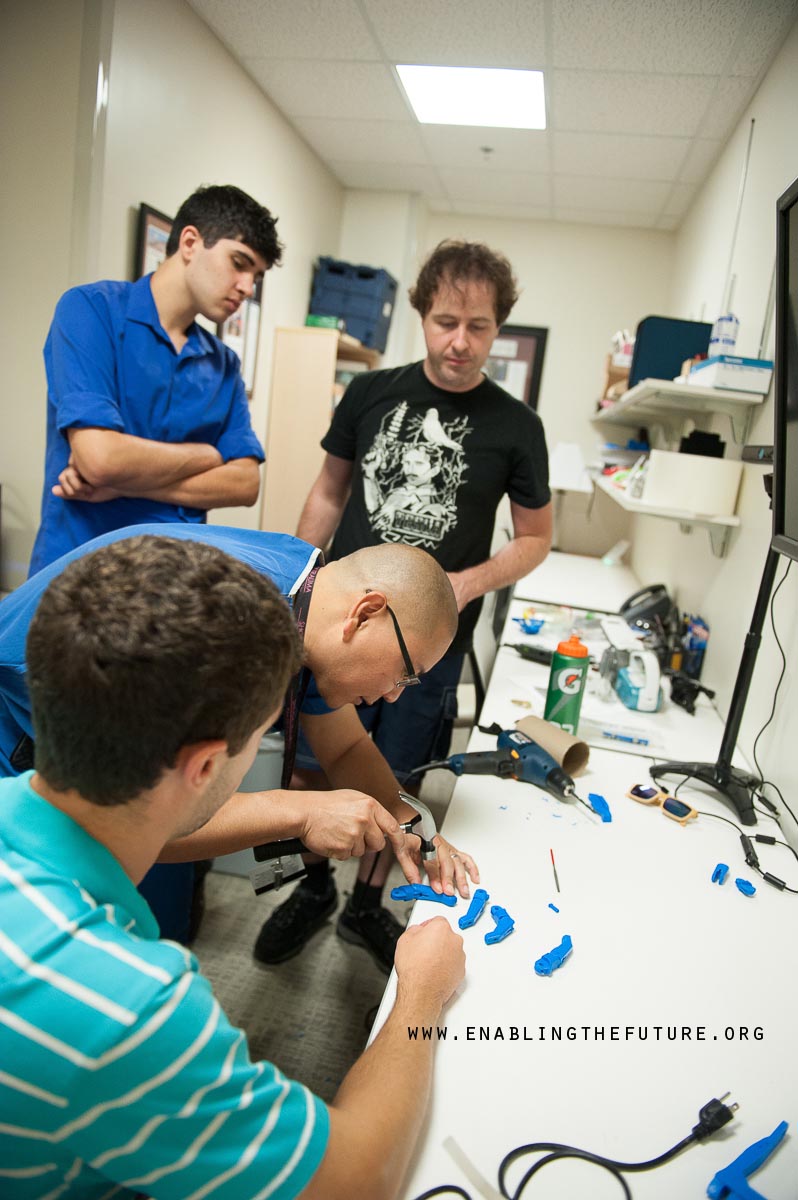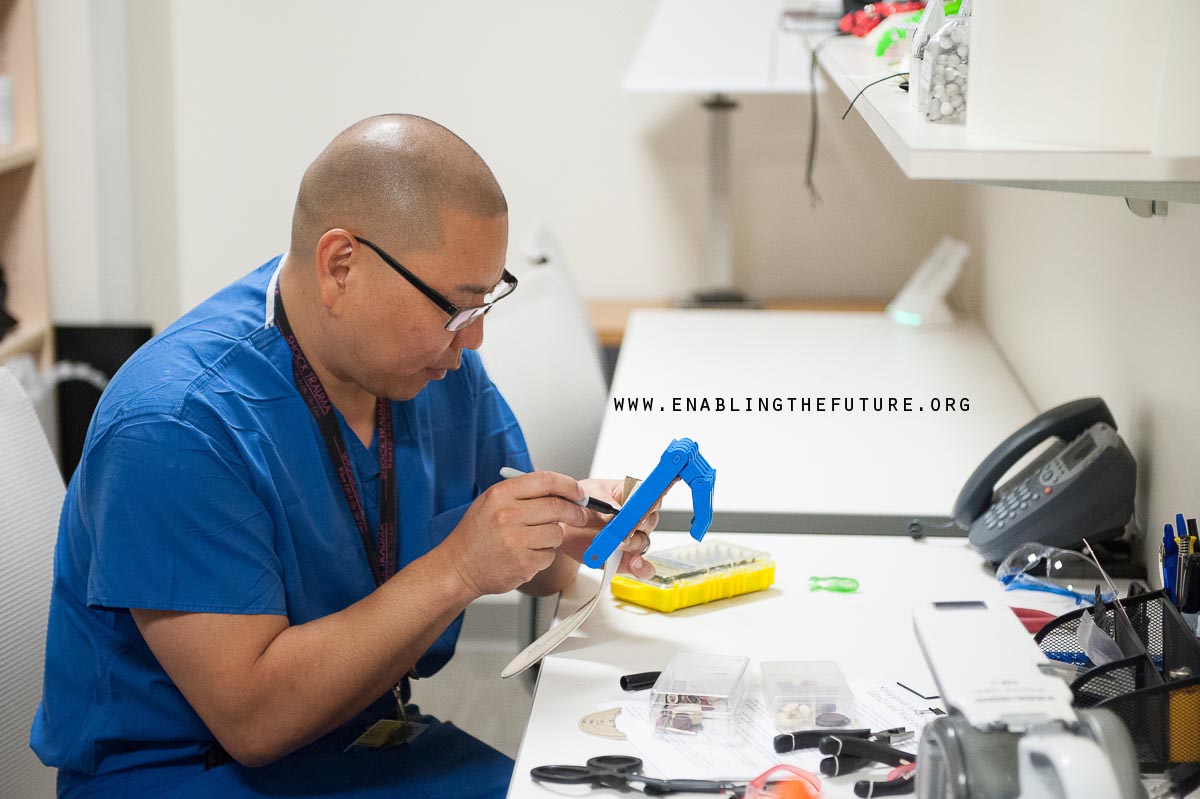 With the five os us working together, we managed to teach Dr. Chi, Austin and Karam how to make a Talon Beast combo and complete the build of the hand in a little over 3 hours and with just enough time to grab some parting hugs, a photo op and a promise to visit again soon before Austin shuttled Jen and Ivan to the Airport!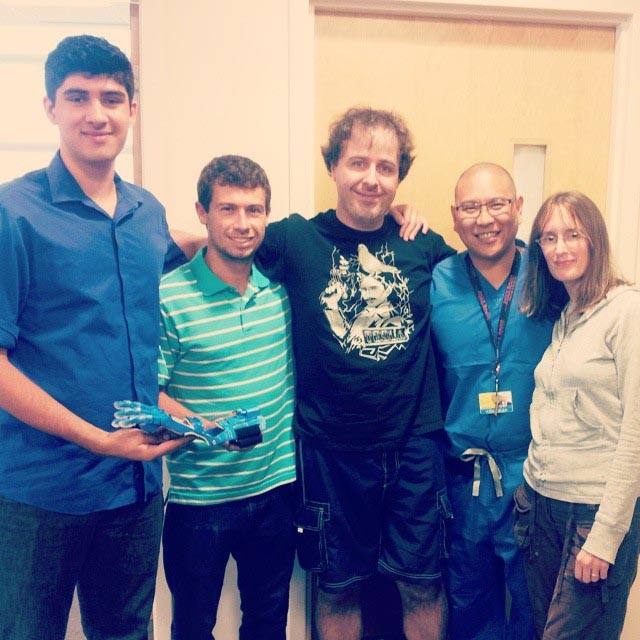 We are looking forward to getting an update sometime next week as to how the hand is working for the patient we created it for and hope to be able to share some photos!
In the next week or so – we also plan to share our exciting news about our upcoming work with Dr. Chi and the amazing things that are going to come from partnering with such an incredibly talented man with not only a heart for service to his country – but for underprivileged  people all over the world who can use a "Helping Hand."
Stay tuned!