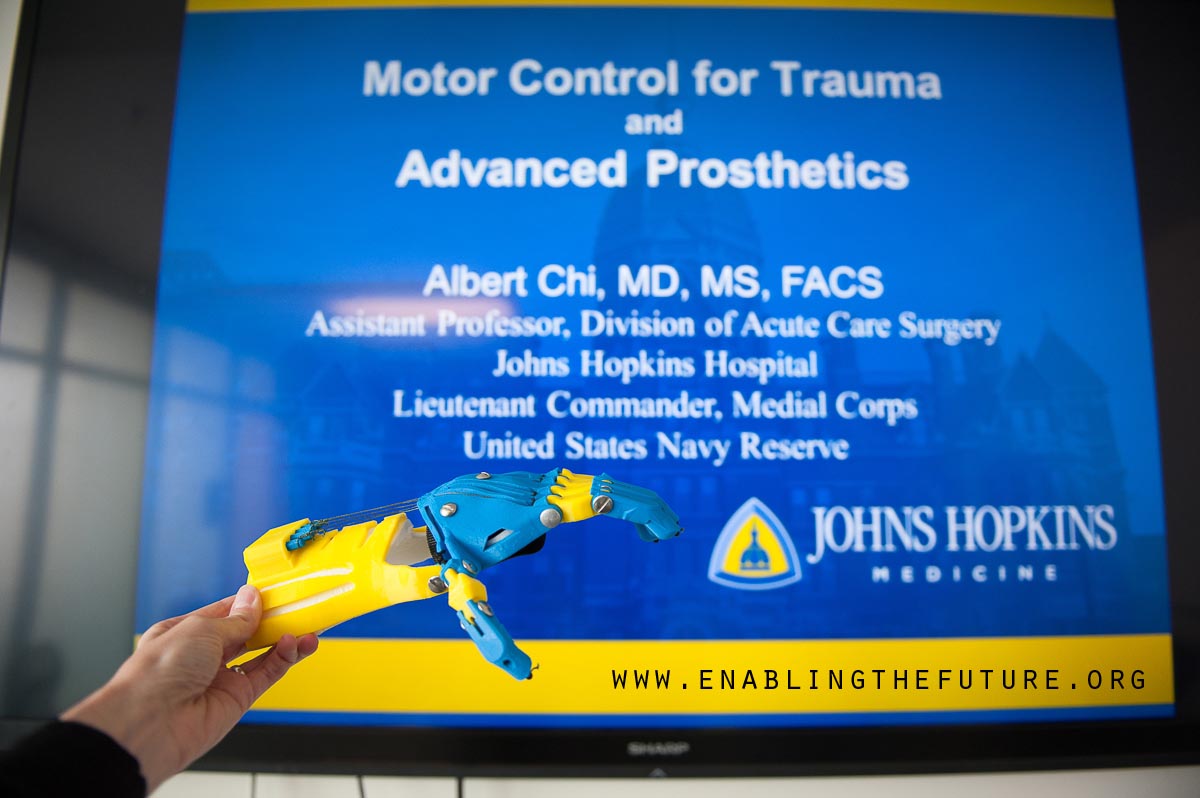 Back in June, we got an email from Dr. Albert Chi – a trauma surgeon at Johns Hopkins Medical Center in Baltimore, whose practice includes critical care, trauma and acute care surgery. He also has a background in biomedical engineering and a clinical research – focused on improving the lives of individuals with traumatic injuries with an emphasis on motor control. Dr. Chi is also a Lieutenant Commander in the US Navy Reserves (at Walter Reed)  in his dedication to serve our country and help care for the wounded warriors returning home and those injured on the field.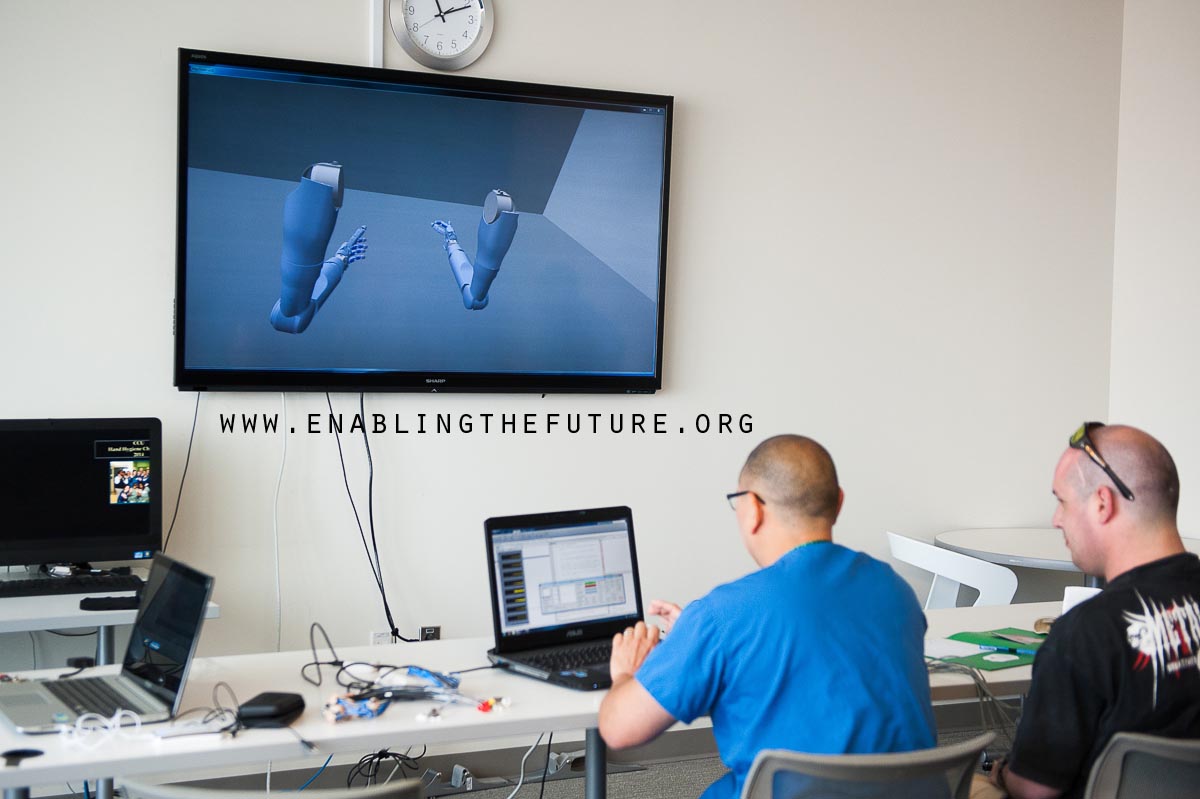 Dr. Chi is a leader in clinical research that is dedicated to individuals with upper extremity amputations and spinal cord injuries. He started a new program at Johns Hopkins, which enables individuals to use advanced myoelectric prosthetics after nerve reinnervation surgery and has been working on advanced human computer interfaces that allows individuals to control robotics with only their eyes. (Source: https://www.meddium.com/mas/achi3.mp)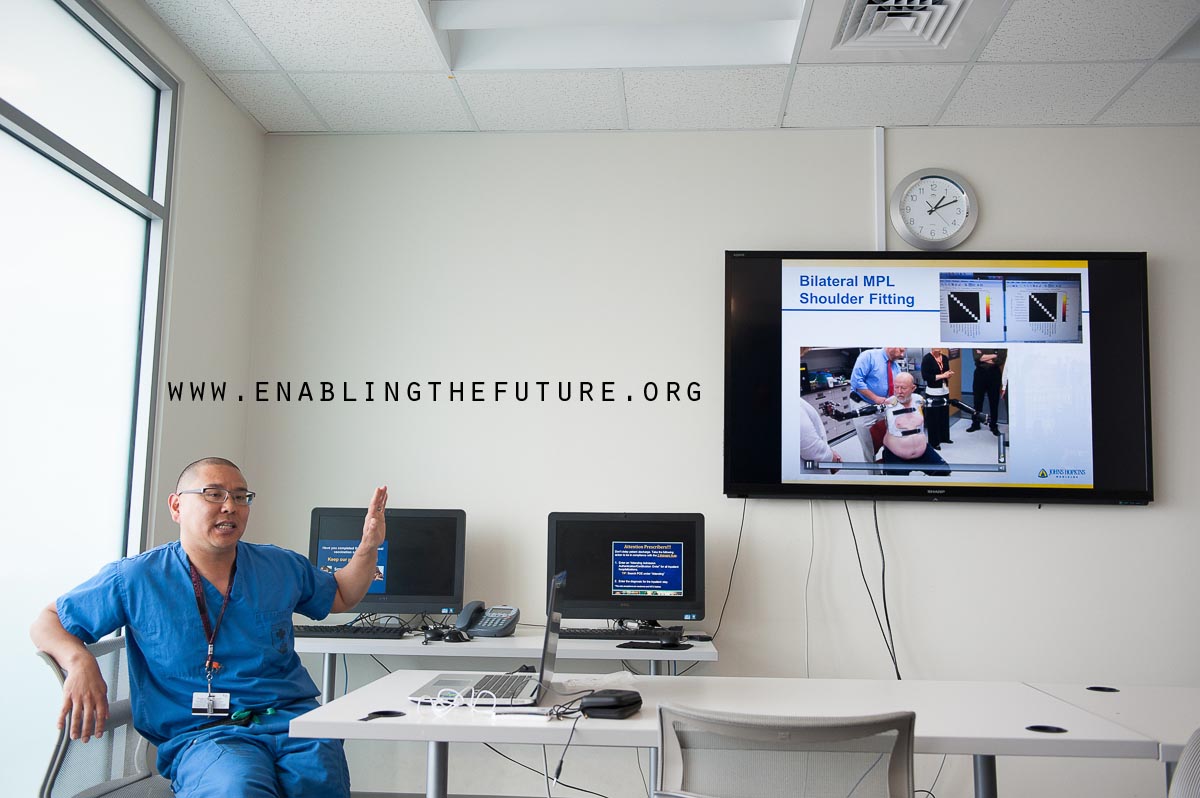 You can see more of his work here: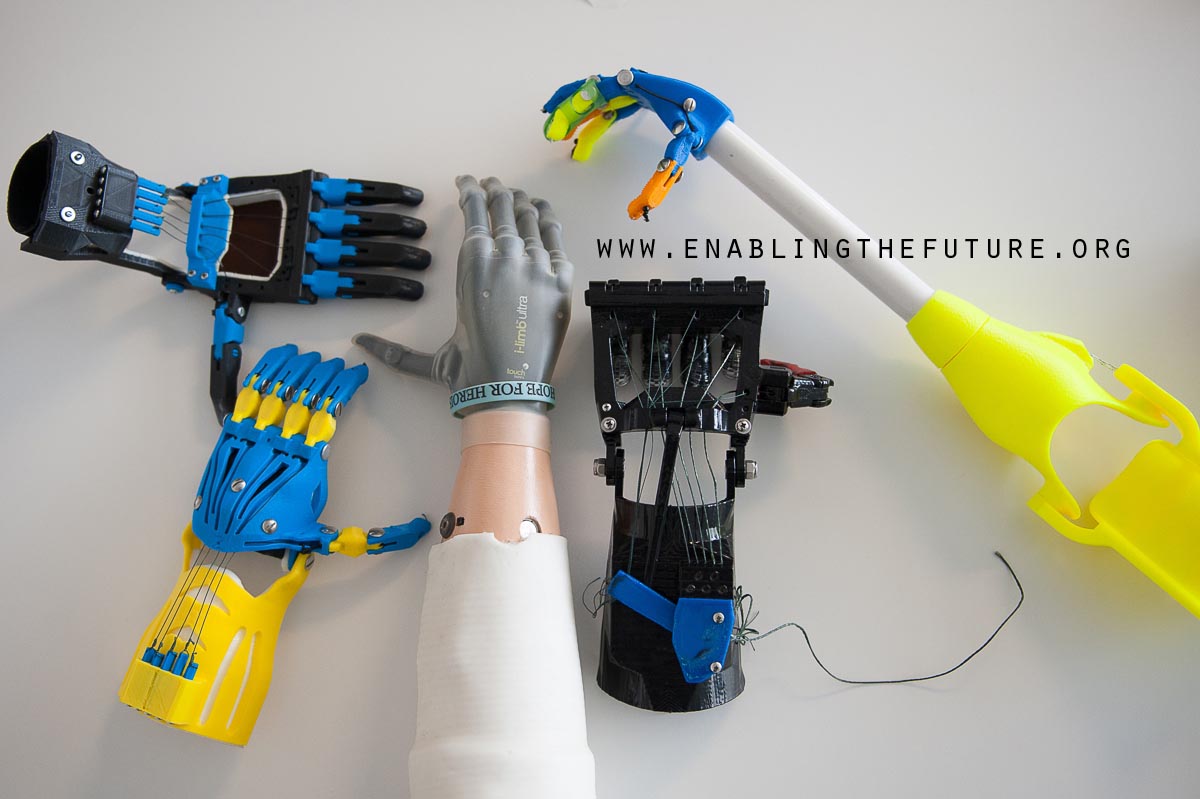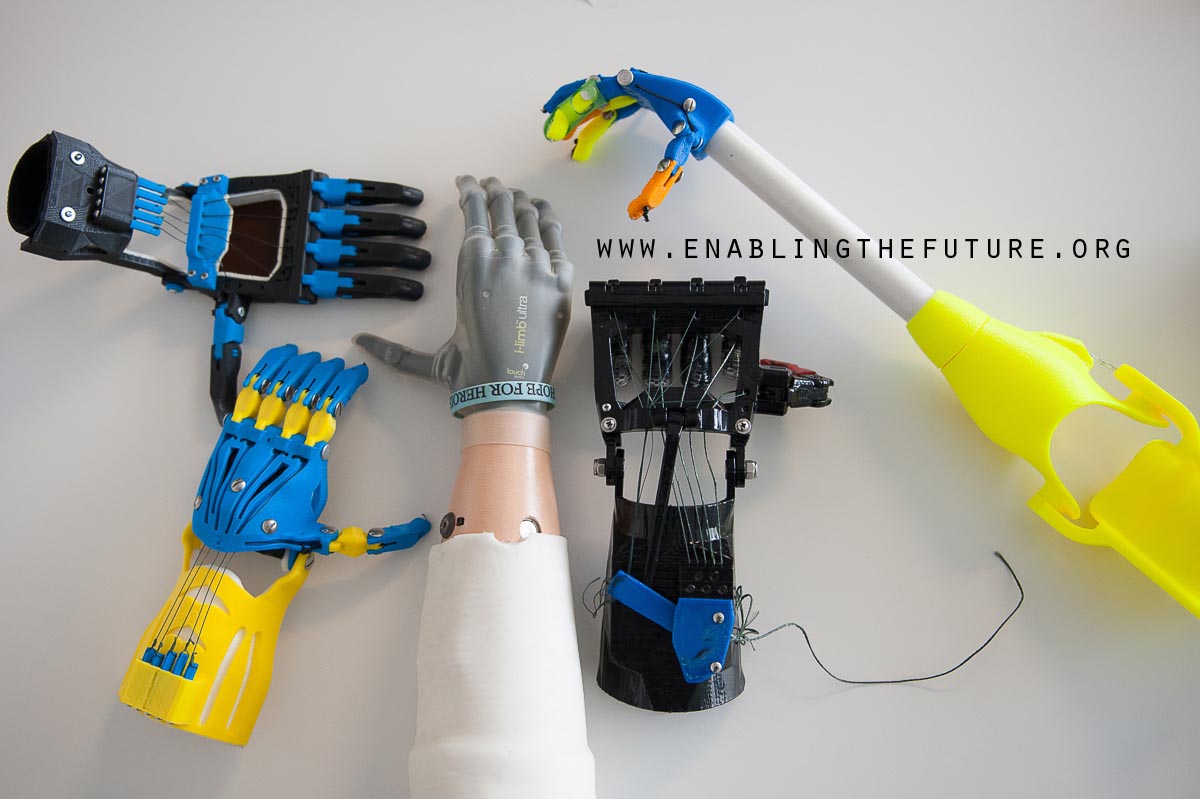 In his first email, Dr. Chi simply asked us if we had any e-NABLE members who lived in or near Baltimore – that would be able to come teach him how to create our 3d printed prosthetic hands so he can fit them to some patients. This led to various conversations and ultimately – an invitation for 4 of our core e-NABLE members and leaders to visit him at Johns Hopkins to meet, share his work with us and teach him how to assemble and create our low cost 3d printable devices!
On Monday, July 14th, 2014 – Jon Schull (The founder of e-NABLE), Ivan Owen (The co-creator of the original 3d printed hand design), Peter Binkley (designer of the Talon and Ody hand and soon to be released Flextendor version) and Jen Owen (Ivan Owen's wife and blogger/voice of e-NABLE) went to visit Dr. Chi and his staff.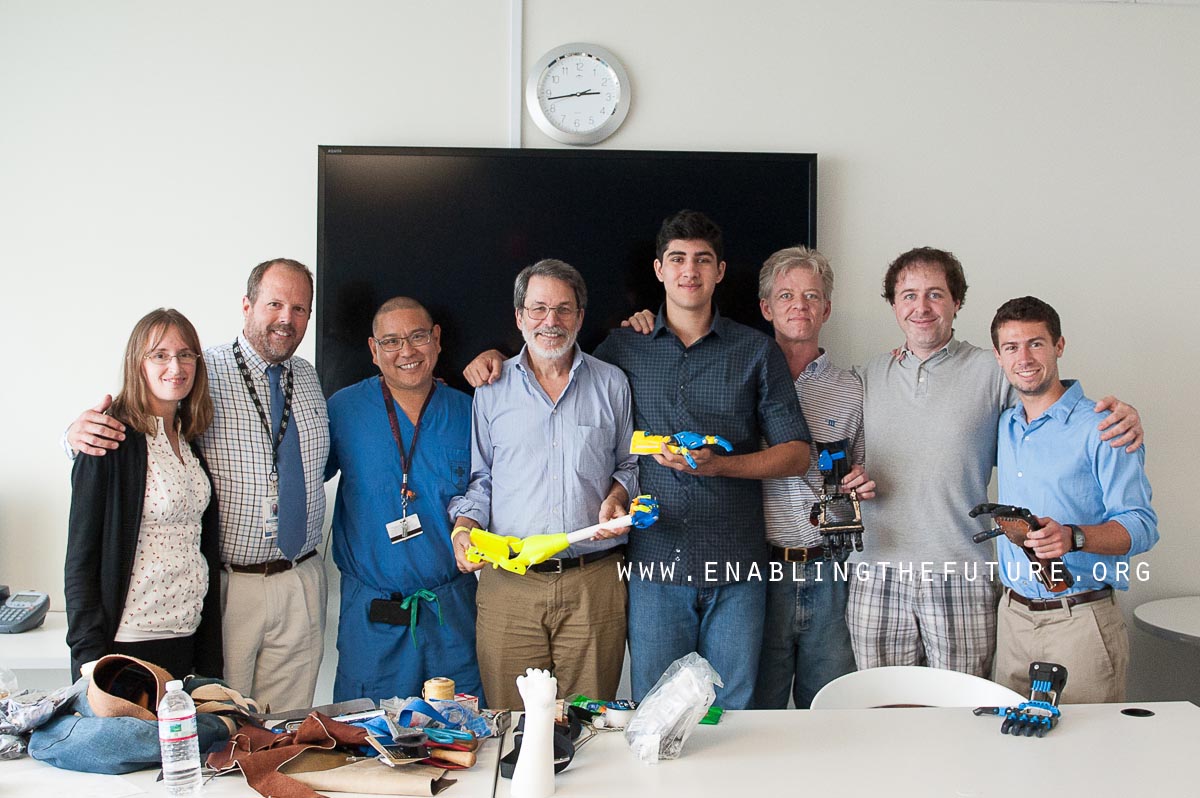 Watching a man who spends his days hooking up electrodes to his patients and working with some of the most advanced technology in upper limb prosthetics – get excited and laugh out loud when he picked up a $50 e-NABLE 3D printed prosthetic hand and made it move – was incredible. While we were standing there in awe of his amazing talent and taking in the advanced robotic options for Dr. Chi's amputee patients – he was like a kid in a candy store – playing with the simple body powered devices that we had brought along and can't wait until he gets to fit some to children and disabled veterans at the local hospitals near him!
It was a whirlwind of information, sharing of ideas and coming up with ways to collaborate together for some HUGE and amazing things that will be announced soon!
Next blog post – Dr. Chi and his staff learn how to create a 3d printed Talon/Beast combo hand with the help of Ivan Owen and Peter Binkley!
Stay tuned!
For more photos – please visit our Facebook album!