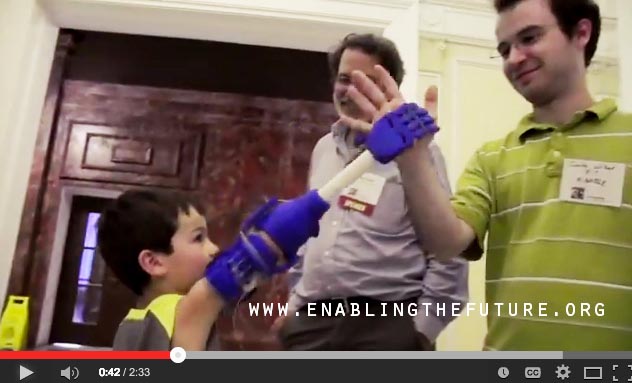 (Please click on the image above to view the video of Derek getting his 3d printed e-NABLE arm!)
Jon Schull – the founder of e-NABLE has been working with a team at RIT to develop our first ever e-NABLE arm design! Below, he shares the story of Derek and Nathan, new design trials and….a whole lot of MAGIC going on!
From Jon Schull:
In April, we put out a call – inviting people who needed e-NABLE hands to come to Imagine RIT on May 3rd, 2014.
As it turned out, there were two candidates – nine year old Derek and 40 year old Nathan – both from Buffalo, near neighbors and both without wrists! Standard e-NABLE hands would not work for them!
The team at RIT started working on an arm and students Joshua Wilcox and Paul Richard developed a prototype and amidst the chaos of Imagine RIT – Derek invented the "Extra Long Arm" concept. Nathan, who is himself an occupational therapist, gave us good advice on fitting the device.
Three weeks later, Nathan and Derrick, along with David Dietz – visited our lab and met with Jascha and RIT student Jade Meyers and me (Jon Schull) as well as David's uncle and David's uncle's buddy Skip, both of whom are now e-NABLE enthusiasts).
We made forearm casts using alginate and plaster of paris, compared notes and made plans. Derek's mom and two grandparents were there as well and Nathan's wife and…apparently it takes a village to make an arm!
Derek wore his new arm home, wore it to school the next day and reportedly loves it!
Since then we've used the casts, a digital scanner and modeling voodoo to develop custom forearm cups.
This past Friday, we presented them to Derek and Nathan in Buffalo where we were presenting at a conference on advanced manufacturing. (It's been a busy week!)
Derek and Nathan both reported that the new forearm cups were much better fits and as you can see in this video, Derek just put it on and went to town!
Unfortunately, some assembly was still required for Nathan, who has been wonderfully patient while the little kiddo got all of the best toys. Today we tweaked the models, put the finishing touches on Nathan's arm, finished the first draft documentation and decided it was worth sharing with other e-NABLERs!
It's still early days. Arms are more complicated than hands and forearm cups need to be custom contoured and we still want to experiment with alternative actuation mechanisms. But at this point we would love to have a few enablers trying out the model and documentation, making it easier to scale and re-proportion.
We'd also welcome a few more recipient "test pilots" with functional elbows. A local e-NABLEr could help the recipient with measurements and the making of plaster casts and then our lab can help with custom forearm cups while the e-NABLEr assembles the rest of the arm.
Once we streamline our procedures and get some more experience – we'll put the design out there for general consumption!
Personally, I can report that after a year of community building – it's great fun to be actually working with recipients and playing with new technical solutions.
The MACIC ACT lab is becoming a real magnet for motivated and talented RIT students!
So…that is the story of the "Derek" arm and "Soon-to-be-delivered" Nathan arm (Nathan, we promise!)
If you would like to join the e-NABLE group and help make a difference, would like to share your ideas and designs with the community or would just like to join and support this amazing maker movement – please visit our Google+ community!
No contribution is too small!