"I don't want to live in the kind of world where we don't look out for each other. Not just the people that are close to us, but anybody who needs a helping hand. I cant change the way anybody else thinks, or what they choose to do, but I can do my bit." – Charles de Lint
If you haven't read anything beautiful today – please keep reading…because you are about to do just that.
Yesterday, a little boy in South Africa opened a package postmarked from a Man he only met once.
One of many men, who helped to give him something he never thought possible.
Fingers.
But that isn't the beauty of his story.
Not all of it, anyway.
Liam isn't just any little boy.
Liam is THE little boy that started this all.
This "Mechanical Hand" Adventure.
This 3D printed "Give your neighbors a hand" Maker movement that is sweeping across the Globe.
This E-Nable Community.
Liam is the little boy that you saw in the Youtube video about a Prop Maker from the USA and a Carpenter from South Africa that worked together over 10,000 miles apart to create the first prototype for a 3D printed Mechanical hand – to be given away to the World for free so that anyone, anywhere – could make them.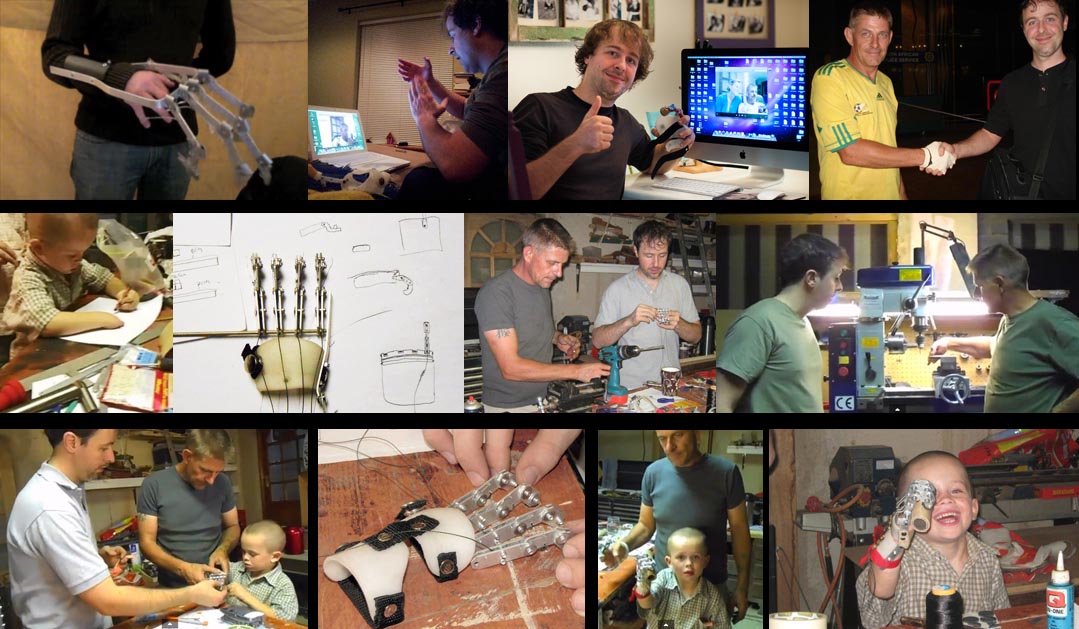 Yesterday, a box was delivered to Liam from the Prop Maker – who has vowed to make Liam new hands until he is fully grown – shipping them from 10,000 miles away.
Inside  the box – two hands to choose from.
One of these hands  – "The Talon" – was designed by a father who saw the original videos of Liam testing out his first 3D printed fingers and decided to make one for his own son – who has a hand just like Liam's. Together, this father and son re-designed the original hand files and improved upon it's function and comfortability and created something incredibly beautiful.
They went to visit the Prop Maker and teach him how to make their version of the original design he helped to create – and together, the Prop Maker and the Father and Son…made Liam a new hand.
The other hand – "The Talon Beast" – is a collaborative effort of many designers in the E-nable Group – who have all shared their ideas freely, spent countless hours creating and fine tuning and who have really put their hearts into this Global effort to make hands for people.
Today – a little boy named Liam – opened a box to find two new hands from a Man he only met once and a "Handful" of men he will never meet.
And doesn't his smile just say it all?