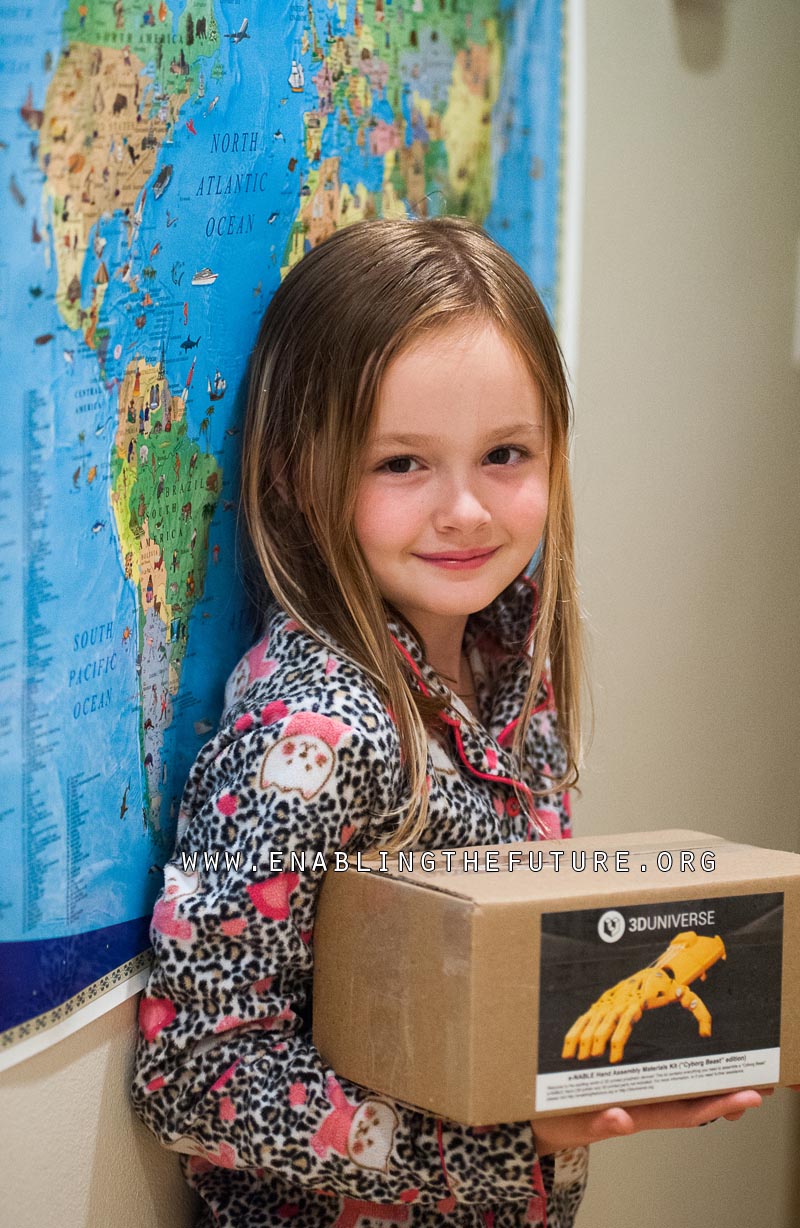 Torrae is 8 years old.
She has been a part of this 3D printed mechanical hand  journey since she was about 5 years old. Her dad is one of the original designers of the first 3D printed hand  for a little boy in South Africa that got this whole incredible global Maker Movement e-NABLE adventure on it's way. While she hasn't ever made a hand on her own – she has been the "Test driver" for prototypes, the "let's try this out on your arm to see if it might fit his arm because you are about the same size" volunteer and the "oops…sorry…maybe we shouldn't have used permanent marker on your arm to get measurements to see if this will fit this child's arm…" girl.
She loves helping people and is constantly trying to figure out ways to make our world a better place. Thus far, her main contribution has been giving up treasured time with her Dad so that he can help other people – which is a gift in itself.
After seeing the video of 10 year old Sierra – who assembled one of these hands by herself for a science fair project and who is now working on making a hand for another little girl…Torrae realized that she could do the same and instead of just being "Dad's little helper" – she could be the one to create a hand for someone in need.
Her "Cyborg Beast" hardware kit arrived today from e-NABLE member Jeremy Simon of 3D Universe and she is eager to get started creating a hand for another of our e-NABLE members, Peregrine Hawthorne. Torrae got to meet Peregrine and his dad Peter, when they came to teach her dad how to create the Talon design that they had made for Peregrine from the original files that he had helped create and shared open source. She once again, was the "can we borrow your arm" volunteer during that visit – while they created a talon hand for little Liam in South Africa.
She is excited to start this 3D printed hand "summer project" – but even more excited that she will be making a hand for someone she has already met and who she admires.
Peregrine has been using his Talon 2.0 hand on his adventures while in the Americorps, FEMA Corps and is interested in trying out a Cyborg Beast design so that he can give the e-NABLE designers and community their first real comparison of the two designs from someone that has used both.
Now we have a new twist on these stories:
From a prop maker  (Torrae's dad Ivan) who co-created a design for a 3d printed mechanical hand  for a little boy in South Africa (Liam) that uploaded the files online as open source so that others could take those files and improve upon the design…to a father (Peter) who sees a video of this and takes those files and redesigns the hand for his own son (Peregrine) who was also born with no fingers on his hand. They share a video of their new design (The Talon) and the Prop Maker sees their video and invites them to the e-NABLE group and gets to meet Peregrine in person.
Peter visits Peregrine and they drive up to visit Ivan and his family to teach him how to create their version of the design and Ivan's daughter Torrae helps them create a Talon version for the first little boy in South Africa.
Now Torrae is going to build Peregrine a new hand so that he can share his findings and experiences with this design and share it with the e-NABLE community.
Let the Adventure continue!
If you are interested in finding out how to make a hand for someone (we have a lot of folks who are in need of hands!) or would like more information on how to get a hand created for you or your child – please email us at info@enablingthefuture.org!
Stay tuned for updates on Torrae's progress!
If an 8 year old can make a difference…you can too!