As we wrap up another amazing year of sharing wonderful stories from around the world of children and adults receiving free 3D printed e-NABLE hands and arms from our thousands of e-NABLE Community Volunteers – we are excited to start adding some new designs to our website that will hopefully spark more innovation, collaboration and design work as we head into 2016!
I asked one of our lead designers, Peter Binkley, creator of the Talon, Ody and new Osprey Hand as well as co-designer for the Raptor and Raptor Realoded designs, to share some of his thoughts on the work of the Community over the past 2 years.
Peter writes,  "In 2014, designers really refined wrist powered designs but there grew an awareness that 3D printed assistive devices could and should be used for those with transradial and transhumeral upper limb differences. The RIT arm championed by Jon Schull and the RIT lab was a bold step into elbow-powered devices.
In 2015, we saw some very nice improvements in wrist-powered devices, like the Phoenix hand, but also a lot of exploration into transradial devices, like the Flexy Arm, the Unlimbited Arm and some impressive improvements to the RIT arm design. We are also seeing some very exciting developments in low-cost myoelectric devices.
I should also mention that in 2015, we saw a much larger proportion of designs coming from geographically diverse locations. In addition to North America, Britain and Europe, there are several really exciting developments coming from volunteers in South America and Asia. So I'd say in 2015, the design collaboration became much more international."
Introducing "the Osprey Hand!"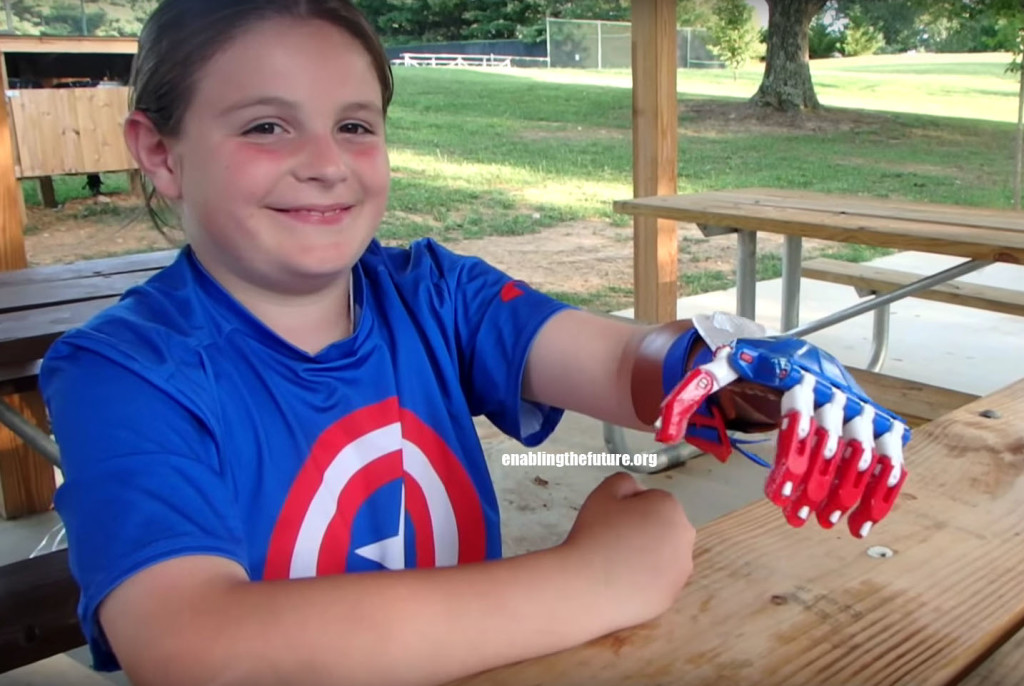 The Osprey is the latest wrist actuated assistive device to come out of the Alderhand series created by Peter Binkley and Peregrine Hawthorn. The Osprey is the first ever hand designed specifically to use a Bowden push-pull mechanism. Rather than use thin braided line, the Osprey uses thick nylon monofilament cables.
Introducing the "Phoenix Hand!"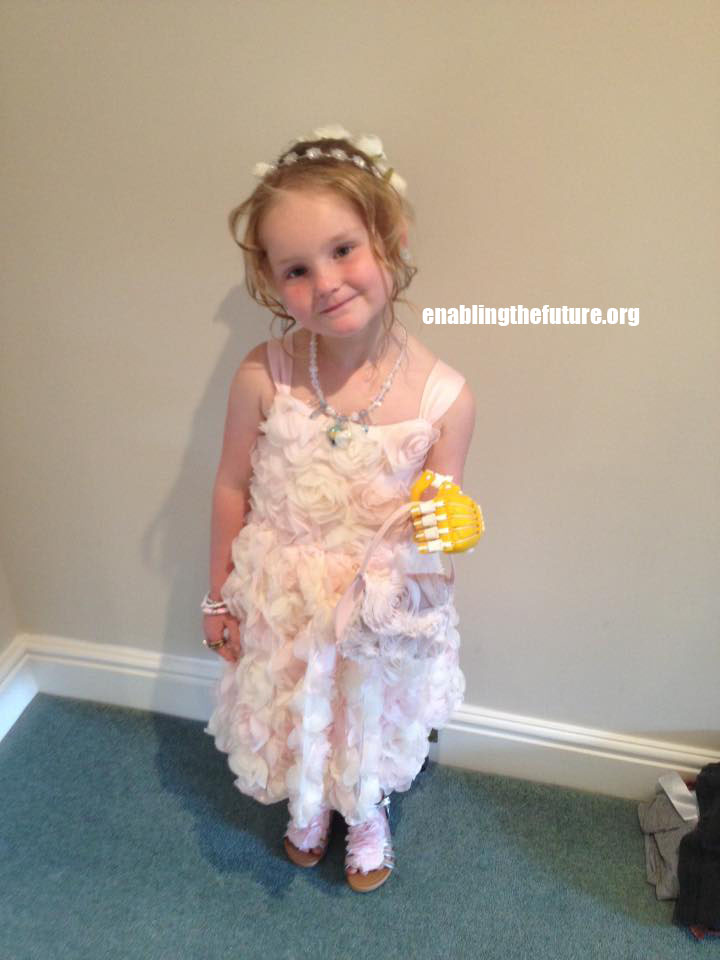 This design was created by Jason Bryant, e-NABLE volunteer, researcher and teacher at Shandong University in China. This design uses orthodontic rubber bands as opposed to the elastic cords that current devices use.
Introducing the "Unlimbited Arm"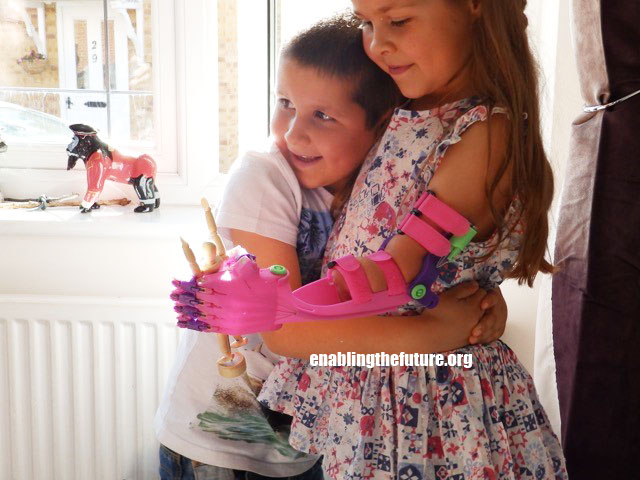 This device was created for those that have a functional elbow and a considerable amount of forearm but no wrist or not enough wrist/palm to power a wrist driven device. This design is for those who have too much forearm for the RIT arm but not enough wrist/palm for a wrist powered device.
This design comes from Steven Davies and Drew Murray of Team Unlimbited who were inspired by work by Christian Silva and Po Paraguay.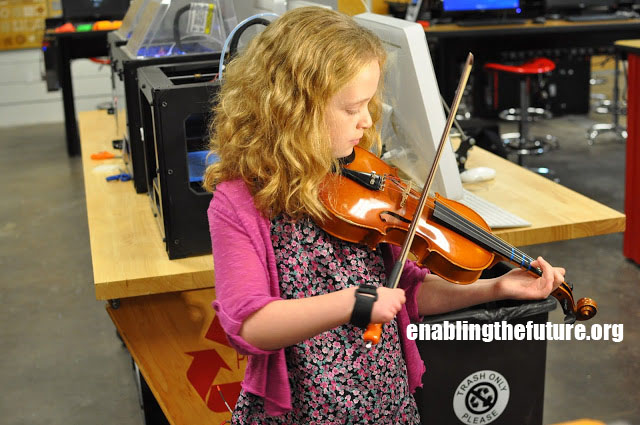 Introducing the "Viola Bow Holder Device!"
Along with the new wrist and elbow powered hands and arms that were released by the global e-NABLE Community this year, we also saw some exciting developments in designs for task specific devices coming out of the Digital Craft Research Lab at the University of Wisconsin Milwaukee.
Another of our top designers, Frankie Flood, created a viola bow holding device for one of e-NABLE's recipients, Shea Stolenwork, who was in need of something that would allow her to hold her viola bow more easily. Frankie came up with a wonderful design that has helped her along in her dream of being able to play her viola a little more easily!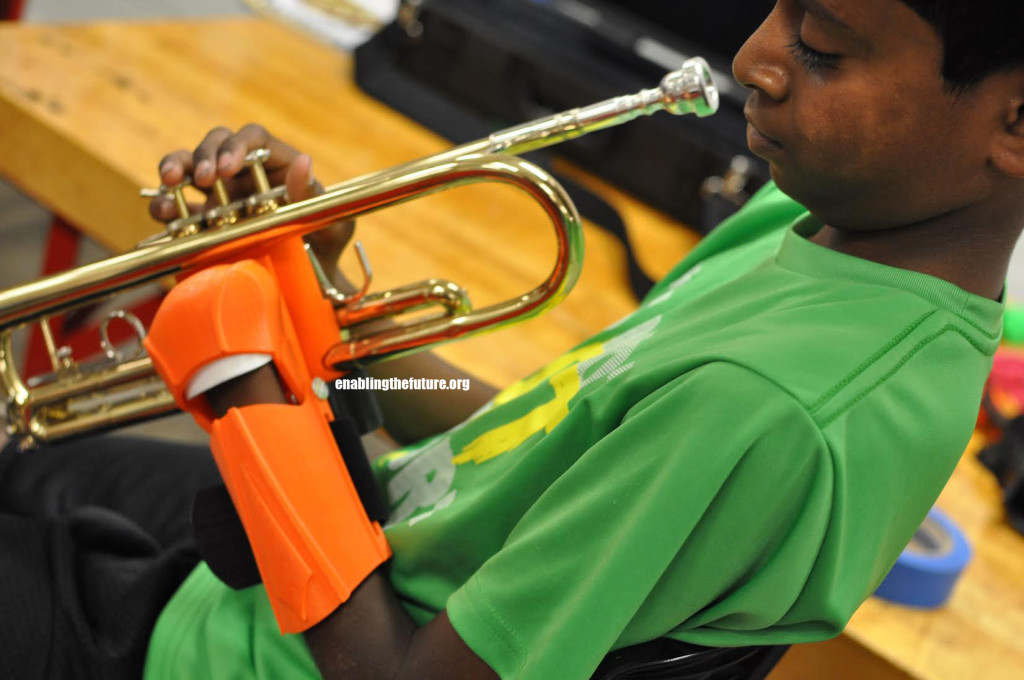 Introducing the new "Trumpet Holder Device!"
Along with the viola bow holder device, one of Frankie Flood's students, Caitlyn Driver, created a trumpet holding device as part of the Enable Community Foundation's Summer Fellowship Program, for a young man named Karuna who was in need of something that would allow him to hold his instrument a little easier!
The e-NABLE Community still has a lot of work to do and we are excited to see what our 2016 will bring in the way of new designs, more task specific tool devices, a new website for easier navigation and sharing, more tutorials and some design challenges that will hopefully produce some wonderful results!
Thank you for believing in us and supporting us for another year!
If you would like to volunteer to help us in our quest for improving these designs or creating new ones – please visit our "Get Involved" page.
If you would like to help support this community website or would like to make a donation to the Enable Community Foundation – please visit our Donations page.
Let's see what we can do together in 2016!