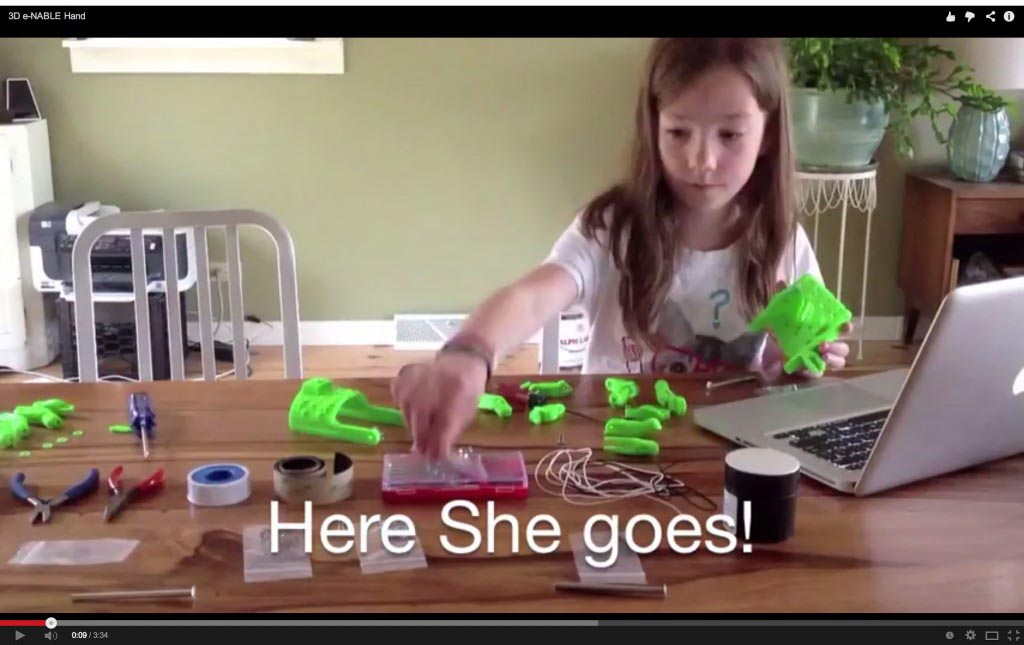 If you  have been following along with the story of 11 year old Sierra and her desire to not only learn how to make these 3D printed e-NABLE hands, but to start making them for other children as well as getting kids her age excited about 3D Printing…e-NABLE volunteer Jeremy Simon of 3D Universe just updated the next chapter of her wonderful story! You can read his blog here.
Her Mom created a time lapse video of Sierra assembling her first Cyborg Beast hand – complete with an ice cream break! You can see the video by clicking the photo above or going here.
Not only has Sierra asssembled her first hand – but she has already asked to have Jeremy ship her more parts to make another!
Now this 11 year old girl will be assembling a hand for an 8 year old girl who lives 2000 miles away from her and who is missing all of her fingers on her hand but still has a functional thumb. Sierra will be assembling a new design that the e-NABLE teams have been working on for people who have thumbs but no fingers and then she will send it back to Jeremy for a final check and he will then ship it off to the little girl that is waiting for it.
How amazing is that?
With summer vacation upon us…imagine how many kids could be spending their summer making 3D printed hands for other children…making a difference while keeping themselves busy and keeping parents from hearing the dreaded…"I'm BORRRRRRRRRED!"
Want to offer up your 3D printer to make parts for people who have need for a hand?
Want to get help finding a printer near you that can make parts so that you can make a hand on your own?
Want to do a fun family project this summer? You can purchase a kit from Jeremy and learn how to make these hands so you and your children can volunteer to make them for other children too?
Please join our Google+ group and introduce yourselves or visit Jeremy's blog for more information on how to purchase an educational kit from his shop!