In early 2012, CIFP Don Bosco, a vocational training center located in the Basque Country in the northern area of Spain along the border of France, began working with 3D printers and incorporating the new technology into their every day classroom educational environments.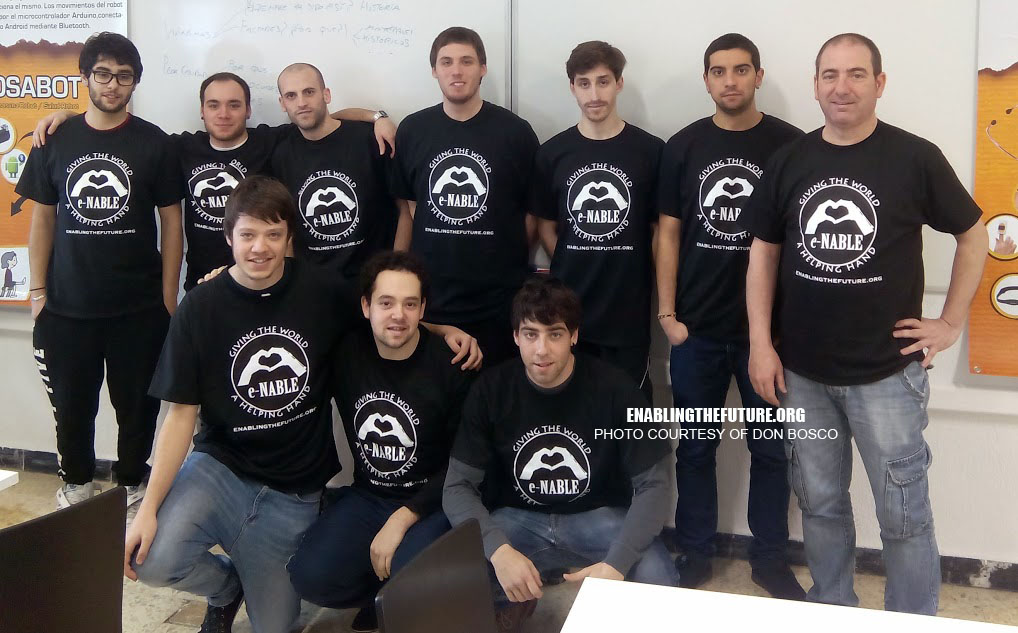 Students and staff discovered enablingthefuture.org in it's early stages and signed up as e-NABLE volunteers for the 2014-2015 school year so they could begin creating 3D printed assistive devices for those in need and start using this technology to make a difference in the lives of others.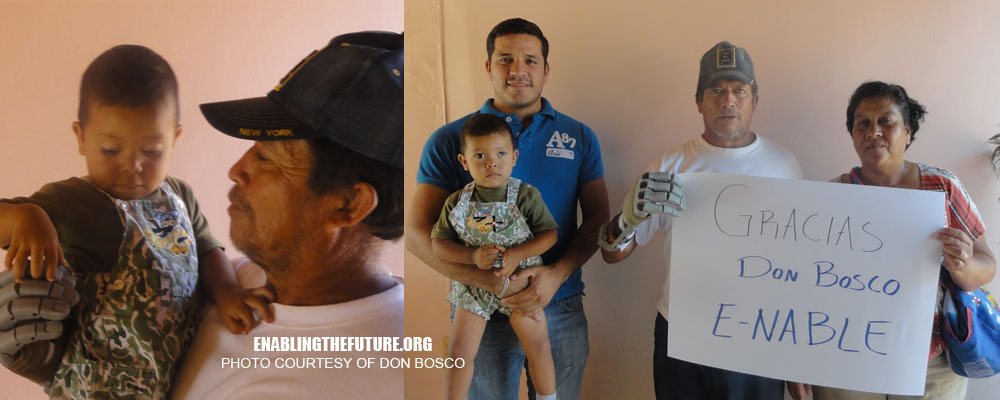 Not long after signing up to become e-NABLE Volunteers, they group was matched to two recipients from Mexico – 54 year old Rodolfo and 57 year old Gustavo. The Don Bosco students created the Flexy Hand 2 model for them and were able to provide a "Helping Hand" to both of these men through their hard work and dedication to the e-NABLE project.
The students and staff at Don Bosco continued their work with the e-NABLE project for the 2015-2016 school year and were able to complete an additional 4 devices, but this time, for recipients in Spain.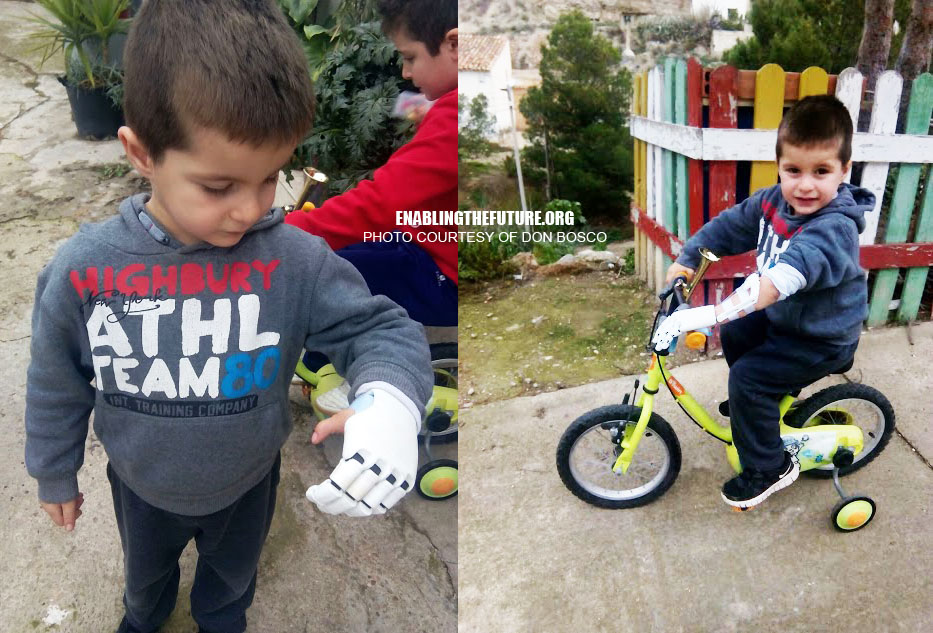 The first device created by the team during the 2015-2016 school year, was for a 4 year old child named Toni, from Zaragoza, Spain. Toni had a functional thumb, but needed a device with fingers for his left hand. Thanks to the students and staff at Don Bosco, Toni is the proud owner of a thumbless Flexy Hand 2 and can ride his bike more easily as well as many other activities that he needed a gripper hand for!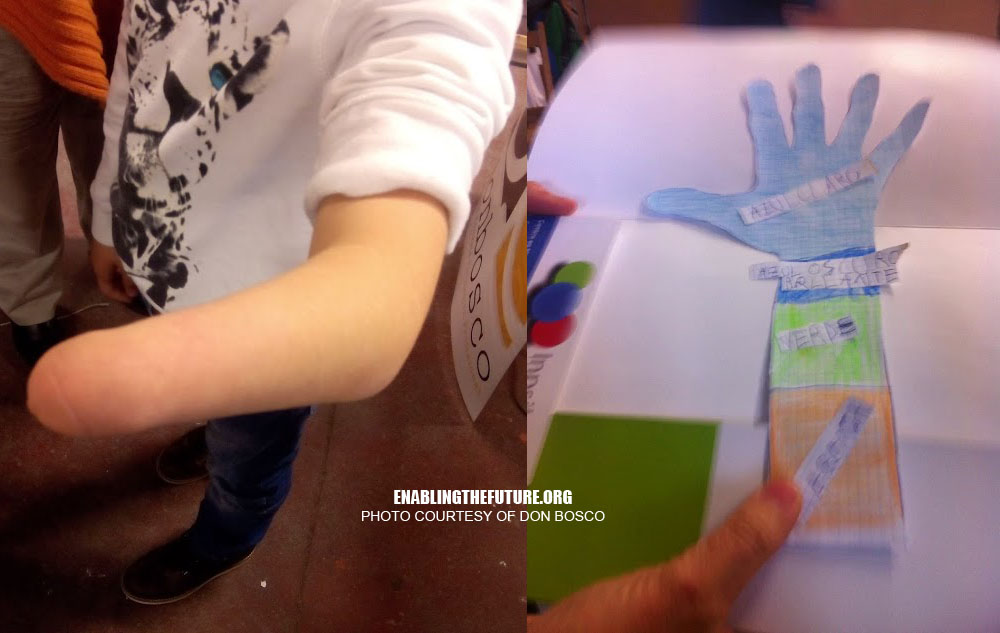 The team's second build pushed the team to challenge themselves after being approached by 9 year old Unai and his mother from A Coruña, while at the Maker Faire Bilbao. Students were at the event, presenting the e-NABLE Project at an exhibit booth to showcase their work creating 3D printed assistive devices, when Unai and his mother approached to inquire if the team would consider creating an arm for him.
Carlos LIzarbe De Luis, a member of the Don Bosco team, shares, "This was a big challenge for us due to the fact that we had only made one of these before. Initially we chose the RIT Arm V2, but it did not fit his arm so we decided to change some things and redesigned it to work with the Flexy Hand 2."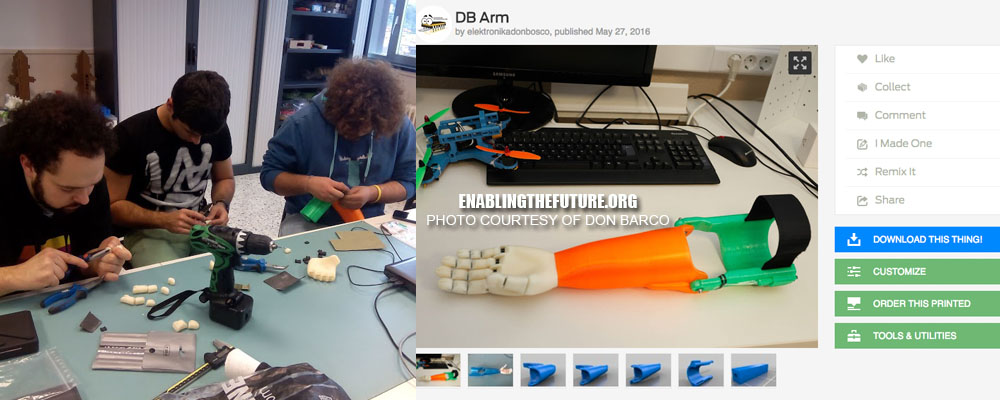 "We named this new model the DB Arm and uploaded the files onto Thingiverse so that it would be accessible to the whole e-NABLE Community. Furthermore, Unai brought us a picture to show how he wanted his new arm to look!" said Carlos.
After months of work on this design, Unai received his new DB Arm in February of 2016 and the smile on his face in these images below, say it all!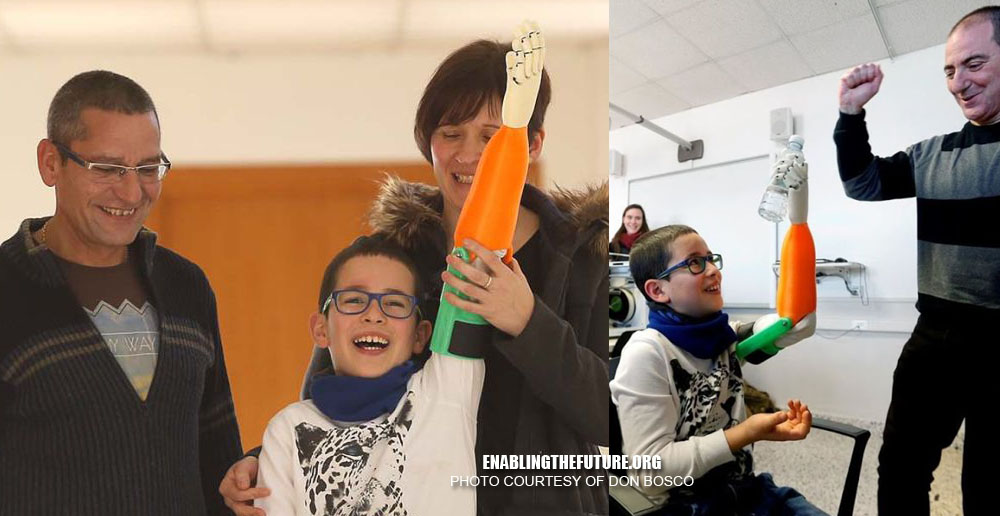 After the successful arm build for Unai, the Don Bosco student team went on to build another hand for Dani, a 9 year old child from San Sebastian (Basque Country) who received a Flexy Hand 2 and who now has 10 full fingers to use for various daily tasks and to play with his sibling!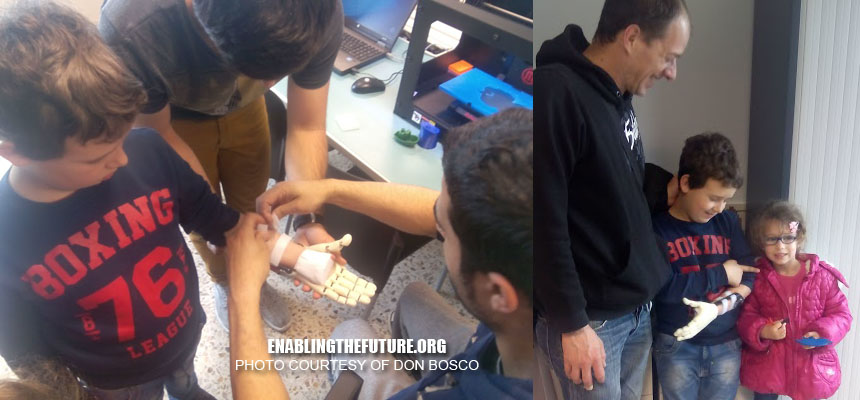 For their last build of the 2015-2016 school year, the students worked to print and assemble a DB arm for Bea, a 30 year old woman who lost her arm due to an accident at work.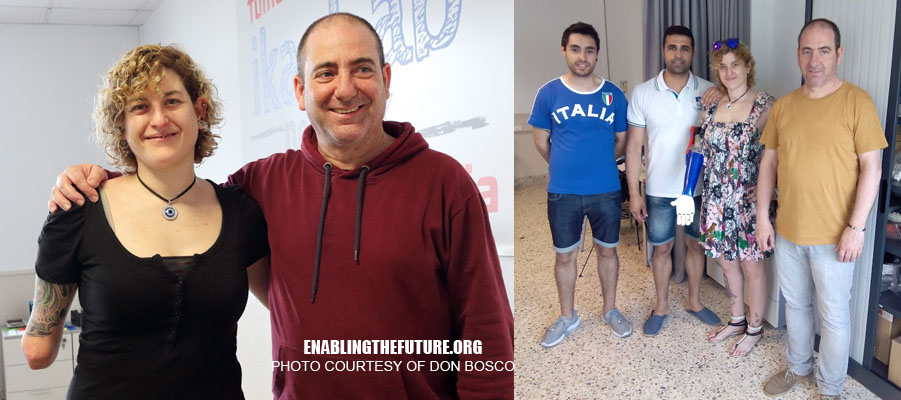 The Don Bosco students are taking a break for the summer, but when they return for the 2016-2017 school year, they will already have requests for e-NABLE Devices waiting for them as more inquries have come in from eager recipients who are patiently waiting for this e-NABLE Chapter to make their way back into their classrooms!
For more information on the Eliectronika Don Bosco e-NABLE Chapter, please visit their Facebook page.
For more information on how you can help – please visit their website!
If you are interested in becoming an e-NABLE Chapter or joining one near you, please visit the Chapters page for more information! We would love to share more stories like this!
Thank you for your continued support and encouragement from all over the world!