Throughout this website and blog, you will find numerous stories and videos of children and adults who have had their lives greatly impacted by the generosity of the global e-NABLE Community of volunteers who are using their 3D printers to create these free 3D printed upper limb devices for those in need.
It is not often that we get to see videos specifically about these volunteers and how this global project has impacted and changed THEIR lives, but today we were blessed with a beautiful video created by our friends at ROBO3D focusing on Aaron Brown of AXISLAB3D, one of our most active e-NABLE Community volunteers and sponsor of our January CREATE T.I.M.E. Design challenge!
Like many e-NABLE Community volunteers, Aaron comes from a background as a "blue-collar" worker, someone who had never worked in 3D printing before and who has found this project to be something he is truly passionate about since the very first moment he discovered the e-NABLE movement.
Aaron shares: "I have been here in Grand Rapids since 1993, I, my wife and our 11 year old son. I was a machine operator for most of my life. I was working for a company that ended up going bankrupt. As many people who have experienced that themselves knows, it's a very scary situation.
That's when I started researching 3D printing and rapid prototyping. I instantly knew it was something I wanted to do. I ended up selling my truck and buying my first ROBO3D printer.
When I assembled my first e-NABLE hand, initially it was more of a test for myself to try to do a multi-part project. That's when it really dawned on me that there is no excuse for a 3D printer just to sit there with nothing to print.
There are people out in the world who could be impacted by the few dollars worth of plastic.
Kids that may be limb different from birth are absolutely incredible. There is NOTHING these kids can't do.
When you work with a family one on one and you see the response from the child, when they try on that hand for the very first time and they pick up a tennis ball and play fetch with the dog, it's a very humbling experience.
Enable has helped me feel like I'm part of something bigger. It allows me to take something that I already enjoy, like 3D printing, and use it to make a difference in this world. It's a great feeling.
I found enable when it was still a fairly young and new organization. There were less than a couple hundred members at the time. I was studying and learning 3D printing in my workshop, and researching areas where 3D printing may have the greatest impact. The medical and robotics areas peaked my interests, and that's when I first saw the stories of an "open-sourced" 3D printed hand. I went to a website called thingiverse, downloaded the files, and decided to try printing one myself. Both as a test of my machine, and to see if I could even do it. I had no idea at the time that those tiny plastic fingers, would change the course of my own life in such an amazing way."
For many of the e-NABLE Community volunteers, this is a very familiar story.
They were simply every day people, from all walks of life, who had never dreamed of owning their own 3D printer or had never explored 3D printing technology, let alone finding themselves "heart deep" in a global movement of people donating their time and talents and changing lives of others all over the world…including their own!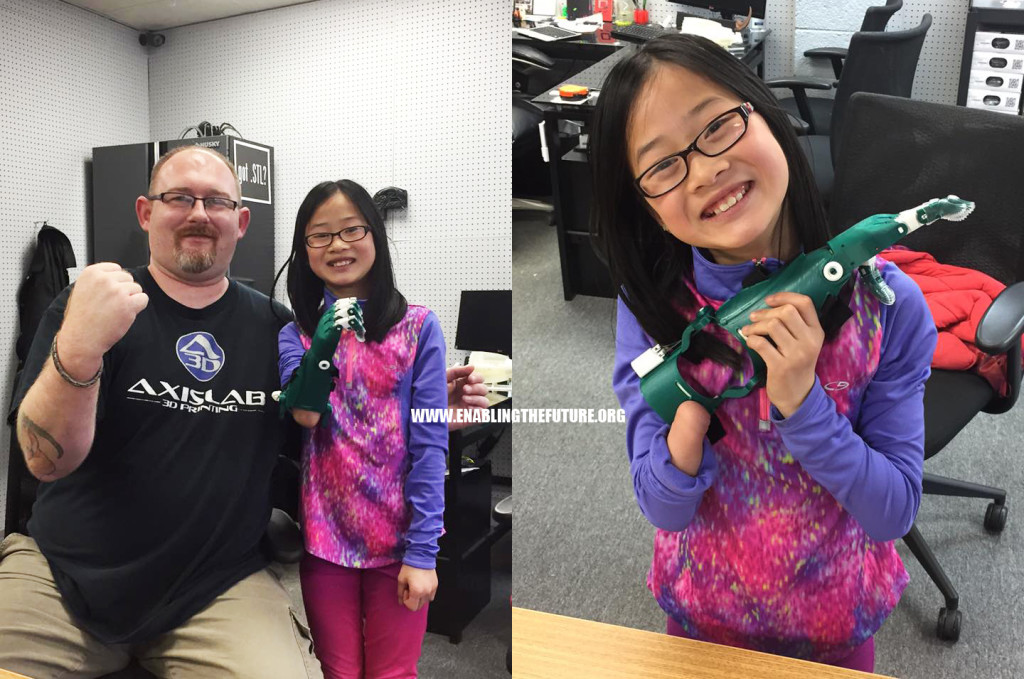 Over the past year and a half, Aaron has created over 50 devices for children in need with his most recent recipient, a young girl and her family who came to visit him at his 3D print shop in Grand Rapids, MI. He often goes above and beyond simply printing a device in their favorite colors, producing fun themes and packaging for his recipients who are blessed to be matched with him!
From a Wolverine themed hand to a whole collection of Superhero themed devices, secret agent surprises, sports themes, fun alternative devices and more – Aaron is the perfect example of what our e-NABLE Community volunteers represent.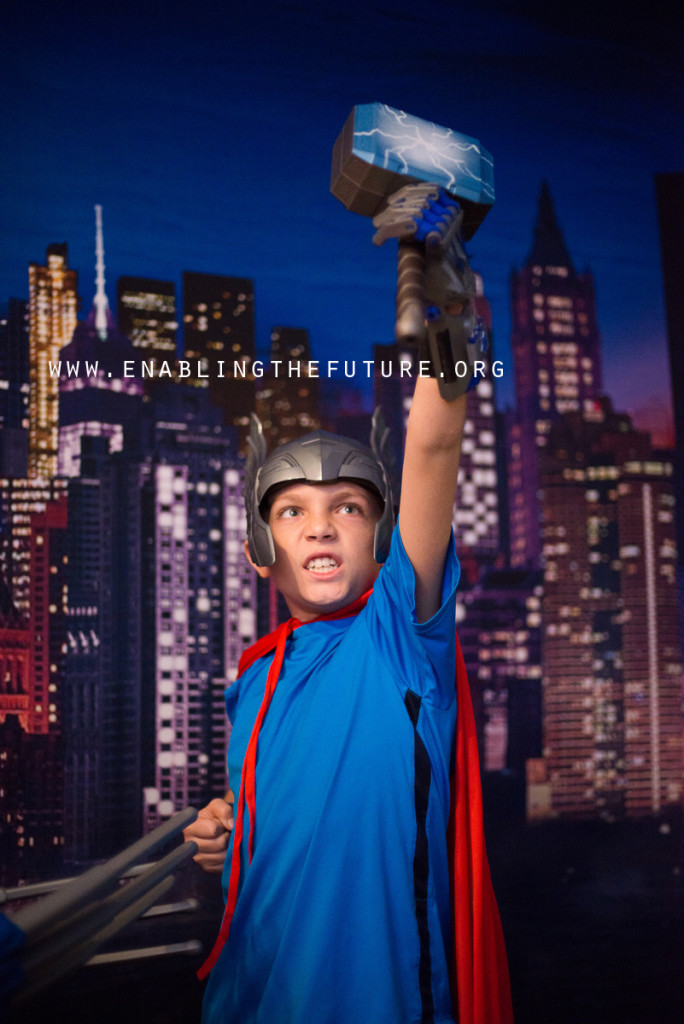 These are the stories that we need to share more often. (And I plan to!)
The e-NABLE Community is made up of every day, "Real Life Superheroes" like Aaron, who have "found their calling," found something to be passionate about and who are finding their lives blessed to be a part of this "global village" just as much as the individuals who are receiving the gifts they are sharing and are blessed by their generosity and giving hearts.
You will find them in your local libraries, Makerspaces, Fab Labs, Schools, Universities, medical offices and places you never thought possible.
Visit our growing resource page of where you can find 3D printers and volunteers in your local communities where you can volunteer and learn how to make devices for others or visit to create a device of your own or for someone in need!
This is who we are.
We are "Enabling The Future."
Anyone can make a difference.