On January 28, 2015…6 young Super Heroes joined forces with e-NABLE and the cast of Marvel Universe LIVE!, in Dallas, Texas…to help save us all from certain doom at the hands of evil Super Villains! Together with their families, staff from Feld Entertainment, 4 members of the e-NABLE team and 5 cast members from Marvel Universe LIVE! …these 6 children, Hudson, Miah, Abby, Jax, Jackson, and Kinley – built their own "Super Hero" themed hands that would soon empower them to change the lives of many.
While some children that receive 3D printed e-NABLE prosthetic devices state that they feel like Super Heroes once they don their new brightly colored set of mechanical fingers…whenever we do events like this – we are constantly reminded that they were real life Super Heroes before they ever strapped their "upgrade" to their arms.
After spending a few hours helping to assemble new hands with these children and their families, some of the cast members shared some thoughts with us on their experience working to build e-NABLE devices with them.


Romeo, who portrays "Nick Fury" in the show – shares, "It's amazing to be apart of history. Not only do I feel privileged to help the kids build their own one of a kind hand, but it's an honor to see technology at its best!" and Chailee who portrays "The Black Widow" writes, "e-NABLE allowed Super Heroes to make kid's dreams come true – and help them realize they are the real heroes."
Chelsea, who plays the role of "Storm" in Marvel Universe LIVE! shares, "Getting to be a part of something bigger than yourself is such a humbling experience, especially when you get to work with kids…my experience was amazing."
"It kind of made me miss being a kid." says Antonio, who plays "Iron Man" in Marvel Universe LIVE!  "To see how much joy and energy they had, brightened my day. They reminded me to always look on the bright side and enjoy the company of others."


While he plays one of the "The bad guys" in Marvel Universe LIVE!  – the most poignant and heart warming reflection came from Vincent, who portrays "The Green Goblin."
Vincent writes, "From the moment we walked in to meet all of the associates who had gathered to host this life changing event, the entirety of our cast and crew had nothing but smiles from one side of their cheeks to the other. We were shown some of the hands we would be assembling that day, and each one was unique in its own way…each and every hand had a personality, just as the children who walked through the door that day. 
From the moment they stepped in, and we were able to meet with them as well as their families – we all knew we were in for a wonderful and unforgettable experience. With out hesitation we all took to tables to introduce ourselves and begin learning about each of these children.


I believe the greatest thing that anyone could have noted during our time with the children was something very simple; these children did not view themselves as disabled. They had favorite colors, t.v shows/movies, foods, and Super Heroes. They ran around and played with one another – never drawing attention to anything other than just being kids. What these kids did have that set them apart, were wonderful loving families who had gathered there that day and reached out to an amazing group of people who were offering a service that many families struggle with financially. 
The 3D** printers that were on display etched away vigorously as if they had a deadline they had to meet. Each faceted with its own unique color spool and design that it raced to finish. I had done my research on 3D printers when they first started developing them as well as when they started becoming popular and making headlines in the medical industry. I even remember seeing the first Youtube video of a father who assembled a prosthetic hand for his son. In fact my old roommates and best friends at home own a 3d printer that they use for various things such as making customized dice that we play table top games with. So to see one of these machines in action, and to see a few together with one common goal really set the bar of what the future has in store of what can become so readily available to the public and offer such amazing and revolutionary services such as the one that was being provided that day.

We all worked at our own paces assembling our prosthetic hands alongside the families as we were guided by e-NABLE helping hands. Each piece seemed like a masterpiece to the families, as they made sure to never skip a detail. It was apparent that these families weren't just assembling a bunch of pieces together, they were building a hand for their children. They of course caught word that I was the only Super Villain from the show there that day, and proceeded to want to play endless games of throwing fake punches and kicks at me as if they were preparing for their new Super Hero powers that would be bestowed upon them from their "upgraded" hands.

 As the finishing touches were put together on hands, and they began the final fittings, it was almost difficult to get the kids to stop playing around. It was obvious they were so excited for the day whether or not they vocalized it. As each one equipped themselves with their new hands they immediately returned to their grand imaginary battles, only this time, feeling quite a bit more "super." They began using "special moves" like shooting laser beams, or pretending that their hand was strong enough to punch holes in the building. 
 As I said my goodbye's to the family I had been working with, I was met with a hug from each of them. This was quite a surprise, as I felt it would only be right if the families were the one to assemble majority of their child's hand whilst I helped in problem areas. Here I sat thinking that I was simply making conversation, helping facilitate instructions, and letting the kids beat up on a real life Super Villain. However, the appreciation that everyone had was ten-fold. Whether anyone said it out right that day or not, something truly heroic happened that day.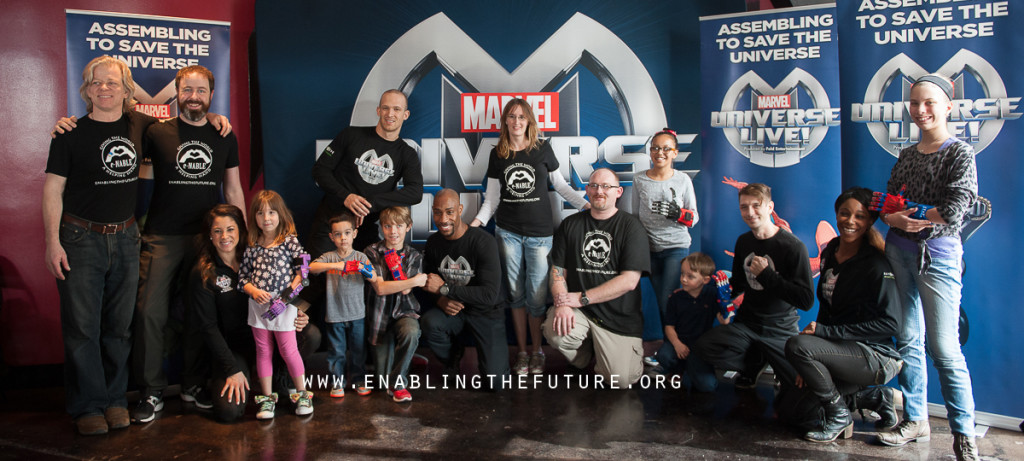 These families now have an affordable alternative to a prosthetic that they can easily install new sizing to as their child grows older. They were offered endless resources, support, and help from everyone there. And most importantly these children who never even saw themselves as having a disability were given something that will impact them for the rest of their lives. 
 The last thing I got to say to my family before parting ways was, "Someone just became the coolest kid at school."
For many of the e-NABLE community volunteers – our favorite part about everything we are doing is to not only see the children and recipients of these devices have wonderful life impacting experiences …but to realize that we have somehow managed to find a way to allow everyday people from all over the world – to feel like "Super Heroes" too – simply by donating their time to assemble a hand for someone in need.

Erin Burgy, of Marvel Universe LIVE! writes:
"From the moment I emailed Jen Owen from e-NABLE in late October of 2014 and she responded in a mere 15 minutes, I knew we were going to create something special.  The synergy between Marvel Universe Live! and the work of e-NABLE was obvious to me the second I read about e-NABLE and began following their amazing work online.  After speaking with Jen, I was excited to find that Jon Schull would be in Houston weeks later and I immediately made plans to meet him.  Jon's vision, passion and desire to reach families left me speechless – which is quite an accomplishment for those that know me.  My wheels were turning and my heart knew that we at Marvel Universe LIVE! had found the perfect non-profit partner.
 In what seems like mere minutes later (actually 3 months), we were all together in Dallas. Jen and Ivan Owen, Aaron Brown and Peter Binkley arrived and each shared their unique stories of how they became involved with e-NABLE. Their different backgrounds, perspectives, strengths and visions had our team all in – completely!  Watching our six Marvel Universe Live! performers, e-NABLE volunteers and six families from across the state of Texas file into the event instantly filled my heart and this was before I would witness an indescribable morning of teamwork at its best. 
 Over the course of the next three hours, I watched as teams formed.  Performers and e-NABLE volunteers bonded with families.  Children with upper limb differences bonded with their peers – some of whom had never in their short and beautiful lives seen others that look like they do.  Parents laughed and befriended other families.  Seeing firsthand how strangers can pull together in minutes and exemplify the meaning of teamwork was breathtaking. Watching beautiful young faces light up when they grab a water bottle for the first time or hold their parent's hand simply cannot be described in words.  Beautiful is the first adjective that comes to mind.   I was touched in a way that was overwhelming.  I instantly wanted to run to a computer and share our experience with our peers nationwide. I wanted to sing the praises of e-NABLE and encourage others to replicate our efforts.
 We are all Super Heroes. We all have gifts to share.  Children received mechanical hands and seemingly gained instant confidence and Super Hero status. Families felt support and empowerment helping to assemble a device for their child.  Marvel Universe Live! performers felt like the Super Heroes they play in the show by fully understanding how volunteerism directly impacts others and becoming a part of an amazing story.  For me, it was all beautiful and it verified what I already know to be true – we live in a world filled with unimaginable technology and everyday people that can be exponentially powerful when we work together to help one another."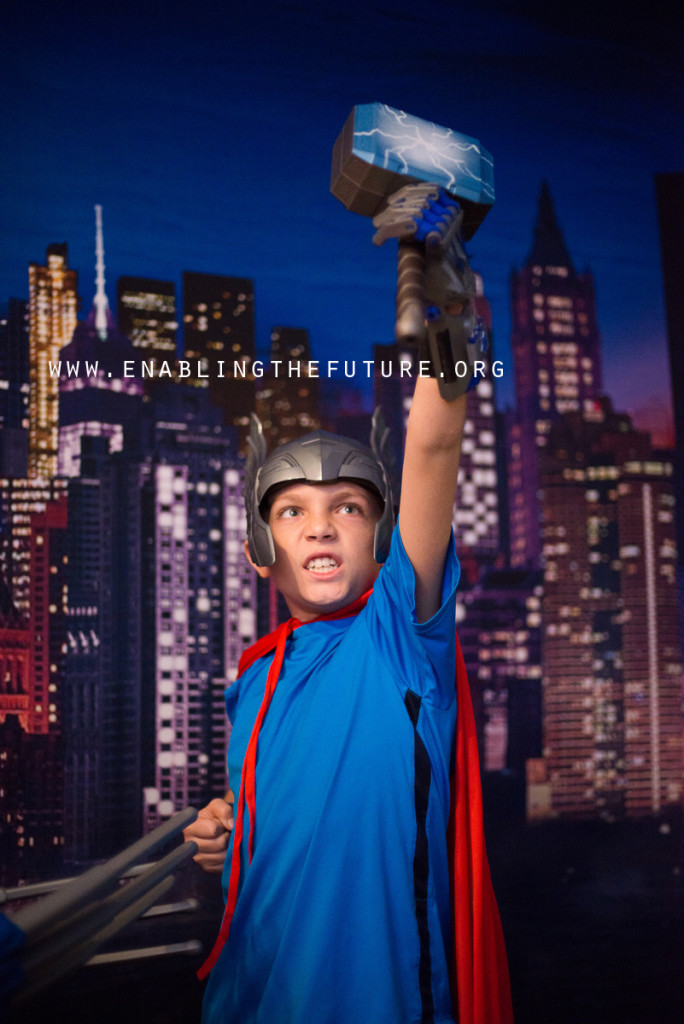 If you have a 3D printer at home, at your school, in your local makerspace or your public library and would like to volunteer to make hands for someone – please visit our "Lend a hand" page and fill out our volunteer intake form so we can get you on an adventure you will never forget.
If you are in need of a device and would like to get matched to a volunteer, would like someone to print parts for you to assemble on your own – please visit our "Need a hand" page.
For more information on attending a Marvel Universe LIVE! show – please visit their website to see when they will be visiting your part of the globe and if you go…make sure you remember that these folks don't just play Super Heroes on the stage – but they are now "Real life Super Heroes" – making a difference in the lives of children around the world.
**A special thank you to our other "Super Heroes" – Ryan and Frank from the Dallas Makerspace, who brought three of their 3D printers to our event and saved the day by printing a spare palm piece for Miah! We couldn't have done it without you!