If you spend some time reading through the many blog posts shared here on this website, you will find that there are numerous stories about children who were gifted a free 3D printed hand from one of the e-NABLE volunteers or from some of the schools that have been participating in the project.
The majority of these children's parents were matched to a maker through the matching system that e-NABLE has put in place and simply have to click a button on the website, fill out a form, submit measurements, some contact information and wait to be matched with one of the e-NABLE Community volunteers who will 3D print it, assemble it and ship it right to their door free of charge.
It is not very often that we get to hear stories of the children who started their journey into 3D printed assistive devices by having parents who stumble upon the origin story and become determined to find a way to make a hand for their child, no matter what the cost or how long they have to wait.
This is one of those stories.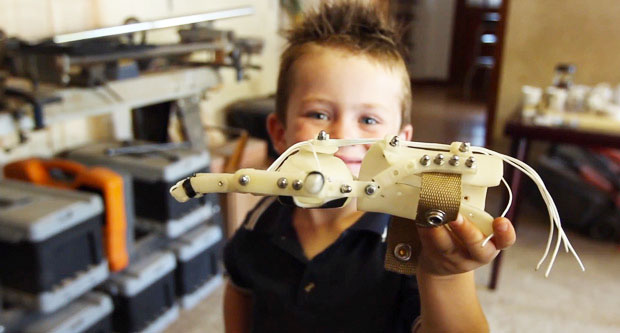 In the fall of 2013, Yukako found herself watching a video about an American prop maker, Ivan Owen and a South African carpenter, Richard Van As – who had created a functional 3D printed mechanical hand design for a young boy named Liam, who was born missing fingers on his right hand.
The co-collaborators had released the files and instructions online so that anyone, anywhere in the world who had access to a 3D printer, could download the information for free and print a mechanical hand for themselves or someone they knew. As Yukako watched the Makerbot video, she realized that her son, Seigo, had a hand that looked very similar to little Liam's and was determined to make a device for her own child.
Though she lives in Japan, in a city of over 2 million people, she shares, "There were no people who could help us here. I couldn't find a single person who knew anything about 3D printed assistive devices or anyone that could make one…so I downloaded the blueprints from the internet by myself and in December of 2013 ordered it to be printed by a company that provides 3D printing services. They modified the design of the thumb and improved the grip but it cost approximately $1500.00 US. It was not cheap!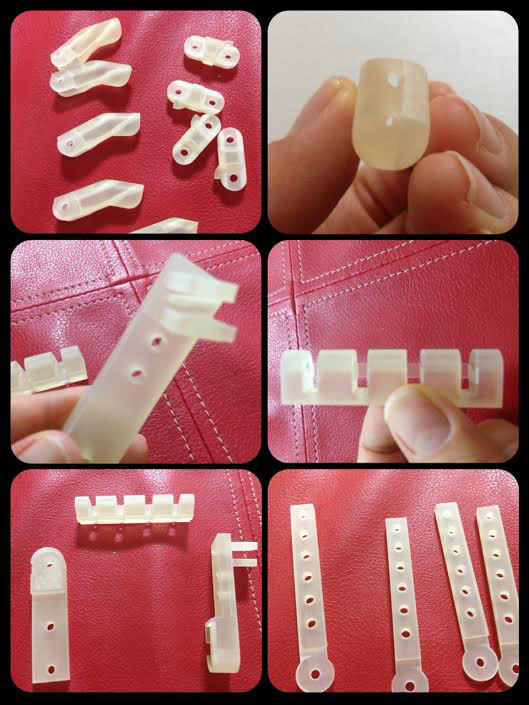 I also downloaded the assembly instructions and took them to my son's prosthetist and occupational therapist, where Seigo  already practices with a myo-electric hand. I asked for his assistance to assemble and fit the 3D printed parts for my son. It was his first time making a 3D printed device and by April 2014, Seigo's first hand was completed!"

Seigo enjoyed throwing a ball, holding his snack bags and other activities but Yukako shares, "The original design had some problems. It was heavy and it was very easy to break and lacked some parts. It needed to be fixed 5 or 6 times in that year. It had no color and it didn't look very cool and that is why I decided to contact e-NABLE. I needed some advice."
In early January of 2015, Yukako was excited to be connected to two e-NABLE volunteers in Japan through the matching system. "Mr. Kojima and Mr. Tobias listened to our story and took on the challenge to 3D print a better and stronger device for Seigo," shares Yukako, " We got the new hand last summer (they printed him a Cyborg Beast design) and it looks very cool, is much lighter and it is going very well so far!"
Recently, Seigo has been learning how to play Ayatori (or Cat's Craddle) with his new Cyborg Beast e-NABLE hand. Ayatori is a traditional Japanese game that uses a piece of string that requires both hands and all 10 fingers. Yukako writes, "I was surprised and felt happy because I was always thinking this would be impossible for him! It is very difficult but it is a great challenge for him!"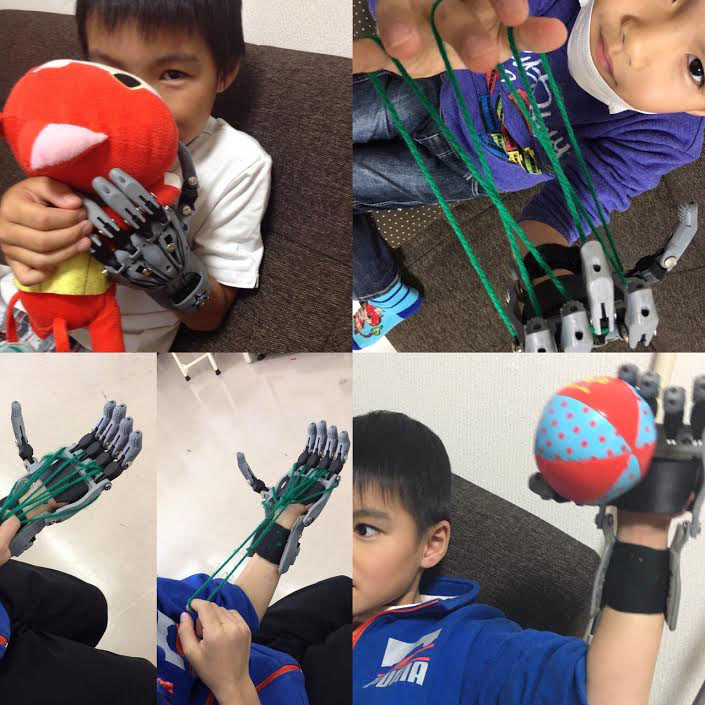 Seigo was blessed with a mother who had a dream for her child and stopped at nothing to see that dream come to fruition. Thankfully, she does not have to do this alone anymore! Our e-NABLE Community is here to help with guidance, support and printing needs as well as offering a wealth of resources to help all parents and children who have upper limb differences (that are compatible with the available designs), to obtain a "Helping Hand."
Thanks to the e-NABLE Community of volunteers, the original mechanical hand design has come a very long way over the past 2 years! The members of this wonderful global village, continue to donate their time, talents and resources to constantly re-work the older designs to make them easier to assemble and adjust the designs to attempt to reduce the cost of the materials needed to produce them, so that other families can create these on their own.
If you are in need of an assistive device for you or someone you know, please visit our "Need a Hand" page and if you are interested in helping to create a hand for someone else, please sign up to volunteer here.
Please make sure to sign up for email notifications to this blog so that you don't miss any of our stories and updates!
継続は力なり。