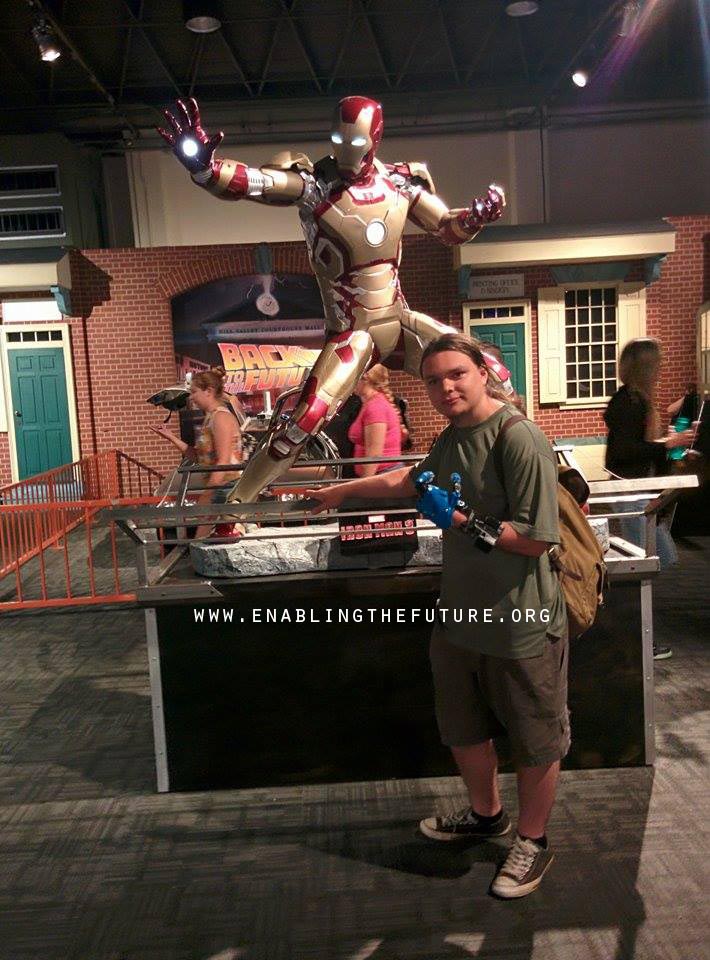 One of our oldest device users and biggest "Feedback giver," Peregrine Hawthorn, will be part of our panel presentation during our "Empowering Parents" portion of our conference at Johns Hopkins Medical this coming weekend with his Dad, Peter Binkley who designed the Talon hand, Ody hand,  the Flextensor design and collaborated on the nearly released "Raptor" design as well!
We asked Peregrine to share a little bit about how he got involved with e-NABLE, what kind of things he has been doing with his devices and to share some thoughts for parents who are wanting to create these hands for their own children.
How long have you been using these hands/how did you get involved?
I got involved with e-NABLE when my dad and I saw a video of a kid with a hand like mine (without fingers) picking up things off a table with 3D printed fingers. We were absolutely floored and immediately set about trying to make one for me. This was a bit over a year ago, and now, after we finished my first hand in late august of 2013, I can say it's been a great experience.
What has it been like for you as an adult user? What do you use it for? How often?
I got my first hand after graduating high school, just before turning 19, so I never got to go to school with one, or see how useful it is in a classroom. What I did get to do was see how useful it was after all that. I carried massive amounts of groceries into the house, and pulled thorny weeds from the garden.  I held my thermos of coffee while waiting for the metro to go to work, where I sorted packages for FedEx. I flip pages of a book during long bus rides. I helped actors change their costumes in the 10 seconds they had before their next scene, and held their mics while I replaced torn cords and bad batteries.
I joined Americorps, and rebuilt houses destroyed by tornadoes in Oklahoma, everything from holding a nail to carrying scaffolding boards over the mud. I use it to hold water bottles while I open the cap, and to hold my wallet while I fish something out of it. I do all these things, and quite a lot more. It's honestly much, much more useful when I'm out and about than while I'm back at home, but it's great once you're out there.
You have all three versions – which is your favorite? Why?
Since joining e-NABLE, I've had the privilege of testing three different models of hand: the Talon, the Cyborg Beast, and the Raptor. Possibly the most interesting difference between the three models, is the conditions they were each developed under.
The first hand I got, the Talon, was developed under field testing conditions. My father would print a hand and send it to me, I would use it either until it broke, or I got enough data about how strong/comfortable/good a fit it was to justify a new iteration. This means it's very strong, quite bulky, and feels like a luxury couch for my paw. This model is still my favorite, partly because of how much work we've been able to put into it to make it a part of me, and the incorporation of leather into the design.
The next one I tried was the Cyborg Beast. This was developed under laboratory conditions. It has lots of beautiful curves, and it's obvious that those making it are very adept at 3D modeling. Trying it was a very different experience, and as pretty as it is, I can't wear it for very long. It can't really compare to the talon in terms of grip strength and comfort. It has a lot of great mechanisms and ideas incorporated into it that the Talon could benefit from, but it doesn't hold up well in the field.
Queue the most recent addition to the e-NABLE hand family, the Raptor. This guy was developed under intense collaboration, and experience working with 3D printers and prosthetic hands. It doesn't have the elegant curves of the Cyborg Beast, or the craftsmanship we put into the Talon, but it combines the sturdy cable mechanism and ease of construction of the Cyborg Beast with some of the comfort and strength of the Talon. I feel it could still use some work, but it has a lot of potential to become the new leading model of 3D printed hand.
What are your thoughts on families/parents building these with their kids? Has it brought you and your dad closer?
Sharing this project with my dad has brought us a lot closer. I was going back and forth between two households as a kid ever since I was four, and I got to see him only on the weekends before I moved out to the other side of the country at age 16. This collaboration has allowed us to do a lot of reconnecting. This project involves brainstorming, sharing ideas and experiences, and generally being really cool. It's like those classic "father/son" projects like fixing the car of building a treehouse, but with way cooler technology, and making it a much more ongoing theme of collaboration.  I think it's a great bonding and collaboration experience for a family to go through, and I'd recommend it to everyone with the resources available. Making a hand sounds very big and scary, but once you actually sit down and start doing it, it's not too difficult.
Anything else you would like to add?
This project has also taught me some important lessons about thinking about myself as a work in progress to actively work on improving. When you take an active role in making a part of yourself, you begin to think of yourself, not as a static entity, moving through the world, letting things happen to it, but as something that you put time and effort into making better. The classic image of a cyborg is that of someone who makes time to make repairs and upgrades to themselves and that's a powerful mentality for anyone to have.
Come meet Peregrine at our Conference at Johns Hopkins! He is looking forward to showing the little ones that "big people" have hands like theirs too!
REGISTRATION & TICKETS: Visit our Ticketing page.
SCHEDULE: Visit the Scheduling Page.
SPEAKERS:  Learn more about our speakers!
Thanks to generous sponsors, families with children who have a need for a device as well as Veterans and Wounded Warriors – will be able to attend the conference for free.
INFO: If you would like more information on this event – please visit our press release page HERE.
PRESS: If you are a member of the Media/Press and would like to be invited to cover this event live or help us spread the word about the as-yet-to-be-announced highlights – please email us at enablepressrelease@gmail.com.
QUESTIONS: For more information – please email info@enablingthefuture.org.