The e-NABLE community is constantly generating new tutorials, techniques, and workflows for designing and building low-cost 3D printed prosthetics.  Here are a collection of resources spanning design, 3D printing, fitting, and hardware sourcing.
We have a lot of wonderful information on our website to help guide you on your way to becoming involved with the ever growing e-NABLE Community 3D printed assistive device project!
Below you will find some helpful information for a variety of questions you may have.
3D PRINTERS
• Looking to purchase your first 3D printer? Visit our suggested 3D printers page for recommendations from our community!
• Check out the Tips For Successful Prints page!
---

VIDEO Tutorials – Some of the e-NABLE volunteers and designers have put together video tutorials to help guide you in creating a 3D printed device, work in various 3D printing software programs and other helpful tips for taking photos, thermoforming and more!
Please visit our video tutorials page to see if there is anything in there that may assist you in your quest to create an assistive device!
If you have created a video tutorial that you feel may be helpful to others who are building e-NABLE Community devices, please feel free to email me and let me know so I can add it to our growing collection!!
---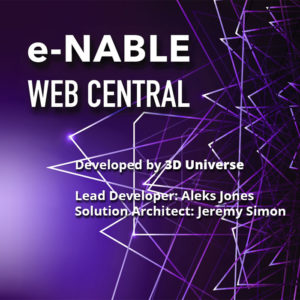 e-NABLE volunteers Jeremy Simon and Aleks Jones have developed the e-NABLE Web Central application to provide a "matching" solution for the global e-NABLE community. Using this application, individuals can request an e-NABLE device and volunteers can offer to help with those device requests.
e-NABLE Web Central (EWC) can be accessed from any web browser, including mobile devices. You can login using your existing Google account, or you can create an account using an email address and password.
---
e-NABLE hands require a little more than just 3D printed parts to assemble!  Here we've collected the community's go-to sources for elastic lines, high-strength tendon cable, Chicago screws, orthoplastic, and more.
---
Residual limb castings can be very useful in the fitting process as plaster casts of the body are much easier to 3D scan than the actual limb.  Additionally, various thermoforming and fitting processes can be performed on the cast instead of the actual limb, which can make collaborating and fitting devices from a distance easier.
---