In 2016, the e-NABLE Community continued to grow and thrive as more schools, libraries, scout troops, universities, youth led groups, robotics clubs, senior and retirement communities, medical students and other volunteers joined this incredible movement and became e-NABLE Volunteers and change makers in their own local areas.
We watched our e-NABLE Community Chapters organizer and e-NABLE Outreach co-founder, Joe Cross, add pins to the map almost weekly, as new chapters began to form all over the world. It was becoming very apparent that the only way to really help as many people to obtain a 3D printed assistive device of their own, was to encourage our e-NABLE volunteers to focus on creating small groups within their own cities and countries and to suggest that they come together to support one another.
The pins keep coming and we are more excited as new pins pop up and we see new chapters forming in countries where help is needed the most!
In 2017, I hope to share blog posts that spotlight some of these incredible e-NABLE Chapters who are passionate about this project and who are making a big difference in the lives of their local limb different communities!
My first e-NABLE Community chapter spotlight of 2017 is focused on one of our chapters out of Chile – Fundación Prótesis 3D. One of the co-founders of this chapter, Daniela Retamales Gómez, submitted a year in review update in early January to share some of their work and let us know what they have been able to accomplish in such a short time as a new e-NABLE Chapter!
If you would like to share your story with us and have your e-NABLE Chapter spotlighted on enablingthefuture.org, please fill out our intake form here!

Fundación Prótesis 3D
by e-NABLE Volunteer Daniela Retamales Gómez
Fundación Prótesis 3D is a non-profit organization, dedicated to the manufacture of functional 3D printed e-NABLE assistive devices.
Within our work we consider 3 important approaches:
1. Rehabilitation and follow-up: this allows us to train the person in the use of their device and we generate a long-term relationship with each beneficiary.
2. Social and work inclusion: We hold talks in schools to raise awareness about disability. At the same time, we are working with training institutions and labor insertion.
3. Research: We are developing new models to meet different needs and we are integrating different technologies to prostheses, such as neural sensors. We have a multidisciplinary team that includes professionals in the area of engineering, design, psychology, traumatology and rehabilitation. In addition to the support of recognized institutions such as: 3DP, Turbus, Institute of cognitive development, among others.
We are proud of what we have accomplished in less than one year. We have 10 beneficiaries, we have great companies that are collaborating with us, and we have a group of professionals in the areas of physical therapist, occupational therapist, psychologist and a doctor who is a specialist in upper limbs. So we are proud of the good work that we are trying to do.
What caught enablingthefuture.org's attention was a very special hand we gave to a beautiful and charming four year old girl, named Dominga, who lives in Santiago, Chile´s capital city. Everything started with a phone call from Dominga´s dad, telling us she uses a conventional prosthetic hand that was too heavy for her and didn´t look as nice as he would want to.
He left us know she really loves princess, so the perfect color to fulfill her wishes was pink. Another thing he told us was she used to count using her five fingers from her right hand and when she needed to count until ten, she asks her dad for five extra fingers, so that´s one of the main reasons he was so excited for her to have one of our hands, so she finally was going to be able to count until ten all on her own.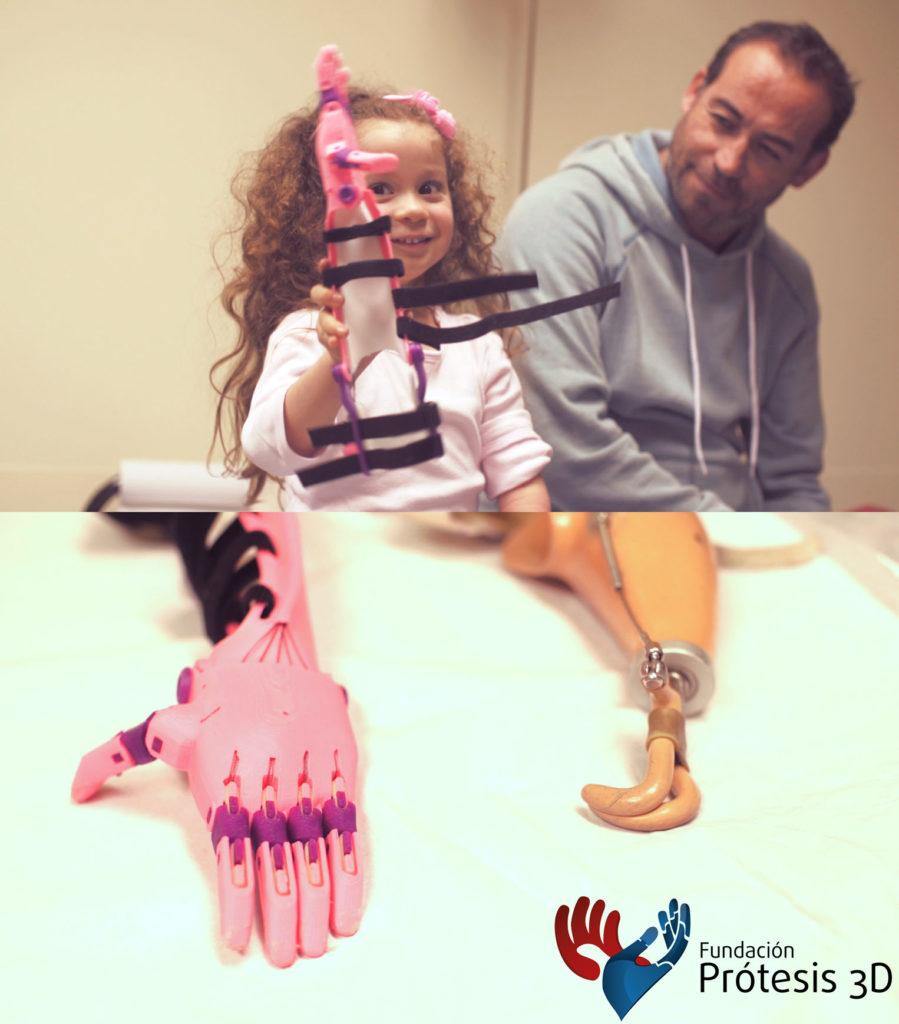 The day she received the hand, we wrapped it like a gift, because her birthday had been a couple of days before. When she opened the box, the most amazing thing for us happened, her dad asked her what it was, and her answer was; it´s a magic hand!
Those are the kind of things that fulfill our hearts and pushes us to keep working harder.


Meet Antonella! Thanks to her aunt Jessica, a social worker at her school, we were able to give her this cute Team Unlimbited arm! Within just a few minutes, Antonella could hold a ball, stuffed animals and hold a drink to open it among many other things!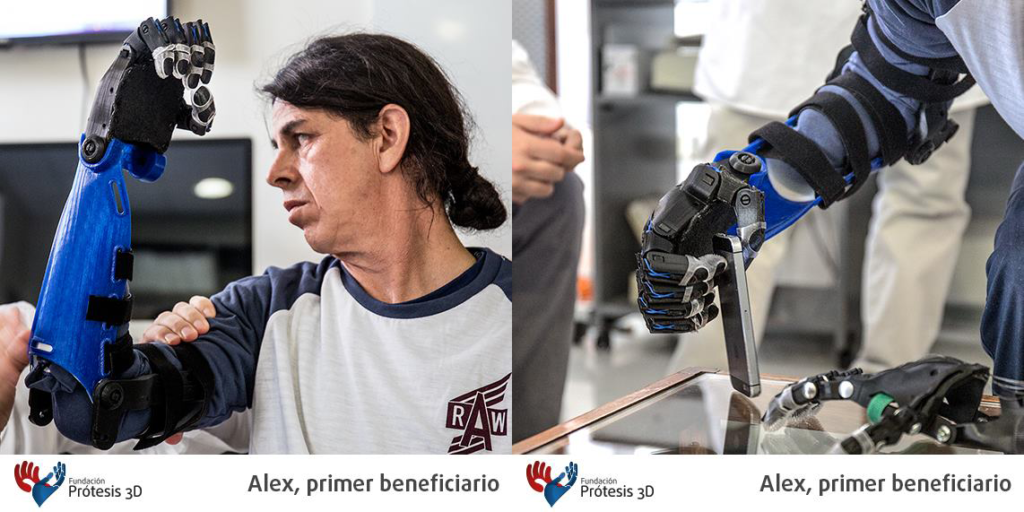 Alex had an accident at work that caused him to lose his right hand. He was our first recipient of a 3D printed device.
After many months in the hospital, he was discharged and set out to enjoy the beautiful day with his family in the south of Chile with his new 3D printed arm. 
Alex commented "It has served me well and I am very grateful. My pain has been minimized by how light it is."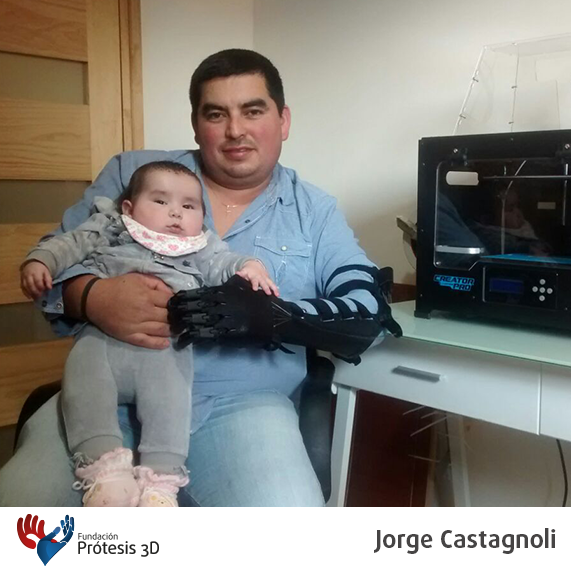 A while ago we met Jorge, who found us thanks to several people who were telling him about our Foundation.
Jorge is a very cheerful person, very optimistic and a married father of 5 girls. After talking a few minutes with us, he told us about the accident (that took his arm) and we did not think twice about helping him… that's what friends are for!
A few weeks ago we delivered the 3D printed arm and couldn't believe it… but it was enough to understand what he felt when we got to see his face full of happiness.
Today, Jorge is with his family in Contulmo, enjoying the time with them.
Thank you for believing in us Jorge!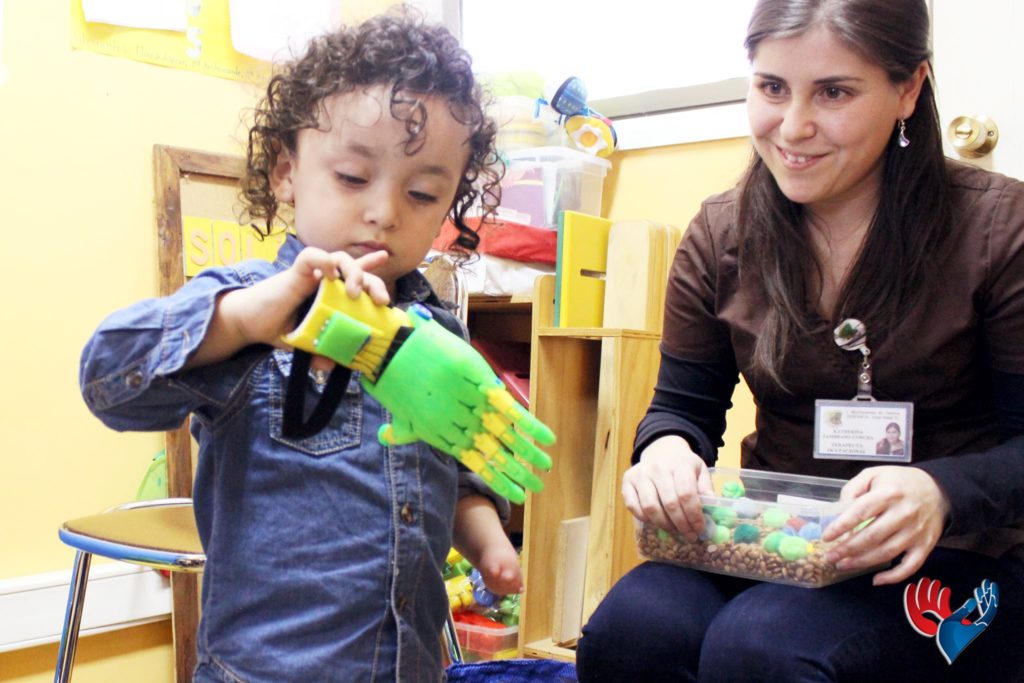 We were contacted by our friend and a physiotherapist, Marcela Andrea Martinez chief of CESFAM Jorge Sabat Valdivia, who shared the story of Eder, one of their little patients who needed a 3D printed device for his left hand. Marcela asked us if we could help with this case and remain faithful to our commitment to deliver an e-NABLE hand for him. We started working at full speed in order to be able to finish it as soon as possible.
In Valdivia we were greeted by Eder, his parents and Kathe Montserrat, Eder's therapist, who will be in charge of his rehabilitation and teach him to take his device to perfection! 
As always, we appreciate so much for the continued support of 3dp Chile and Turbus, and join our thanks to this particular case the Municipalidad de Valdivia, that will support us in the rehabilitation of Eder.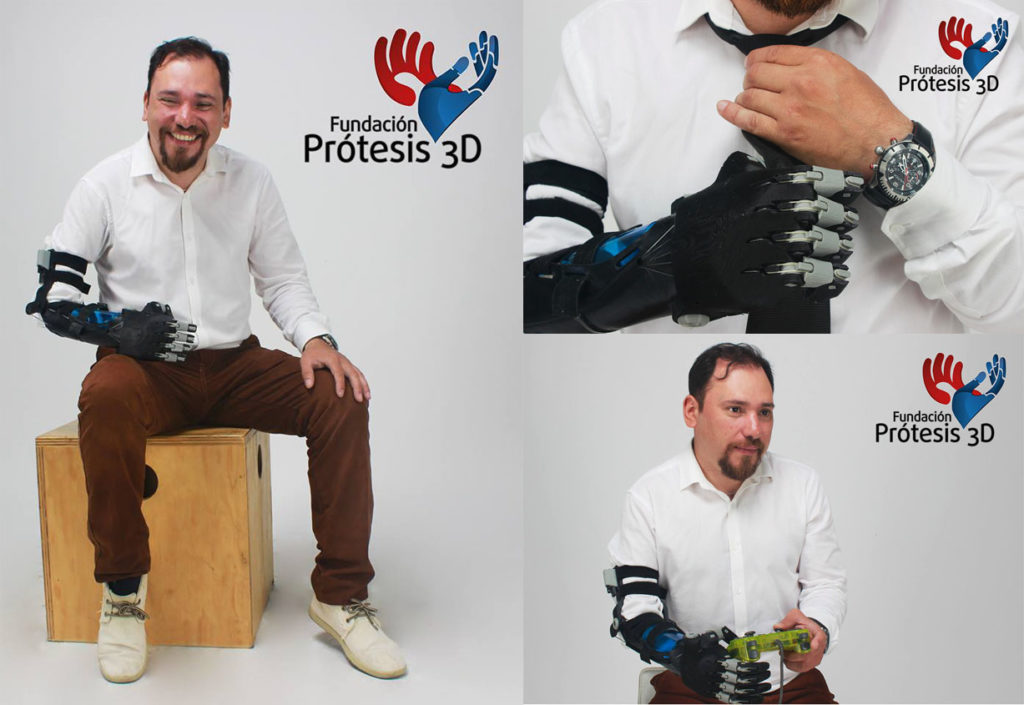 Sebastian has not only been a beneficiary of one of our functional e-NABLE Team Unlimbited arms, but has also been working with us to give lectures, help at fairs and conducting research! He is already part of the team!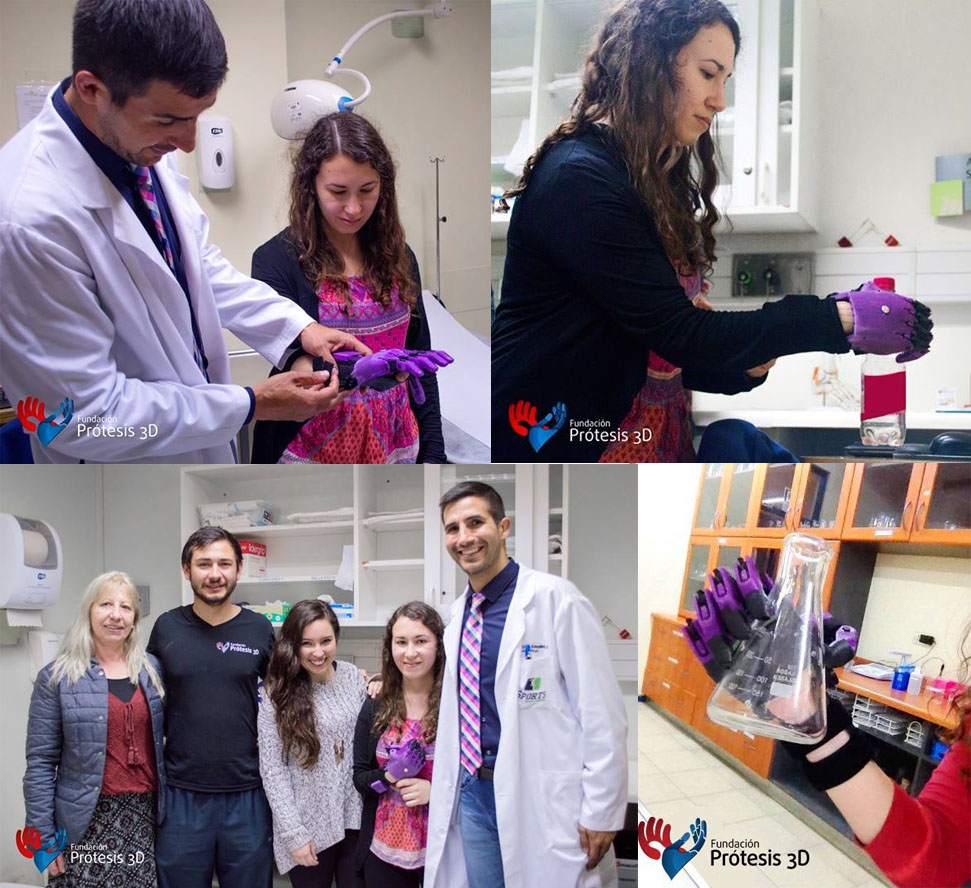 María Paz is from the city of Osorno, a graduate of environmental engineering, to which is passionate about. She commented that she had not been able to get a prosthetic to provide her with the ability to do some of the work in the lab, so we started to build her a device as to fulfill her dream!
Along with this delivery we introduced her to our orthopedist Christian González Jofré, specializing in Arthroscopy, ortho sports and ortho. He is part of teams, Mutual de Seguridad C.Ch.C. Hospital Carlos Van Buren and Universidad de Valparaíso-Chile.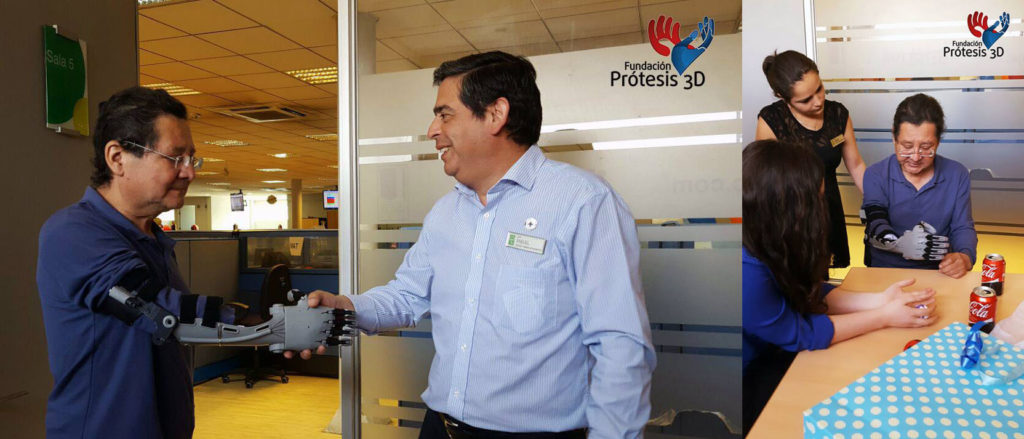 Ibor was our first prosthetic surprise!
One day we were contacted by one of Ibar's co-workers who had seen our work on the news and was interested in getting one of our 3D printed devices. They mentioned that Ibar was very loved by all and that he had suffered an amputation due to diabetes. After fine-tuning the last details on his device, all of Ibar's co-workers waited for him to give him the big surprise, his device was ready!
We have 30 people on our waiting list. Our goal is to get to zero. Also, we are focusing on making contact with other similar organizations to collaborate; because the work doesn't end with just giving someone a 3D printed e-NABLE device…there is so much more to do!  We are also working on devices for above elbow amputations.
As you can see, the work being done by our e-NABLE Volunteer Chapter Fundación Prótesis 3D has gotten off to an amazing start, but as you can imagine, shipping supplies like velcro and padding and gel finger tips for better grip once the hands are created – is expensive.
If you are interested in helping this e-NABLE Chapter to obtain supplies – please consider purchasing gift cards through our sponsorship program with Matterhackers to help us send much needed materials, hardware and filament to continue providing devices for those who are still on their growing wait list.

When you purchase a gift card through the Sponsorship program, please make sure to note that you would like your gift to go toward purchasing materials for Fundación Prótesis 3D in Chile and we will make sure that your donations get there safely and that we send them the supplies that are most needed!
Check back soon or sign up for email notifications for more spotlights on our e-NABLE Chapters, volunteers and recipients as well as upcoming design challenges, our launch for our new badging system and much more!
2017 is going to be amazing!