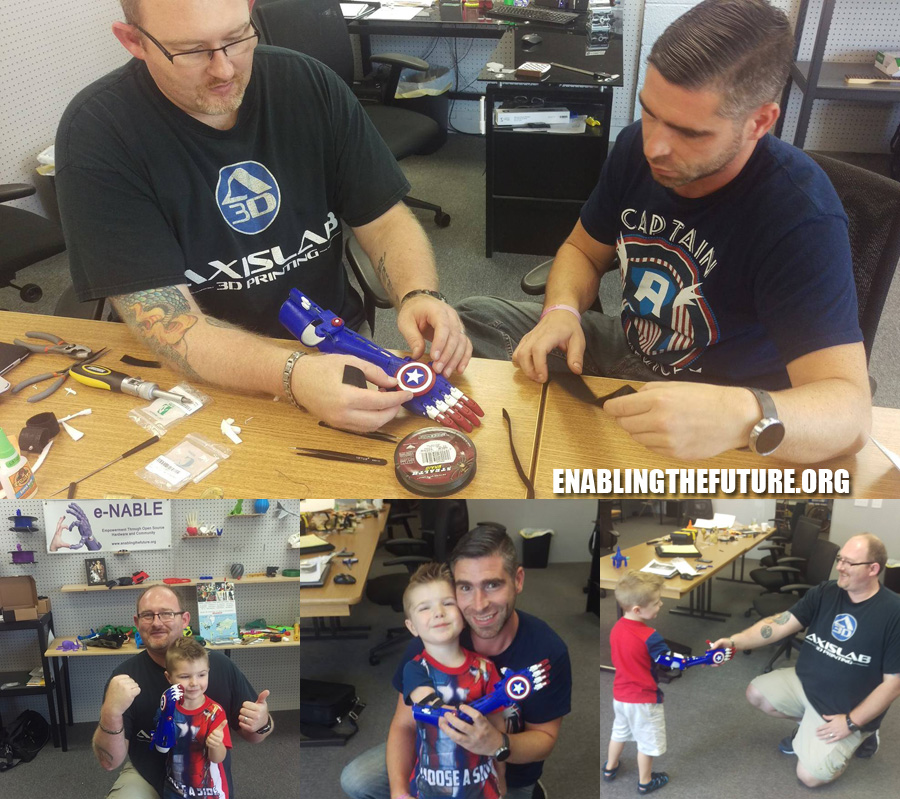 Over the past year, according to the stats on page views, the visits to this website – enablingthefuture.org, have changed significantly. We have gone from numerous visits from those seeking to be matched with an individual volunteer to create a 3D printable device for them… to those who are instead, wanting to learn how to create and build their own 3D printable hands and arms for themselves or their children. We are seeing more people who want to bring this project into their classrooms and libraries, start their own e-NABLE Chapters to help those in their local communities and entire countries or who are simply seeking advice on which 3D printer and materials to purchase in order to jump in and start helping!
As with any movement such as e-NABLE, things change and move in different directions and it is evident that what started as a blog and website to help match recipients with individual makers willing to create free hands and arms for those in need – is now moving in the direction of  simply collecting and compiling the information needed for how people can help themselves with mentorship and support from our many volunteers worldwide and growing community chapters all over the globe.
This has been the goal all along! (Teach a man to fish…)
Today, I am happy and excited to announce that once again, our friends over at Matterhackers have stepped up to support the global e-NABLE Community and have created a new "Sponsorship" program that will allow individuals to gift 3D printers, filament and other materials directly to their own local schools, libraries, makerspaces, local families of recipients or some of our many e-NABLE Community Chapters in need!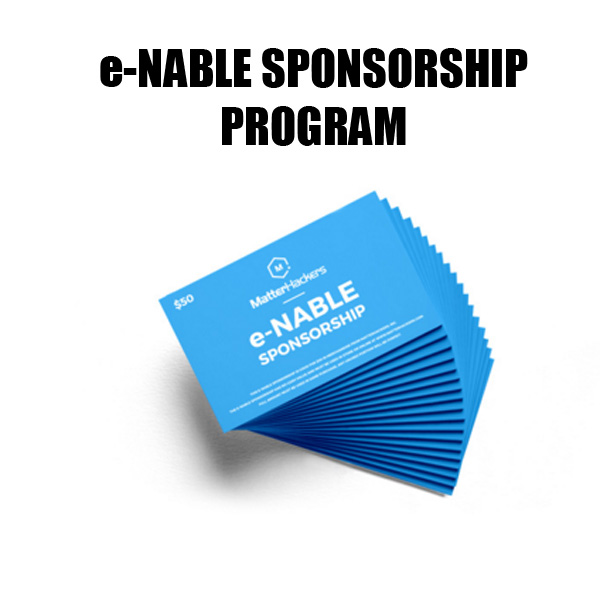 Matterhackers has been working with me for over a year, helping to support this website, enablingthefuture.org, by donating a portion of the sales from items purchased through our 3D Printer page back to us and also co-produced the "Within Reach" 3D printed tool design challenge with us (along with Pinshape and Ultimaker), for those who still have fingers but who have lost function – which resulted in over 200 new designs – all available open-source for anyone to use.
Now they have gone even further and have helped me to come up with a new way of getting assistance where it is needed the most!
Thanks to our Matterhackers partnership, those who wish to donate items to be used in their own communities or abroad, can now "Sponsor" a 3D printer, filament bundle or a hand kit and have us send it directly to the group, school or library of your choosing or an e-NABLE chapter in need. They have also created "e-NABLE Gift Cards" in $20, $50 and $100 amounts that will allow those that are interested in being a part of  helping to purchase supplies for our e-NABLE Chapters, an opportunity to participate and know that they too have helped put this technology into the hands of those who are determined to make a difference in the lives of others.
Every month, we will share where your gift has gone and share images if we are allowed to, so that you can see how you have made a difference in the lives of recipients, their families, students and communities far and wide! We currently have chapters in over 50 countries and the need for reliable machines and a source of good materials and hardware is growing.
How does this new program work?
It is simple!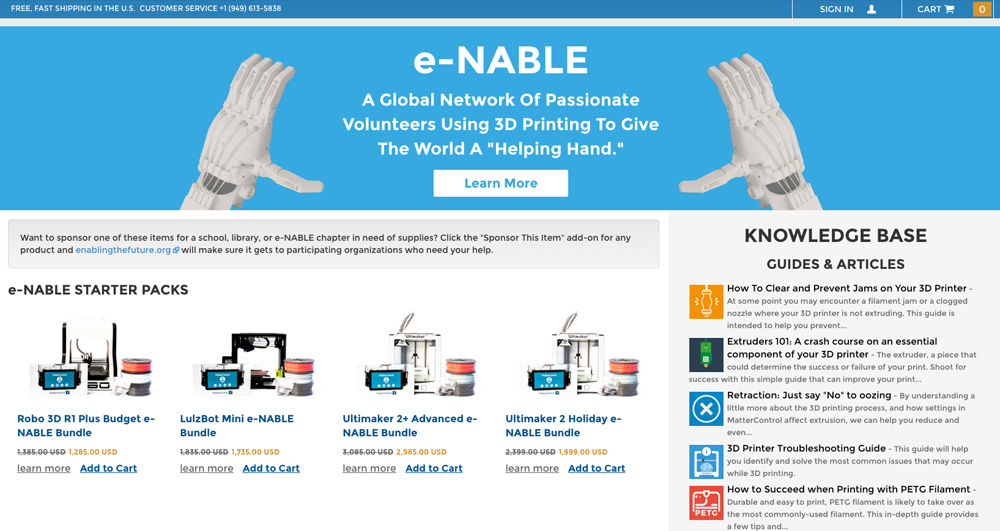 Step 1 – Visit the e-NABLE Page on the Matterhackers website – HERE.
Step 2 – Choose which item you would like to gift to an e-NABLE Community Chapter or surprise a school, library, recipient family or other group in your own local area with a new machine or materials! Gifting a machine to a school or local library not only allows families in that area to have access to the machine and people who can help them create their own devices, but provides a new tool for future generations interested in STEM based learning, to see just what they can do if they have access to technology that will allow them to see their ideas come to life.
You may also simply choose a gift card amount that you would like to donate to e-NABLE and when we have enough of them to purchase a new machine or supplies for those Chapters seeking assistance through e-NABLE Outreach, we will have it shipped where it will do the most good!
Step 3 – Check the "Sponsor This Item" box and add it to your cart.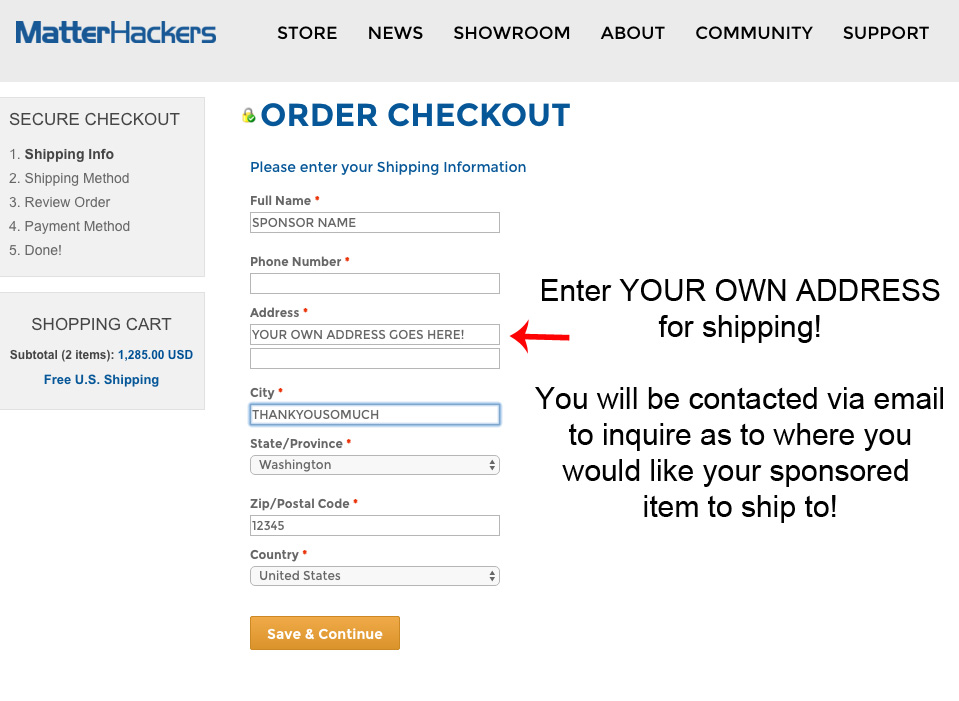 Step 4 – When you have added all of your sponsored items and are ready to check out, enter YOUR OWN billing and shipping address. ITEMS INDICATED AS SPONSORED WILL NOT BE SHIPPED TO YOU.
Step 5 – Once your order has been placed, you will receive a confirmation email from MatterHackers that your order will be shipped, and a SECOND confirmation email from Jen Owen at enablingthefuture.org to confirm where you want your sponsored items to go. If you have a local school or e-NABLE chapter in mind, please have their address ready. If not, we are happy to match your gift to one of our many e-NABLE Chapters in need, and ship your items to them on your behalf.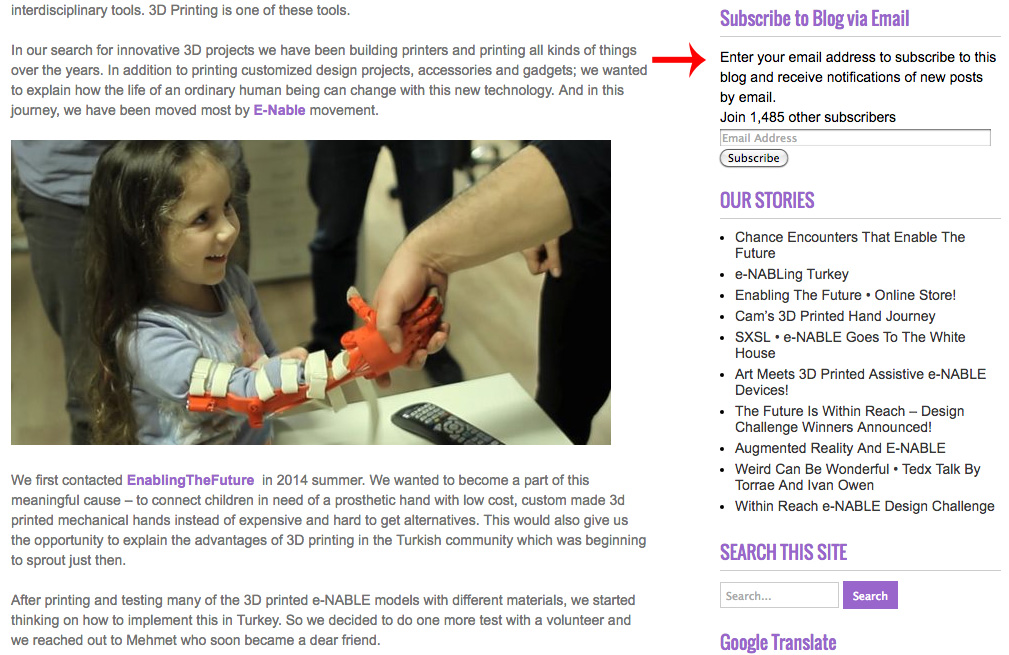 Step 6 – Sign up for email updates to enablingthefuture.org so that when we update the blog with posts sharing where your generous gifts have gone, you will be able to see the lives that have been blessed with your donations!
It's as simple as that!
This website is now more of a place where families and recipients are visiting to seek out volunteers in their own communities, whether that be through one of our amazing e-NABLE Community Chapters, through a school, a Fab Lab, a Library, a Makerspace, a University or local 3D printing shops. They are looking to find a volunteer group to mentor them and get a more personal and in-person experience when seeking help in creating a device for themselves or someone they know.
Recipient families are seeking a space where they can work with a group of students, medical professionals or designers and offer their own ideas and input into the design process for their specific needs, while learning how to assemble their own hands and arms and walk away equipped with the knowledge of how to repair it and create replacement parts when that time comes!
How can you help keep e-NABLE moving forward?
• Create e-NABLE Community chapters in your own local areas and cities!
Create or support spaces where families can easily find access to 3D printers in their own local communities and contact you directly for support and help in building their own devices!
Reach out into your local school districts, public library systems, makerspaces and fab lab communities to see how you might create workshops, after school programs, summer camps or gatherings where you can invite local families of children and adults with upper limb differences to attend and learn how to 3D print and assemble their own devices while also engaging students, classrooms, teachers and every day tinkerers who are interested in learning how 3D printing technology can be used to change lives and see them used to solve real world problems.
Invite your local medical community to attend workshops to teach them about the free and open source e-NABLE Community 3D printed assistive devices and help hand specialists, prosthetists, occupational therapists and medical students learn more about how they can use this technology to create simple tools for their patients who may not have any other options available. Get their feedback, introduce recipient families to medical providers and help them create partnerships that will also help to create stronger and better 3D printed hand designs!
If you have created or are interested in creating your own e-NABLE Community Chapter, please visit our Chapters Page and get started on bringing this wonderful project to your own local areas, get your communities working together to problem solve and allow families to create devices of their own!
Thank you to Matterhackers for helping to create this wonderful new program that will hopefully inspire even more e-NABLE Chapters to form, get this technology into the hands of our future makers and problem solvers and for helping us to supply existing struggling Chapters with much needed assistance to continue their amazing work!
Let's see what we can do in 2017 to "Enable The Future" or many more!