I never get tired of sharing fun stories from our e-NABLE Chapters and volunteers from all over the world – especially when I am able to share stories that involve a new design to share!
Previously, I blogged a story about the work being done in Colombia by Volunteer Christian Silva and his team through the e-NABLE Colombia Chapter and Fundación Materialización 3D  about the Iron Man themed arm that was created for a young boy there.
This week, e-NABLE Colombia released the new Flexy Arm 2 Captain America design and shared Felipe's story with me.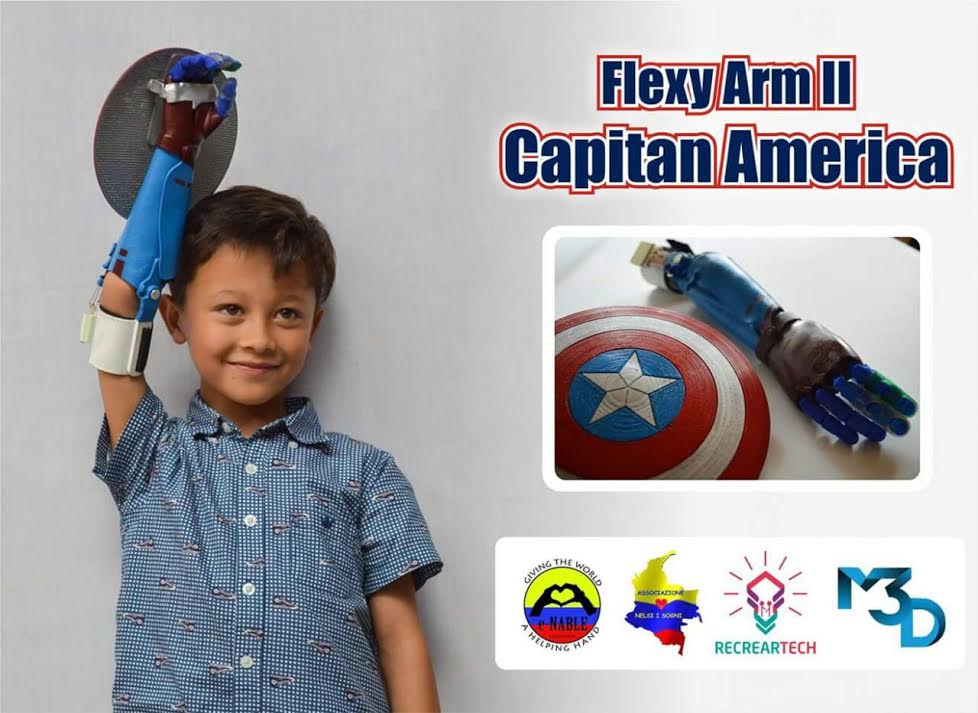 Christian writes, "Felipe came to our Give Me Five e-NABLE Colombia Chapter when he was 8 years old and asked for a Captain America 3D printed arm because he was born missing his right hand. 
The project took more than a year because we were working on other projects and donating hands and arms in Colombia with almost nothing in the way of funding or resources. 
Felipe is now 9 years old and is very happy with his new Captain America arm. He has not rejected it and considers it to be like one of his favorite toys as well as his upper limb assistive device e-NABLE arm."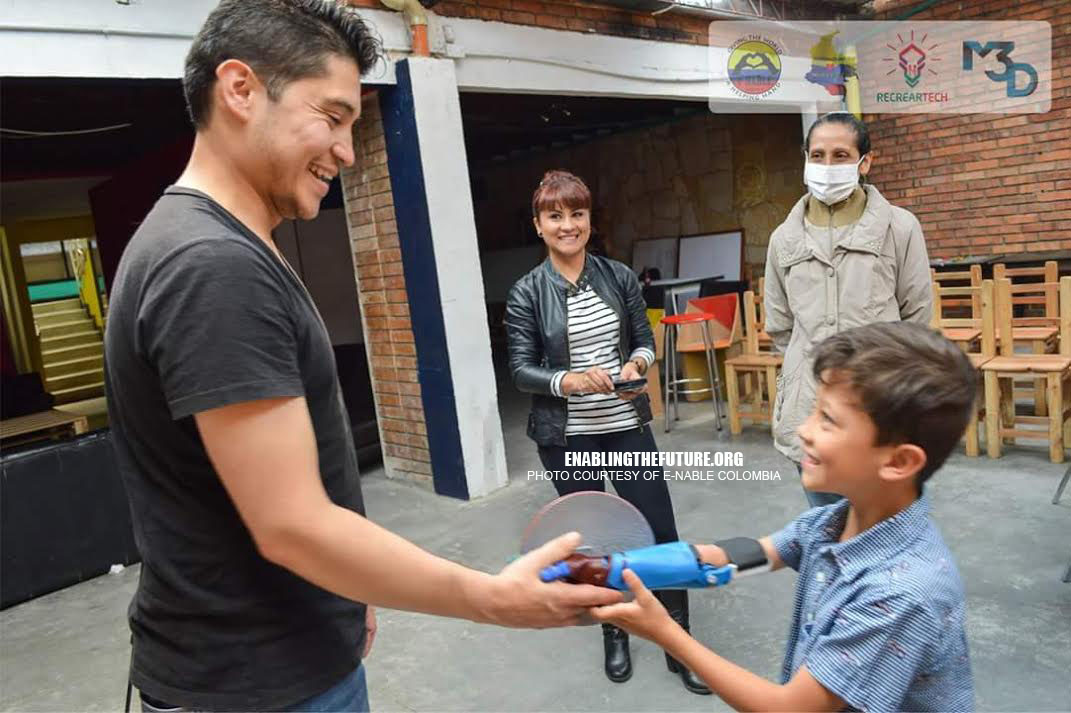 The team printed the arm on a Reprap Prusa I3 3D printer and after testing the design, have released the files for the arm into the open-source community so that others can print it for themselves or others in need of an elbow actuated device.
The Cap America Flexi Arm 2 design files, instructions, photos and videos can be found on their Thingiverse page here and instructions in English can be found in the Comments section here.
This is a project designed and developed by artist Wilmer A. Garcia P., a student at the National University of Colombia and directed by Christian Silva Mechatronic Engineering PhD student at the National University of Colombia. This Model is based on the Flexy arm of Christian Silva, The Flexy_Hand 2  by Steve Wood (Gyrobot), RIT arm (Rochester Institute of Technology) and the work of the e-NABLE Community.
Thank you to 3D materialization Foundation in Bogotá, Recreartech and Realiza3D for their support and participation the creation of this arm for Felipe!
If you are interested in making a direct donation to the e-NABLE Colombia Chapter, please do! They are in need of funding to continue their work in creating free 3D printed devices for children and adults just like Felipe who were born missing fingers or who have lost them due to accident, war or disease.
If you would like to help, please consider making a donation to their Paypal account that has been set up by M3D, a non-profit organization that is able to accept donations and distribute them to the e-NABLE Colombia team.
If you would like to donate 3D printers or materials to the team, please visit their website and connect directly to the team!
Thank you to everyone that visits our website and shares in the joy of the stories that come from our Global e-NABLE Community!
If you are interested in joining the e-NABLE movement and would like to get more info on how you too can start printing hands and arms for those in need, please visit our "Get Involved" page and join the Revolution!