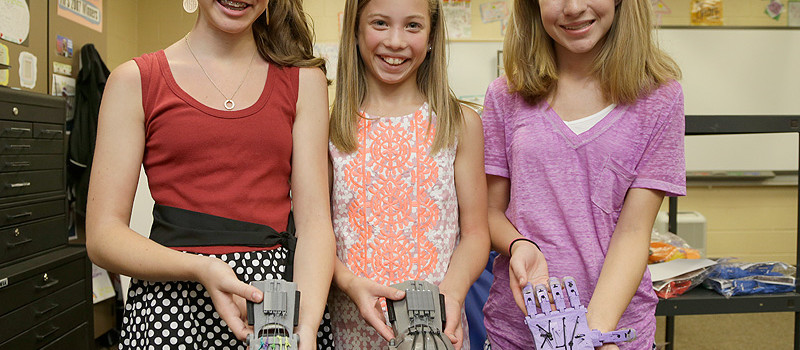 Over the past year and a half, we have shared and read stories of students who have come together to create hands for fellow students or children in their communities, students making their own devices on their school printers, teachers making hands for children in their school districts, scout troops who are spending countless hours devoting their free time to assemble devices for underserved populations, robotics teams who are creating custom designed hands for children they will never meet, elementary schools who are incorporating e-nable into their anatomy lessons, young minds who used to be "less than excited" about math and science classes – who are now showing up before school and staying through their lunches and sometimes even coming in to school on weekends…to help make hands for people.
We hear stories of middle and high school students who have had the chance to make e-NABLE hands as service learning projects in their classrooms – who are now excited about using their math and design skills for something that will benefit the world instead of creating another "useless trinket" that will sit on the desk in the corner of the room.
Students are excited about learning new skills with 3D printing technology that will have an actual impact on someone's life and that they get to be a part of something amazing.
While 3D printed hands are making a difference in the lives of the children and adults around the world who are receiving them…the impact that the heart of giving, creativity and open sourcing ideas that e-NABLE community is generating within our youth and future makers is incredible.
They get to see the benefit of their hard work and effort, their thought processes, their ever evolving problem solving skills, their design tweaks, their "ah-ha" moments, their collaborations and their teamwork – in real time… with a real person and not just as a science project that they have to spend 3 hours creating a poster board for so that fellow classmates can walk past and glance at during the science fair.
They are making a real difference and they love it! (And so do we!)
In response to the clear connection that is emerging between e-NABLE's mission and the potentially profound educational value of young people being involved in work such as this, we are very excited to announce the upcoming launch of our newly created e-NABLE Educators' Exchange ("e3") STEAM (Science. Technology. Engineering. Art. Math.) or e3STEAM for short!

The goals of the #e3STEAM •  e-NABLE Educators' Exchange are:
• To provide an opportunity for a global community of like-minded educators who will collaborate with each other and share e-NABLE inspired ideas, experiences, curriculum, and best practices through online discussions and an open-source file repository.
• To provide an opportunity for young people to become involved in the e3STEAM and e-NABLE community, thus providing them with an inspirational 21st century model of the power of collaboration, creativity, critical thinking, service, and technology.
• To empower young people to become agents of positive change in their own lives and in local and global communities by virtue of their involvement in the building and receiving of 3D printed hands.
• To assist informal and formal education organizations in the creation of 3D printed hands and devices and to get them to those who need them.
With this, we would like to extend an open invitation to all formal and informal education organizations, including but not limited to schools, colleges, after-school programs, clubs, maker groups, summer programs, Scout troops, etc. etc. to become involved in the e-NABLE Educators' Exchange STEAM.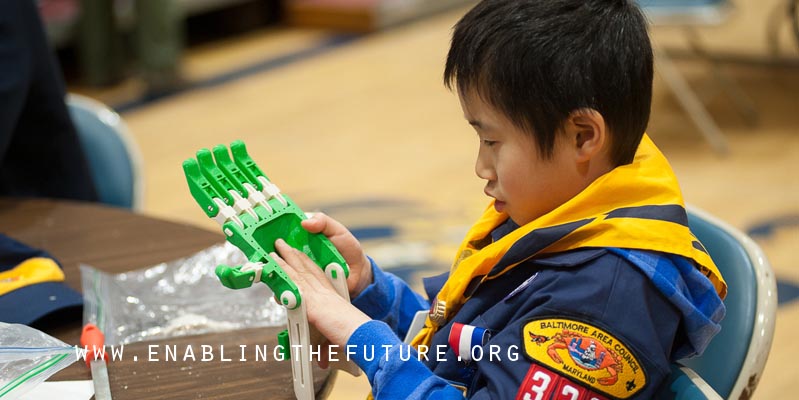 On August 26th at 7:30PM EST, we will be holding our e-NABLE Educators' Exchange STEAM Kickoff via a Google Hangout on Air. During this Kickoff, which will be moderated by our e-NABLE Educators' Exchange STEAM Coordinator Rich Lehrer, we will:
• recap the work being done by e-NABLE and introduce the e-NABLE Educators' Exchange STEAM and the goals of this initiative.
• hear from educators and organizations who are currently involved with e-NABLE regarding past practices and the future potential of the e3STEAM initiative.
• share the e3STEAM resource repository with observers.
• endeavor to attract new, previously unconnected educational partners to the e-NABLE Educators' Exchange STEAM network.
• answer participant questions about any of the e3STEAM goals, including those concerning the creation of e-NABLE-related lessons, units, projects, and curriculum documents, contributions to the online repository, the construction of hands, and the logistics involved in matching participants' organizations with recipients.
Please consider both joining us for this Google Hangout and spreading the word to others about our e-NABLE Educators' Exchange STEAM.
Please join us at the following link to watch and participate in our kickoff!
Should you have any questions about e-NABLE, our Educators' Exchange, or the upcoming Kickoff Hangout, please contact our e3STEAM Coordinator directly at E3Coordinator.enable@gmail.com.
We hope you can join us!
Please share on Facebook, Twitter and Instagram with the hashtag #e3STEAM and #enablethefuture! We would love to get as many schools and educational institutions involved as possible to help us "Enable the Future" of education!