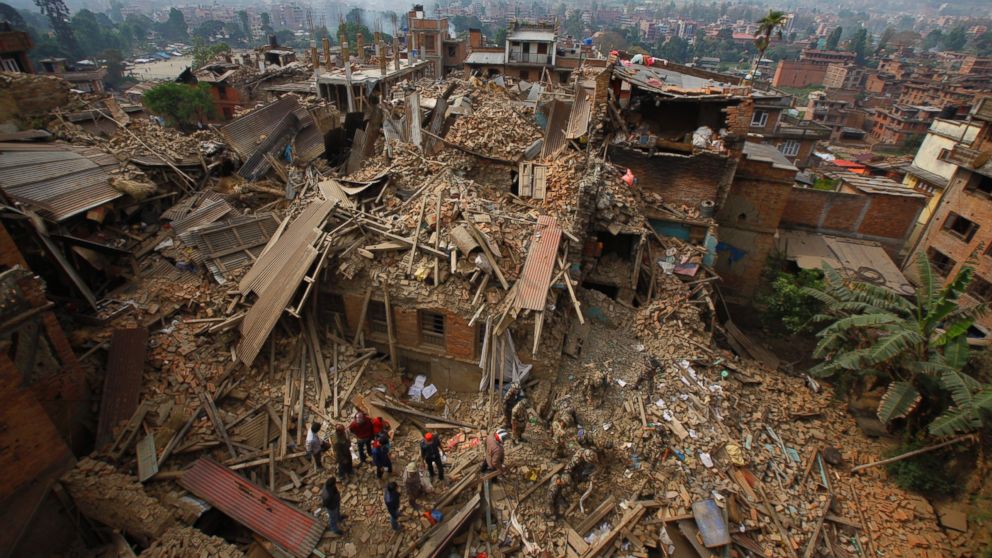 (Photo courtesy of the Associated Press)
Last week, our hearts sank as we heard of the devastating earthquake that has taken thousands of lives in Nepal and has no doubt created countless numbers of new upper and lower limb amputees that will come from having their limbs crushed as their homes and entire city came crashing down upon them.  The lack of immediate medical care for some of these individuals that would have savable limbs – means that they too will have to face amputations due to infections and the inability to heal properly.
In some cases – entire families will all have to face some kind of amputation and parents with missing limbs will be attempting to care for their children who are missing the same and vice versa.
While we wait for their wounds and hearts to heal and their community to begin to rebuild – the E-nable Family will continue to work together to create better designs, find ways to fundraise so that we can help clinics in Nepal to set up 3D printing stations and help teach their medical workers and prosthetists how to build these devices for their people and hold make-a-thons in the future so that we can send some hope to the children and adults who will need a "helping hand."
We have learned a lot from the earthquake that shook Haiti in 2010. We learned that 5 years later, they are still in desperate need of functional prosthetic devices that are easy and inexpensive to make and they have thousands who are still waiting, not just for arms and hands but for legs and feet as well.
We learned that the people outside of the USA tend to prefer to have more realistic looking hands than the current designs we have to offer and we are now striving to create new designs that will be able to be shared with them and that will help them fit in more with their peers instead of standing out in the crowd.
The work we will be able to do in Haiti will prepare us for helping Nepal in the future.
Many of you have contacted us, asking us to send hands to Nepal – unfortunately until their wounds are healed completely – E-nable devices can not be fitted to these individuals due to nerve sensitivity and pain after amputations – but we can look forward to "Enabling The Future" for Nepal when they are ready for us.
We will keep giving our time to design, innovate, create and gift our devices to the world so that those that are suffering today – will have hope again…even if it just means being able to hold a bag of groceries with one hand and the hand of their child with the other as they walk through streets that used to house their homes and families.
Our thoughts are with you Nepal.
For information on how you can help the people of Nepal NOW – please visit the Interaction.org website to see which organizations are on the ground and on their way to assist in rescue and aid efforts.
They need food.
They need water.
They need medical care.
They need shelters.
They need HOPE.
Please help where you can.