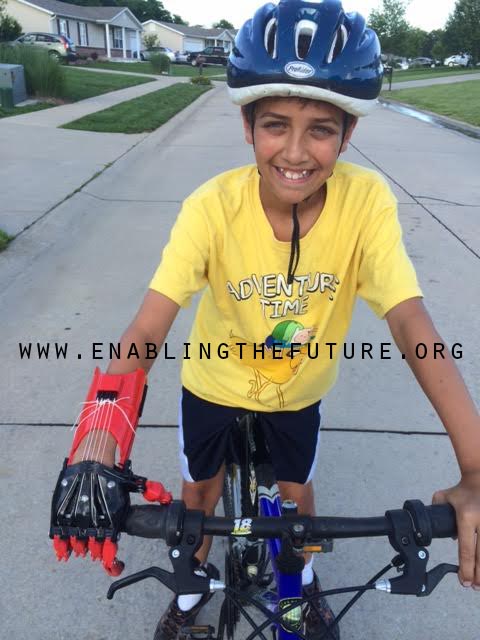 We caught up with one of our recently e-NABLEd kiddos – Bailey – who gave us some feedback to use to help us make these hands even better in the future! His mom tells us that he went to Summer camp last week and took his hand with him!
Here are a couple of questions we asked Bailey and his very honest answers:
Q: How has your e-NABLE hand helped so far?
A: It helps grip stuff.  I don't get cold fingers with popsicles! Kids ask me about my "Robot" hand instead of why I am different.
Q: What are some of the things you are using the hand for?
A: I can hold both handlebars on my bike and scooter but my thumb gets in the way sometimes. I use it to hold things and pick up stuff.
Q: What are some of the things you realized are easier to do WITHOUT the hand and why?
A: Writing. The hand works better for big things. Playing my guitar – *it can't hold my pick. *Climbing trees.
(**Design team…we need a pick hand and a tree climbing hand!)
Q: What would you like to see changed on the hand so that it feels more comfortable, fits better and helps us know how to make it better for other children when we make them a hand?
A: Tighter Grip so maybe I could use it to climb trees!
Q If you could have a hand that didn't have fingers on it – but had other attachments – what attachments would you want?
A: A hand for holding cards. (Bailey – check out Keegan's card holding hand design!)
Q: Do you have anything you would like to say to the e-NABLE volunteers who are working hard to make hands for kids who have no fingers?
A: They are doing great! Thank you for my new hand! 🙂

We also asked his Mom, Dena, a few questions:
Q: How has Bailey reacted to his new hand?

A: He has been very excited and eager to show it off.

Q: Has his confidence amongst this peers increased? Do you notice a difference in his personality/attitude/happiness?
A: He has always been a fairly confident/outgoing kid, but he doesn't like being questioned about his difference. I've noticed he gets excited when people talk about the e-NABLE hand. He is happier.
Q: How are other kids reacting to his hand?
A: His sister wants one too! Other kids have had nothing but positive reactions. They think he looks like a  Transformer or a Superhero.
Q: As his Mom, what are your thoughts on this whole adventure? Do you have any advice for other parents who may want to try an e-NABLE hand?
A: I sent the first email on a whim after seeing a story on Facebook. I was almost afraid to get my hopes up. I never thought something so wonderful could happen to our son. We never thought there would be an option like this for Bailey. 
As for advice : Be patient. Its a great option worth trying and the volunteers are amazing. 
Q: How often is he wearing the hand?
A: He wears it a lot when we go out. Bailey is a talker and it's quite a conversation piece! He seems to still be testing the waters to see what tasks it works well for and which one's it doesn't – but he does wear it often. 
Q: Has he ever used a prothetic device before?
A: Bailey has surgery when he was 6 to extend the only bone in his pinky to better his grasp. That worked, but as he grew, his hand spread. We have worked with an OT to fabricate plastic extensions for his pinky to help with his grasp, as Bailey didn't want to have another surgery to move the semi functioning thumb closer to the non functioning pinkey. The sessions were covered by our insurance, but they really didn't help much. We are working with our doctor for his e-NABLE hand.
I'm just blown away by how much the technology has improved. When Bailey was born, prosthetics were out of the picture and now not only do we have options, but useful, cost efficient ones – it's such a blessing!
If you would like to help make more stories like this happen and have a skill to offer to the Global e-NABLE community that you would like to volunteer your time for – please visit our Google+ page and introduce yourself!
We have all sorts of people with various talents who are donating their time to make this global effort to make a difference in the lives of others – a success!
"Even the smallest act of caring for another person is like a drop of water – it will make ripples throughout the entire pond." – Jessy & Bryan Matteo