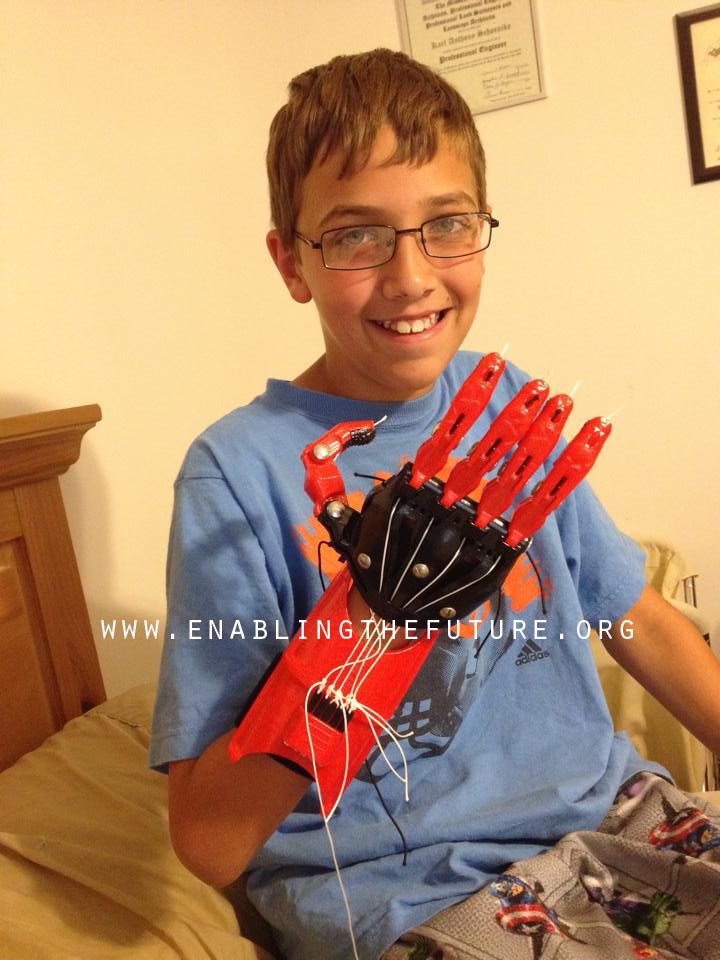 Yesterday, we posted a beautiful letter from a Mother named Melina who's son Ethan received his first e-NABLE hand – and who also jumped right into volunteering with our nearly 1000 global volunteers around the World as a member of our Matcher Team.
Today we got another letter from another Mother – thanking not only the e-NABLE group and our volunteer Jeremy Simon of 3D Universe for the hand he created for him…but she also sends a thank you to Melina. It doesn't really get much more beautiful!
"I can not thank the wonderful volunteers at e-NABLE enough for the absolute joy they have brought to my son. Our package from Jeremy Simon arrived last night and it was just like Christmas morning, complete with the kids waiting patiently for Daddy to do the assembly. 
It has brought tears to my eyes, watching this morning as Bailey walks around the house, grinning ear to ear, showing me what he can pick up with his new hand.
Thank you to Melina, the diligent mom in a similar situation that did so well to keep us informed and who is continuing to help us. I really just can't express how grateful we are!" – Dena S.
We have a whole lot of our e-NABLE  volunteers who spend hours behind the scenes – answering emails, matching makers to recipients, doing follow ups, keeping track of information, making promo materials for maker faires and events, building websites, applying for grants, building video libraries, making tutorials and parts lists, scouring the internet for ways to share our stories, taking designs and turning them into parametric versions, hosting online hang outs, researching and more.
While the designers who have created the files for these hands and the makers who are printing them and who have given them away freely – deserve a thank you…it is our silent heroes within the group that keep this global community functioning and today we just want to recognize their hard work and show them it is paying off.
If you are interested in helping and volunteering – please visit our Google+ community! We would love to have you join us in making smiles like this happen!