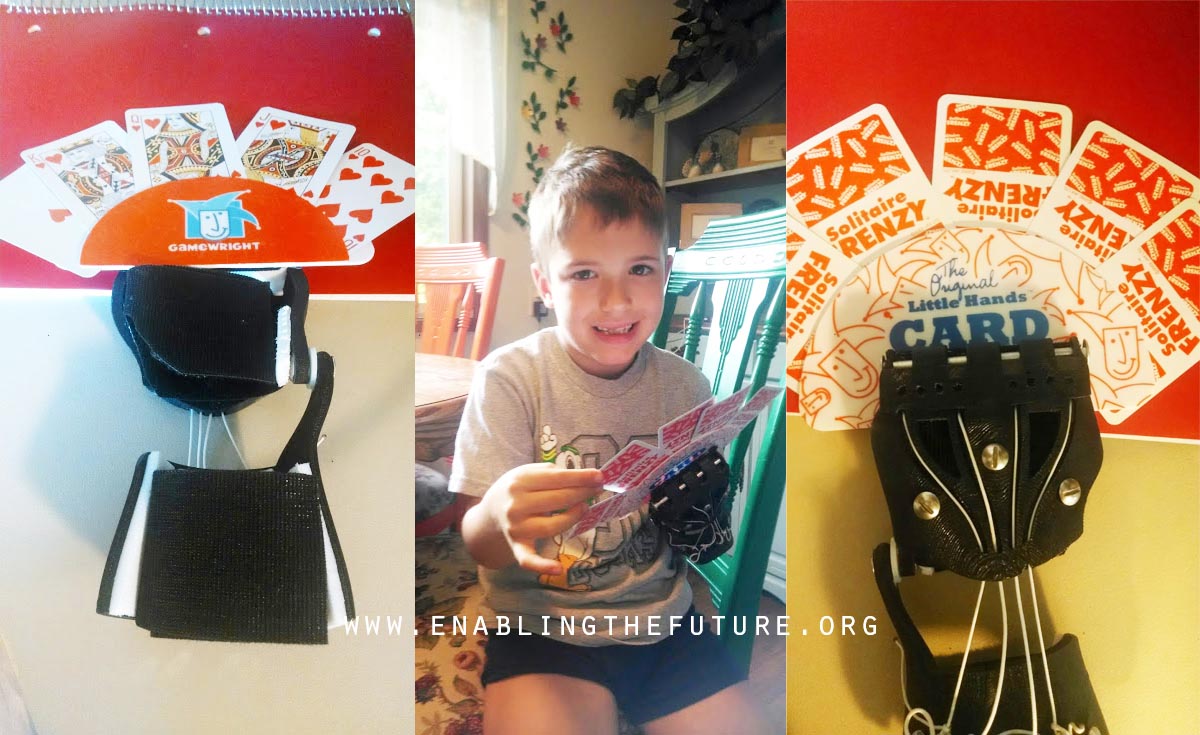 Yesterday, one of our e-NABLE parents asked the group if someone could design a hand that would allow her son to hold his cards easier – because while the current e-NABLE designs work well as tools for some things – they just wont work well for other activities like holding a hand of cards.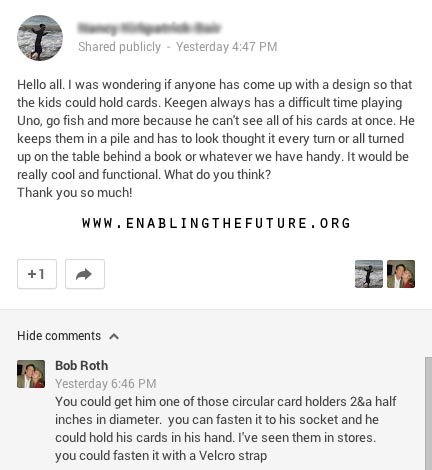 She wrote:
"Hello all! I was wondering if anyone has come up with a design so that the kids could hold cards. Keegen always has a difficult time playing Uno, Go Fish and moer because he can't see all of his cards at once. He keeps them in a pile and has to look through it every turn or all turned up on the table behind a book or whatever we have handy. It would be really cool and functional. What do you think? Thank you so much!"
And within a few hours she had a response from one of our designers:
"You could get him one of those circular card holders 2 and a half inches in diameter. You can fasten it to his socket and he could hold his cards in his hand. I've seen them in stores. You could fasten it with a velcro strap."
And thus – the Keegen Card Holding hand is born!
One of the most amazing things about the e-NABLE community is that we are able to ask questions like this and get access to over 1000 minds who are constantly thinking of ways to make these devices easier and more practical to use, who have "ah-HAH!" moments on a regular basis and who are genuinely interested and get excited about helping other people.
Sometimes Fingers are over rated!
Sometimes we over-think things.
Sometimes we need to be reminded that it's not always about making new fingers for people who do not have them – but it is important to make useful tools that will allow people to participate in a certain activity and then go about the rest of the day without a tool strapped to their arm.
"Think Left and Think Right – Think Low and Think High…Oh the Thinks you can think up ….if only you try!" – Dr. Suess
If you would like to participate in our growing online collaborative community – please feel free to join us at our Google+ page!