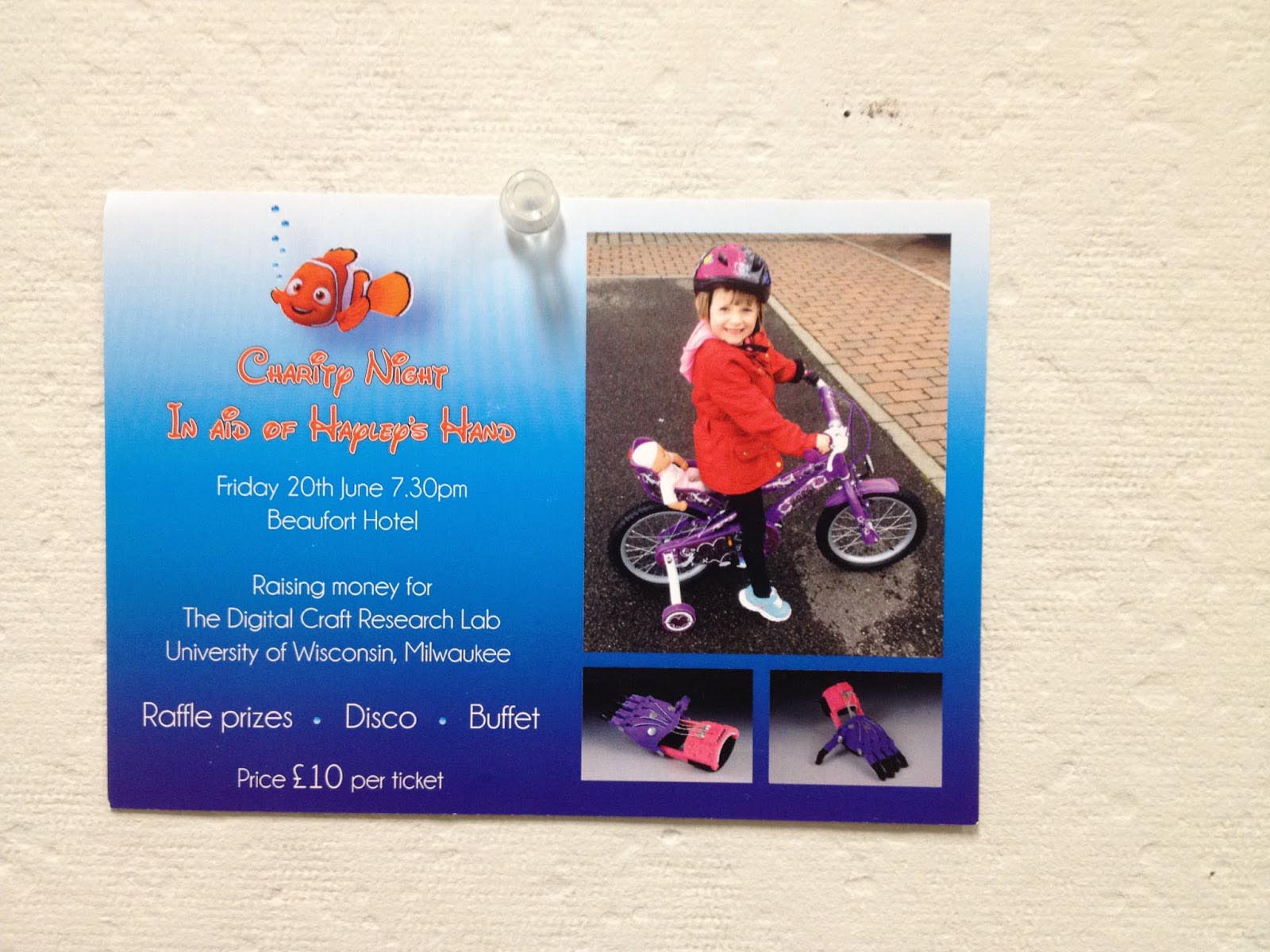 Some really awesome things are going on in the e-NABLE world lately and we thought we would share one of the cooler stories we have heard thus far!
Frankie Flood
, who has not only made numerous hands for children like
Hayley
,
Shea
,
Karuna
,
Weston
&
Evan
 – but he and his team at UWM are constantly contributing new designs for gauntlets, sharing their knowledge and helping the e-NABLE community with questions and advice.
Recently – he posted this wonderful news and letter on his blog and gave us permission to share it with you all to show you just how beautiful this e-NABLE adventure is becoming. Now, not only do we have perfect strangers creating hands for children they may never meet, but we also have the parents of these children – who are finding ways to make sure that other children like theirs have a chance to be blessed with this gift as well. This story just keeps getting better and better.
Here is a post from Frankie's blog: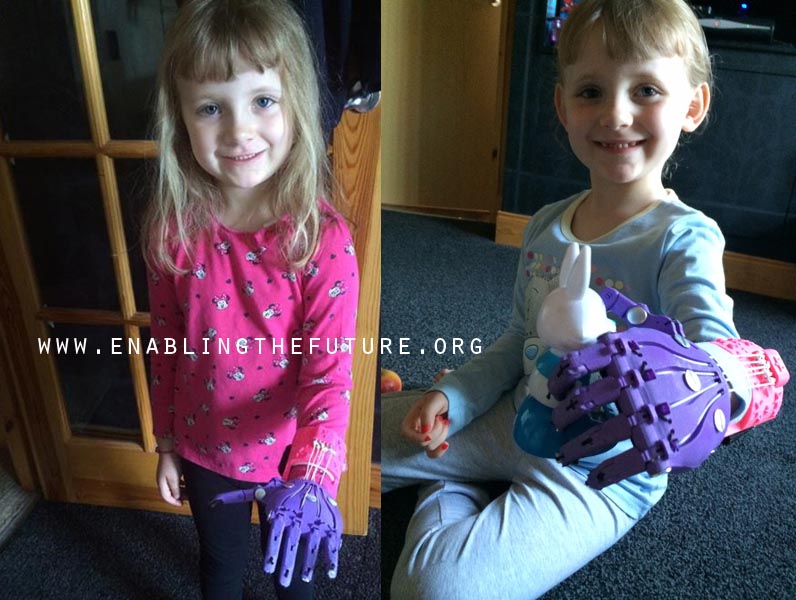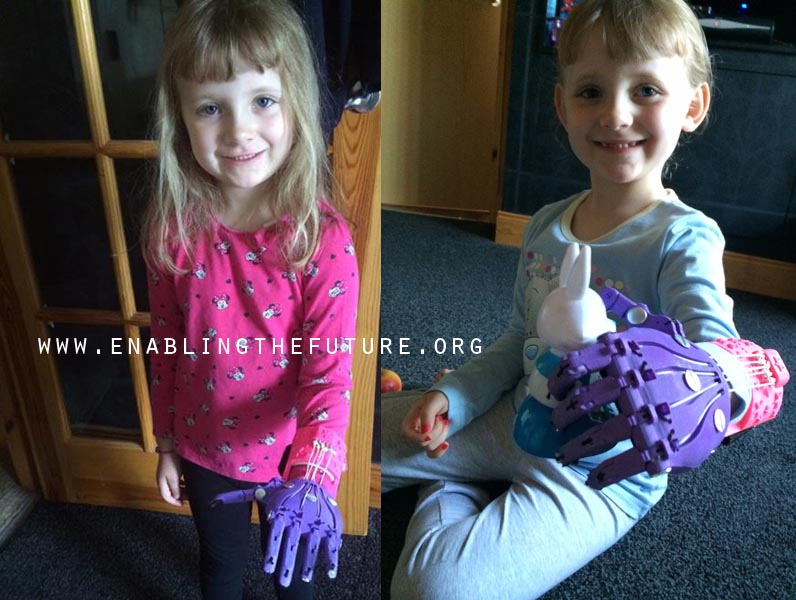 As I was creating hands for Hayley, her parents mentioned that they were planning a fundraising event to raise money for other children to be able to receive hands from the DCRL. Of course I thought this would be idea and kind thing to do, but little did I know how serious David and Zania were about making this event happen. After shipping one hand to Hayley, I was lucky enough to receive some posters and postcards advertising the event that would take place on June 20th (we hung them in the lab on our "wall of fame"). Again, I did not expect anything major, as honestly, we have made all of the hands thus far free of charge. It has brought me great joy in doing so, and it really hasn't been necessary for us to charge up to this point. We find ways of covering our cost of materials and our time isn't really a factor as I see it as an opportunity to learn and to help.
Well Hayley's Charity Night came and went and then I received word from David via Facebook that the night had been a great success. This past week, I received an email from David Fraser saying that he and his wife Zania had raised £2073 for the DCRL to provided hands for children in need. I was simply blown away by the generosity of David, Zania, and their family and friends. I wrote the following message to David and Zania and I think it sums up my thoughts on the generosity of the people involved and the experiences I have gained from working on created 3D printed hands. Feel free to read if you find yourself interested in my thoughts on the subject and I encourage you all to go out and do something kind for someone else. You never know how it might impact someone's life or even change your own life for the better:

Good Morning, David and Zania,
I am simply blown away by your generosity to organize, advertise, and put on such an event. I knew when you talked about this event that this would be a great way for people to show support for Hayley, but I was not at all expecting the financial outcome of this at all. I am simply speechless and I really don't have the words to explain how amazed and grateful I am for your show of support. I wish there was something that I could do to demonstrate how thankful I am. I would, however, like to share how this will impact us by sharing some information with you.
When this all started (when I first began working with Shea and her family during this past Christmas), I thought making a hand for Shea would be a great way for me to "give back" to someone in my community by using my abilities. Little did I know how this would change my outlook on life and even the direction of the work that I am doing at my institution. With each child we help, I am filled with satisfaction that we are doing something that truly matters and makes a difference. When I created the DCRL two years ago, I envisioned it as a place where students at our University could come to learn new information about 3Dimensional making and new technologies, and that this learning experience would broaden their horizons and make them marketable in the job market. I hoped that we would be able to design objects that "made a difference" in people's lives, but never did I think that we would have the opportunity to connect directly with the individuals and their families. I have truly been blessed and my life has been enriched by meeting all of these kind and wonderful people. Several people have asked me if this type of work is "sustainable" and I have had critics tell me that I'm crazy if I think I can make a large impact by helping one child at a time. This work has made me realize that the world is rapidly changing and that current economic and information systems are changing along with the development of technology. The generosity of your family and friends is proof that if each person in this world were to give just a little, that in some small way we all would be able to gain perspective and the impact would be HUGE.
Up until this point I have funded most of the hands through coursework in the DCRL or on my own as the material cost is minimal and my time is free if I am doing something that I love and am inspired by. What you have done by raising this money has assured us that we can buy more supplies such as filament, velcro, hardware, cords, and padding to assist more children and the development of new designs can continue. Please feel free to share my message with anyone who made this possible as I want to make sure that everyone knows how grateful I am for their generosity and how their small act of kindness can have an impact in the lives of others.
As a side note, yesterday my colleague Adream Blair and I just helped a four year old girl, named Bella. I hope these pictures bring you and your friends the same joy that is brings us and I hope the pictures remind everyone of the impact that they are making.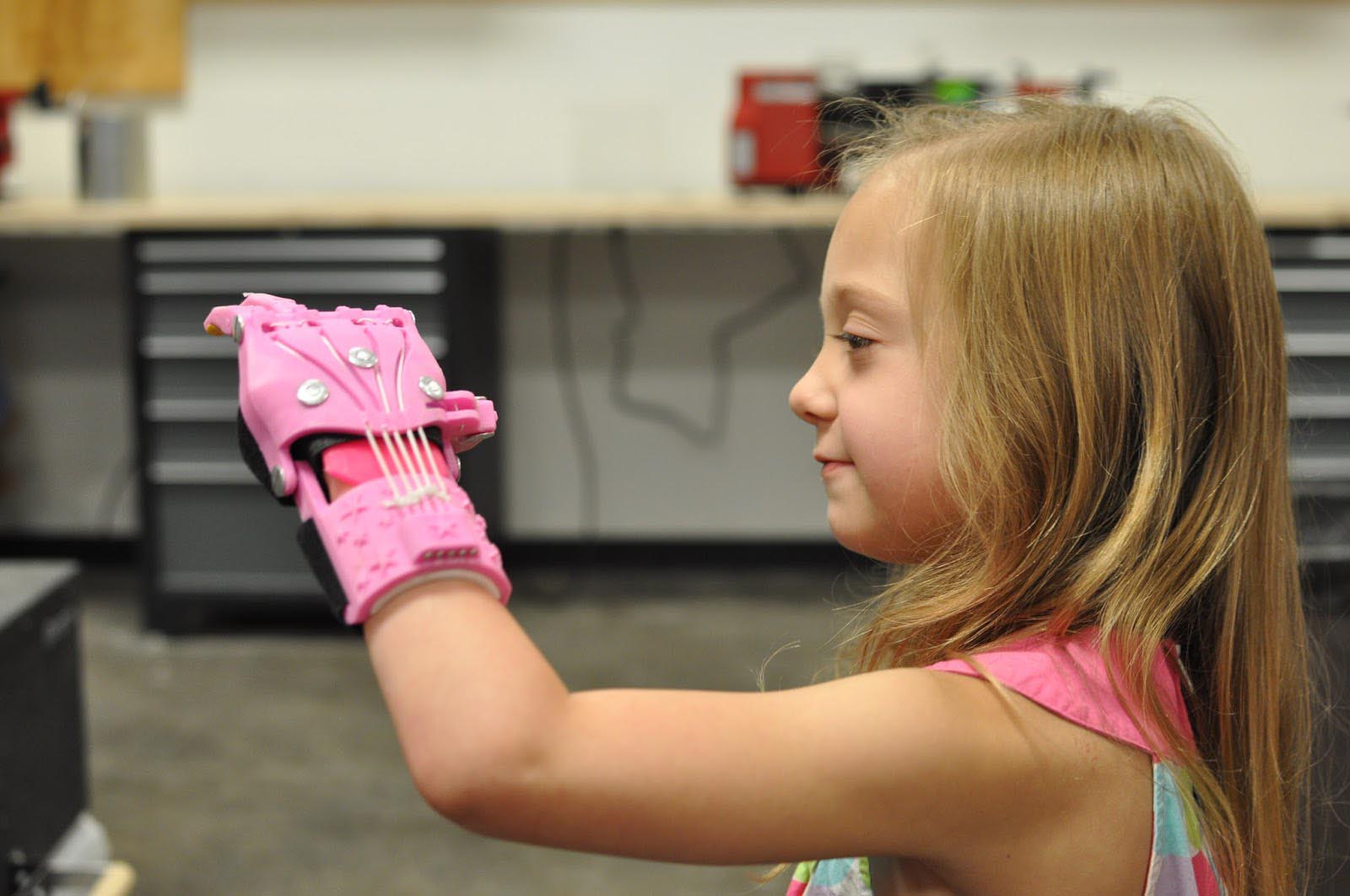 Again, David and Zania, I cannot thank you enough. Please tell Hayley to keep practicing with her hand. Also let her know that we will keep developing designs and hopefully we can get some new designs to her to try in the near future. We would welcome any feedback or ideas on things that Hayley would like to see improved as she gets more use out of the hands.
Thank you so much.
Sincerely,
Frankie