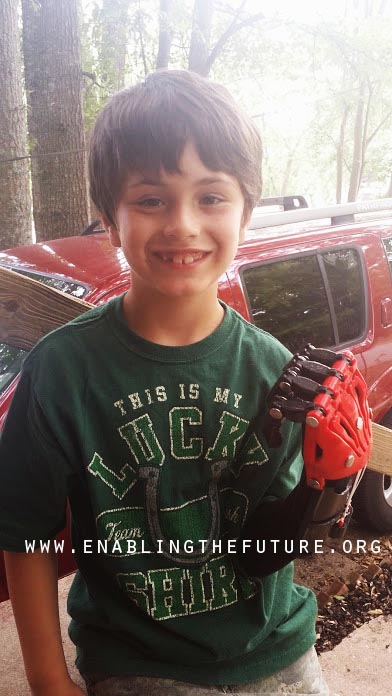 Ethan recieved his first e-NABLE Cyborg Beast Hand today from Jeremy Simon of 3D Universe (a very active and wonderful e-NABLE volunteer!)
We asked his Mom Melina, to tell us a little about her experience so far and she writes:
June 6, 2014
"How I found e-NABLE was a meant to be moment,  I believe. Ethan was having a few issues at school, so in an effort to try to make him realize that he wasn't so "different", I joined the ABS Support Page on Facebook. We sat together, reading stories of other children and he had a chance to see a few kids that were just like him. While reading one thread, Jon Schull (the Founder of the e-NABLE community) made a comment to the poster asking if she was interested in a hand for her child. She politely refused but I was curious so I started clicking and here we are. We never thought of this as an option, we had been told over and over that he is too functional and there was really nothing that could be done. He did have one surgery that was a complete disaster and I made the decision that I wouldn't put him through that again.
I believe it was a couple of days or so after I completed the intake form when I heard from Marla (a volunteer on the Matching Team.) I submitted Ethan's measurements and then began to volunteer, so my experience with the process was a little different than most.
Jeremy made this hand by the measurements remotely. I can't say thank you enough to him. He understood that though Ethan is very functional, this was still something that could be life changing for him. Sometimes "different" can become "Cool" overnight. Ethan will be receiving another hand that allows for use of his thumb. (It is currently in the beta testing stage.) We are making a casting of his hand, to hopefully help in the future.
I have been helping with the matching process. This is more rewarding than I could have ever imagined. People say thank you to me for helping, which is so funny because I feel like I should be saying thank you for allowing me to help. I am enjoying every moment I spend communicating with the recipients and other volunteers. e-NABLE exemplifies what is right in this world and I am honored to be a part of it.
I can already see the positive affects of this for Ethan. In the past few months, there were times that he had started to hide his hand in his pocket, which is something that broke my heart. A child should never have to be ashamed to show who they are. Today, he went out of his way to show off his new hand. He's always been a very happy child but I can see this taking away that little weight on his shoulders of not knowing what someone is going to say or how they are going to react. He told me yesterday that some of the kids at school wouldn't let him touch them because his hand is "creepy." He said he didn't want to tell me before because he knew I would worry. These kids are so strong – in more ways than we know. I'm just hoping this will in some little way, help him to not have to be quite as strong all the time.
Nothing would make me happier than purchasing a printer and gaining enough knowledge to be able to make future hands for Ethan and others as well. I have actually been reading about the different printers and weighing the options. It will take time, but I view that as a goal for the future.
The idea of a prosthetic for Ethan was really something that was never given any thought. He had several braces over the years but never seemed to be of great benefit. As I said, Ethan had one surgery in Kindergarten that was traumatic for us and not something I would entertain again. I have developed the point of view that he is only under my roof a handful of years compared to the rest of his life on his own. I don't think it would be fair of me to make a drastic decision to pursue surgeries that have been suggested, not knowing how they would impact his future.
e-NABLE has given me as a mother, a chance to do something for him that I never dreamed possible. He looked at his hands today and saw 10 fingers for the very first time. 🙂
I'm sure Ethan will have thoughts to share – but today, well, I can't get him to stop picking up things. I'll send a few pictures and a short video of his weekend adventures that I'm sure he will be having."
If you are interested in joining the e-NABLE community and helping to make a difference – please come visit us
HERE
. We have something for everyone to help with. No act of kindness is too small.