The team behind the original Raptor has released the Raptor Reloaded, an updated and re-factored version of the Raptor Hand. The entire device was modeled in Fusion 360, a free CAD tool that can import and export most standard solid body modeling formats such as STEP and IGES. By designing the hand in a tool compatible with numerous CAD packages, we hope to lower the barrier to contribution to the e-NABLE project for engineers and designers. Previously, if a designer wanted to make a small adjustment to a part of a hand, they'd have to rebuild the entire part in their CAD software before they could make the change. Now, they can download the source files and just spend their time making the specific change they had in mind. With this new set of source files, we hope to improve the pace of research and development within the design community.
Raptor Reloaded FILES
WE SUGGEST YOU USE THE THERMOFORMED GAUNTLET: Found HERE.
You can also find the files pre-sized in various increments for you HERE
Raptor Reloaded Assembly Materials Kit Now Available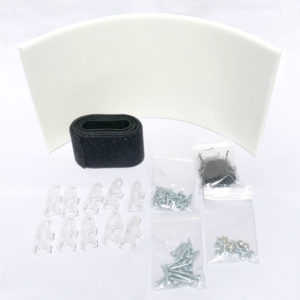 You can purchase an assembly materials kit for a Raptor hand from 3D Universe by clicking here. This kit includes all of the materials needed to assemble a Raptor hand or a Raptor Reloaded Hand.
A discount is available on these kits for e-NABLE members who are actively involved in the charitable fabrication of these devices. Email info@3duniverse.org for more details.
A portion of every kit sold will go towards supporting enablingthefuture.org and the e-NABLE community!
---
An Important Note About Assembly
The most common mistake when assembling e-NABLE Hand devices is improper tensioning of the non-flexible cords. When the non-flexible cords are tied correctly, the base of the palm should be inclined about 30-45 degrees compared to the base of the bracer (the part that goes over the arm). This will allow the recipient to activate the device without having to bend their wrist so far downwards as to cause discomfort.
As an example, the below image shows a properly tensioned Phoenix v2 hand. While this is a different design, the Raptor Reloaded hand should be assembled at a similar angle as what is shown here.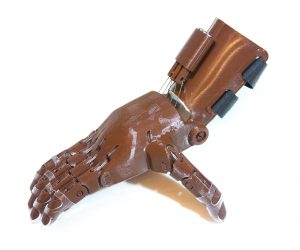 ---
Assembly Tutorials – For Kids By Kids – Handchallenge.com
ENGLISH
SPANISH
Detailed assembly instructions can be found on Instructables.
Android device users, check out our augmented reality assembly tutorial app here.
Changes in this design include:
Improved print-ability due to custom modeled supports
Cyborg Beast compatible sizing
Improved dovetail geometry
New tensioner retention clip
Easier to use tensioner pins
Low profile elastics with two tie-off options
More access to elastic and flexsor routing channels
Debossed versioning information on palm and gauntlet
Slimmer, more anthropomorhpic fingers
Narrower knuckle block
More intuitive assembly (new one-way proximals)
Thorough documentation and modular design
Source files in native Fusion 360 format, also STEP and IGES
Additional velcro-mounting options as well as traditional velcro loop and leather options
Re-oriented snap-pin head recesses to improve printability
Knuckle pins are now removable, making the hand easy to repair and upgrade
Strengthened tie-bars on finger tips
---
ACCEPTANCE
By accepting any design, plan, component or assembly related to the so called "e-NABLE Hand", I understand and agree that any such information or material furnished by any individual associated with the design team is furnished as is without representation or warranties of any kind, express or implied, and is intended to be a gift for the sole purpose of evaluating various design iterations, ideas and modifications. I understand that such improvements are intended to benefit individuals having specific disabilities and are not intended, and shall not be used, for commercial use. I further understand and agree that any individual associated with e-NABLE organization shall not be liable for any injuries or damages resulting from the use of any of the materials related to the e-NABLE hand.