Video Coverage: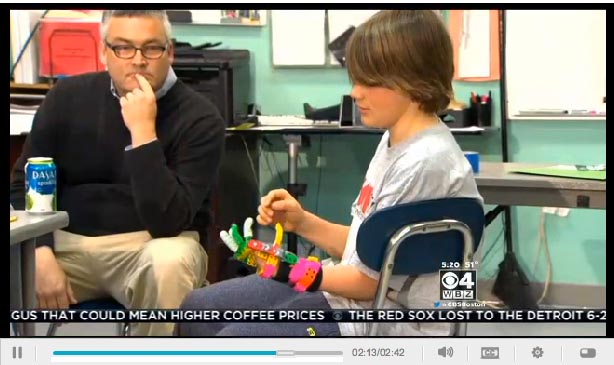 Paul & Leon McCarthy – CBS BOSTON – Teaching kids about 3D printing hands.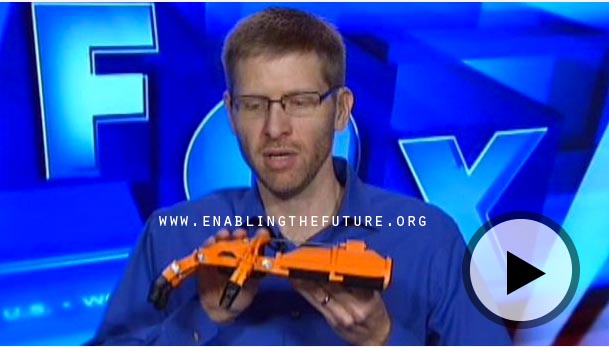 Jeremy Simon talks to FOX News about the cost difference between an e-NABLE hand and a $42,000 prosthetic.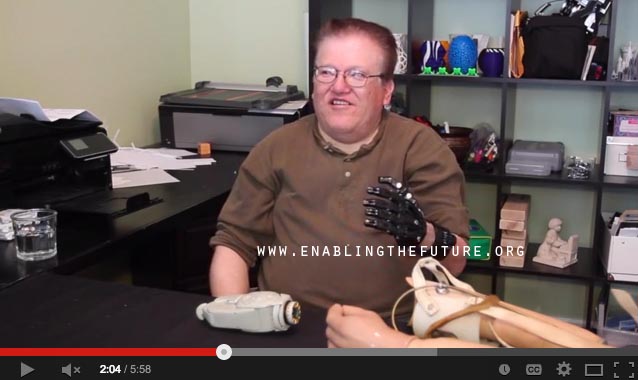 Jose Delgado Jr., 53, compares his $42,000 myoelectric prosthetic with a $50 3D printed e-NABLE "Cyborg Beast" hand.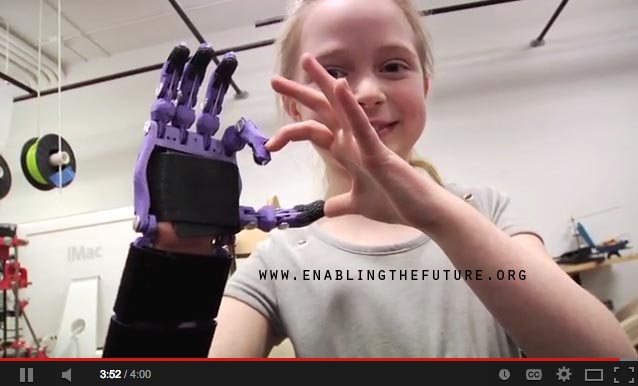 UWM Spotlight on Excellence – Shea's Hand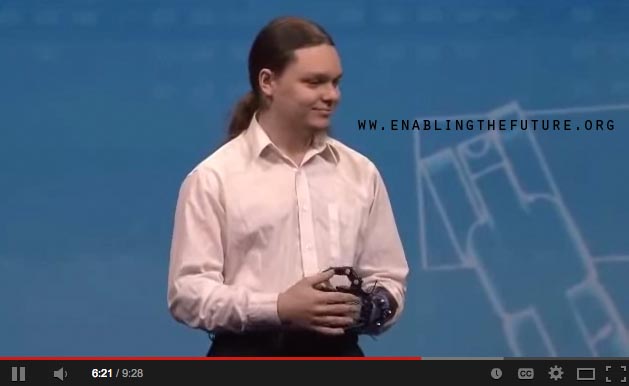 Peregrine Hawthorne and Jon Schull at Intel
Jon Schull and Nick Parker – Science Online 2014
High School Students at NuVu invent the "Ratchet Hand."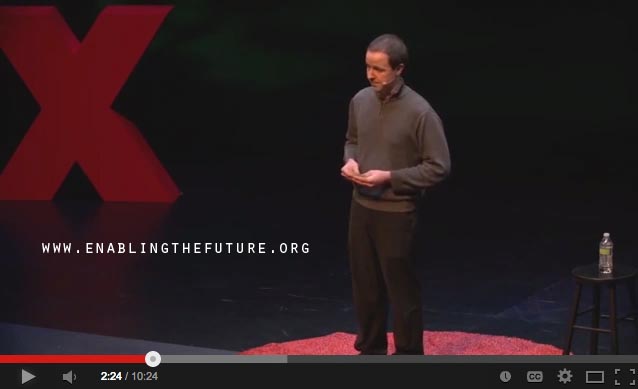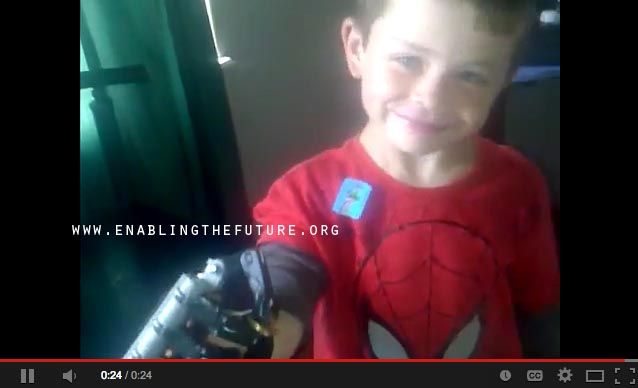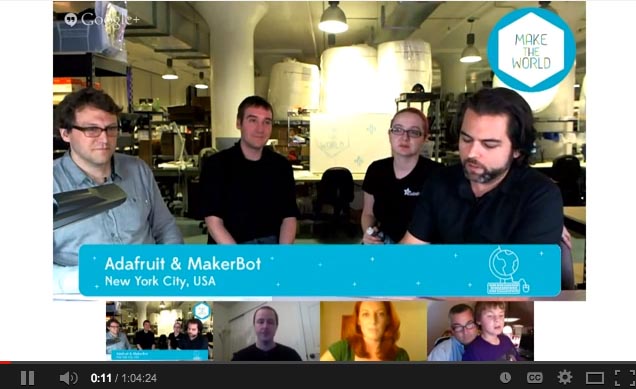 Make The World – Adafruit Hangout with Molly Stapleman (Lucky Fin Project), Ivan Owen (Co-Creator of First 3d printed hand) , Paul & Leon McCarthy and Michael Curry of Makerbot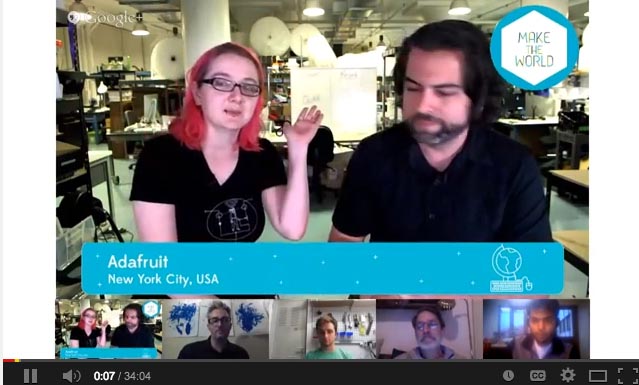 Make The World – Adafruit Hangout with Jon Schull (Founder of the E-Nable Group), Bre Petis (CEO of Makerbot) and Sam Bhattacharyya (Prosthetics for Prosperity)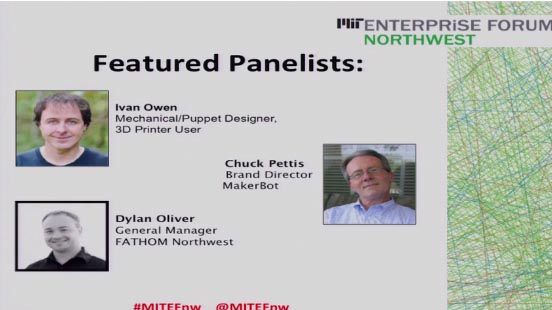 Enterprise Northwest – "From Trinkets to Body Parts"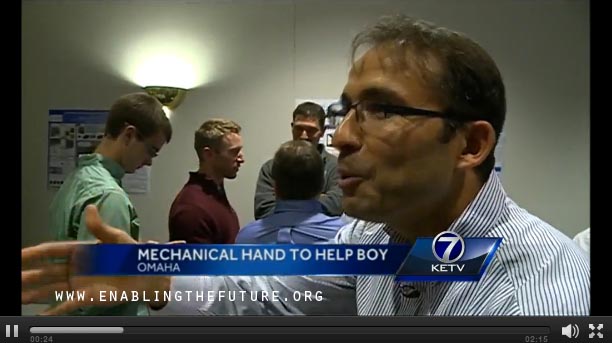 Jorge Zuniga – Creighton University Professor gives Boy a new hand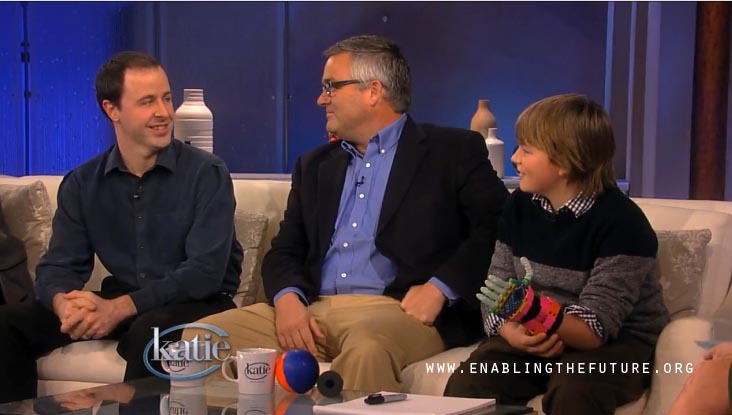 Father/Son – Paul and Leon McCarthy on the Katie Couric Show
CBS NEWS – Paul & Leon with Ivan Owen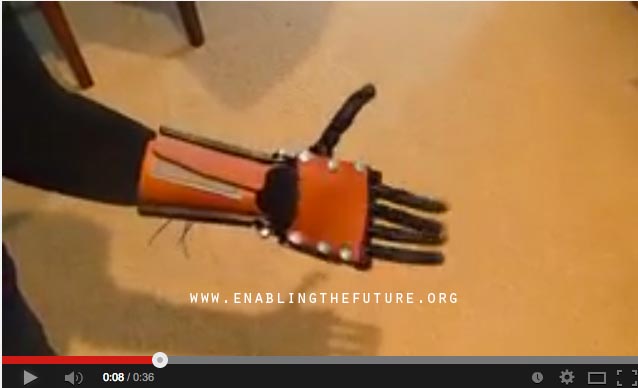 We Made A Talon Hand – Peregrine Hawthorn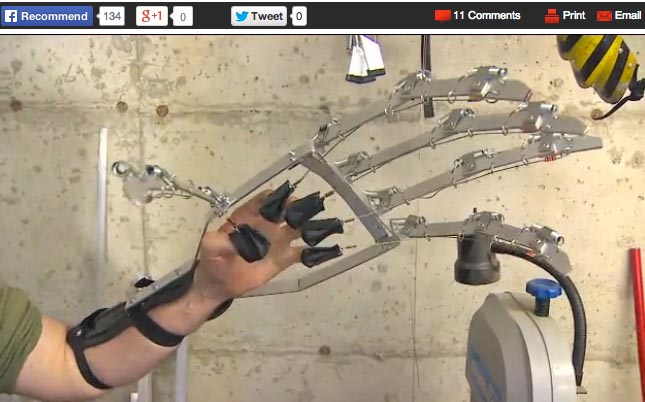 KOMO 4 News – Bellingham Inventor helps design 3D printed prosthetic hands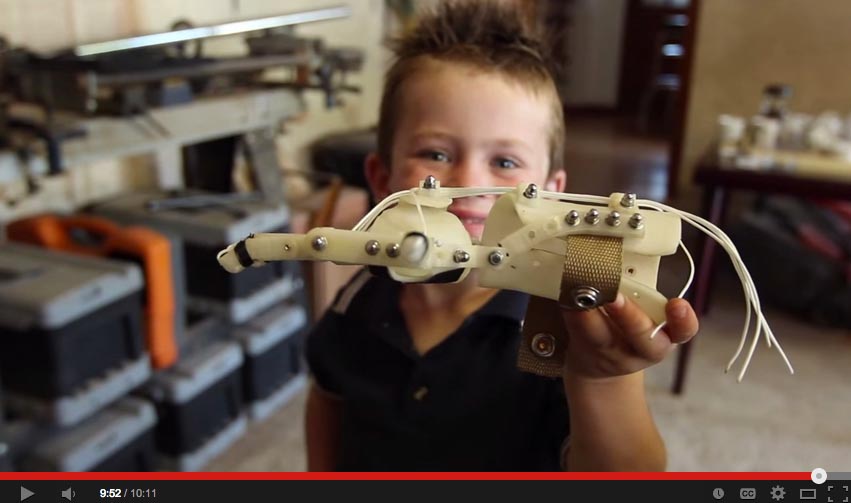 Makerbot Video – Origins with Ivan Owen and Richard Van As

PODCASTS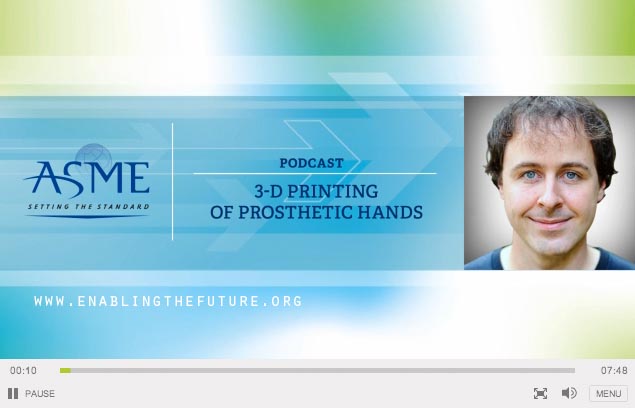 ASME – Interview with Ivan Owen on original mechanical hand device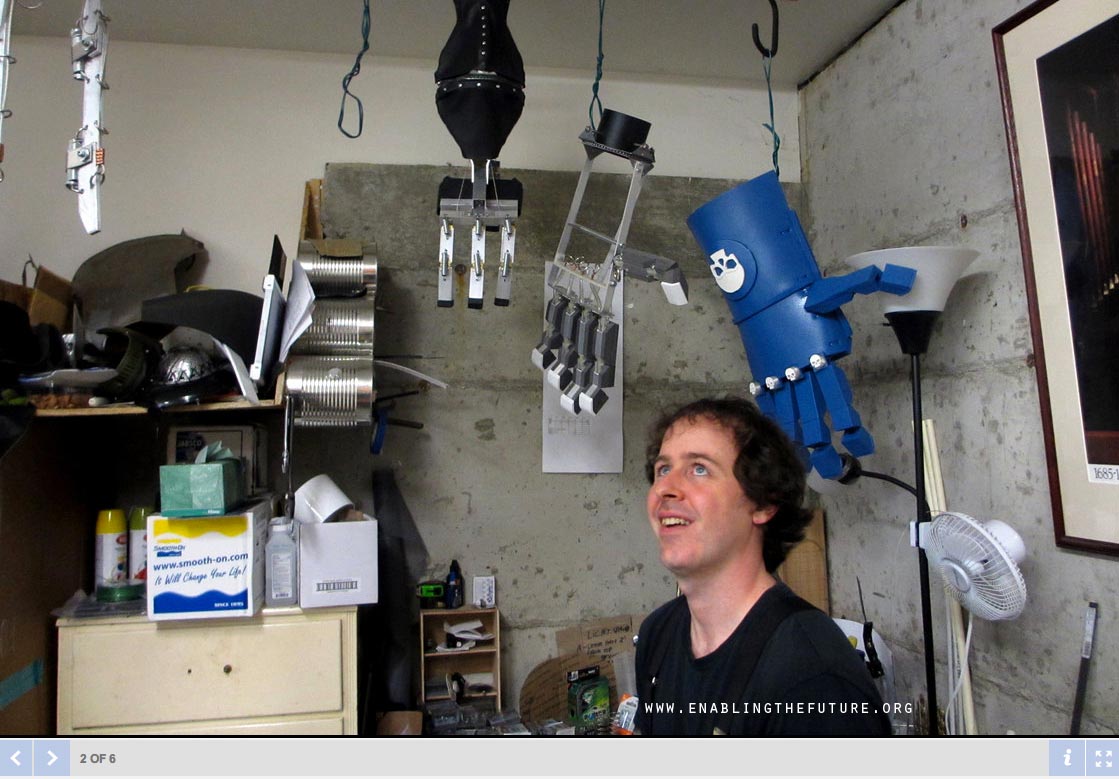 NPR – Original 3d Printed hand story
PRINT/ONLINE ARTICLES
3D Print.com – 10 Year old Girl Assembles Fully Functional 3D Printed Hand.
The Register Guard – Keegan gets a new hand
Biz Journals – A Hand for a Portland Man
Inside 3DP – Girl gets 3D printed hand
Reason.com – e-NABLE at Makerfaire
Wallstreet Daily  – Hands in Argentina
Solidoodle – Donation to e-NABLE and RIT
3d Printing Industry – E-nabling a kid to feel like Luke Skywalker
Democrat & Chronicle – Imagine RIT offers a helping hand
Internetmedicine.com – Urgency needed for prosthesis advancement
Portland Business Journal – 3D printing gives a man a hand
Portland Business Journal – 6 year old gets a hand
3Duniverse.org – Comparing of a $42,000 myoelectric prosthetic vs e-NABLE $50 3D printed hand.
Milwaukee Wisconsin Journal Sentinal – Shea's Hand
Solidoodle – Talon Hand Interview with Peter Binkley
Fastcoexist – High School Students create new versions of 3d printed hands
Ubergizmo – Talon Hand
RIT News – E-Nable Community story
Democrat & Chronical – E-Nable Community
Le Journel Du Geek – Talon 2.0 Design
Student Science – Nick Parker – High School Student
Scientific American – E-nable
White Clouds – Peregrine and E-nable's story
GIGAOM – The E-nable adventure
Opensource.com – Interview with Peregrine Hawthorn
OpenSource.Com – Interview with Jen Owen
3d Printing Industry – E-nable's evolving story
3D Printing Pin – E-Nable Story and Jon Schull
3D Modelle – Cyborg Beast Hand & E-Nable
Tech Advisor – Leon McCarthy gets 3D printed hand
News MONSTER – Online Community (E-Nable and Jon Schull)
3D Universe – A New Hand for Lily
Huffington Post – Dad prints hand for Son – Paul and Leon McCarthy
Livewell Nebraska – Jorge Zuniga and Creighton University
3ders.org – E-Nable connecting those in need to people willing to print parts
RIT Article – E-nable's history and future – Jon Schull
HackADay – Shea's New Hand
i3D – Talon Hand & E-Nable Community
Vanguardia – Talon Hand Story
Xataca – Talon Hand Story
"My Special Hand" – Sam's Story
NPR Story – Paul & Leon McCarthy – Ivan Owen
Med Gadget  – High Schooler 3d prints hand for neighbor boy
Youtube Video of First Child Liam – I van Owen and Richard Van As
Popular Mechanics – Origins – Ivan Owen and Richard Van As
New Hand for Kate
A Hand for Harmony