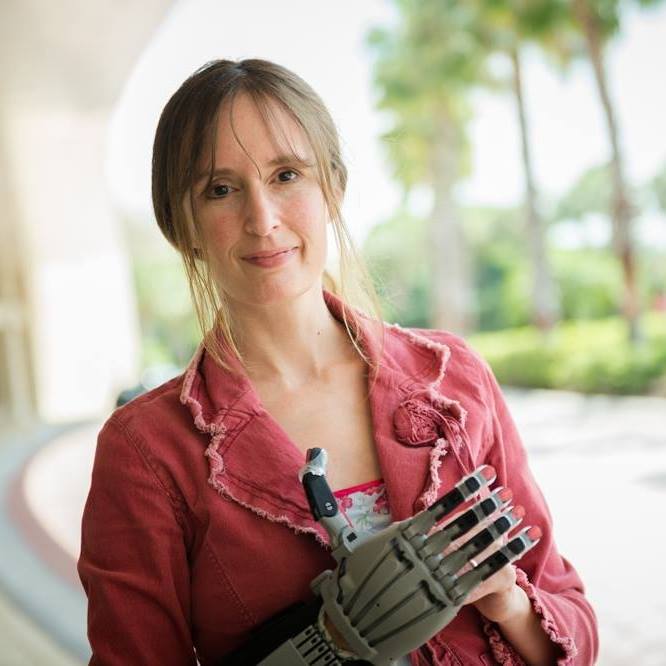 Jen Owen is the founder and owner of enablingthefuture.org,  a website dedicated to sharing the open-source designs and stories from a global community of volunteers who are creating free 3D printed hands and arms for those who were born missing fingers or who have lost them due to war, accident, natural disaster or disease.
She is extremely passionate about using her skills and artistry to communicate meaningful stories and create a positive impact in the lives of others. Her philanthropic focus involved helping to found and collaboratively lead e-NABLE, a global movement of makers and digital humanitarians who strive to increase the accessibility of prosthetic hands for children and introduce 3D printing technology and curriculums into STEM based learning environments around the world.
Jen's presentations are inspirational, personal and from the heart. Her examples of making a difference in the world leave audience members inspired and encouraged to use their ideas and imaginations to create collaborative programs in their own communities and start making a difference as well.
She is an internationally recognized blog author, photographer, storyteller, graphic designer and philanthropist from Washington State.

TESTIMONIALS
"Jen Owen, a very talented innovator, and social entrepreneur has presented very successfully at the MIT Innovation Lab which I chair. I highly recommend her as an informative and inspiring speaker. Jen's direct experience with organizing and managing innovation communities is priceless to those seeking to learn from her or follow in her footsteps. Her speaking style is direct and clear and filled with engaging and illuminating examples. Her audiences walk away feeling inspired to go out into the world and create their own very positive impacts." – Eric A von Hippel – MIT Professor of Management of Innovation and Engineering Systems.

"Jen Owen agreed to speak at our Innovation Takes Root Conference in 2016. Her passion for talking about the efforts of eNable was compelling enough that we pushed Jen out of her comfort zone and asked her to speak as one of our keynote speakers. I can honestly say it is extremely rare in the plastics industry to see a speaker bring a large audience to laugh, tear up and finally bring them to their feet with a rousing standing ovation as Jen did. Jen's inspirational storytelling left our conference of over 300 motivated and inspired to innovate and do the right thing. Her speech was definitely a highlight of our Innovation Takes Root Conference." – Dan Sawyer, Natureworks LLC
"I heard Jen speak at Prosthetists Meets Printers, at Johns Hopkins in September, 2014. Jen has a fantastic ability to connect with her audience. She speaks from the heart, based on personal experience, and it moves people in a way few presenters can manage. She is passionate and emotional, and it made for a very enjoyable and engaging presentation." – Jeremy Simon, President, 3D Universe
"At the heart of the Enable organization and media hub is Jen Owen, a master communicator responsible for one of the most inspiring innovative and social conscience stories of the 21st century. Jen's work has empowered and established a global network of thousands who provide 3D printed hands for limb different individuals free of charge. Jen continues to capture the imagination of a global audience while inspiring and touching parents and children with limb differences. Her message offers a sound values' based model, with lessons for both organizations and individuals who recognize the benefits of an "operating beyond profit" mentality. A uniquely gifted individual and humanitarian, Jen is the pot of gold at the end of the rainbow!" – Glen Rodgers – New Zealand – Father of a limb different child, Drummer, and Educator
"Who could imagine that a blog could become the heart of a global movement? Through the power of story, Jen has done just that and has given hope to thousands of parents and children around the world. As a speaker, she weaves interesting facts, history with powerful storytelling into a tapestry of hope and human spirit. She's an exceptional speaker, and one of the best humans out there." –Shashi Jain, Innovation Manager, Intel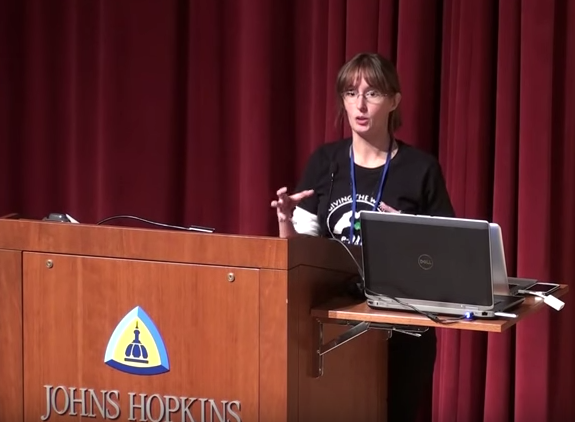 SOME OF JEN'S FAVORITE TALKS
Sep 2014 – Prosthetists Meet Printers, Johns Hopkins University, Baltimore, MD
May 2015 – V.A. Innovation Creation Series, Palo Alto V.A. , Palo Alto, CA
Apr 2016 – NatureWorks Innovation Takes Root, Orlando, FL
Nov 2016 – MIT Innovation Lab, MIT Sloan School of Business, Boston, MA
Nov 2016 – Fablab Limerick, Limerick, Ireland
Apr 2017 – FIRST Robotics Championship, St. Louis, MO
Dec 2017 – Enable Con – College Park, Baltimore, MD

AWARDS
Nominet Trust 100 – 2014
Each year Nominet Trust brings together 100 of the world's most inspiring examples of social innovation where digital technologies have been used to tackle a significant social challenge.
Daily Point of Light Award, 2015
The Daily Point of Light Award is given in recognition of the power of the individual to change the world. The award is signed by its founder, President George H. W. Bush
Interested in having Jen Owen speak at your event?
Please email jen.owen.enablevolunteer@gmail.com or fill out the form below and she will get back to you with her availability, presentation options, and fee quotes!