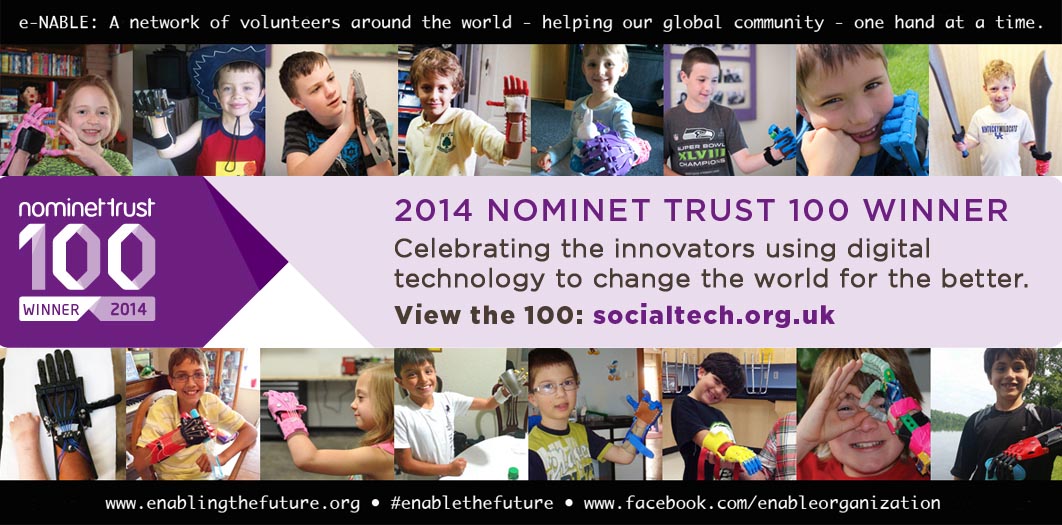 Changing the World through Tech:
e-NABLE is celebrated in this year's Nominet Trust 100!
Annual Nominet Trust 100 (NT100) list of inspiring digital social innovations highlights impact of global 'tech for good' market
Technology's transformative power is driving social change around the world
e-NABLE is a global online community of 3000 individuals (and growing daily!)  who are using 3D printing technology to create free 3D printed hands and arms for those in need. Volunteers from all religious and political backgrounds, races, ages, occupations, cultures and educational levels from around the world are coming together to work for the greater good and make a difference in the lives of many by using their talents, creativity and ideas to produce assistive devices for underserved populations and individuals who were born missing portions of their upper limbs or have lost fingers and arms due to war, disease or natural disaster.

London, UK, 4 December 2014: Today, Nominet Trust proudly announced that e-NABLE has been named among the 2014 Nominet Trust 100 (NT100) – a global list of 100 inspiring ventures from around the world.
Projects featured on the list are using technology to tackle some of the world's biggest social problems from education and human rights abuses to climate change and health.
Following a global call for nominations earlier this year e-NABLE, has been selected by an independent steering committee in recognition of it's global volunteers who are changing the lives of hundreds around the world by creating free 3D printed assistive "Helping Hands" to those in need.
Commenting on their inclusion in the NT100, Jon Schull, founder of e-NABLE and Research Scientist in MAGIC (Center for Media, Arts, Games, Interaction and Creativity) at RIT added: "It's an honor and a privilege to be recognized and in such good company. We hope this helps us further grow and organize our incredible network of global humanitarians striving to ensure that  life-changing mechanical hands and arms are readily available to all who need them."
This year, e-NABLE is rubbing shoulders with organizations from established tech markets in the US and Europe, such as Freecycle, Random Hacks of Kindness, alongside initiatives from emerging economies, including eCompliance, a revolutionary use of fingertip-readers to record tuberculosis treatment in India; philanthropic food-photo sharing app Feedie from South Africa and Charity:Water, an organization that helps provide access to clean water to people in the developing world.
Annika Small, CEO of Nominet Trust, the UK's leading tech for good funder, said: "There is a striking progression in the quality and maturity of this year's NT100, indicative of a wider evolution in the 'tech for social good' sector as a whole.
"More people than ever before are using technology to solve problems that matter to them in bold new ways. This year's NT100 list is populated by extraordinary people with inspirational stories to tell and it shows us that imagination, social conscience and technology make a potent mix to affect change."
The final list was compiled by an illustrious steering group chaired by Annika Small and including General Partner of Google Ventures, Tom Hulme; angel investor and entrepreneur, Sherry Coutu; Chief Executive of Big Lottery Fund, Dawn Austwick; CEO of Big Society Capital, Nick O'Donohue; Director of Wayra Europe, Simon Devonshire; innovation expert, Charles Leadbeater; internet entrepreneur, Dickie Armour; Senior Fellow at the Stanford University Center for Philanthropy and Civil Society, Lucy Bernholz; and Deputy Editor of The FT Weekend Magazine, Alice Fishburn.
To see the full list of NT100 projects, please visit the Social Tech Guide, a dynamic, growing online resource to help inspire social enterprises, or follow the action @socialtechguide / #2014NT100.
For more information on how you can get involved in the growing Global e-NABLE movement:
• Are you in need of a hand or arm device for yourself or your child?
• Do you have a 3D printer and would like to volunteer to print an e-NABLE device for someone in need?
• Are you a teacher or student that wants to make a hand for a recipient as part of your class curriculum?
Please email us at letsgetstarted@enablingthefuture.org and fill out our intake form. One of our volunteers will contact you and get you started on your new e-NABLE adventure!
Are you a member of the media and would like more information? Please email Jen at enablehands@gmail.com for more information and full res images for print or television spots.
We have accomplished so much in just a little over a year – would you like to join us and see what we kind of change we can make in the years to come?
Feel free to join our Google+ community!
Follow us on Facebook!
Find us on Twitter!