Recently, I was asked by a journalist to share why I am so passionate about the e-NABLE Community and what I am most proud of.
What I am most proud of, is that somehow, a series of incredible events happened at just the right moment in time and with just the right kind of people, that has led to a global community and family of makers, thinkers, artists, designers, students, teachers, medical professionals, dreamers, engineers, humanitarians, philanthropists, "techies", adults and children who all have one goal in common…making a difference in the lives of their fellow human beings with no thought as to what our individual differences are or which part of this spinning orb in the universe we were born on.
For the e-NABLE Community – there are no borders.
What I am most proud of, is that we have over 10,000 people who have put aside our religious, political, cultural, racial, educational and gender differences in order to work together as a family of digital humanitarians…who have chosen to use their talents to build others up, instead of tear them down.
I am proud of the fact that e-NABLE is filled with people who are only influenced by the available colors of filament that can be fed into their 3D printers and not by the rainbow of colors of the hands of the volunteers that tirelessly build, assemble, design and gift 3D printed assistive tools to those in need of a "Helping hand"  – no matter who they are or what country they are from.
While 10,000 or even 20,000 people seems like so few in comparison to how many people there are in the world and how many are in need of assistance in some way or another, it's a start…and it is a beacon of hope and a model of diversity, collaboration and kindness that the world so desperately needs right now.
What I am most proud of.. is that our children are watching us spread love and kindness into the world and they in turn are getting inspired to do the same. I am proud of the fact that there are thousands of school children and university students that have joined this global e-NABLE Community and are choosing to learn to use technology and new skills to be the next generation of "Change Makers" – instead of finding ways to use it to destroy our countries, our homes and each other.
Today, I wanted to share our growing list of e-NABLE Chapters who are attempting to serve people in their own locations – not because the global e-NABLE Community wants to be divided and have each area and country "help and fend for themselves", but because we realized that our strength comes in supporting each other…exactly where we are..no matter where we are.
Each chapter below, came as a result of working together, putting aside our differences and collaborating…so that we can expand our reach and help even more people with upper limb differences and needs.
Chapters are supporting other chapters by sending and sharing supplies, offering guidance on individual cases, mentoring one another, exchanging ideas, creating devices for those whose chapters are overwhelmed with requests, connecting families with makers in their areas and strengthening the bond we all feel within this global e-NABLE Community.
e-NABLE is not a thing. It's not a company, a business or any one group or person.
e-NABLE is kindness.
It is diversity.
It is collaboration.
It is hope.
It is family.
It is LOVE.
And THAT is what I am most proud of.
Please take a moment to look through some of the e-NABLE Chapters below,  visit their pages, look at their photos, read their posts and then try to tell me that this isn't one of the most beautiful things you have ever seen in your entire life.
And if you would like to *join us, we welcome ALL, no matter where gravity is holding you down on this spinning rock in the sky.
*If you are an e-NABLE Chapter, school, library etc and do not see yours listed below, please email me at jen.owen.enablevolunteer@gmail.com and let me know so I can add it!
If you are interested in creating a chapter in your area, please visit our Chapters page and fill out the intake form so we can help get you started!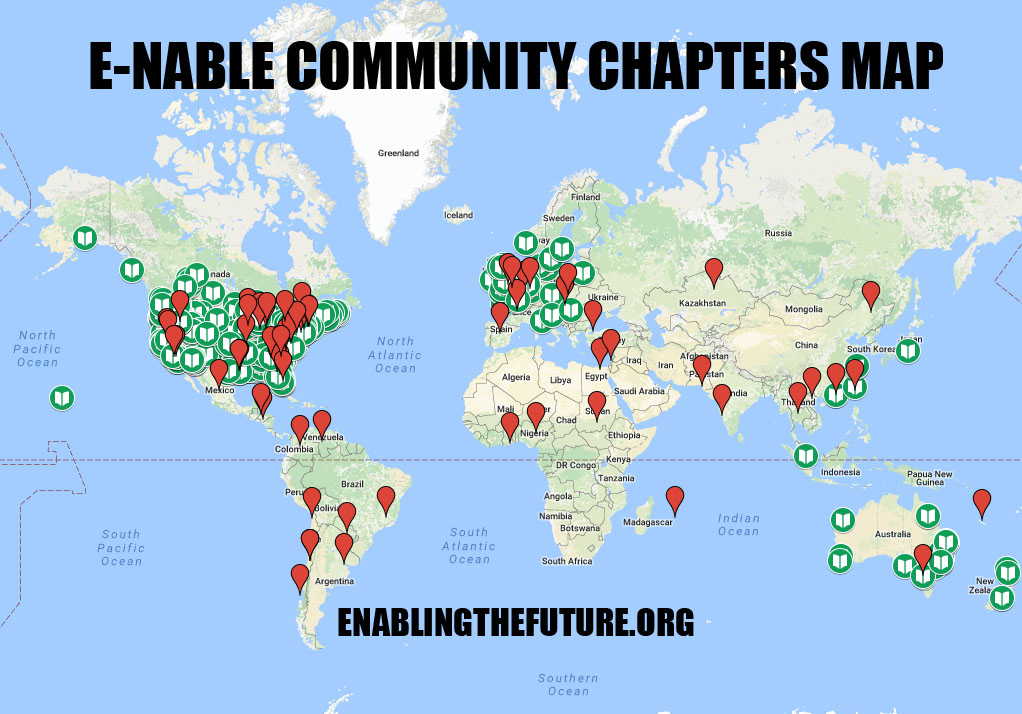 e-NABLE COMMUNITY – GLOBAL
enablingthefuture.org
Instagram: @enablethefuture
Twitter: @enablethefuture
Facebook https://www.facebook.com/enableorganization/
• VISIT OUR CHAPTERS •
AFRICA
EGYPT
e-NABLE Egypt
GHANA
e-NABLE Ghana
NIGERIA
e-NABLE Nigeria
MAURITIUS
e-NABLE Mauritius
SIERRA LEONE
e-NABLE Sierra Leone
ASIA
ASIA
e-NABLE ASIA
CHINA
e-NABLE China – Touch The Future
HONG KONG
e-NABLE Hong Kong
INDIA
e-NABLE India
ISRAEL
Haifa3D
KAZAKHSTAN
e-NABLE Kazakhstan
MALAYSIA
e-NABLE Malaysia
PAKISTAN
e-NABLE Pakistan
SAUDI ARABIA
e-NABLE Saudi
TAIWAN
e-NABLE Taiwan
THAILAND
e-NABLE Thailand
TURKEY
Robotel
VIETNAM
e-NABLE Vietnam
EUROPE
BELGIUM
e-NABLE Belgium
FRANCE
e-NABLE France

GERMANY
e-NABLE Germany
HUNGARY
e-NABLE Hungary
e-NABLE Magyarország
IRELAND
3D Assist Tallaght
NETHERLANDS
e-NABLE Nederland
POLAND
e-NABLE Polksa
SPAIN
e-NABLE Spain
UK
e-NABLE UK – Essex
Team Unlimbited

NORTH AMERICA
CANADA
e-NABLE Canada
e-NABLE Toronto

HONDURAS
e-NABLE Honduras
Guala Honduras
NICARAGUA
e-NABLE Nicaragua
USA
CALIFORNIA
El Dorado Hills Library
e-NABLE FORRFS
e-NABLING MUSIC
Helping Hand Adventures

CONNETICUT 
e-NABLE Trinity College
FLORIDA
e-NABLE Boca Raton
Limbitless Solutions
University of Florida
GEORGIA
Donate a Hand

IDAHO
Boise Public Library
IOWA
e-NABLE Iowa
ILLINOIS
Joliet Central Engineers
INDIANA
e-NABLE Notre Dame
MASSACHUSETTS 
Rupert A Nock e-NABLE
MINNESOTA
e-NABLE Boston
e-NABLE Lowell
e-NABLE ROCHESTER
e-NABLE Weston
MISSOURI
e-NABLE SCIL
NEW YORK
e-NABLE CCNY
Half Hollow Hills Community Library

NORTH CAROLINA
Helping Hand Project

OHIO
Form 5
PENNSYLVANIA
e-NABLE Bucknell
e-NABLE Lehigh University
SOUTH CAROLINA
e-NABLE Columbia
Hand Challenge
Our Special Blessing Cam's Story
TEXAS
e-NABLE UH
STEM SoS
VIRGINIA
e-NABLE Marymount
Innsbrook Campus ECPI University

WISCONSIN
3D Fabrication Society
SOUTH AMERICA
ARGENTINA
e-NABLE Argentina
BRAZIL
e-NABLE Brazil
MAO 3D
CHILE
e-NABLE Chile / Fundación Prótesis 3D
PROHAND 3D Chile
COLOMBIA
e-NABLE Colombia
Fundacion Materializcion 3D
PARAGUAY
Po Paraguay
VENEZUELA
e-NABLE Venezuela
SOUTH PACIFIC
AUSTRALIA
e-NABLE Melbourne

NEW CALEDONIA
e-NABLE New Caledonia
"Never doubt that a small group of thoughtful, committed citizens can change the world; indeed it is the only thing that ever has." Margaret Mead