For the second year in a row, enablingthefuture.org has been featured in the Google "Year In Search" for inspiring hope all around the world.
In an age where we wake up on a near daily basis to find ourselves faced with more stories of tragedy, intolerance, hatred and suffering at the hands of our fellow human beings, it is sometimes hard to see any beauty that might be overshadowed by it all.
In 2015, the e-NABLE Community has really blossomed and grown into a beacon of hope for many, as our Google+ group has reached over 7000 members and they have delivered hands and arms in over 40 countries, some of which are the places we hoped would find our project and begin making a difference for the people in the world who need help the most.
The e-NABLE Community is proof that there are still good people in the world. People who are not focused on the many things that seem to divide nations and pit countries against one another. People who do not see skin color, gender, political preferences, cultural differences or the religions of those they collaborate with and share ideas with on a daily basis.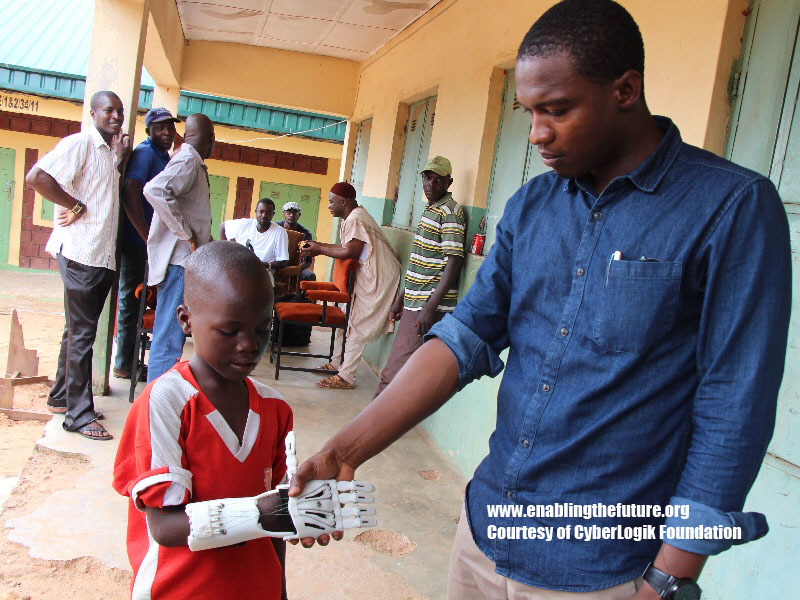 They are simply people who are putting aside their differences and who have the ability to use their talents, resources and new technologies to make the world a little brighter for others.
There are no borders in our e-NABLE Community.
We are one "Global Village" and we are determined to keep spreading hope and joy into the world, one hand and arm at a time.
I sat down at the computer today, in hopes of writing our "Year In Review" to share all of the stories and highlights from 2015 …and as I started looking back through our blog, Facebook page, our Twitter feed and the Google+ Community...I realized that there is absolutely no way to even begin to share all of the amazing and incredible moments that our volunteers have created for those who have looked to our e-NABLE family for help in making life a little easier for themselves or someone they love.
So instead of trying to decide which moments were our most amazing in 2015 – I am going to look forward to 2016 and share my hopes for this little website of ours and promise to make sure it is even bigger and better than it has ever been and ask that you keep visiting and encouraging us to continue working to make the world a brighter place.
Over the past 12 months, this website has averaged approximately 2500-4000 visitors per day and around 85,000 visitors per month and I expect that those numbers will grow again as our e-NABLE Community expands further into the world around us.
Last year, I saw more and more emails and messages from parents who discovered this website after coming home, scared and confused after learning their unborn children would be born missing fingers and arms.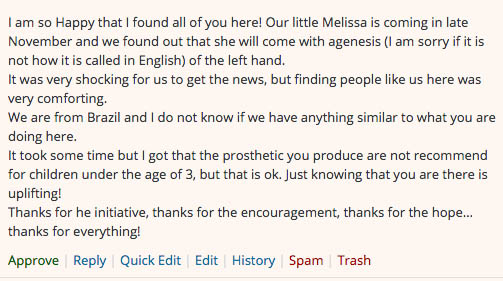 They found HOPE here.
In 2016, I want to fill this website with more stories of parents and children working together to create their own devices for these and all families who find their way to these pages and I have no doubt that our growing e-NABLE Community will provide plenty of images and moments of joy to share.
I want to create a resources page for parents who need information about their children's limb differences and give them information on where they can find support from other parents and families that can answer their questions along the way.
In the past few years, this website has grown from a simple blog that I started when the e-NABLE Google+ Community had but 100 or so members and had produced a handful of devices – to a full website with open source design files, tutorials, instruction videos, forums and so much more. All of this possible, because of the amazing global community of makers and designers who are using their free time to innovate and improve the designs for those who need them or want to try them.
In the new year, I want to share more stories from behind the scenes and show you what our volunteers are up to and how hard they are working to keep up with the demand and the requests that come in overwhelming numbers. I want to spotlight some of our most active volunteers who all too often get lost in the one sided stories that the media shares.
The beautiful images of the smiling children with their new "Superhero" hands are wonderful…but they tend to leave out the most important part….the REAL LIFE Superheroes who spent hours fine tuning and designing and assembling in between work, school work, family and life's responsibilities with the simple hope of making a child smile.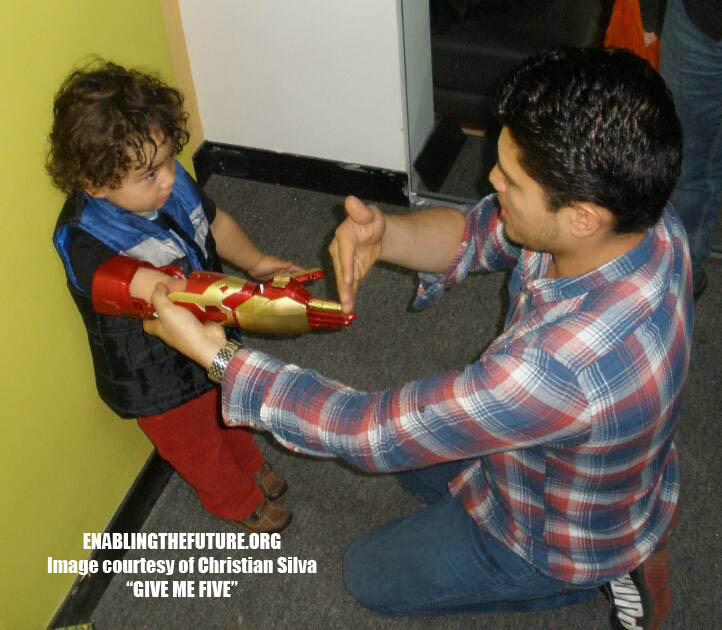 This year, we saw more schools and students of all ages getting involved in this amazing project. Not only were they printing out devices and learning how to assemble them as a group, but they are using these 3D printed hands as service learning projects in their STEAM (Science, Technology, Engineering, Art and Math) classes to get these kids excited about using their ideas and imaginations to change the world for the better.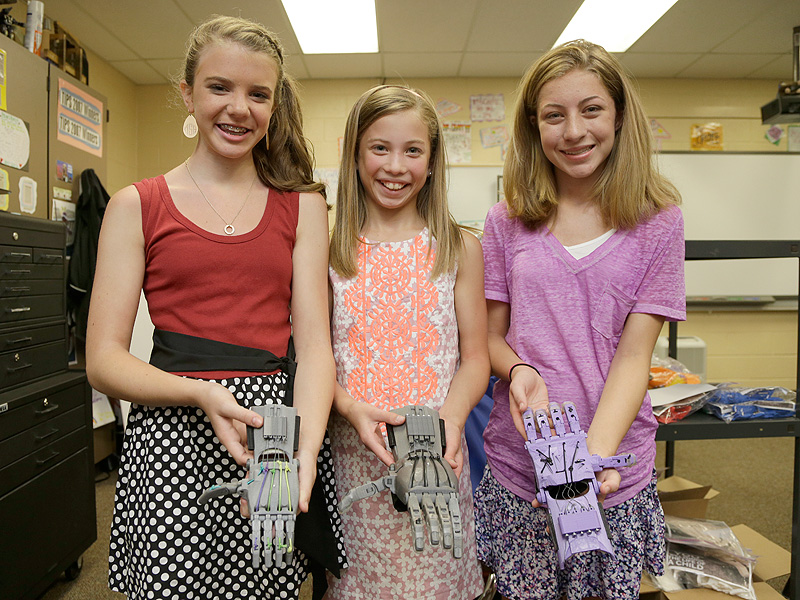 Beginning in January 2016, I plan to post a new monthly design challenge for students and all ages of designers who want to participate. I want to challenge young and older minds alike, to think outside of the box and show us what they are capable of.  I want to see our available devices list grow to include fun designs that may not resemble a hand at all, but are designed as task specific tools for those who just need a little assistance, instead of a full "helping hand" to participate in an activity.
Please consider signing up for email notifications for new blog posts so that you can find little bits of light delivered to your inbox every so often, to remind you of the beauty that exists in this crazy big world that sometimes seems to only offer stories of ugliness and destruction.
The e-NABLE Community grew immensely in 2015 and the beacon of hope and light grew with it.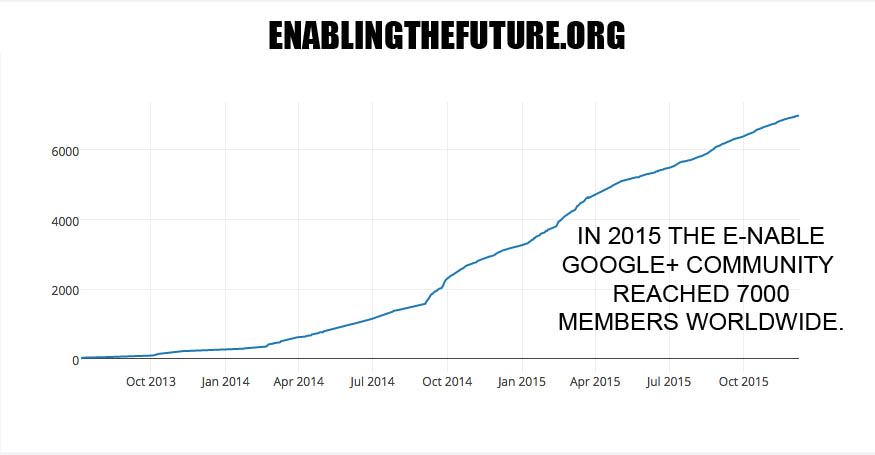 In 2016, I have hopes that the light will grow even brighter than it ever has and the colorful rainbow of hands being delivered by our volunteers will remind people that there is still good in the world, that there are people who are working together to build something beautiful, instead of using their resources, words and technology to tear each other down.
Let's make the coming year – even more incredible than the last.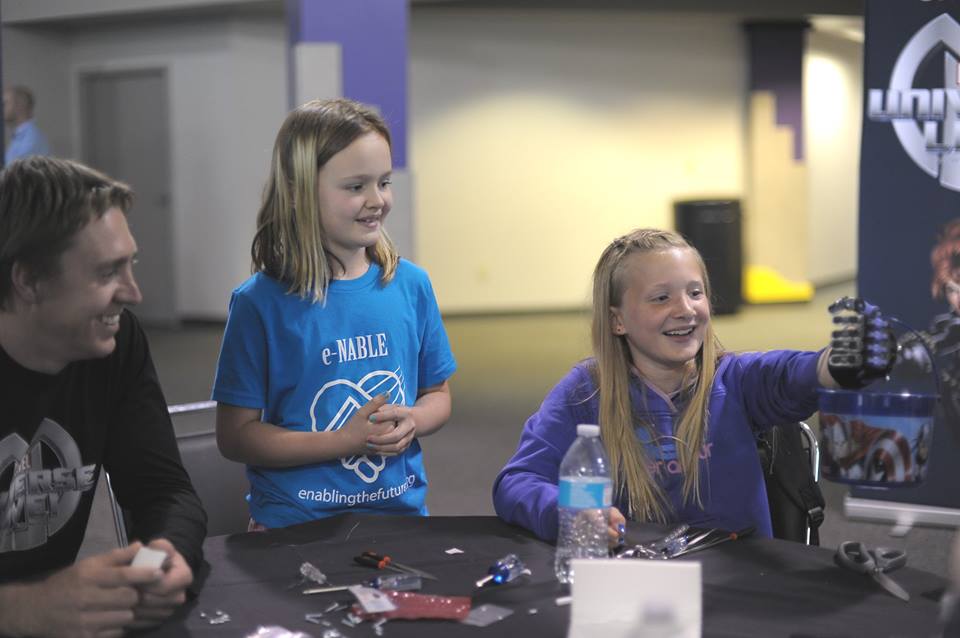 "People are like stained glass windows. They sparkle and shine when the sun is out, but when the darkness sets in, their true beauty is revealed only if there is a light from within." – Elisabeth Kubler-Ross