Getting young minds interested in science, technology, engineering and math (STEM)…has been a major goal of
e-NABLE
over the past year as we strive to get 3D printers into more and more schools and help guide teachers, educators and librarians with building 3D printed e-NABLE hands with their students in their classrooms, after school programs and local libraries.
A few months ago, we shared a story about 10 year old Sierra who had decided that she wanted to make an e-NABLE hand as part of her science project. One of our wonderful volunteers, Jeremy, at 3D Universe – printed the hand kit parts and also donated the materials for her to build her first hand. She put the hand together on her own (with a little help from mom for the "not quite safe enough for a 10 year old" bits) and made this awesome time lapse video of her hand building adventure!
Check out that video below!
Jeremy continued to mentor Sierra and even skyped with her and her class to show them more about what e-NABLE is doing and how they could make these devices too. He has been helping to mentor many classrooms over the past few months and we have numerous schools around the US who are currently working on building hands for recipients as class projects in science, math and various robotics and engineering classes.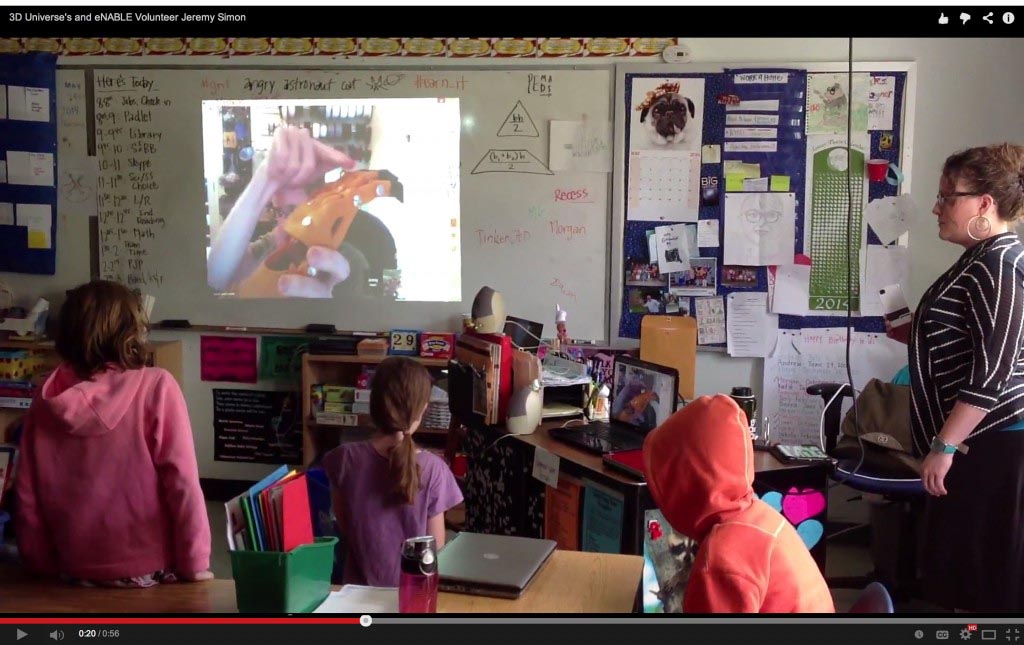 Sierra has not only helped to inspire other kids in her class to think about using 3D printing to create positive change in the world – but she has also built a hand for a young girl in California and ran a crowd funding campaign with her sister Sage, to raise enough money so that they could purchase their own 3D printer and start making e-NABLE hands on their own!
Their printer just arrived and they are over the moon excited! Click on the video at the top of this post to watch their wonderful adventure so far and the arrival of their printer! They plan to take their new 3D printer to their school so that their classrooms can use it when they aren't making e-NABLE hands and they state: "We won't be hanging around the house bored. Instead, we will be discovering how the 3D printer works and making amazing things."
Jeremy writes on his blog:
"Sierra came up with this project idea for exploring possibilities for 3D printed prosthetic devices (for people or animals). She went on to not only make a fully functional prosthetic device, with minimal assistance, but also make another device for someone who actually needs one! Along the way, she has been inspiring people all around her. Her classmates have been inspired. Her teacher and fellow educators have been inspired. I've been inspired. Today, that circle of impact broadened considerably, with 50+ other teachers being inspired by her work. Now they're tweeting about it and sharing it with others.
Sierra is making a real impact that is already spreading far beyond her home town."
Would you like your kids (or your classroom) to be involved in a project like this?
Please email us at info@enablingthefuture.org and we can help get you matched with a real recipient for your classroom to create a device for, help guide you in which printers may be best for you to get started and help create a plan to incorporating creating 3D printed "Helping hands" into your curriculum!
If your school does not have a 3D printer but you would like to have them assemble a device as part of a learning project – please feel free to email as well as we have a whole lot of volunteers with 3D printers who would be more than happy to print out a hand kit and ship it to you!
Want to get a 3D printer into your own school via crowd funding?
Check out these websites for ways to raise money for your classroom:
Go Fund Me
Donors Choose
Razoo
"Education is the most powerful weapon which you can use to change the world." Nelson Mandela