(Photos courtesy of Star Telegram/Max Faulkner)
"When I first started this project, I didn't expect to help a person, but seeing us..as a group…we can actually help people…it feels really good." – Jeremiah Joseph
Jayme Sims lost part of his hand in a wood-chipper accident back in January and on Wednesday, June 18th, 2014 – three students from the Ben Barber Career and Technology Academy in Mansfield, Texas – presented him with a remixed version of 3D printed  e-NABLE hand that they created for him using their schools 3D printer. The mechanical prosthetic device cost about $50 to make.
"There are so many things in life that we take for granted that I haven't been able to do…that now I think I can." says Jayme, after being presented his hand.
You can view a news video about this story HERE.
We asked one of the students and e-NABLE volunteer, Jeremiah Joseph, to answer a few questions for us about their experience and their project. This is what he had to say:
Q: What made you decide to focus on prosthetic hands for your project?
A: The availability of 3D printers within our engineering class was the most important factor in our decision to work on prosthetic hands. The potential to actually print and build a fully functioning prosthetic hand that could be used by members of our community was also a deciding factor.
Q: How did the recipient find you or did you get matched through the e-NABLE Matcher team?
A: We decided that we would like to help someone, so we contacted the e-NABLE Community and Matcher team got us in contact with the recipient, Jayme Sims.
Q: Which design did you decide on and why? Did you modify an e-NABLE design to add your own design to it? If so – what did you change?
A: Our group decided to innovate a hand called the "Cyborg Beast" which we found on the e-NABLE website. The modifications we made included re-designing the fingers to have a more potent grip and redesigning the gauntlet to have a cover over the tension cords to protect them from external hazards. With an improved grip, the hand would be able to grasp objects better and with less required force. With a covered gauntlet, the cords that control the fingers would be less likely to be torn or caught on objects.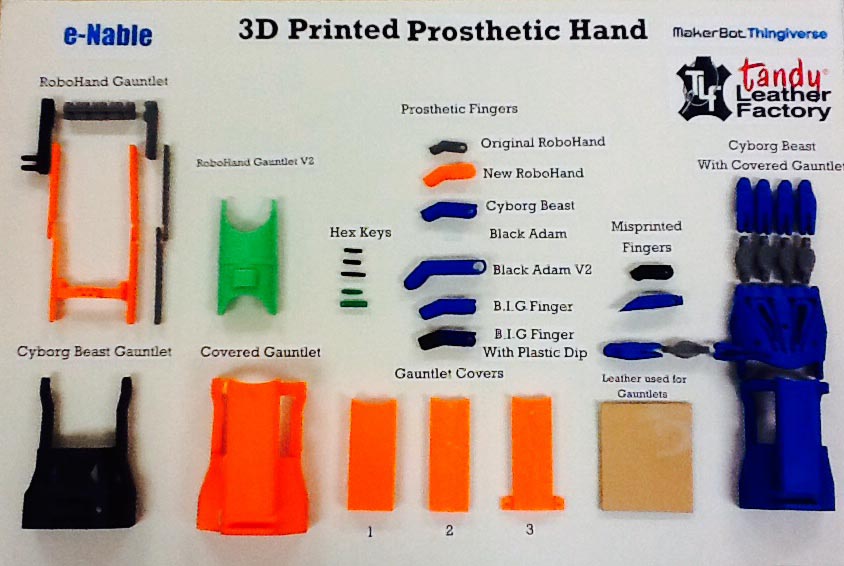 Q: What does it feel like to know you have improved someone's life – simply by doing a science and engineering project at school?
A: The feeling is definitely rewarding! Knowing that our team was able to accomplish the goal we set at the beginning of the course is truly amazing. Even more amazing is knowing that the recipient of our hand is happy and grateful with our school project!
Q: If you could say anything to other students your age about this project to encourage them to get involved or get them excited about 3D printing – what would you say to them (or even younger kids who are getting excited about this technology?)
A: If there is something you've always wanted to build or create from your imagination, then it's definitely possible with 3D printing! By simply designing your idea, you can actually have it be made real by printing it! 3D printing technology is without a doubt, some of todays most coolest and advanced technology since it allows you to create anything you can imagine!
Q: what are your future plans? Will you continue to participate in the e-NABLE group and make hands now and again or are you moving on to other things?
A: As we plan to continue studying engineering in our futures, we hope to continue to work with 3D printing technology and help others with making hands like this. As such, we also hope to continue to participate in the e-NABLE community whenever we will have the chance. Hopefully as our skills and knowledge grow, we would definitely like to work on other projects as well.
Q: Anything you would like to add?
A: We'd like to thank our engineering teacher, Mr. Goodson, for giving us the tools to create the hand and teaching us how to go about the design and build processes. We'd also like to thank the e-NABLE community members for their assistance and guidance as well as Tandy Leather Factory for their donations of leather and leather tools and to Mr. Sims for being a part of our project and letting us design a hand for him. 
We hope to continue to help our community in our futures through projects such as this and to work with the amazing technology that the future holds!
If you are interested in joining the e-NABLE Community – please visit our Google+ Page, introduce yourself and tell us how we can help you or share how you would like to help get hands on people who need them!