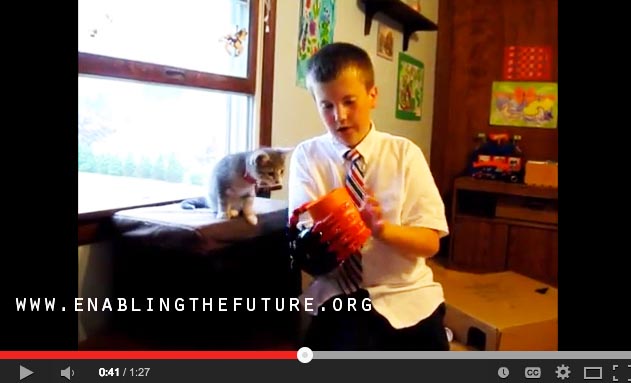 "Occasionally in life there are those moments of unutterable fulfillment which cannot be completely explained by those symbols called words. Their meanings can only be articulated by the inaudible language of the heart." – Martin Luther King
Every week or so, we at e-NABLE get a few photos or video shared with us from parents of children who have had a hand created for them from one of our volunteers and while the photos of happy smiling children wearing one of our collaborative designs are always wonderful to see – but when we get a video like the one above – it really hits home for us.
This is our "Boy from Ohio" who recently got a new Cyborg beast hand from e-NABLE volunteer Andy Haidet. Not only does he take the time to show us how to pick up a can cozy and a cat with his new hand – but he shares a heartfelt thank you to Andy and the e-NABLE community.
The work that e-NABLE is doing has been nothing short of beautiful. We have almost 1000 members worldwide who are donating their time and talents to make hands like this for children and adults – and they ask nothing in return for their work and efforts.
A thank you like this – is more than we ever ask for and treasured in the hearts of every single one of us that works together to make a change in the world.
So from the e-NABLE group to our "Boy in Ohio" – we thank YOU – for trusting in us, being patient with us and giving us a reason to come together from all walks of life – putting religious, political and cultural views aside – to create together and make our World a little brighter.
If you would like to join our Maker movement and participate in helping to print parts, create hands or offer your skills to the group – please join us in our Google+ group and introduce yourselves! We have something for everyone to do!
Nothing given in service to others is too small to make a big difference.