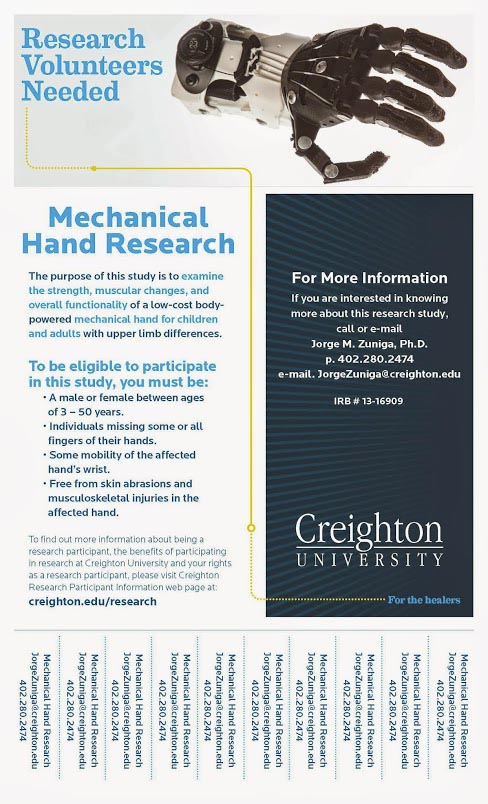 After months and months of paperwork – Jorge and his group of specialists at Creighton University have obtained all of the approvals necessary to conduct research using their 3D printed, low-cost prosthetic hand devices!
This is so exciting!!
The purpose of this study is to examine the strength, muscular changes and overall functionality of low-cost, body powered mechanical hand devices for children and adults with upper limb differences.
They are currently looking for volunteers to test out Jorge's  "Cyborg Beast" design locally in Omaha, NE after Spring Break and  then will reach out into the E-Nable group to find further testers.
They will be able to provide 50 hands to 50 individuals for this study and hope to provide evidence base information as well as objective feedback to the designers and researchers to improve their work and the designs.
To be eligible to participate in this study, you must be:
• Between the ages of 3-50 years old.
• Individuals missing some or all fingers of their hands.
• Some mobility of the affected hand's wrist.
• Free from skin abrasions and musculoskeletal injuries in the affected hand/s.
• Live near Creighton University
To find out more information about being a research participant, the benefits of participating in research at Creighton University and your rights – please contact:
Jorge M. Zuniga, Ph. D.
jorgezuniga@creighton.edu
INFO:
One to two percent of newborns are born with congenital defects, and 10% of them have congenital differences of the upper extremity.
Amniotic Band Syndrome is the term applied to a wide range of congenital anomalies, most typically limb and digital amputations and constriction rings that occur intrauterine in association with fibrous bands.
It is estimated that in the USA, more than 32,500 children suffer from major pediatric amputation.
Children's prosthetic needs are complex due to their small size, as well as their physical and psychosocial development. The family's financial resources play a crucial role in the prescription of prosthetics for their children, especially when private insurance and public funding are insufficient. The current cost for a myoelectric prosthetic hand ranges from $30,000 to $100,000. The cost of a body powered prosthetic hand, however, ranges from $5,000 to $11,000. Due to the complexity and high cost of these prosthetic hands they are not accessible for children of low income or uninsured families.
Three-dimensional (3D) printing is a process of making a 3D solid object of virtually any shape from a digital 3D model. Advancements in 3D printing technology offer the possibility of designing and printing plastic mechanical hands at a very low cost.
Body-powered voluntary closing prostheses, such as the present mechanical hand require significant wrist strength for best performance.  Individuals with unilateral upper limb reductions suffer from a significant amount of muscle atrophy in the affected limb.
It is unknown if the use of body-powered voluntary closing prostheses, such as our low-cost mechanical hand improves muscle atrophy, muscle function, and overall functionality. Thus, the purpose of the current study is to examine strength, muscle morphology, and functionality of a low-cost body-powered mechanical hand for children and adults with upper limb differences.
If you are interested in joining in the design work, the research and development, the creating or printing of these hands or you know someone that may be interested in testing the Cyborg hand or one of our other designs out – please feel free to message us through out Facebook page, join us in the Google+ group or email us at info@enablingthefuture.org !