Around Christmas – one of our E-nable members, Frankie, got this message through the Milwaukee Makerspace Google + Group:
"I have an 8 (almost 9) year old daughter that was born with a partial palm, a 2 digit thumb and no fingers on her right hand. … My daughter saw a YouTube video about 3D printed hands about a month ago and asked for one from Santa. I have been looking into trying to figure this out since, but it is way above my head! I'm a part-time preschool teacher and full time mom. Not an engineer. After Googling about 3D printed hands I came upon E-Nable, and that's where I meet up with Nick Parker. He suggested that you may be able (or may know people that can) help me try and figure this out. I hope this is true! As I mentioned, my knowledge in the area of 3D printing is very limited to just what I have read online. My daughter is very excited about the idea of being in on making her very own 3D hand. Any help, direction, information, etc. you can offer would be amazing and go a long way to making a little girl's Christmas wish come true."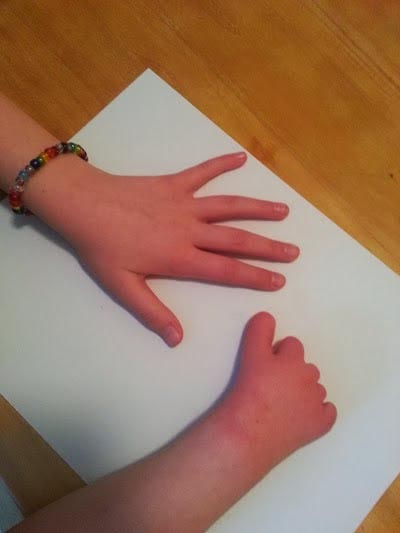 While they were unable to get a hand made for her in time for Christmas 2013 – one of our members (Frankie) jumped right on it and has been working very hard to print and create a hand for this little girl.
Frankie says this:
"My first thought after reading this was, that I just HAVE to find a way to help. This is the kind of thing that I tell my students "we" (as designers and makers) should be doing to benefit people in the world. This kind of bespoke object is the very thing that metal-smiths or craftsmen used to design and create for people in society on a daily basis. And now in this digital age we are able to share information openly, create networks of people, and create a one off custom for an unique and special individual. Helping to make this girl's dream come true has become high on my list of priorities."
Frankie is still working on custom designing a few of our hand designs so that this little girl can decide which one is the most comfortable for her and which she prefers. He is also documenting his progress and thoughts as he works. You can view his blog here and keep up with his designs and fittings and her feedback once she gets the final versions from him.
The beauty of this Maker Movement is right here:
Someone had an idea.
They shared it openly and gave the design away.
People that needed it – saw it.
People that wanted to help – found it.
Now – someone can ask for help in creating one of these hands and in the same day…have numerous minds working on finding a way to create something for them…print parts for them or walk them through the process, step by step.
It's pretty amazing.
Changing the World for the better – doesn't always have to mean doing something "Big" or  helping many…sometimes changing the life of one person is enough.
Because changing the life of one person…may lead to them doing the same for someone else…and it spreads and leaves beauty everywhere it goes.
"If you can't feed a hundred people, then just feed one." Mother Teresa