Developed by Jorge Zuniga and his research group at Creighton University, the Cyborg Beast is one of e-NABLE's most popular designs. Among its features are textured finger tips for improved grip, Chicago screw joints, protected cable routing through the body of the palm, and integrated tensioning system in the gauntlet. The Cyborg Beast is licensed under the Creative Commons-Attribution-Non-Commercial license.
All files for this design can be found on Thingiverse, HERE. For detailed instructions on which files to download and print, see below.
Cyborg Beast Assembly Materials Kit Now Available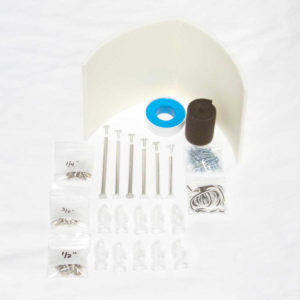 You can purchase an assembly materials kit for a Raptor hand from 3D Universe by clicking here. This kit includes all of the materials needed to assemble a Raptor hand or a Raptor Reloaded Hand.
A discount is available on these kits for e-NABLE members who are actively involved in the charitable fabrication of these devices. Email info@3duniverse.org for more details.
A portion of every kit sold will go towards supporting enablingthefuture.org and the e-NABLE community!
---
An Important Note About Assembly
The most common mistake when assembling e-NABLE Hand devices is improper tensioning of the non-flexible cords. When the non-flexible cords are tied correctly, the base of the palm should be inclined about 30-45 degrees compared to the base of the bracer (the part that goes over the arm). This will allow the recipient to activate the device without having to bend their wrist so far downwards as to cause discomfort.
As an example, the below image shows a properly tensioned Phoenix v2 hand. While this is a different design, the Cyborg Beast hand should be assembled at a similar angle as what is shown here.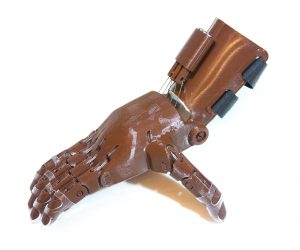 ---
Instructions
Cyborg Beast Instruction Manual: HERE
Assembly tutorial by Jeremy Simon of 3D Universe:

Tips for installing the tendon lines from Jeremy Simon of 3D Universe:

Which Files Should I Download and Print?
The latest version of the Cyborg Beast can be downloaded here. When you open this ZIP file, you will find the following files inside:
Instructions_Cyborg_Beast_Updated.pdf

Start here. The instructions have detailed information about sizing and assembly.

Scaling_Chart.pdf

This chart will help guide sizing.

L_One_Hinge_Gauntlet.stl

Gauntlet for thumbless left palm.

Normal_Gauntlet.stl

Gauntlet for either right or left full palm.

L_No_Thumb_Palm.stl

Palm for users with a left hand with a thumb.

Finger_w_Bumps.stl

Distal finger with bumps on the finger tip for better gripping (fingers only).

Thumb_Finger_w_Bumps.stl

Distal finger with bumps on the finger tip for the thumb.

Right_Palm.stl

Standard palm for a right-hand version.

R_One_Hinge_Gauntlet

Gauntlet for a thumb-less right palm.

Finger_Phal.stl

Proximal phalange for the four fingers that interfaces with the palm.

Thumb_Phal.stl

Proximal phalange for the thumb that interfaces with the palm.

Finger_wo_Bumps.stl

Smooth-tipped finger tips for the four fingers.

Thumb_Finger_wo_Bumps.stl

Smooth-tipped finger tip for the thumb

Left_Palm.stl
R_No_Thumb_Palm.stl

Palm for users with a right hand with a thumb.
For a standard Cyborg Beast, you'll need to print the following:
4 x Finger_w_Bumps.stl or Finger_wo_Bumps.stl
1 x Left_Palm.stl or Right_Palm.stl
4 x Finger_Phal.stl
1 x Thumb_Finger_w_Bumps.stl or Thumb_Finger_wo_Bumps.stl
1 x Thumb_Phal.stl
---
ACCEPTANCE
By accepting any design, plan, component or assembly related to the so called "e-NABLE Hand", I understand and agree that any such information or material furnished by any individual associated with the design team is furnished as is without representation or warranties of any kind, express or implied, and is intended to be a gift for the sole purpose of evaluating various design iterations, ideas and modifications. I understand that such improvements are intended to benefit individuals having specific disabilities and are not intended, and shall not be used, for commercial use. I further understand and agree that any individual associated with e-NABLE organization shall not be liable for any injuries or damages resulting from the use of any of the materials related to the e-NABLE hand.