Please keep in mind that enablingthefuture.org is not a matching service! We are not responsible for any devices created by any global 3D printing volunteers for end users of these devices. We simply offer information and links to information created by the global e-NABLE Community through this website.
Enablingthefuture.org is an informational hub, created by Jen Owen, to share information developed by the global e-NABLE Volunteer Community on how to build a 3D printed hand or arm device of your own or for someone else in need, locate local makerspaces, fablabs, libraries, schools, universities and 3D printing shops where you can find 3D printers in your area, provide links to resources, tutorials and the volunteer community members who are available to answer your questions as you embark on this journey into 3D printed assistive devices!


I WANT TO BE MATCHED WITH AN e-NABLE VOLUNTEER THROUGH THE MATCHING APP CREATED BY 3D UNIVERSE!
Please read the informational blog post to find the link to the e-NABLE Web Central matching app that has been created by 3D Universe, to help recipients connect directly to the global e-NABLE Community of volunteers who are able to help 3D print and assemble devices for those in need. Please note that this app is not hosted on enablingthefuture.org and was not created by enablingthefuture.org. Any information shared through the app is not shared with enablingthefuture.org and enablingthefuture.org is not responsible for any matching services done through this app. Please also note that enablingthefuture.org does not guarantee that you or your child will be matched to a volunteer through this app.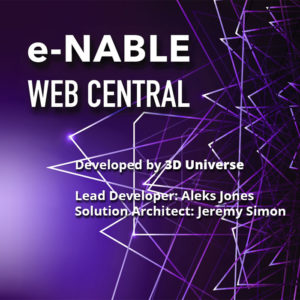 CONTACT E-NABLE CHAPTER GROUPS TO BE MATCHED WITH A VOLUNTEER, OR SCHOOL GROUP!
Please visit our growing chapters group list to locate volunteers in your local areas who may be available to work with you directly to help you create a device for you or someone  you know!
You can find our growing map of e-NABLE Volunteer Chapter groups HERE.