For the past 4 years, the e-NABLE Community has been focusing it's attention on creating open-source designs for 3D printed assistive devices for those with upper limb, below elbow differences – who were born missing fingers and hands or who have lost them due to war, natural disaster, illness or accident.
To date, the e-NABLE community has helped to provide over 2500 free 3D printed upper limb devices to those in need in over 60 countries and they have proven that collaboration and freely sharing ideas and concepts with others, can make an incredible difference in the lives of those in need of a "helping hand."
It is time to see just how much more we can do with this collection of digital humanitarians and start branching out into other areas where donated 3D printed design work can make a difference in the lives of thousands, if not millions of people around the world.
I am excited to announce that enablingthefuture.org has once again partnered with our friends at MatterHackers, and Pinshape to create another global design contest challenge:  "Envision The Future!" (If winners are outside of the USA, MatterHackers will ship prizes to you as well!)
We, along with grand prize sponsor LulzBot, invite you to participate and help us create open-source, educational tactile models and assistive devices for the blind, visually impaired and others who are kinesthetic learners.
The "Envision The Future" design challenge begins Monday, March 20th and ends Monday May 8th, but we have high hopes that after this first contest is over, that designers and students will continue to contribute their open source tactile learning tools to help grow a global library of 3D printable models that teachers and parents as well as other tactile learners, can print out at home, their local library or school.
The goal of this challenge is to create educational models which help communicate a concept or lesson in the classroom, or design an assistive device for simple everyday tasks.
You do not have to own a 3D printer to participate! 
You can use free open-source 3D design software like Tinkercad, create as many designs as you would like and upload them to the contest pages and help to make a difference using your ideas and imaginations!
Envision The Future • 3D Printing Design Challenge from e-NABLE on Vimeo.
Your Challenge:
Design a tactile model to be used in a classroom or at home for school aged children as well as adults. Examples include: famous architecture or historical figures, a math or science learning tool (manipulatibles), animals, plant life, space exploration, seasons or other concepts suggested by teachers.
To encourage participation from professional designers as well as K-12 classrooms and makerspaces, winners will be announced in two categories: youth (under 18) and adults (18 and over.)
Each category will have 1st, 2nd, and 3rd place winners with prizes sponsored by LulzBot and MatterHackers. Pinshape will be hosting the challenge submissions, with sighted and non-sighted judging by the Braille Institute of America, founding members of the e­-NABLE community, MatterHackers, and more to be announced.
Grand Prize: Youth (Under 18)
LulzBot Mini 3D Printer
Mattercontrol T10 3D Printer Controller
Three Spools of MatterHackers PRO Series PLA
Grand Prize: Adult (18 and over)
LulzBot Taz 6 3D Printer
Mattercontrol T10 3D Printer Controller
Three Spools of MatterHackers PRO Series PLA
Second Prize: (Youth and Adult)
Crafty 3D Printing Pen
$100 MatterHackers Gift Card
Third Place: (Youth and Adult)
$50 MatterHackers Gift Card
All Participants are invited to claim a digital badge award for contributing to this contest and challenge winners are invited to claim an additional badge for their winning designs. Visit our badging page to claim yours!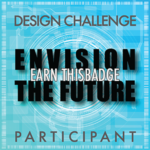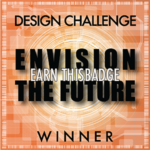 For information on how to enter, please visit the contest page HERE.
Participate in the online conversation and share your design processes by posting photos and videos with the hashtag #envisionthefuture and by tagging @enablethefuture, @matterhackers, @pinshape and @lulzbot3d on Twitter, Facebook and Instagram!
According to estimates from the World Health Organization (WHO), about 285 million people are visually impaired worldwide. About 90% of the world's visually impaired people live in developing and underserved countries.
Young children learn by touching, feeling, moving, seeing, hearing and experiencing life around them, and for those who are visually impaired or blind, they rely heavily on auditory and tactile learning to obtain the knowledge they are seeking.
We are all born as tactile learners. From birth, we learn by touch. We come into this world and find out quickly what the difference between "smooth" and "rough" fabrics feel like against the skin, we explore our surroundings with our mouths (much to the dismay of our parents), we learn that "warmth" equals comfort and "cold" is unpleasant, we learn what "sharp" means by accidentally grabbing an open pair of scissors.
We enter school as tactile learners and while many of us evolve into more visual or auditory learners around 3rd grade, a large majority of us continue to be reliant on touch and "hands on learning" in order to comprehend a concept or lesson being taught.
Those that tend to do well in school are those that grow to be auditory and visual learners and the students that tend to struggle in class and get discouraged easily, are those that are still reliant on tactile learning. In a society where our schools and universities rely heavily on lectures and visual boards for daily lessons, the tactile learners fall behind and feel overwhelmed.
It is often difficult for teachers and parents to obtain and make the tools they need in order to help these individuals with tactile learning devices that allow them to feel and "see" the concepts that are being taught to them at school or at home.
3D printing can help to make it possible for people to design these tools and share them freely for others to use in their classrooms, no matter where they are in the world.
Last year, MatterHackers, enablingthefuture.org, and Pinshape partnered to create the hugely successful Within Reach Design Challenge, which garnered over 200 new designs for assistive devices for people living without full use of their hands…let's see what will happen when we partner again, this time to encourage designers, young and young at heart, to create open-source, free, tactile learning tools for those in need.
Will you join us?
Will you help us to not only "Enable The Future" – but to "Envision The Future" as well?