Today I am excited to announce that MatterHackers.com is partnering with this privately owned and volunteer run website, enablingthefuture.org, to create the first comprehensive online retail hub for educators and volunteer groups looking to make a difference. The e-NABLE Hub will utilize MatterHackers' expertise on how to choose the right 3D printer, filament, and accessories for a project, as well as offer recommendations from the e-NABLE community. A portion of all proceeds from the Hub will go straight back to the enablingthefuture.org website to help with upkeep of information, cover hosting fees and to continue providing inspiration to those who find the information and stories here, helpful to them.
Three years ago, I created the enablingthefuture.org website as a personal blog to document the spread of the first 3D printable hand design, co-created by two men who lived 10,000 miles apart, worked together on the design over the internet for a year and then shared the files open source with the world so that anyone, anywhere could make one for themselves or someone they knew. One of those men, Ivan Owen, is my husband.
This blog grew rapidly from simple stories of volunteers creating free 3D printed hands for children and adults all over the world… to a fully functioning website full of open-source design files, created by the e-NABLE Community. It would come to host video tutorials, step by step assembly instructions, educational materials and so much more, so that people who had access to a 3D printer and wanted to create their own devices, could find everything they needed to do so.
While I had originally thought that this space would be used to simply share the ideas, creations, knowledge and information being produced by the global e-NABLE Community – for those who already had access to this technology… I overlooked the fact that the beauty of this global movement of "Digital Humanitarians" would also inspire those who did not have access to this kind of technology…and now want to sign up to help!
While I could provide information on the history of the e-NABLE Community and how to find the design files needed to create the open-source 3D printable hands, I could not keep up with the endless questions of which 3D printer or what materials people should purchase to start helping the community to "give a helping hand." Given their expertise, this is where MatterHackers can really help this community.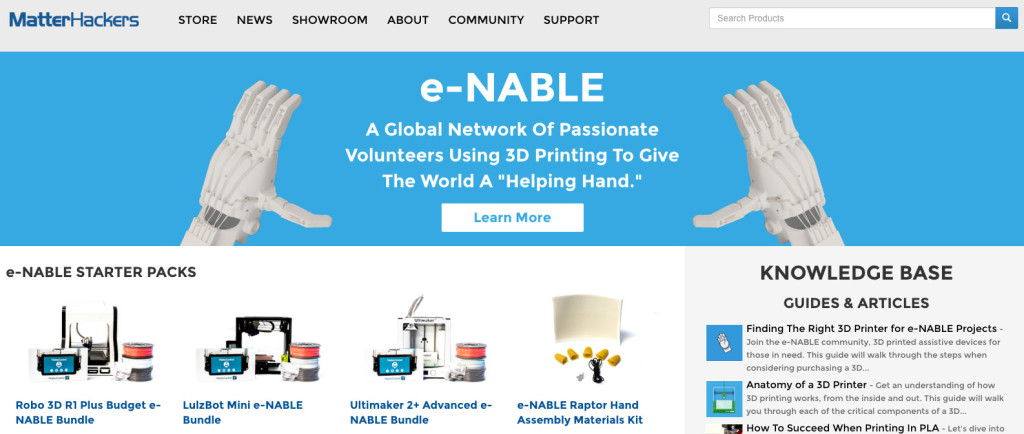 Now with MatterHackers as a partner, there will be an e-NABLE Hub at www.matterhackers.com/e-nable. MatterHackers has also created custom education bundles for e-NABLE projects for educators who are interested in using 3D printing of e-NABLE devices as part of their STEM learning programs. The e-NABLE Hub will feature a curated library of instructional guides, articles, and videos (featuring Joel Telling, YouTube's 3D Printing Nerd) about how to get started printing e-NABLE devices. It will also include 3D printing troubleshooting, and stories from classrooms and volunteer groups around the world participating in the e-NABLE movement.
"We've all been inspired by videos of kids using 3D printers to make e-NABLE devices for other kids," said MatterHackers' Mara Hitner, "Now imagine a generation where creating for the benefit of others is taught in school! MatterHackers has been providing guidance on how to get started 3D printing in our own community for years. We are thrilled for this opportunity to extend our expertise to e-NABLE volunteers, classrooms, and anyone beginning their 3D printing journey."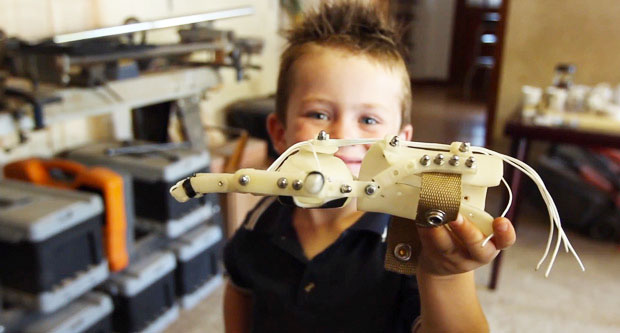 Since the release of the first 3D printed hand design as a public domain file in 2013, the e-NABLE community has grown from two passionate designers and one child in need, to over 8,000 3D printing enthusiasts, educators, kids, and professional prototypers in 45 countries. Over 1800 custom 3D printed hands and arms have been delivered for a fraction of the cost of their professional counterparts.
"As we begin to create e-NABLE hands, MatterHackers has proven to be invaluable to my students and me," says teacher and Edutopia blogger Heather Wolpert-Gawron, "They clearly have a devotion to education, and even after the sale are helping us troubleshoot and brainstorm as we learn by doing. This partnership is great news for teachers."
It has been my family's vision from the moment we decided to give that first design away and share it into the open-source community, that brilliant, creative and curious minds would take that first crude design and improve upon it and re-share it back into the world. And they have!
Now, with over 300 schools using these open-source e-NABLE design files in their STEM based service learning projects and classrooms, I am excited to see more and more schools emailing and asking how they can also participate in this project.

While it is always a beautiful story to share when a classroom of 6th graders work together to create a hand for another child in their community…the real beauty in that story, is that dozens of young minds were able to experience using new technology to change someone's life. They are getting excited about their own ideas, being inspired to think outside of the box, use their creativity and imaginations to think of ways they can use this new technology to change the world for the better!
I get many emails asking "How can I help?" or "What do you need?" from those who want to donate and help this global movement continue to spread.
One of the most helpful and impactful things we can do as individuals and as a society, is to invest in the education of our future leaders, inventors, scientists, problem solvers and makers.
How can you help the global e-NABLE Community?
Consider working with others in your local communities to purchase 3D printers for your schools, libraries, scout troops, youth groups, robotics clubs and youth centers. Put technology into the hands of those who do not know what is "Impossible" yet.
Provide them with the tools and skills they need to "Enable The Future" and make positive change in a world.
We believe in them.
Do you?
"Never doubt that a small group of thoughtful, committed citizens can change the world; indeed, it's the only thing that ever has." – Margarete Mead