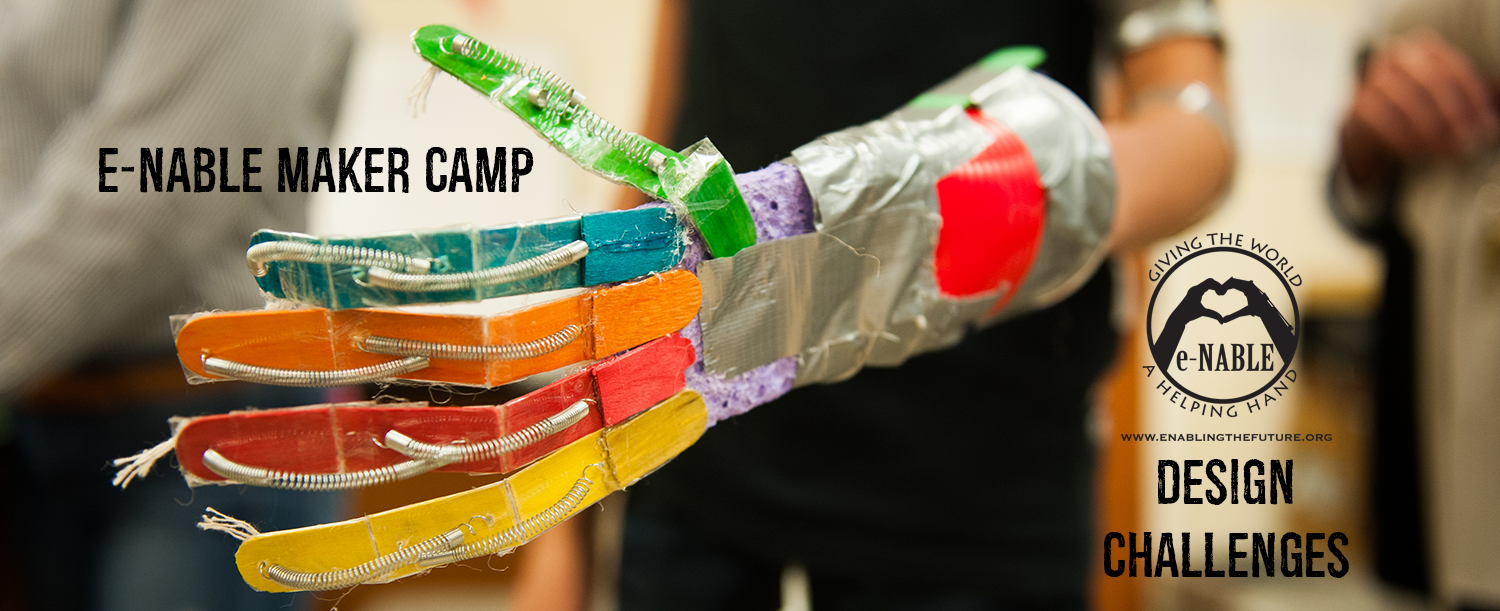 Welcome to the first ever e-NABLE Community "Maker Camp!"
We challenging schools and students  with a fun project for all ages to participate in and we hope to see as many of you join us as possible!
The first 3D printed hand was created by using everyday objects that were easily found around the house during the prototyping process. We want to see what you can do with recycled materials and ZERO 3D printing, to create a functional hand or arm design!
We invite you and CHALLENGE YOU to participate in our first "e-NABLE Maker Camp" where we will be asking you to make functional prototypes for upper limb devices, by only using items that you can find around your home or local community.
YOU MAY NOT USE 3D PRINTING, ROBOTICS OR ELECTRONICS AS PART OF ANY OF YOUR DESIGN!
Below, you will find a list of suggested items to use for your projects and specific tasks to choose from that your completed design must be able to perform in order to earn your e-NABLE Maker Camp Innovator Award digital badge and be entered into a drawing to win a functional wooden, hand made puppet hand, created for you by Ivan Owen, the co-creator of the first 3D printed hand for a child!

MATERIALS SUGGESTIONS
Popsicle sticks
Duct tape
Tape
Straws
Rubber bands
Foam board
Cardboard
Used clothing items (Jeans, t-shirts etc) or fabric
Springs from used ink pens
Paper towel or toilet paper roll tubes
String
Springs
Hinges
Recycled plastic bottles and cups
Hair ties
Foam stickers
Sticks
PVC Pipe
Pipe cleaners
Elastic
Fishing line
Leather scraps
Recycled Toys
Scrap metal
Scrap wood
Wooden dowels
Foam padding
Glue
Any other items that you can recycle safely and are easily found in your local community!
*More experienced makers are welcome to use materials that might need power tools to cut etc.


CHOOSE AT LEAST ONE TASK FOR YOUR DESIGN TO COMPLETE:
Pick up a piece of paper or paper money
Pick up a coin
Hold a water bottle
Grip a toothbrush
Hold a pen/pencil/paint brush

DOCUMENT YOUR PROGRESS AND SHARE YOUR PHOTOS AND VIDEOS!
While you are building and prototyping, make sure you take photos along the way and a video now and again to show how your design works!
If your design is successful – you will already have a lot of documentation to show your proof of concept, how your design functions and potentially turn it all into a step by step tutorial that would allow others to make your design, where ever they are!
SHARE YOUR PHOTOS AND VIDEOS WITH e-NABLE
Please share with us on Twitter, Instagram and Facebook!
Please use the hashtags #enablethefuture and feel free to follow us and tag us directly at @enablethefuture on Twitter and Instagram and @enablingthefuture on Facebook!

EARN YOUR e-NABLE MAKER CAMP 2017 – INNOVATOR AWARD BADGE!
HOW TO EARN YOUR BADGE:
STEP 1 – Register for your credly account
STEP 2  – SUBMIT ALL OF THIS INFORMATION through the badge page!
In order to earn your badge, you must:
Show at least 3-5 photos of your build process (Or link to a gallery of images)
2. Share your materials list for your design to show what you used to create it.
3. Show photo or video evidence of your design completing one of the listed tasks from the challenge page.
4. Share the first names and ages of the designer or design team that created this design  (If this is a parent child team, please share that information too!)
CLICK ON THE IMAGE BELOW TO CLAIM YOUR BADGE AND SUBMIT YOUR EVIDENCE OF THE COMPLETION OF YOUR PROJECT!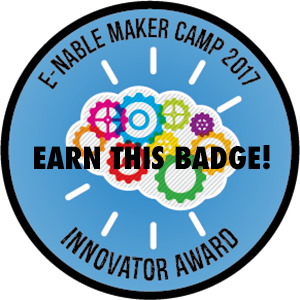 Have fun!!
TEACHERS: This Camp is continual. There is no deadline! If you have your students participate and create your own curriculum around it, please share for other teachers to use!
Thank you!!