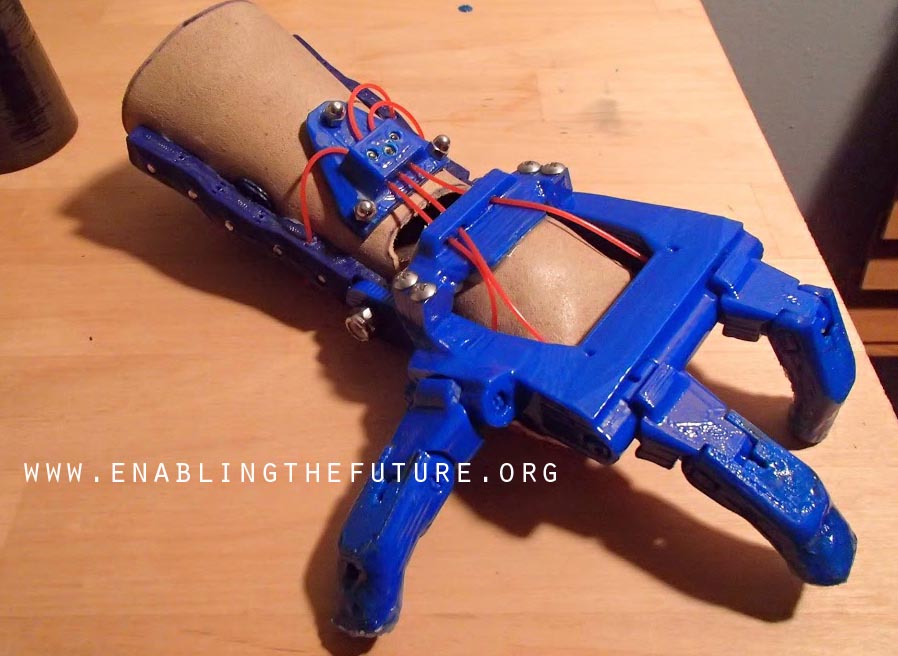 The Odysseus Hand (Or Ody hand) is a work in progress.
Please feel free to download and tweak and help improve upon the design and post as a "Remix" to the original files shared on Thingiverse.
Original is Designed by Peter Binkley
It is intended to be a starter hand for children with a small palm and a short range of motion. It has two fingers and a thumb so there is less fight of resistance with 3 elastics vs 5.
File can be found here:
http://www.thingiverse.com/thing:262930
Instructions for building the hand here:
http://www.thingiverse.com/thing:262930/#instructions
Thing #262930
*****
ACCEPTANCE
By accepting any design, plan, component or assembly related to the so called "e-NABLE Hand" , I understand and agree that any such information or material furnished by any individual associated with the design team is furnished as is without representation or warranties of any kind, express or implied, and is intended to be a gift  for the sole purpose of evaluating various design iterations, ideas and modifications. I understand that such improvements are intended to benefit individuals having specific disabilities and are not intended, and shall not be used,  for commercial use. I further understand and agree that any individual associated with e-NABLE organization shall not be liable for any injuries or damages resulting from the use of any of the materials related to the e-NABLE hand.