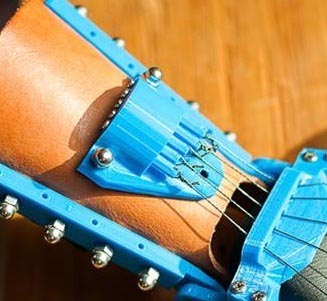 The 5 slot tensioning system that was developed by David Ogreman and Ivan Owen can be found here:
http://www.thingiverse.com/thing:232291
Thing #232291
This design is created to individually adjust each finger cable so that the user can choose how much curl they prefer on each finger.
These files are free to use and can be molded onto any other design.
The STL file for the tensioner block can be imported into design software and then added to the structure of other objects.
This device allows the tension on a cable to be adjusted by either tightening or loosening a machine screw. The hexagonal pins fit into the hexagonal slots. Then, a machine screw is fit through the hole in the back of the block and threaded into the pin. At the standard size, this design requires machine screws with a diameter of 2mm.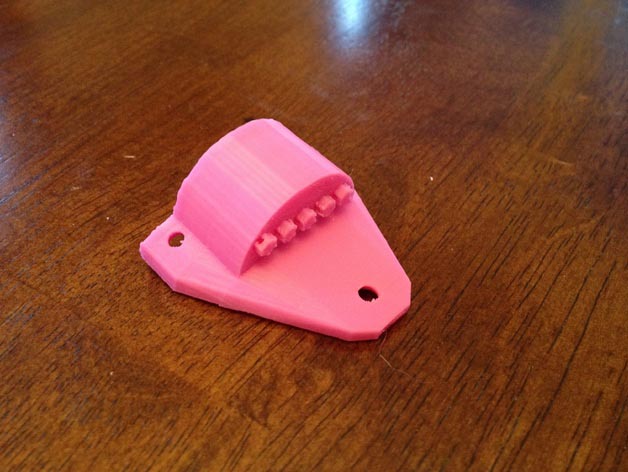 The tensioner design for the Talon hand was remixed by Frankie Flood so that it can be attached to the leather gauntlet.
Files for this version of the tensioner can be found here:
http://www.thingiverse.com/make:63319
*****
ACCEPTANCE
By accepting any design, plan, component or assembly related to the so called "e-NABLE Hand" , I understand and agree that any such information or material furnished by any individual associated with the design team is furnished as is without representation or warranties of any kind, express or implied, and is intended to be a gift  for the sole purpose of evaluating various design iterations, ideas and modifications. I understand that such improvements are intended to benefit individuals having specific disabilities and are not intended, and shall not be used,  for commercial use. I further understand and agree that any individual associated with e-NABLE organization shall not be liable for any injuries or damages resulting from the use of any of the materials related to the e-NABLE hand.