In 2015, Aden, Yemen, witnessed a vicious battle in the Yemeni civil war. Many people lost their limbs either in landmine explosions or injuries from gun fighting. Due to the extreme pressure on the medical facilities, doctors often find themselves forced to perform amputation surgeries.
The services of the local prosthetics centers were very primitive, to begin with, and after the war, it had to be closed due to lack of government funding to pay salaries.
Thanks to some wonderful e-NABLE Volunteers, we now have an e-NABLE Aden chapter who are working together to create free 3D printed hands and arms for those in need in this area.
One member of the team, Abdulla, is working outside Yemen.
Abdulla shares, "I do a lot of 3D printing at my job at Texas A&M at Qatar. I saw e-Nable on the internet and felt it (3D printing) can help people after the battle, even a little. This started in January 2017."
He goes on to explain, "I contacted two of my friends (Odai and Malek) and told them about the potential of the idea, but we had a problem in shipping the hand I printed due to the commercial blockade on Yemen. Then my cousin, Mohamed Kamal, bought a $200 USD printer, so I recruited him, but he had to spend some time fixing and calibrating the printer. The team spent August 2017 printing, redesigning, assembling and reprinting for the first case, Mossa."
"There was a total of 3 failed forearms before we got the arm to work," said Abdulla. "Our recipient probably did not fully understand at first, but it was a magical moment for us: we knew we got this!
Then we posted this on Facebook, and people received this very well. Media outlets started contacting us, and we recorded a video with AJ+ Arabic."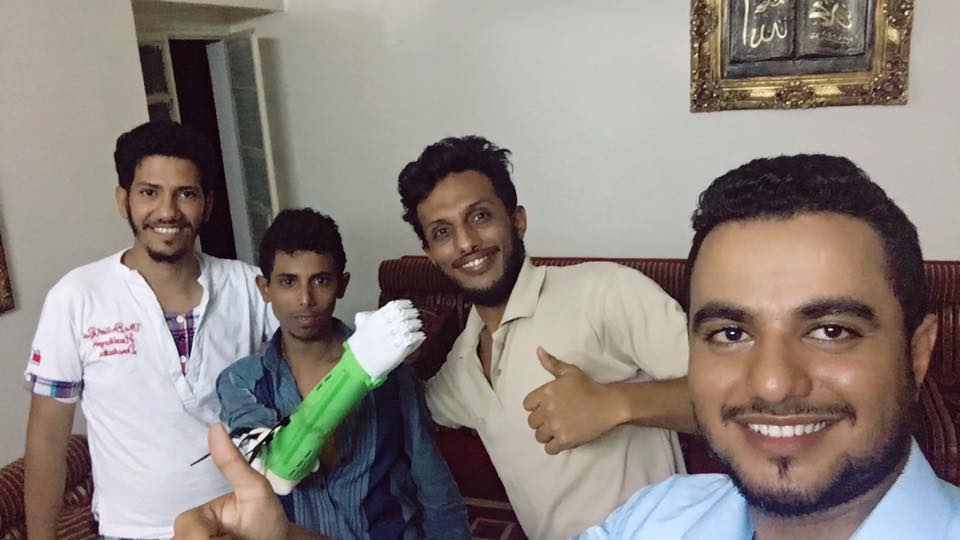 The e-NABLE Aden team began with four volunteers but now consists of 6 team members:
Abdulla Baobeid is the mechanical engineer and founder of this chapter as well as the manager and CAD designer. He is a resident of Qatar but his family lives in Aden.
Odai Al-Qadi is a doctor who takes care of all the medical aspects of the projects for the recipients of e-NABLE Devices.
Mohamed Kamal Baobeid is their electrical engineer and 3D printing expert.
Malek Yeslam is a mechanical engineer and is responsible for assembly of parts, procuring materials and their logistics coordinator.
After the first two cases were completed they had a valuable addition of two friends:
Ashraf Binbrek another mechanical engineer and device assembler as well as their documentation volunteer and Mohmed Hassan Qaseim, a mechanical engineer who is helping with PR, logistics, and communications.
Abdulla explains, "Our team might be a little bit large, but this is necessary to counter all the difficulties we are facing. Furthermore, people were very supportive and welcoming. 
Our team doctor is the first reference for assessing the medical conditions. But we have good relations with a few neurologists and orthopedists in Aden, who we go to for second opinions, who help to monitor our recipients."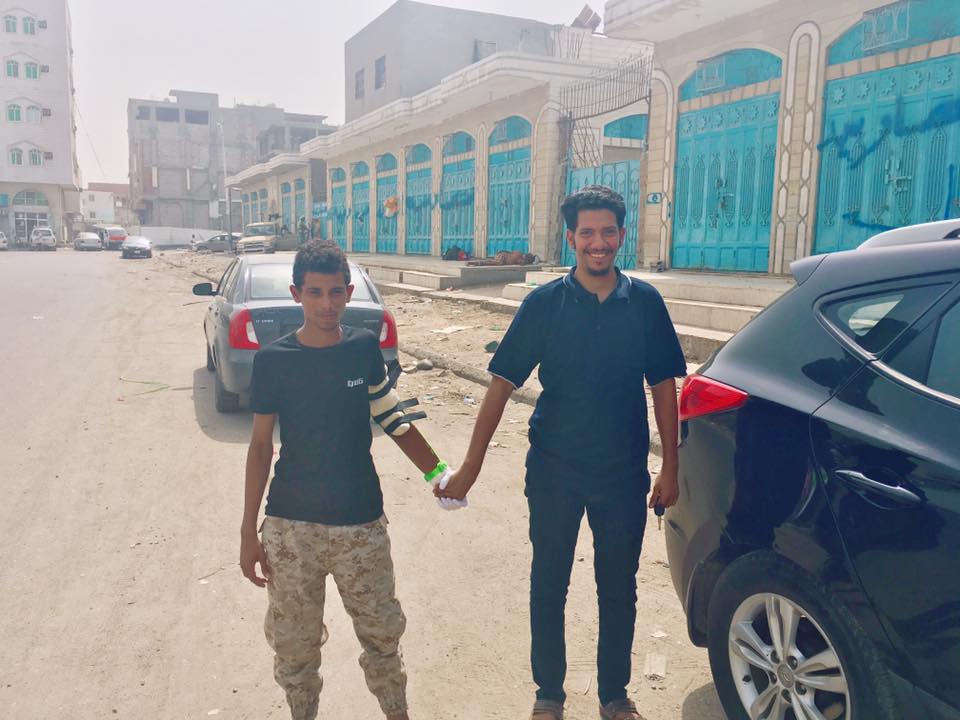 "Mossa, our first recipient, 18 years old, lost his left hand by an explosive war remnant. Doctors had to amputate the injured area of the hand rather than proceeding any further medication since the health facilities were crowded and occupied by more sophisticated and serious injuries. We found Mossa at the prosthesis centre and he was pleased to try the UnLimbited design. He loved the design and gave us valuable feedback," said Abdulla.
Mossa has been using his new arm to carry objects that are up to 5Kg, holding objects and cups and opening bottles. He has also been using this device to write his name!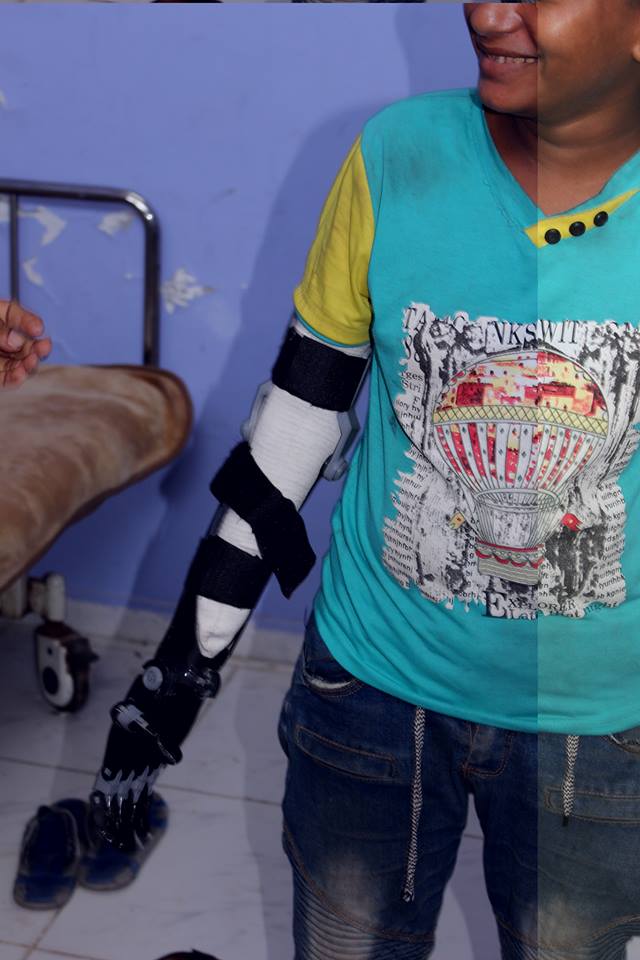 "Ahmed, the second recipient, a 15-year-old boy, lost his hand and had a surgery to remove some of the damaged internal organs in an unfortunate incident while he was playing with some explosive war remnants," shares Abdulla. "Ahmed had no knowledge about the dangers of Explosive War Remnants (EWR)."
"We traveled to Ahmed's village in an attempt to offer help and assistance and we were welcomed by the whole village community. We printed a hand for Ahmed and he happily received it, we are still in contact with the recipient for feedback or technical problems," explains Abdulla.
The e-NABLE Aden team has noticed that their recipients are definitely doing more tasks than they used to before while wearing their devices but report that they do not seem to be wearing them in view of the public.
I asked Abdulla to share how the process works for obtaining a 3D printed device in this area. He explained, "People contact us, and we arrange a meeting to assess and take measurements, usually, the team visits them."
He goes on to share, "The person in charge of leading the meeting is Odai, the team doctor. If there are no complications, the measurements are taken. The team discusses the type of the hand suitable for each case and suggests design modifications. Then the parts are prepared for printing. Afterwards, assembly.
The individuals and/or their guardians are asked if they are interested in appearing in the media. If they are not, only footage for technical documentation is taken."
"Testing comes next and we observe how the person is using and adapting to the new device, notes are taken for any further modifications. After a few weeks of use, we get in touch with the recipient to check the status of use and if anything needs to change. I some cases, we decide to try an improved design and replace the prosthesis with a new one," said Abdulla.
Currently, e-NABLE Aden has a wait list of 8 individuals who are interested in e-NABLE devices. Abdulla states, "We are trying to limit our advertisement at the moment since we are barely keeping up with the demand."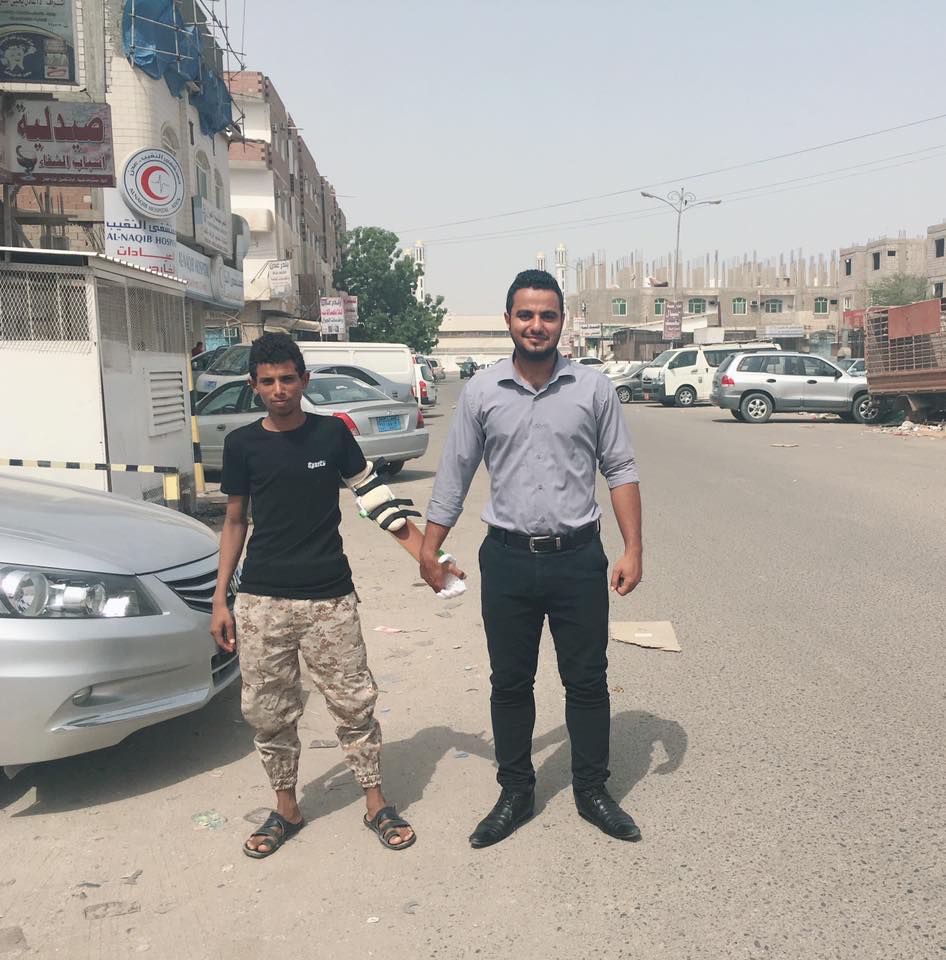 The e-NABLE Aden Chapter volunteers and operations face the following challenges:
1- Electricity:  One of the worst in the world. "It's just easier to think that we don't have electricity service at all," said Abdulla.
2- Climate: Aden is very hot and humid in summer (easily +40 Centigrade and +70%)
3- Transportation: Due to unstable conditions, the team transportation is limited. Some of the cases they receive requests about are not from Aden, so they have to travel to see them. Rural and countryside areas are even more marginalized and underserved than the urban Aden.
4- Shipping: Shipping any item is not that easy and they have to find alternative routes for even the smallest online purchases.
5- The Economic situation in Yemen is very bad, the currency is quickly devaluing and salaries are not regular. People are suffering especially under the blockade.
6- A large number of the cases they meet are suffering from PSTD. The team has found themselves turning down a few people who had above the elbow amputations and hated having to do so.
7- Lower limb amputations are more common than upper limb. People keep asking for lower limb designs that they just can't provide.
8. Strength and reliability and functionality of the designs. Mossa uses the hand to carry objects that weigh about 5 Kg. As they are dealing with a good number of adults, they expect the devices to handle large loads otherwise they wouldn't be useful.
9. Funding. This team has been self-funding the project, which was more than a little bit exhausting. Most people they meet do not have a lot to donate since they already have paid huge sums in medical bills. Receiving direct monetary donations will be a little bit difficult due to the sanctions and war conditions but they hope that perhaps they can accept donations through other NGO's who might help.
10. Unrest can sometimes delay their plans.
"Did I mention electricity? I think I should mention this again…" shares Abdulla.
This team is working hard to make a difference in the lives of others in need in one of the most underserved areas in the world by using what they have – where they are…in order to change lives and are a perfect example of what can happen when you share your talents, skills and resources with others.
They ARE e-NABLing The Future.
For more information on this chapter, please visit their Facebook page.
What are you going to do today, to make a difference?