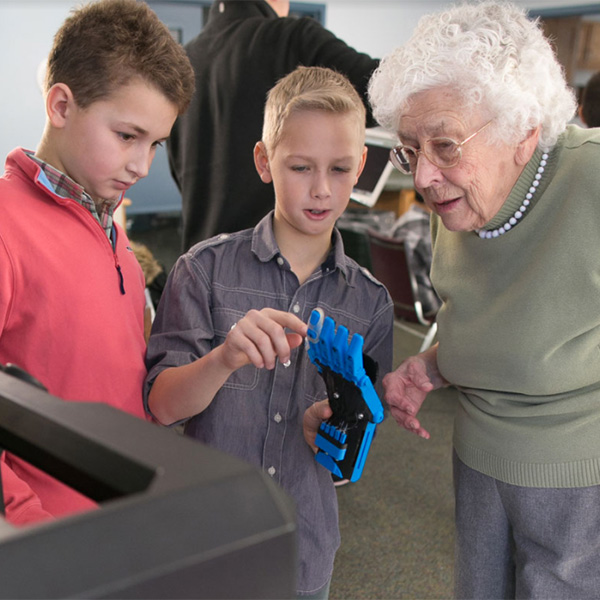 As we are nearing the 4 year anniversary of e-NABLE, we have seen this project incorporated into over 1000 schools worldwide, as STEM based service learning projects. We are always excited to see how these schools and universities are using e-NABLE and 3D printing in their classrooms, robotics clubs and youth led groups as an example for "what is possible" when they work together toward a common goal and by sharing their ideas with others. We love seeing a whole new generation getting excited about using their creativity to change the lives of others in a way they might not have imagined…yet.
Hundreds of schools have participated in sending completed hands back to e-NABLE Volunteers to distribute to those in need in underserved areas. Others have helped in the creation of educational tutorials and materials, have participated in design challenges to create other useful tools and many have given talks and science fair presentations that teach others about 3D printing and design, in hopes of inspiring their fellow youth leaders to be part of the next generation of "Change Makers" to step forward and make a difference.
One group of students however, has reminded us, that while we have been focusing on engaging one generation…we have been forgetting about another. They are reminding us that our world is filled with millions of people who have watched us go from riding in the first cars ever invented, to cars that drive themselves…from spending summers laying on their backs in giant fields to look up at the stars and wonder where the light is coming from…to watching a man step foot on the moon and rovers landing on Mars. We have an entire generation of people who have already changed the world with their ideas and imaginations and are eager to see just what else is possible!
Rich Lehrer and Annie Johnson, along with their middle school students at Brookwood Middle School, have taken e-NABLE to a whole new level by allowing the students to become teachers to those that have spent their lives teaching others new skills and helping to form them into the kind of people that go on to create a positive change in the world.
Today's guest blog post comes from Rich as he explains how he went from being the parent of a child in need of a 3D printed assistive device, to using this project to inspire the development of a new type of e-NABLE Outreach that we hope to see more of from other schools and volunteers who would like to get involved.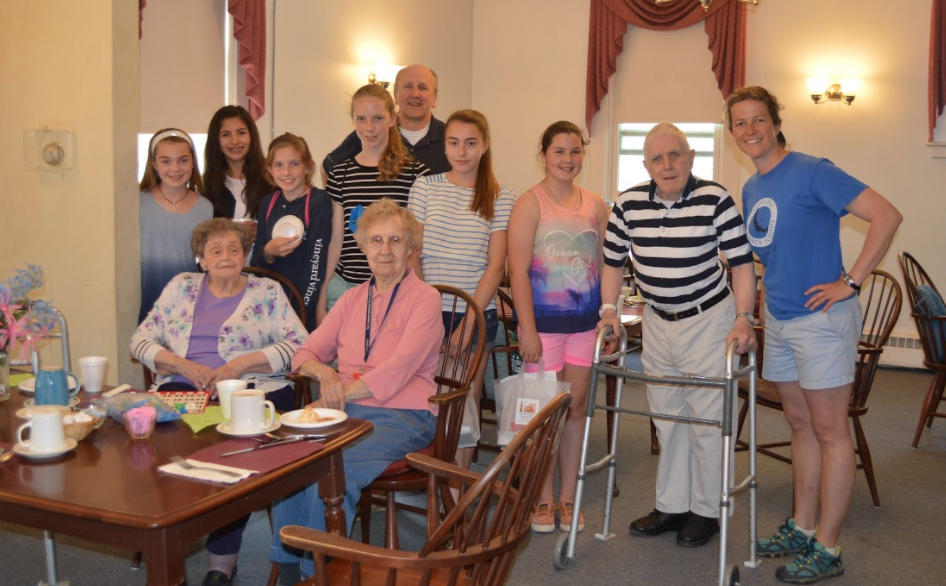 Rich shares, "In 2013, when I embarked on an ambitious project with a group of my Brookwood 8th grade students to become one of the first schools to build a 3D printed assistive device – one of the original "Robohands" – for an actual child, I must confess that I had no sense of the amazing real world problem solving journey upon which we were about to embark. The fact that the child for whom we created the device was my son, Max, resulted in an intimate and hyper authentic learning experience for our school that continues to resonate throughout our community and inform our work four years later."
Each May, 6th, 7th, and 8th graders at Brookwood engage in "Steep Week": A one week, 40-hour "deep dive" into some area of experiential learning. Rich explains, "In 2016, my colleague Annie Johnson and I decided to create "D-Zign Girlz", a course that would use a problem bank idea to use solution designing to connect our students to a constituent of our Boston North Shore community with whom they would typically have very little interaction: Seniors at a local affordable housing complex run by the Harborlight Community Partners. Restricting involvement in this MS/Seniors design partnership to girls in order to encourage 3D designing experiences among our female students, we embarked on a pilot program in which a handful of girls began the week by learning to identify problems around our school and use Tinkercad to design solutions. Fresh from their experiences learning to solve problems in their community, we headed to Beverly's Harborlight House where students and their new senior friends began to build a mutually respectful and reciprocal relationship that would provide the foundation for their design collaboration in the coming days."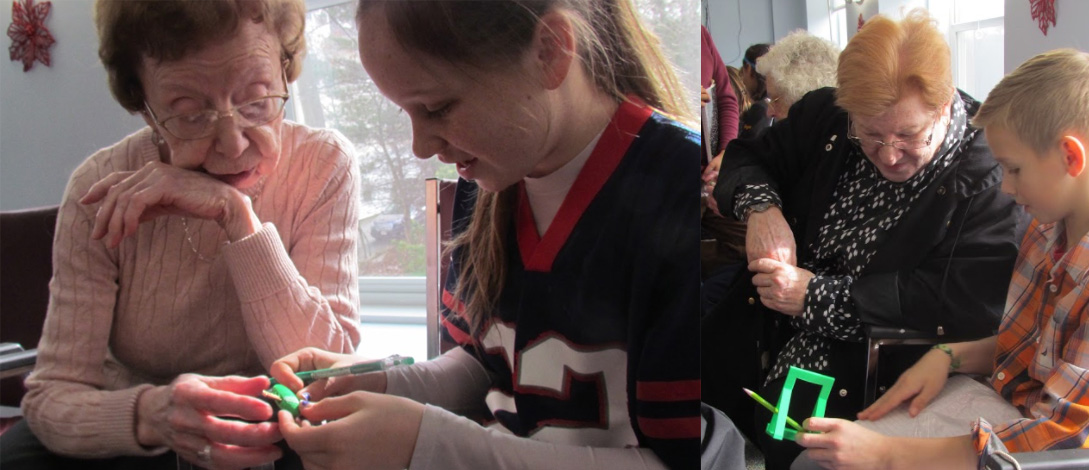 Rich goes on to say, "Students interviewed seniors, heard about their evolving lifetime relationships with technology, and taught them what they had just been learning about 3D printing and its potential for solving community problems. The teams then began looking for potential problems in the lives of Harborlight House seniors that might lend themselves well to 3D printed solutions. Among other issues, the students heard about difficulty turning keys in locks, holding cards for long periods of time, support tablets during long video conversations with grandchildren, picking up chips for Bingo, and cutting bagels safely, and with a long list of challenges to address, the students headed back to school to begin brainstorming solutions. Students critiqued each other's ideas and, once they felt they had the beginnings of effective design solutions, they began to use conventional materials such as Play-Dough, cardboard, and duct tape to create prototypes." 
As students used these familiar materials to work out their 3-dimensional challenges, they then used their Tinkercad skills to create their first 3D printed iterations. Rich shares, "I can state categorically that neither Annie nor I were prepared for the quality of the final designs that the students ultimately created and shared with their senior partners. On the final day of the week, the seniors gushed as the students shared their multi-colored, professional looking, and entirely functional Card Holders, Key Sleeves, Necks for Coffee Cups ("Noffees"), E-Z Grab Bingo Chips, Safe-T Bagel Cutters, and Assistive Cutlery. It was clear when speaking with the Harborlight House staff that our design collaboration had created experiences for the residents that transcended previous service projects. The fact that the senior residents had played critical roles the finding of the problems to be solved and in the creation of the assistive devices resulted in our new friends' ideas and suggestions being honored and the residents themselves being valued. We had clearly created something special and, as a result, D-Zign Kidz was born."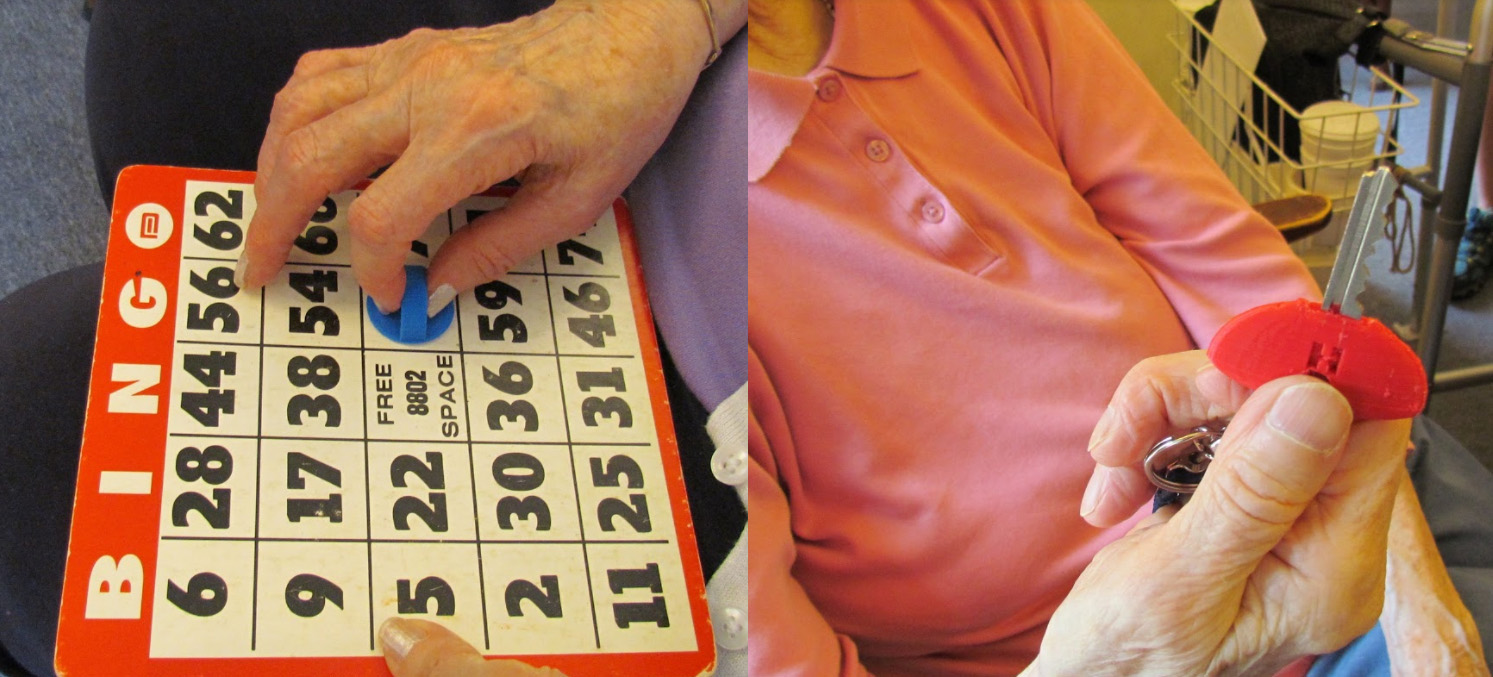 "At the start of the 2016/2017 school year, Annie and I met with our 6th grade team to share the results of our pilot, an incredible video that WGBH's Design Squad Global had created about our project, and some exciting news: Harborlight Community Partners had selected our D-Zign Girlz project as their 2016 Service Partner Awardee. When we asked if there was interest in broadening this work, the response was unanimous: this was an experience that all of our sixth grade students needed to have. Harborlight Community Partners agreed to expand the scope of our project to two new residences – Turtle Creek and Turtle Woods – and in September we arrived with 50 sixth grade students for the first of nine monthly design collaboration visits," explains Rich.
He goes on to share more, "Drawing on the experiences from our pilot the year before, we spent time building relationships, taught our new "Turtle Friends" about 3D printing, and created a "Turtle Problem Bank" in which residents and students could submit design problems in need of a 3D printed solution. We have also been including a number of community building activities such as singing, art projects, and story sharing to deepen the connections between our students and this special group of collaborators. Over the course of the year student/senior design teams have created over 15 original assistive devices and powerful bonds of respect and empathy have been created through the shared problem solving experiences of a diverse group of novice designers."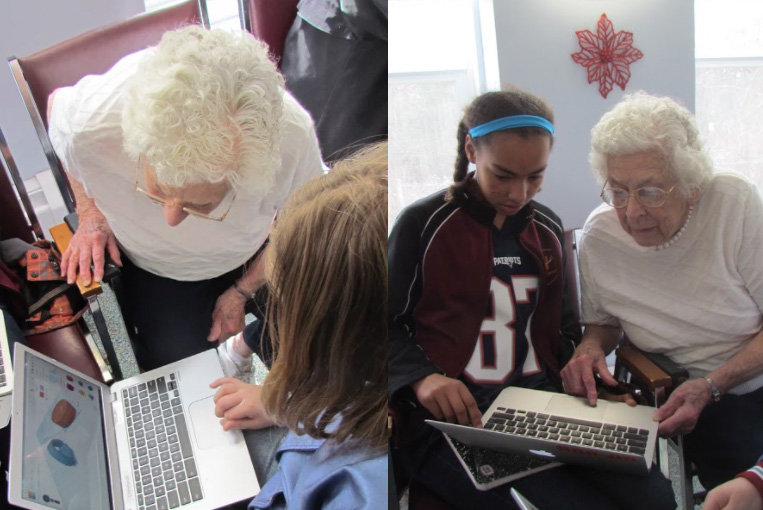 "Our community 3D designing and problem solving journey began with a transformative project centering around an intimate and fairly unique set of circumstances," explains Rich. "But profound learning experiences can result whenever a student views the world through someone else's eyes, engages with that person in the use of a new and powerful piece of technology, and leverages a reciprocal and collaborative relationship to create an authentically functional solution, whether that collaborator is a child with an upper limb difference, a school maintenance worker in need of a solution, or a senior in a students' community."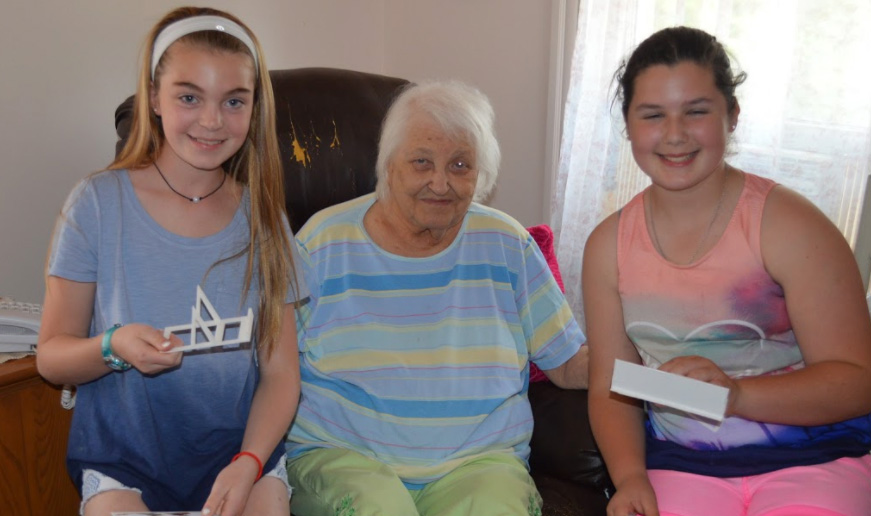 Rich says, "The blush is off these incredible machines…and the time to use them as a powerfully concrete example of what happens when students are empowered to build relationships in order to create change in their lives, school, communities, and the world."
If you have signed up to be an e-NABLE Volunteer and have been patiently waiting to be matched with a "child in need of a 3D printed hand or arm" so that you can put your trusty 3D printer to use in "making a difference"…perhaps it is time to pack her up, take her for a short ride in the back of the car, and go spend an afternoon teaching our greatest teachers, about another new technology that they can use and together with you, help make a difference in the lives of  those right where you are.
e-NABLE is more than "making 3D printed hands."
e-NABLE is a movement. A movement of people helping people, with a technology that allows teachers to become students, students to become teachers and everyone involved… to connect their imaginations in a way that they never thought possible…all the while, building new relationships and friendships with people they never dreamed of meeting.
Go. Make a difference. You will never regret it.